Last year Sonoma Valley's Kiara Miles was one of the stars of the SCL Championships helping her team to the pennant winning the 100 hurdles in 11th All-Time mark of 15.58, the open 100 in 13.19 and placing second in the 200 at 26.85.
Did she give up track, heck no, she's just starring now in Florida.
Last Friday, May 5th, Kiara placed 6th in the Florida FHSAA State 4A Outdoor Championships in 15.52 (-2.9) for her new school of H B Plant.
Kiara had 2017 bests of 15.22 in the 100HH and 46.99 in the 300 hurdles.
2016 All-Empire First Team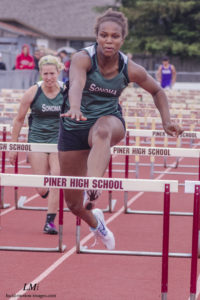 Kiara Miles, 11, Sonoma Valley
100HH
1st SCL 15.58
1st Castleberry 16.11
3rd NCS Redwood 15.96 -1.1
11th NCS MOC 15.60 -1.3
15.58 1st 2016, 11th All-Time, 9th FAT, 15.60 -1.3 7th legal
100
1st SCL 13.19
1st Windsor Relays 14.03
2nd NCS Redwood 13.05
13.05 6th 2016
200
2nd SCL 26.85
26.85 9th 2016, 27.08 -1.7