11/13/19
3.05 mile Spring Lake County Park course, since 1988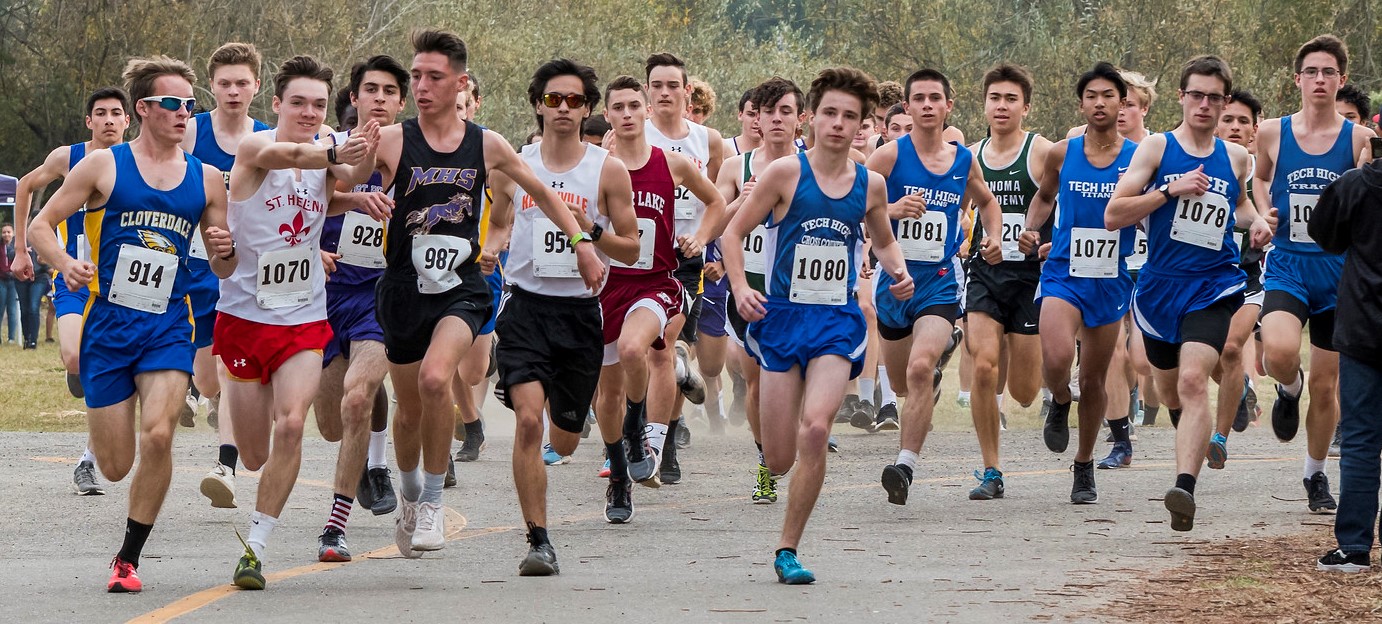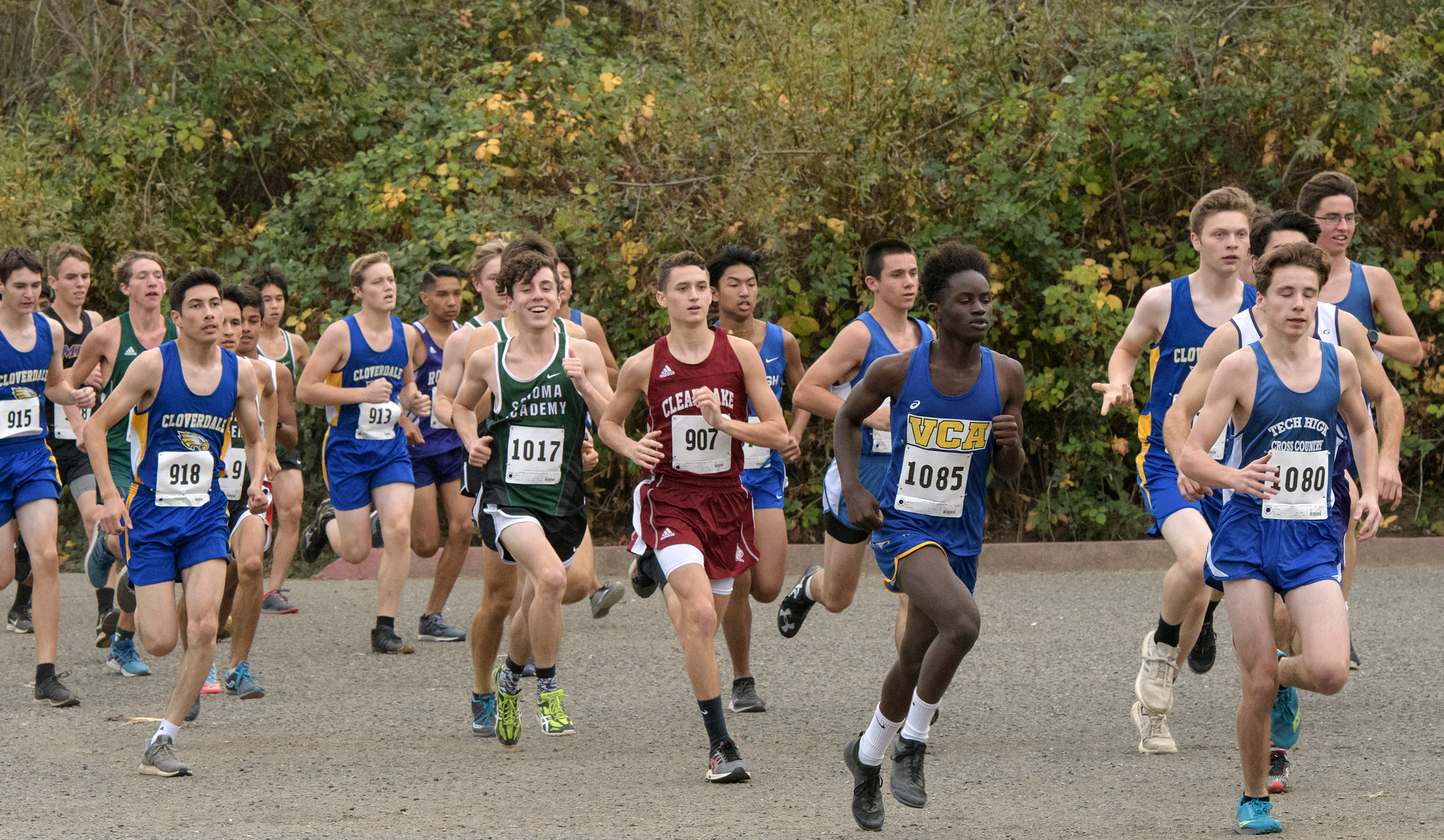 Facebook video interview: Jude DeVries: Fully fast freshman
More photos of CMC Finals by Michael Lucid
More photos of Boys CMC Finals by Thomas Benjamin
Freshman Jude DeVries of Victory Christian Academy was the first to cross the finish line in 16:08, =10th CMC All-Time, as well as also taking the NCL II title, just ahead of Cloverdale's Paden Collard the NCL I winner in 16:11, 14th CMC All-Time.
Third across the line was St. Helena's Jordan Reilly in 16:19, =19th CMC All-Time.
Middletown's Isaac Rascon was next in 16:25, =24th CMC All-Time.
Team wise Sonoma Academy dominated taking the NCL II title lead by Alex Pallais and Luke Fuette with Middletown taking the NCL I.
Cloverdale's David Nunez 17:01 and Ft. Bragg's Remy Namvar 17:02 had a great battle with both coming away with new school records.

Meet History
Varsity
Meet Record at Spring Lake: Kenny Smith, Willits, 15:36 2007
Team Sonoma Academy 83:42 2015


1st Jude DeVries by Michael Lucid




2nd Paden Collard by Michael Lucid




3rd Jordan Reilly by Thomas Benjamin




4th Isaac Rascon by Michael Lucid




5th Alex Pallais by Michael Lucid




6th Luke Fuette by Michael Lucid




7th on the right is David Nunez and  8th on left is Remy Namvar by Michael Lucid




9th Leopold Van den daeleby Michael Lucid




10th Jonas Crean by Michael Lucid

 

Jude         DeVries        VICTORY CHRISTI  16:08  9
Paden        Collard        CLOVERDALE       16:11 12
Jordan       Reilly         ST. HELENA       16:19 12
Isaac        Rascon         MIDDLETOWN       16:25 11
Alex         Pallais        SONOMA ACADEMY   16:50 12
Luke         Fuette         SONOMA ACADEMY   17:00 11
David        Nunez          CLOVERDALE       17:01  9
Remy         Namvar         FORT BRAGG       17:02 12
Leopold      Van den daele  SONOMA ACADEMY   17:09 
Jonas        Crean          SONOMA ACADEMY   17:27

SONOMA ACADEMY  (17:16  86:17 1:01)
MIDDLETOWN      (17:49  89:03 2:02)
ST. HELENA      (18:34  92:49 3:56)
TECHNOLOGY      (18:43  93:34 0:50)
CLOVERDALE      (18:46  93:47 4:34)
FORT BRAGG      (20:07  100:35 6:11)
ROSELAND UNIVER (20:17  101:21 3:30)
KELSEYVILLE     (20:45  103:41 4:14)
CLEAR LAKE      (21:22  106:46 5:15)
CREDO           (22:30  112:27 4:19)

     ================================================================
                 VARSITY BOYS NCL 2 
     ================================================================
Place TmPl No.  Name         Last Name      Sex Div.  School           Time     
===== ==== ==== ============ ============== === ===== ================ ===== 
    1      1085 Jude         DeVries        M   NCL2  VICTORY CHRISTI  16:08 
    2    1 1019 Alex         Pallais        M   NCL2  SONOMA ACADEMY   16:50 
    3    2 1017 Luke         Fuette         M   NCL2  SONOMA ACADEMY   17:00 
    4    3 1020 Leopold      Van den daele  M   NCL2  SONOMA ACADEMY   17:09 
    5    4 1015 Jonas        Crean          M   NCL2  SONOMA ACADEMY   17:27 
    6    5 1018 Archie       Lee            M   NCL2  SONOMA ACADEMY   17:51 
    7    6 1078 Travis       Jenkins        M   NCL2  TECHNOLOGY       18:17 
    8    7 1096 Alexis       Lorenzan       M   NCL2  ROSELAND UNIVER  18:18 
    9    8 1081 Travis       Pace           M   NCL2  TECHNOLOGY       18:32 
   10    9 1080 Spencer      Matticola      M   NCL2  TECHNOLOGY       18:35 
   11   10 1014 Brian        Barcenas       M   NCL2  SONOMA ACADEMY   18:48 
   12      1004 Dylan        Freeborn-Smith M   NCL2  POINT ARENA      19:00 
   13   11 1076 Maxwell      Cole           M   NCL2  TECHNOLOGY       19:03 
   14   12 1016 Tyler        Duchynski      M   NCL2  SONOMA ACADEMY   19:03 
   15   13 1077 Soujit       Ing            M   NCL2  TECHNOLOGY       19:07 
   16       971 Gavin        Hahn           M   NCL2  MENDOCINO        19:24 
   17   14 1095 Irwin        Lopez          M   NCL2  ROSELAND UNIVER  19:38 
   18   15 1100 Alexis       Trejo          M   NCL2  ROSELAND UNIVER  19:59 
   19       949 Kylan        Aguirre        M   NCL2  GRACE CHRISTIAN  20:09 
   20   16 1075 John         Barrett        M   NCL2  TECHNOLOGY       20:11 
   21      1006 Loden        Haught         M   NCL2  POINT ARENA      20:15 
   22   17 1126 Rowan        Craven             NCL2  CREDO            20:31 
   23   18 1127 Aladdin      Ghosheh            NCL2  CREDO            20:33 
   24       972 Finnian      Schaner        M   NCL2  MENDOCINO        20:57 
   25      1042 Marco        Liao           M   NCL2  ST VINCENT DE P  21:24 
   26   19 1094 Daniel       Garcia         M   NCL2  ROSELAND UNIVER  21:38 
   27   20 1098 Adolfo       Rios           M   NCL2  ROSELAND UNIVER  21:48 
   28      1039 Mingrui      Cai            M   NCL2  ST VINCENT DE P  22:22 
   29   21 1079 Edward       Lewis          M   NCL2  TECHNOLOGY       22:25 
   30   22 1130 Issac        Vagas              NCL2  CREDO            22:49 
   31   23 1099 Daniel       Ruiz-Anguiano  M   NCL2  ROSELAND UNIVER  23:05 
   32   24 1124 Quinn        Kokotas            NCL2  CREDO            23:44 
   33   25 1097 Eliseo       Pacheco        M   NCL2  ROSELAND UNIVER  24:03 
   34      1041 Thomas       Graziano       M   NCL2  ST VINCENT DE P  24:33 
   35      1003 logan        Dugan          M   NCL2  POINT ARENA      24:38 
   36   26 1128 Alphonse     Den Daele          NCL2  CREDO            24:50 
   37      1007 Kai          Leeper-sale    M   NCL2  POINT ARENA      25:16 
   38      1040 Justin       Fink           M   NCL2  ST VINCENT DE P  25:28 
   39   27 1125 Rich         Chen               NCL2  CREDO            26:02 

     ================================================================
                 VARSITY BOYS NCL 1 
     ================================================================
Place TmPl No.  Name         Last Name      Sex Div.  School           Time     
===== ==== ==== ============ ============== === ===== ================ ===== 
    1    1  914 Paden        Collard        M   NCL1  CLOVERDALE       16:11 
    2    2 1070 Jordan       Reilly         M   NCL1  ST. HELENA       16:19 
    3    3  987 Isaac        Rascon         M   NCL1  MIDDLETOWN       16:25 
    4    4  918 David        Nu?¤ez         M   NCL1  CLOVERDALE       17:01 
    5    5  928 Remy         Namvar         M   NCL1  FORT BRAGG       17:02 
    6    6 1064 Cleo         McClain        M   NCL1  ST. HELENA       17:33 
    7    7  982 Tyler        Cobb           M   NCL1  MIDDLETOWN       17:44 
    8    8  907 Quinn        Wynacht        M   NCL1  CLEAR LAKE       17:57 
    9    9  983 Isaiah       Diaz           M   NCL1  MIDDLETOWN       18:02 
   10      1088 Logan        Simms          M   NCL1  WILLITS          18:14 
   11   10  986 Javier       Perez          M   NCL1  MIDDLETOWN       18:25 
   12   11  988 Jordan       Rego           M   NCL1  MIDDLETOWN       18:27 
   13   12  952 Matthew      Harris         M   NCL1  KELSEYVILLE      18:37 
   14   13 1062 Jasper       Henry          M   NCL1  ST. HELENA       18:44 
   15   14  979 Hagan        Cadwallader    M   NCL1  MIDDLETOWN       18:50 
   16       962 Daniel       Bratton        M   NCL1  LOWER LAKE       18:50 
   17       964 William      Melvin         M   NCL1  LOWER LAKE       18:50 
   18      1087 Teophil      Labus          M   NCL1  WILLITS          18:55 
   19   15  917 Connor       Kalos          M   NCL1  CLOVERDALE       19:16 
   20   16  985 Kevin        Nance          M   NCL1  MIDDLETOWN       19:19 
   21   17  954 Beau         Marek          M   NCL1  KELSEYVILLE      19:55 
   22   18  951 Andrew       Fuentes        M   NCL1  KELSEYVILLE      19:56 
   23   19 1067 Robert       Przybylinski   M   NCL1  ST. HELENA       19:58 
   24   20  924 Clay         Anderson       M   NCL1  FORT BRAGG       20:03 
   25   21  925 Jake         Bell           M   NCL1  FORT BRAGG       20:06 
   26   22  929 Jasper       Schneider      M   NCL1  FORT BRAGG       20:11 
   27   23 1063 Andrew       Hileman        M   NCL1  ST. HELENA       20:15 
   28   24  916 Sadrac       Fernandez      M   NCL1  CLOVERDALE       20:34 
   29   25 1071 Holden       Smith          M   NCL1  ST. HELENA       20:44 
   30   26  919 Cary         Wen            M   NCL1  CLOVERDALE       20:45 
   31       963 Josh         Bratton        M   NCL1  LOWER LAKE       21:15 
   32   27  903 Keanu        Ford           M   NCL1  CLEAR LAKE       21:19 
   33   28  913 Finn         Addison        M   NCL1  CLOVERDALE       21:23 
   34   29  915 Joseph       Faso           M   NCL1  CLOVERDALE       21:38 
   35   30  906 Cole         Saiz           M   NCL1  CLEAR LAKE       21:57 
   36   31 1065 Liam         Milliken       M   NCL1  ST. HELENA       22:21 
   37   32  904 Luke         McQuaid        M   NCL1  CLEAR LAKE       22:21 
   38   33  953 Leland       Kirkpatrick    M   NCL1  KELSEYVILLE      22:22 
   39       965 Larry        Russell        M   NCL1  LOWER LAKE       22:25 
   40   34  955 Evan         Weller         M   NCL1  KELSEYVILLE      22:51 
   41   35  905 Liam         Orr            M   NCL1  CLEAR LAKE       23:12 
   42   36  927 Coltin       Cash           M   NCL1  FORT BRAGG       23:13 
   43   37  950 Jaimon       Farris         M   NCL1  KELSEYVILLE      24:03 
   44      1086 Paul         Keough         M   NCL1  WILLITS          24:05 

        ----------------------------------------------------------------
                         VARSITY BOYS NCL 2 
     ----------------------------------------------------------------
 
  1.    15  SONOMA ACADEMY  (17:16  86:17 1:01)
==============================
  1      1  Alex           Pallais            M NCL2  16:50
  2      2  Luke           Fuette             M NCL2  17:00
  3      3  Leopold        Van den daele      M NCL2  17:09
  4      4  Jonas          Crean              M NCL2  17:27
  5      5  Archie         Lee                M NCL2  17:51
  6   ( 10) Brian          Barcenas           M NCL2  18:48
  7   ( 12) Tyler          Duchynski          M NCL2  19:03
 
  2.    47  TECHNOLOGY      (18:43  93:34 0:50)
==============================
  1      6  Travis         Jenkins            M NCL2  18:17
  2      8  Travis         Pace               M NCL2  18:32
  3      9  Spencer        Matticola          M NCL2  18:35
  4     11  Maxwell        Cole               M NCL2  19:03
  5     13  Soujit         Ing                M NCL2  19:07
  6   ( 16) John           Barrett            M NCL2  20:11
  7   ( 21) Edward         Lewis              M NCL2  22:25
 
  3.    75  ROSELAND UNIVER (20:17  101:21 3:30)
==============================
  1      7  Alexis         Lorenzan           M NCL2  18:18
  2     14  Irwin          Lopez              M NCL2  19:38
  3     15  Alexis         Trejo              M NCL2  19:59
  4     19  Daniel         Garcia             M NCL2  21:38
  5     20  Adolfo         Rios               M NCL2  21:48
  6   ( 23) Daniel         Ruiz-Anguiano      M NCL2  23:05
  7   ( 25) Eliseo         Pacheco            M NCL2  24:03
 
  4.   107  CREDO           (22:30  112:27 4:19)
==============================
  1     17  Rowan          Craven               NCL2  20:31
  2     18  Aladdin        Ghosheh              NCL2  20:33
  3     22  Issac          Vagas                NCL2  22:49
  4     24  Quinn          Kokotas              NCL2  23:44
  5     26  Alphonse       Den Daele            NCL2  24:50
  6   ( 27) Rich           Chen                 NCL2  26:02
 
      ----------------------------------------------------------------
                         VARSITY BOYS NCL 1 
     ----------------------------------------------------------------
 
  1.    40  MIDDLETOWN      (17:49  89:03 2:02)
==============================
  1      3  Isaac          Rascon             M NCL1  16:25
  2      7  Tyler          Cobb               M NCL1  17:44
  3      9  Isaiah         Diaz               M NCL1  18:02
  4     10  Javier         Perez              M NCL1  18:25
  5     11  Jordan         Rego               M NCL1  18:27
  6   ( 14) Hagan          Cadwallader        M NCL1  18:50
  7   ( 16) Kevin          Nance              M NCL1  19:19
 
  2.    63  ST. HELENA      (18:34  92:49 3:56)
==============================
  1      2  Jordan         Reilly             M NCL1  16:19
  2      6  Cleo           McClain            M NCL1  17:33
  3     13  Jasper         Henry              M NCL1  18:44
  4     19  Robert         Przybylinski       M NCL1  19:58
  5     23  Andrew         Hileman            M NCL1  20:15
  6   ( 25) Holden         Smith              M NCL1  20:44
  7   ( 31) Liam           Milliken           M NCL1  22:21
 
  3.    70  CLOVERDALE      (18:46  93:47 4:34)
==============================
  1      1  Paden          Collard            M NCL1  16:11
  2      4  David          Nu?、ez             M NCL1  17:01
  3     15  Connor         Kalos              M NCL1  19:16
  4     24  Sadrac         Fernandez          M NCL1  20:34
  5     26  Cary           Wen                M NCL1  20:45
  6   ( 28) Finn           Addison            M NCL1  21:23
  7   ( 29) Joseph         Faso               M NCL1  21:38
 
  4.   104  FORT BRAGG      (20:07  100:35 6:11)
==============================
  1      5  Remy           Namvar             M NCL1  17:02
  2     20  Clay           Anderson           M NCL1  20:03
  3     21  Jake           Bell               M NCL1  20:06
  4     22  Jasper         Schneider          M NCL1  20:11
  5     36  Coltin         Cash               M NCL1  23:13
 
  5.   114  KELSEYVILLE     (20:45  103:41 4:14)
==============================
  1     12  Matthew        Harris             M NCL1  18:37
  2     17  Beau           Marek              M NCL1  19:55
  3     18  Andrew         Fuentes            M NCL1  19:56
  4     33  Leland         Kirkpatrick        M NCL1  22:22
  5     34  Evan           Weller             M NCL1  22:51
  6   ( 37) Jaimon         Farris             M NCL1  24:03
 
  6.   132  CLEAR LAKE      (21:22  106:46 5:15)
==============================
  1      8  Quinn          Wynacht            M NCL1  17:57
  2     27  Keanu          Ford               M NCL1  21:19
  3     30  Cole           Saiz               M NCL1  21:57
  4     32  Luke           McQuaid            M NCL1  22:21
  5     35  Liam           Orr                M NCL1  23:12
 
JUNIOR VARSITY
Alexandro    Cendejas       CALISTOGA        18:30 
Bert         Garner         SONOMA ACADEMY   18:43 
Logan        Uhlig          ST. HELENA       20:40 
Roy          Ross           FORT BRAGG       20:44
Austin       Muelrath       SONOMA ACADEMY   20:56 
Aubrey       Elder          SONOMA ACADEMY   20:59

SONOMA ACADEMY  (20:48  104:00 3:35)
ST. HELENA      (22:06  110:26 4:47)
FORT BRAGG      (25:32  127:38 9:25)
ROSELAND UNIVER (25:32  127:38 10:45)

      ================================================================
                JUNIOR VARSITY BOY NCL 1 
     ================================================================
Place TmPl No.  Name         Last Name      Sex Div.  School           Time     
===== ==== ==== ============ ============== === ===== ================ ===== 
    1    1 1072 Logan        Uhlig          M   NCL1  ST. HELENA       20:40 
    2    2  947 Roy          Ross           M   NCL1  FORT BRAGG       20:44 
    3    3 1073 William      Wesner         M   NCL1  ST. HELENA       21:09 
    4    4 1061 Alejandro    Guzman         M   NCL1  ST. HELENA       21:13 
    5    5 1060 William      Garrett        M   NCL1  ST. HELENA       21:57 
    6       912 Greyson      Wind           M   NCL1  CLEAR LAKE       22:27 
    7       911 Dustin       Scott          M   NCL1  CLEAR LAKE       23:23 
    8       909 Jimmy-John   Duncan         M   NCL1  CLEAR LAKE       23:28 
    9    6  948 Nerio        Sanchez        M   NCL1  FORT BRAGG       25:02 
   10    7  946 Brandon      Myers          M   NCL1  FORT BRAGG       25:02 
   11    8 1066 Reginald     Oliver         M   NCL1  ST. HELENA       25:27 
   12    9 1068 Kai          Randall-Darter M   NCL1  ST. HELENA       25:42 
   13       910 Jose         Rojas          M   NCL1  CLEAR LAKE       25:43 
   14   10  944 Brandon      Cienega        M   NCL1  FORT BRAGG       26:41 
   15   11  943 Tyler        Burbeck        M   NCL1  FORT BRAGG       30:09 
   16   12  945 Hudson       Davis          M   NCL1  FORT BRAGG       30:30 
   17   13 1069 Quinn        Randall-Darter M   NCL1  ST. HELENA       30:52 

     ================================================================
                JUNIOR VARSITY BOY NCL 2 
     ================================================================
Place TmPl No.  Name         Last Name      Sex Div.  School           Time     
===== ==== ==== ============ ============== === ===== ================ ===== 
    1       902 Alexandro    Cendejas       M   NCL2  CALISTOGA        18:30 
    2    1 1032 Bert         Garner         M   NCL2  SONOMA ACADEMY   18:43 
    3    2 1034 Austin       Muelrath       M   NCL2  SONOMA ACADEMY   20:56 
    4    3 1030 Aubrey       Elder          M   NCL2  SONOMA ACADEMY   20:59 
    5    4 1037 Drew         Storino        M   NCL2  SONOMA ACADEMY   21:04 
    6      1008 Ivan         Gustufson      M   NCL2  POINT ARENA      21:54 
    7      1084 Adam         Zechiel        M   NCL2  TECHNOLOGY       21:57 
    8    5 1028 Alex         Bartolomi      M   NCL2  SONOMA ACADEMY   22:18 
    9    6 1113 Jaun         Rios Dominguez M   NCL2  ROSELAND UNIVER  22:22 
   10    7 1029 Tiernan      Colby          M   NCL2  SONOMA ACADEMY   22:22 
   11    8 1033 Derek        Huynh          M   NCL2  SONOMA ACADEMY   22:27 
   12    9 1114 Nathaniel    Roland         M   NCL2  ROSELAND UNIVER  23:22 
   13   10 1106 Leonal       Benitez        M   NCL2  ROSELAND UNIVER  24:22 
   14   11 1107 Jesus        Cortez         M   NCL2  ROSELAND UNIVER  24:25 
   15      1009 Kaden        Haught         M   NCL2  POINT ARENA      26:31 
   16      1082 Matthew      Davis          M   NCL2  TECHNOLOGY       29:03 
   17      1010 Brandon      Huse           M   NCL2  POINT ARENA      29:40 
   18   12 1111 Eric         Perez-Cortez   M   NCL2  ROSELAND UNIVER  33:07 

     ----------------------------------------------------------------
                     JUNIOR VARSITY BOYS NCL 2 
     ----------------------------------------------------------------
 
  1.    15  SONOMA ACADEMY  (20:48  104:00 3:35)
==============================
  1      1  Bert           Garner             M NCL2  18:43
  2      2  Austin         Muelrath           M NCL2  20:56
  3      3  Aubrey         Elder              M NCL2  20:59
  4      4  Drew           Storino            M NCL2  21:04
  5      5  Alex           Bartolomi          M NCL2  22:18
  6   (  7) Tiernan        Colby              M NCL2  22:22
  7   (  8) Derek          Huynh              M NCL2  22:27
 
  2.    48  ROSELAND UNIVER (25:32  127:3810:45)
==============================
  1      6  Jaun           Rios Dominguez     M NCL2  22:22
  2      9  Nathaniel      Roland             M NCL2  23:22
  3     10  Leonal         Benitez            M NCL2  24:22
  4     11  Jesus          Cortez             M NCL2  24:25
  5     12  Eric           Perez-Cortez       M NCL2  33:07
 
      ----------------------------------------------------------------
                     JUNIOR VARSITY BOYS NCL 1 
     ----------------------------------------------------------------
 
  1.    21  ST. HELENA      (22:06  110:26 4:47)
==============================
  1      1  Logan          Uhlig              M NCL1  20:40
  2      3  William        Wesner             M NCL1  21:09
  3      4  Alejandro      Guzman             M NCL1  21:13
  4      5  William        Garrett            M NCL1  21:57
  5      8  Reginald       Oliver             M NCL1  25:27
  6   (  9) Kai            Randall-Darter     M NCL1  25:42
  7   ( 13) Quinn          Randall-Darter     M NCL1  30:52
 
  2.    36  FORT BRAGG      (25:32  127:38 9:25)
==============================
  1      2  Roy            Ross               M NCL1  20:44
  2      6  Nerio          Sanchez            M NCL1  25:02
  3      7  Brandon        Myers              M NCL1  25:02
  4     10  Brandon        Cienega            M NCL1  26:41
  5     11  Tyler          Burbeck            M NCL1  30:09
  6   ( 12) Hudson         Davis              M NCL1  30:30