11/13/19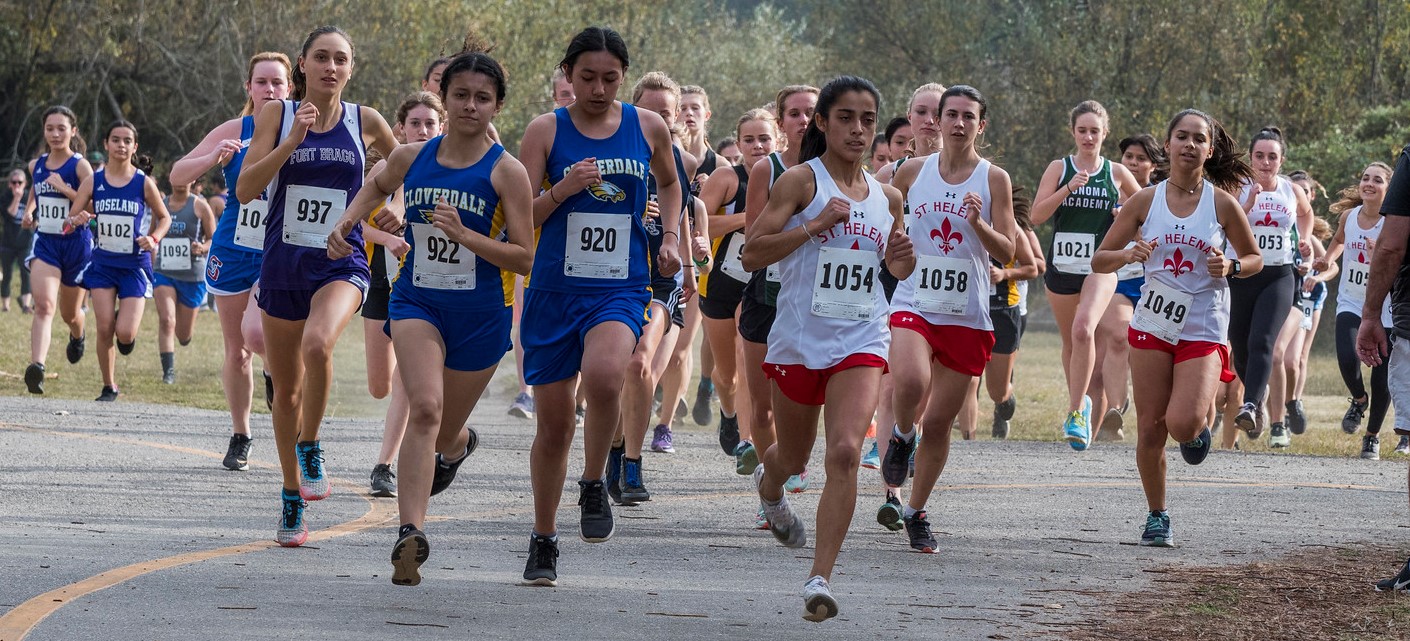 Facebook video interview: St. Helena junior runs to record finish at Spring Lake
More photos of CMC Finals by Michael Lucid
More photos of Girls CMC Finals by Thomas Benjamin
Only eight girls in the 31 year history of the Spring Lake course have ever run faster than what St Helena junior Harper McClain ran today (17:18).
Everyone of those girls went on to win at the state or national level, minus Jenny Aldridge, who was a state track champion.
McClain also crushed the old Meet Record at Spring Lake by Rylee Bowen, Sonoma Academy of 18:02 from 2015.
And the old CMC best on this course also by Rylee Bowen 17:36 in 2014.
Taking second today and moving to 8th All-Time in the CMC was Lucy Gott of Sonoma Academy in 19:01.
In 3rd and moving to =18th All-Time in the CMC was Dylan Hutchinson in 19:58 for a new Fort Bragg school record.
Middletown's Nicole Pyzer was next in 20:39 =28th All-Time.
And Credo's Emery Goerlich improved her school record with a 20:57 finish for =37th All-Time.
The team picture saw Middletown as the fastest team winning the NCL 1 title with Sonoma Academy next fastest winning the NCL II title.
3.05 mile Spring Lake County Park course, since 1988
| | | | | |
| --- | --- | --- | --- | --- |
| 16:15 | Julia Stamps | Santa Rosa #1 | 1995 | NATIONAL CHAMPION |
| 16:31 | Amber Trotter | Ukiah #1 | 2001 | NATIONAL CHAMPION |
| 16:43 | Sara Bei | Montgomery #1 | 1998 | NATIONAL CHAMPION |
| 16:51 | Sarah Sumpter | Healdsburg #1 | 2007 | STATE CHAMPION |
| 17:04 | Trina Cox | Santa Rosa #2 | 1998 | STATE CHAMPION |
| 17:06 | Jenny Aldridge | Maria Carrillo #1 | 2001 | NCS CHAMPION |
| 17:07 | Jacque Taylor | Casa Grande #1 | 2008 | STATE CHAMPION |
| 17:11 | Gabrielle Peterson | Healdsburg #2 | 2018 | STATE CHAMPION |
| 17:18 | Harper McClain | St. Helena #1 | 2019 | |
| 17:24 | Phyliss Blanchard | Rancho Cotate #1 | 2003 | NCS CHAMPION |
| 17:24 | Julie Nacouzi | Montgomery #2 | 2009 | 3rd NATIONALS |

Meet History
Varsity



1st Harper McClain by Thomas Benjamin




2nd Lucy Gott by Michael Lucid




3rd Dylan Hutchinson by Thomas Benjamin




4th Nicole Pyzer by Thomas Benjamin




5th Emery Goerlich by Thomas Benjamin




6th Erica Kinselby Michael Lucid




7th Maya Leonard by Michael Lucid




8th Aly Glenn by Michael Lucid




9th Florence Schlatter by Michael Lucid




10th Giana Tyrrell by Michael Lucid



Harper       McClain        ST. HELENA       17:18 11
Lucy         Gott           SONOMA ACADEMY   19:01 10
Dylan        Hutchinson     FORT BRAGG       19:58 10
Nicole       Pyzer          MIDDLETOWN       20:39  9
Emery        Goerlich       CREDO            20:57 
Erica        Kinsel         MIDDLETOWN       21:14 11
Maya         Leonard        MIDDLETOWN       21:23
Aly          Glenn          SONOMA ACADEMY   21:32 
Florence     Schlatter      ST. HELENA       22:21 
Giana        Tyrrell        MIDDLETOWN       22:57 

MIDDLETOWN      (22:06  110:29 3:37)
SONOMA ACADEMY  (22:40  113:19 5:22)
ST. HELENA      (23:04  115:16 8:16)
FORT BRAGG      (24:22  121:47 6:27)
CREDO           (27:33  137:4311:38)
KELSEYVILLE     (28:53  144:21 5:20)
ROSELAND UNIVER (29:20  146:37 5:47)
LOWER LAKE      (29:32  147:37 9:32)

                 VARSITY GIRLS NCL 1 
     ================================================================
Place TmPl No.  Name         Last Name      Sex Div.  School           Time     
===== ==== ==== ============ ============== === ===== ================ ===== 
    1    1 1054 Harper       McClain        F   NCL1  ST. HELENA       17:18 
    2    2  937 Dylan        Hutchinson     F   NCL1  FORT BRAGG       19:58 
    3    3  999 Nicole       Pyzer          F   NCL1  MIDDLETOWN       20:39 
    4    4  995 Erica        Kinsel         F   NCL1  MIDDLETOWN       21:14 
    5    5  996 Maya         Leonard        F   NCL1  MIDDLETOWN       21:23 
    6    6 1058 Florence     Schlatter      F   NCL1  ST. HELENA       22:21 
    7    7 1002 Giana        Tyrrell        F   NCL1  MIDDLETOWN       22:57 
    8      1089 Brieana      Evans          F   NCL1  WILLITS          23:30 
    9    8 1001 Alyssa       Terry          F   NCL1  MIDDLETOWN       24:16 
   10    9 1000 Ximena       Ramirez        F   NCL1  MIDDLETOWN       24:17 
   11   10  933 Madeleine    Dondanville    F   NCL1  FORT BRAGG       24:32 
   12       922 Miriam       Pulido         F   NCL1  CLOVERDALE       24:42 
   13   11 1057 Erin         Ries-Juncker   F   NCL1  ST. HELENA       24:49 
   14   12  997 Mariela      Martin del Cam F   NCL1  MIDDLETOWN       25:00 
   15   13  939 Maizie       Martin         F   NCL1  FORT BRAGG       25:12 
   16   14 1049 Fiona        Crowley        F   NCL1  ST. HELENA       25:14 
   17   15  966 Carmen       Aceves         F   NCL1  LOWER LAKE       25:14 
   18   16 1056 Talia        Ricci          F   NCL1  ST. HELENA       25:34 
   19       994 Lilith       Engle          F   NCL1  MIDDLETOWN       25:36 
   20   17  942 Ali          Wilson         F   NCL1  FORT BRAGG       25:40 
   21   18  940 Aria         Millen         F   NCL1  FORT BRAGG       26:25 
   22   19  967 Molly        Collins        F   NCL1  LOWER LAKE       26:38 
   23   20  958 Diana        Cortez         F   NCL1  KELSEYVILLE      26:43 
   24   21  934 Dayana       Gaona          F   NCL1  FORT BRAGG       26:44 
   25   22 1052 Anjali       Felder         F   NCL1  ST. HELENA       26:52 
   26   23  941 Dayanara     Munoz          F   NCL1  FORT BRAGG       26:53 
   27   24  970 Faye         Rippe          F   NCL1  LOWER LAKE       27:35 
   28       998 Mary         Millman        F   NCL1  MIDDLETOWN       27:36 
   29   25  956 Summer       Anderson       F   NCL1  KELSEYVILLE      27:50 
   30   26  960 Elizabeth    Malaspina      F   NCL1  KELSEYVILLE      27:55 
   31   27 1048 Sienna       Beringer       F   NCL1  ST. HELENA       28:02 
   32       932 Amayrani     Canul          F   NCL1  FORT BRAGG       28:29 
   33       935 Joyce        Garcia         F   NCL1  FORT BRAGG       29:12 
   34       938 Dafne        Lopez          F   NCL1  FORT BRAGG       29:13 
   35   28  961 Skye         Mateer         F   NCL1  KELSEYVILLE      29:50 
   36      1053 Sofia        Gott           F   NCL1  ST. HELENA       29:56 
   37       931 Yazmin       Bermudez       F   NCL1  FORT BRAGG       30:02 
   38       930 Clarissa     Andrade        F   NCL1  FORT BRAGG       30:04 
   39      1091 Jada         Smith          F   NCL1  WILLITS          30:05 
   40      1050 Haven        Demchuk        F   NCL1  ST. HELENA       30:39 
   41       920 Kayla        Gallego        F   NCL1  CLOVERDALE       31:29 
   42       921 Liliana      Olivares       F   NCL1  CLOVERDALE       31:31 
   43      1090 Kyra         Gibbons        F   NCL1  WILLITS          32:01 
   44   29  959 Melanie      Guerrero-Rodri F   NCL1  KELSEYVILLE      32:03 
   45       908 Mackenzie    Markham        F   NCL1  CLEAR LAKE       32:56 
   46       936 Hannah       Hurst          F   NCL1  FORT BRAGG       33:22 
   47   30  969 Ionia        Mayer          F   NCL1  LOWER LAKE       33:24 
   48      1055 Emma         Pierce         F   NCL1  ST. HELENA       34:17 
   49   31  968 Liliana      Garcia         F   NCL1  LOWER LAKE       34:46 
   50       923 Paula        Toledo         F   NCL1  CLOVERDALE       39:48 

     ================================================================
                 VARSITY GIRLS NCL 2 
     ================================================================
Place TmPl No.  Name         Last Name      Sex Div.  School           Time     
===== ==== ==== ============ ============== === ===== ================ ===== 
    1    1 1024 Lucy         Gott           F   NCL2  SONOMA ACADEMY   19:01 
    2    2 1122 Emery        Goerlich           NCL2  CREDO            20:57 
    3    3 1023 Aly          Glenn          F   NCL2  SONOMA ACADEMY   21:32 
    4    4 1026 Mackenzie    Stewart        F   NCL2  SONOMA ACADEMY   24:03 
    5    5 1027 Claire       Zechiel        F   NCL2  SONOMA ACADEMY   24:20 
    6    6 1022 Ella         Crenshaw       F   NCL2  SONOMA ACADEMY   24:23 
    7    7 1025 Sarah        Jackson        F   NCL2  SONOMA ACADEMY   24:30 
    8      1046 Lauren       Seale          F   NCL2  ST VINCENT DE P  25:20 
    9      1092 Ashley       Basurto        F   NCL2  ROSELAND COLLEG  25:55 
   10    8 1102 Citlaly      Dominguez      F   NCL2  ROSELAND UNIVER  25:56 
   11    9 1123 Trisha       MORRIS             NCL2  CREDO            26:11 
   12      1044 Molly        OŸ??Connor     F   NCL2  ST VINCENT DE P  26:50 
   13      1047 Katie        Souza          F   NCL2  ST VINCENT DE P  26:51 
   14      1043 Natalie      Crafts         F   NCL2  ST VINCENT DE P  26:58 
   15       901 Tully        Leonard        F   NCL2  CALISTOGA        27:30 
   16   10 1021 Avani        Borton         F   NCL2  SONOMA ACADEMY   27:44 
   17   11 1101 Liliana      Cortez-Jimenez F   NCL2  ROSELAND UNIVER  28:08 
   18   12 1119 Kyra         Maloney            NCL2  CREDO            28:17 
   19      1012 Caitlin      Hughes         F   NCL2  POINT ARENA      28:27 
   20      1011 Kadence      Beattie        F   NCL2  POINT ARENA      28:36 
   21   13 1104 Betzaida     Espinoza Guerr F   NCL2  ROSELAND UNIVER  29:07 
   22   14 1121 Ruby         Grover             NCL2  CREDO            29:43 
   23      1013 Ava          Sexton         F   NCL2  POINT ARENA      31:00 
   24   15 1105 Genisis      Rangel         F   NCL2  ROSELAND UNIVER  31:43 
   25   16 1103 Monserrat    Durante        F   NCL2  ROSELAND UNIVER  31:43 
   26   17 1115 Sophia       Cast               NCL2  CREDO            32:35 
   27   18 1116 Stella       Kapman             NCL2  CREDO            32:35 

     ----------------------------------------------------------------
                        VARSITY GIRLS NCL 1 

 
  1.    27  MIDDLETOWN      (22:06  110:29 3:37)
==============================
  1      3  Nicole         Pyzer              F NCL1  20:39
  2      4  Erica          Kinsel             F NCL1  21:14
  3      5  Maya           Leonard            F NCL1  21:23
  4      7  Giana          Tyrrell            F NCL1  22:57
  5      8  Alyssa         Terry              F NCL1  24:16
  6   (  9) Ximena         Ramirez            F NCL1  24:17
  7   ( 12) Mariela        Martin del Campo   F NCL1  25:00
 
  2.    48  ST. HELENA      (23:04  115:16 8:16)
==============================
  1      1  Harper         McClain            F NCL1  17:18
  2      6  Florence       Schlatter          F NCL1  22:21
  3     11  Erin           Ries-Juncker       F NCL1  24:49
  4     14  Fiona          Crowley            F NCL1  25:14
  5     16  Talia          Ricci              F NCL1  25:34
  6   ( 22) Anjali         Felder             F NCL1  26:52
  7   ( 27) Sienna         Beringer           F NCL1  28:02
 
  3.    60  FORT BRAGG      (24:22  121:47 6:27)
==============================
  1      2  Dylan          Hutchinson         F NCL1  19:58
  2     10  Madeleine      Dondanville        F NCL1  24:32
  3     13  Maizie         Martin             F NCL1  25:12
  4     17  Ali            Wilson             F NCL1  25:40
  5     18  Aria           Millen             F NCL1  26:25
  6   ( 21) Dayana         Gaona              F NCL1  26:44
  7   ( 23) Dayanara       Munoz              F NCL1  26:53
 
  4.   119  LOWER LAKE      (29:32  147:37 9:32)
==============================
  1     15  Carmen         Aceves             F NCL1  25:14
  2     19  Molly          Collins            F NCL1  26:38
  3     24  Faye           Rippe              F NCL1  27:35
  4     30  Ionia          Mayer              F NCL1  33:24
  5     31  Liliana        Garcia             F NCL1  34:46
 
  5.   128  KELSEYVILLE     (28:53  144:21 5:20)
==============================
  1     20  Diana          Cortez             F NCL1  26:43
  2     25  Summer         Anderson           F NCL1  27:50
  3     26  Elizabeth      Malaspina          F NCL1  27:55
  4     28  Skye           Mateer             F NCL1  29:50
  5     29  Melanie        Guerrero-Rodriguez F NCL1  32:03
 
     ----------------------------------------------------------------
                        VARSITY GIRLS NCL 2 
     ----------------------------------------------------------------
 
  1.    19  SONOMA ACADEMY  (22:40  113:19 5:22)
==============================
  1      1  Lucy           Gott               F NCL2  19:01
  2      3  Aly            Glenn              F NCL2  21:32
  3      4  Mackenzie      Stewart            F NCL2  24:03
  4      5  Claire         Zechiel            F NCL2  24:20
  5      6  Ella           Crenshaw           F NCL2  24:23
  6   (  7) Sarah          Jackson            F NCL2  24:30
  7   ( 10) Avani          Borton             F NCL2  27:44
 
  2.    54  CREDO           (27:33  137:4311:38)
==============================
  1      2  Emery          Goerlich             NCL2  20:57
  2      9  Trisha         MORRIS               NCL2  26:11
  3     12  Kyra           Maloney              NCL2  28:17
  4     14  Ruby           Grover               NCL2  29:43
  5     17  Sophia         Cast                 NCL2  32:35
  6   ( 18) Stella         Kapman               NCL2  32:35
 
  3.    63  ROSELAND UNIVER (29:20  146:37 5:47)
==============================
  1      8  Citlaly        Dominguez          F NCL2  25:56
  2     11  Liliana        Cortez-Jimenez     F NCL2  28:08
  3     13  Betzaida       Espinoza Guerrero  F NCL2  29:07
  4     15  Genisis        Rangel             F NCL2  31:43
  5     16  Monserrat      Durante            F NCL2  31:43