11/9/19
Photos by Michael Lucid
135 more photos of the NBL Redwood meet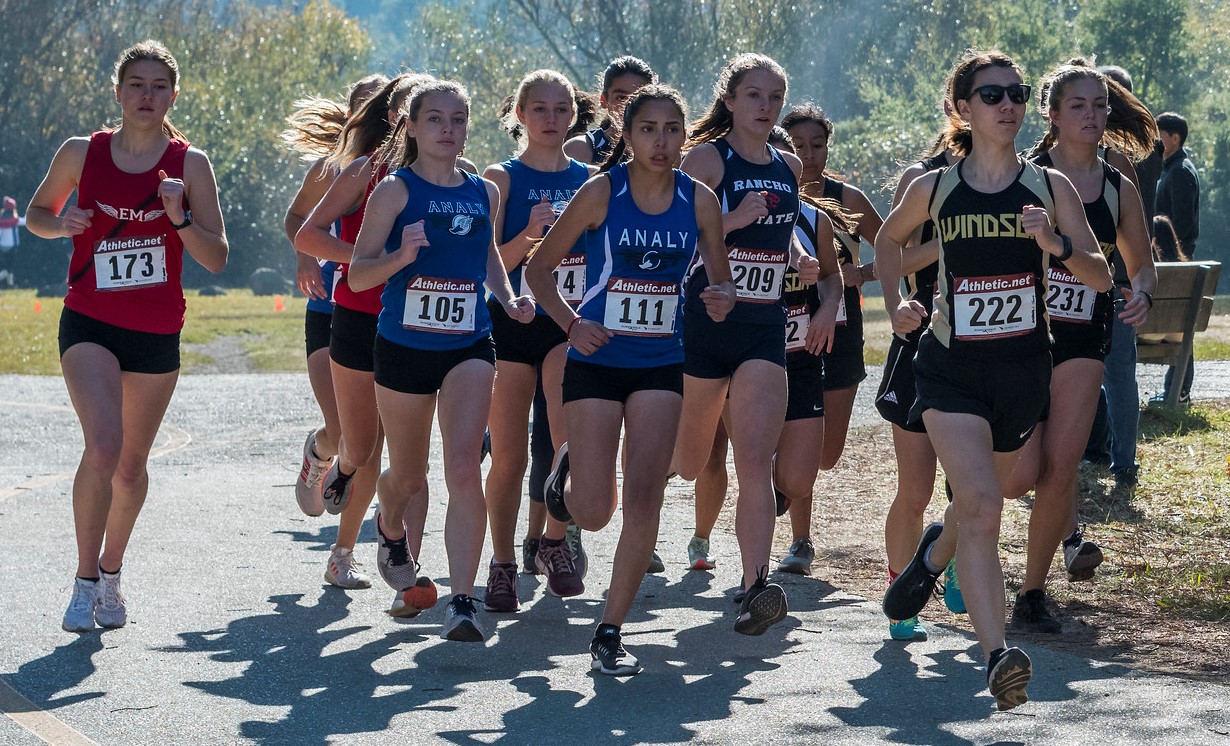 Windsor wins it's second NBL Redwood pennant by the smallest of margins, 34-36, over Analy.
Only three of the six teams field at least 5 scoring runners. Had Rancho not had a complete team the scoring would have been 28-28 with Windsor still collecting the win because they had a sixth runner.
In a battle of sophomores Analy's Carolina Dawson edged Windsor's Lilja Chung by six seconds in 20:06 to 20:12 for the individual title at the 3.05 mile Spring Lake course.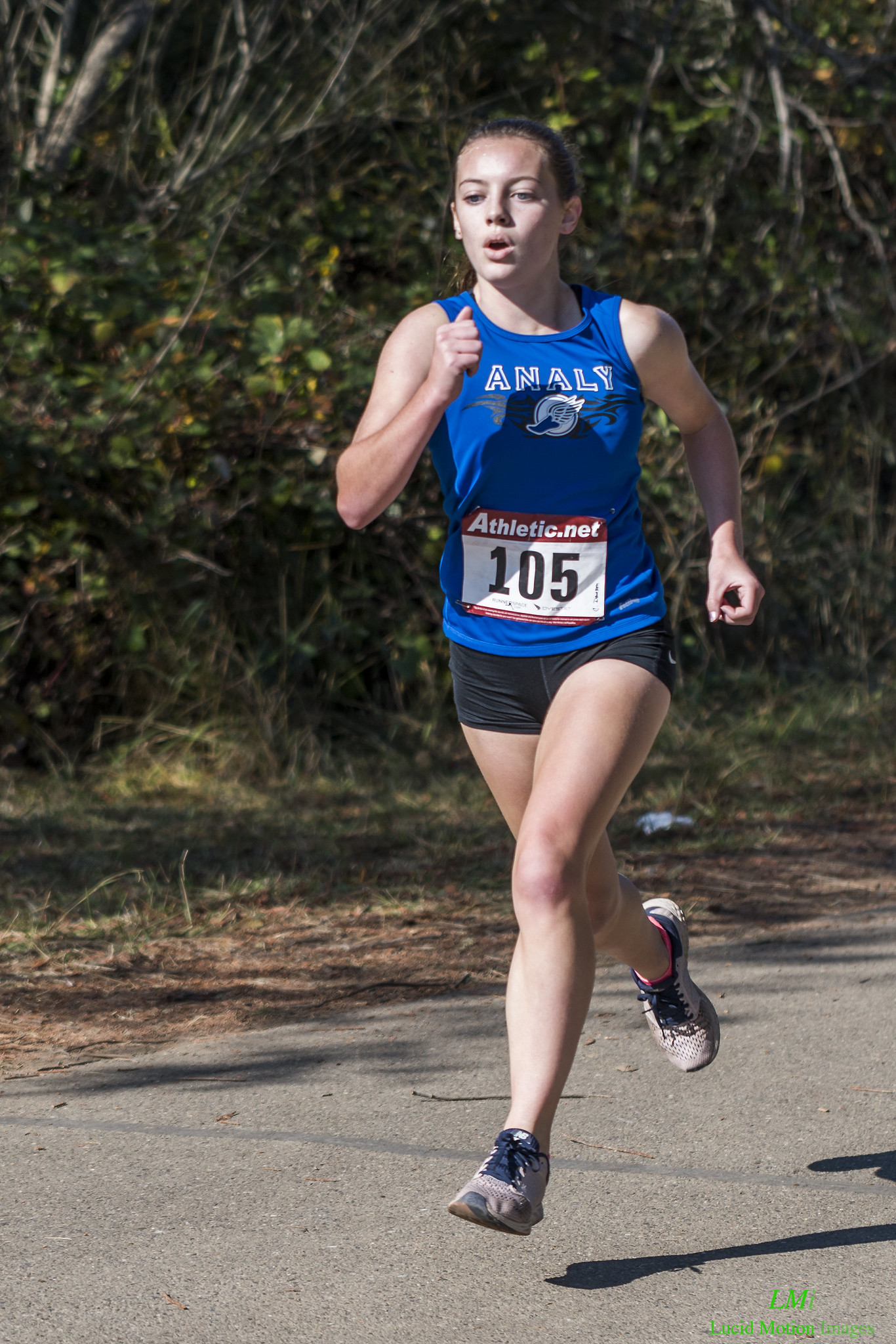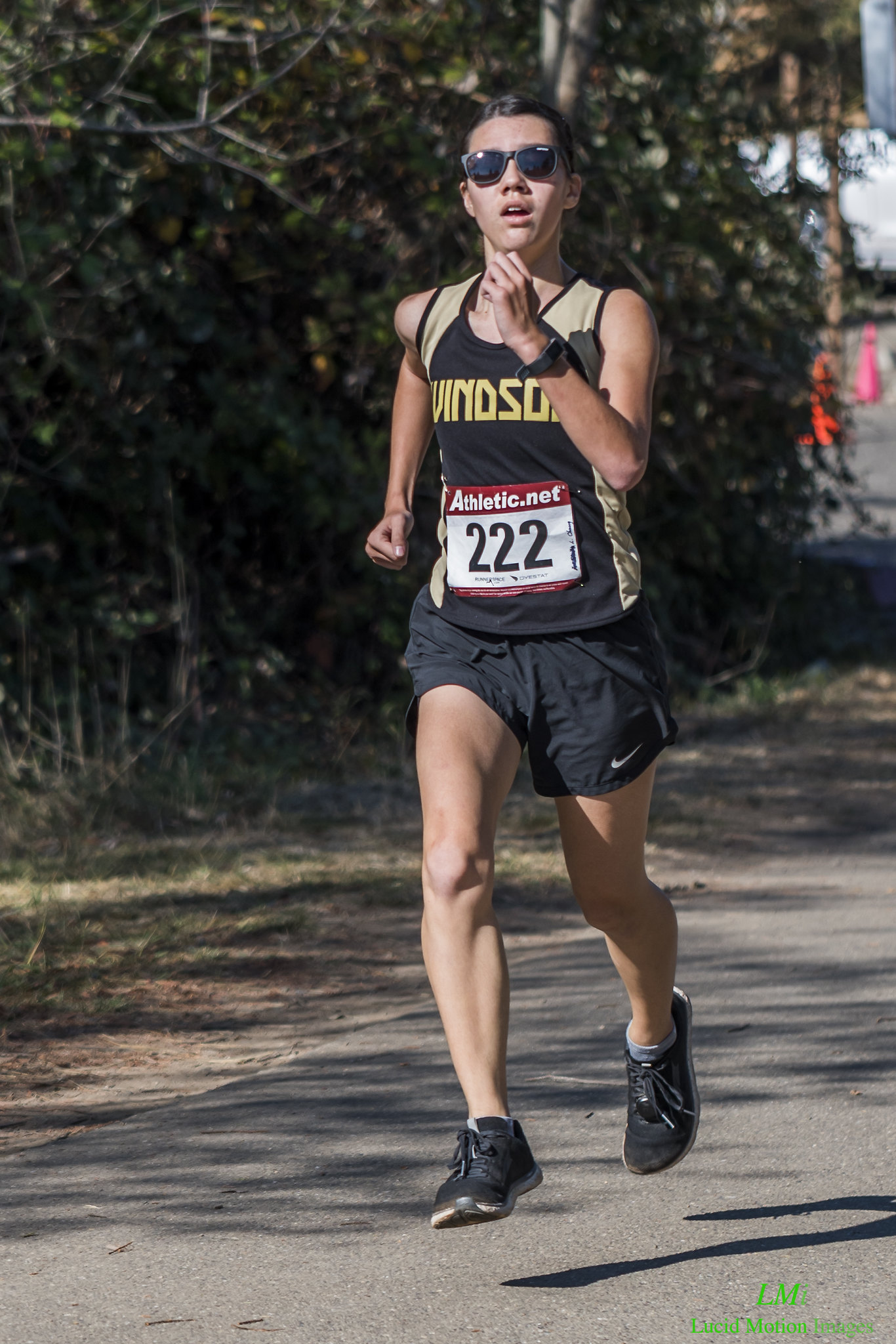 Windsor's Nataleigh Johnson earned the bronze medal in 20:50.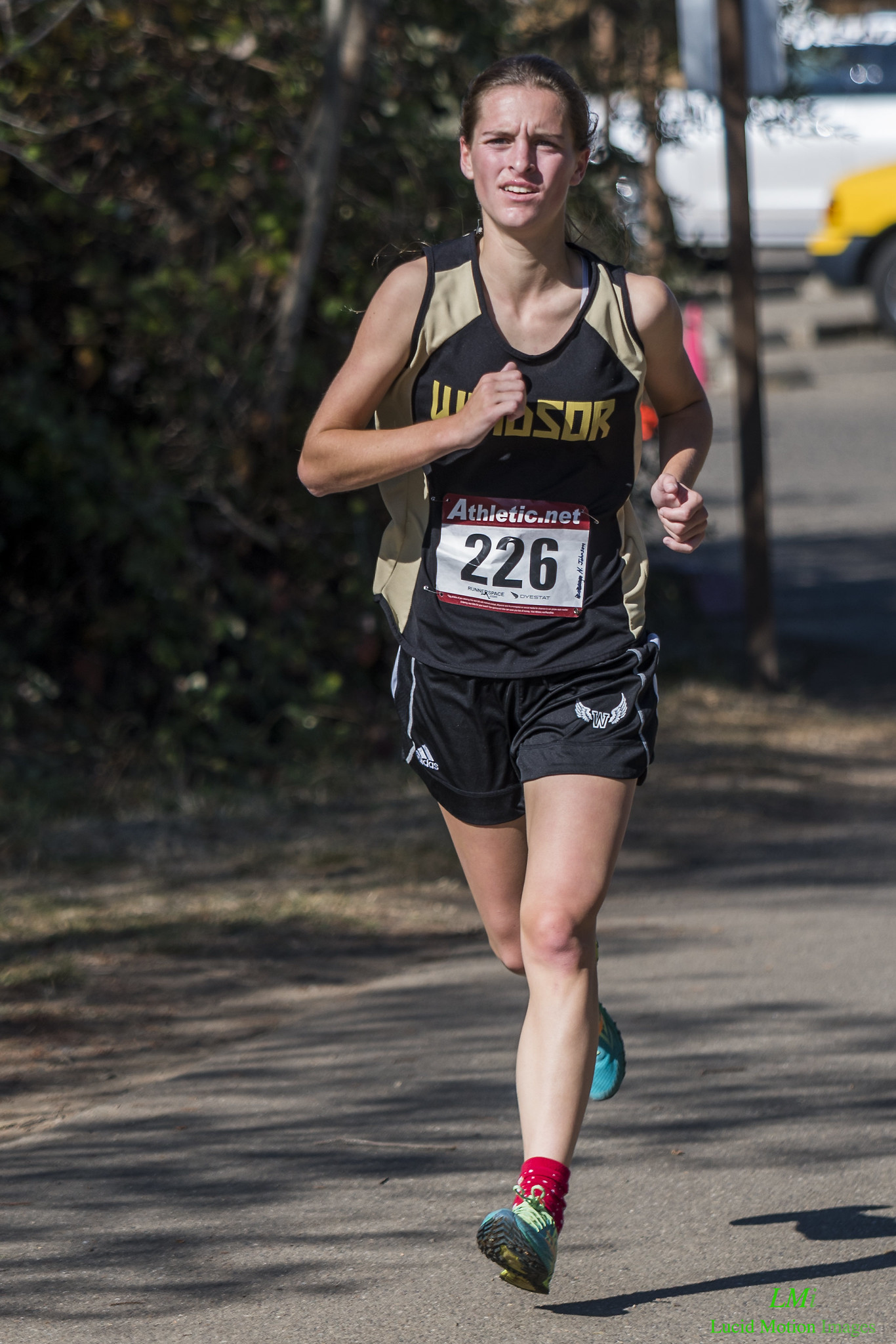 Rancho Cotate's Madison Monroe was 4th in 21:05.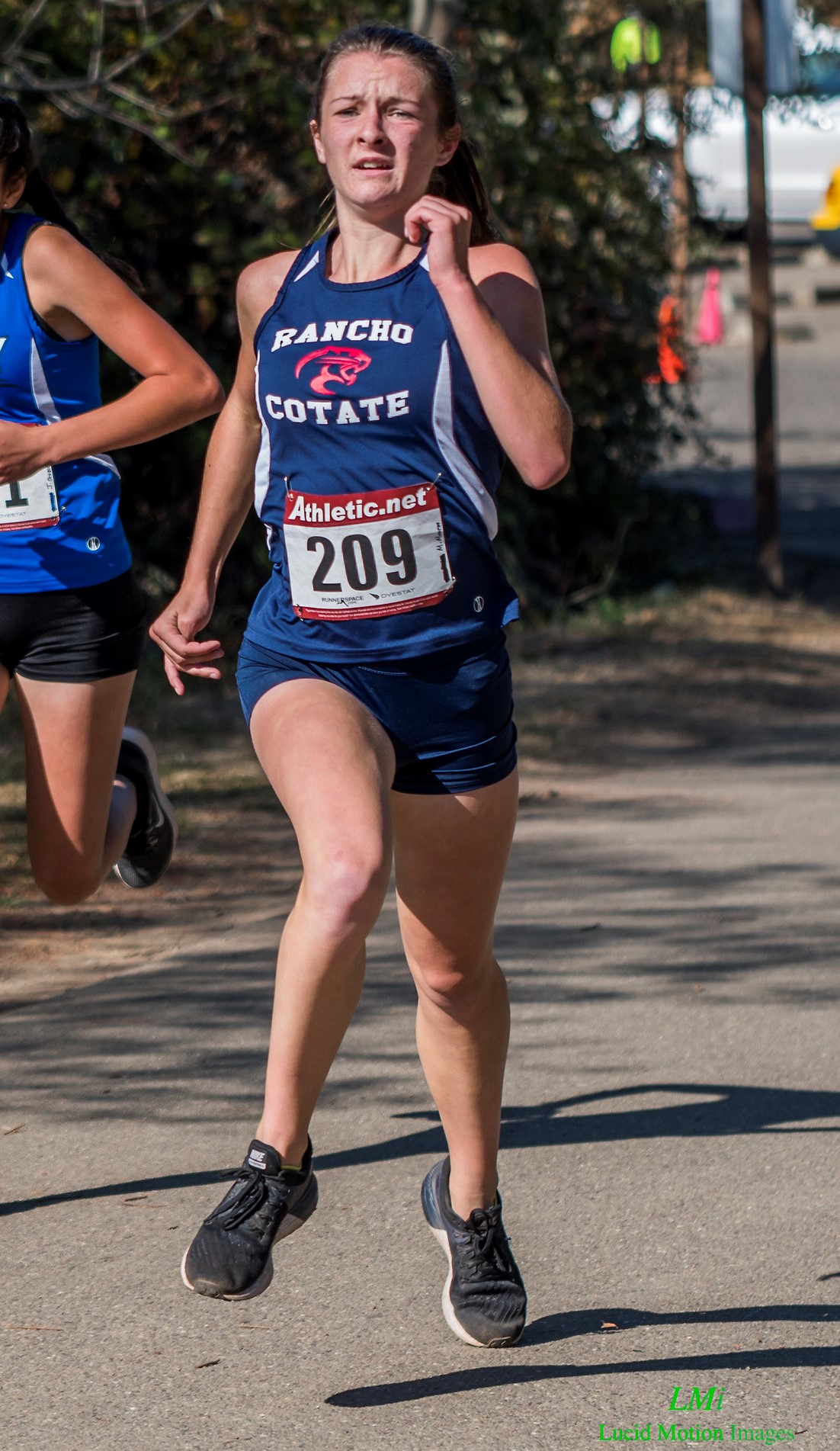 Analy took the next two spots with Jennifer Orozco (21:08) and Madeline Windsor (21:28).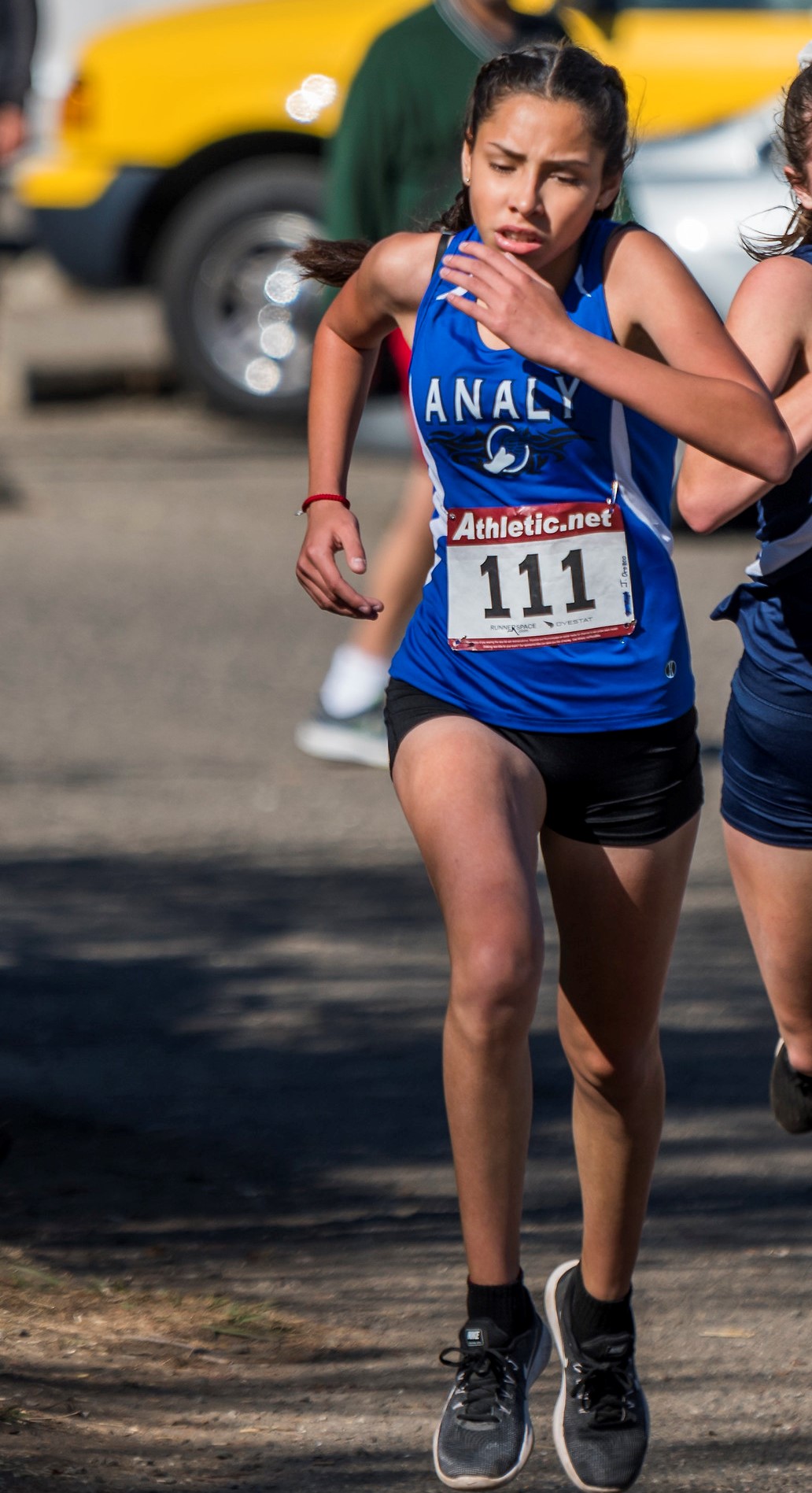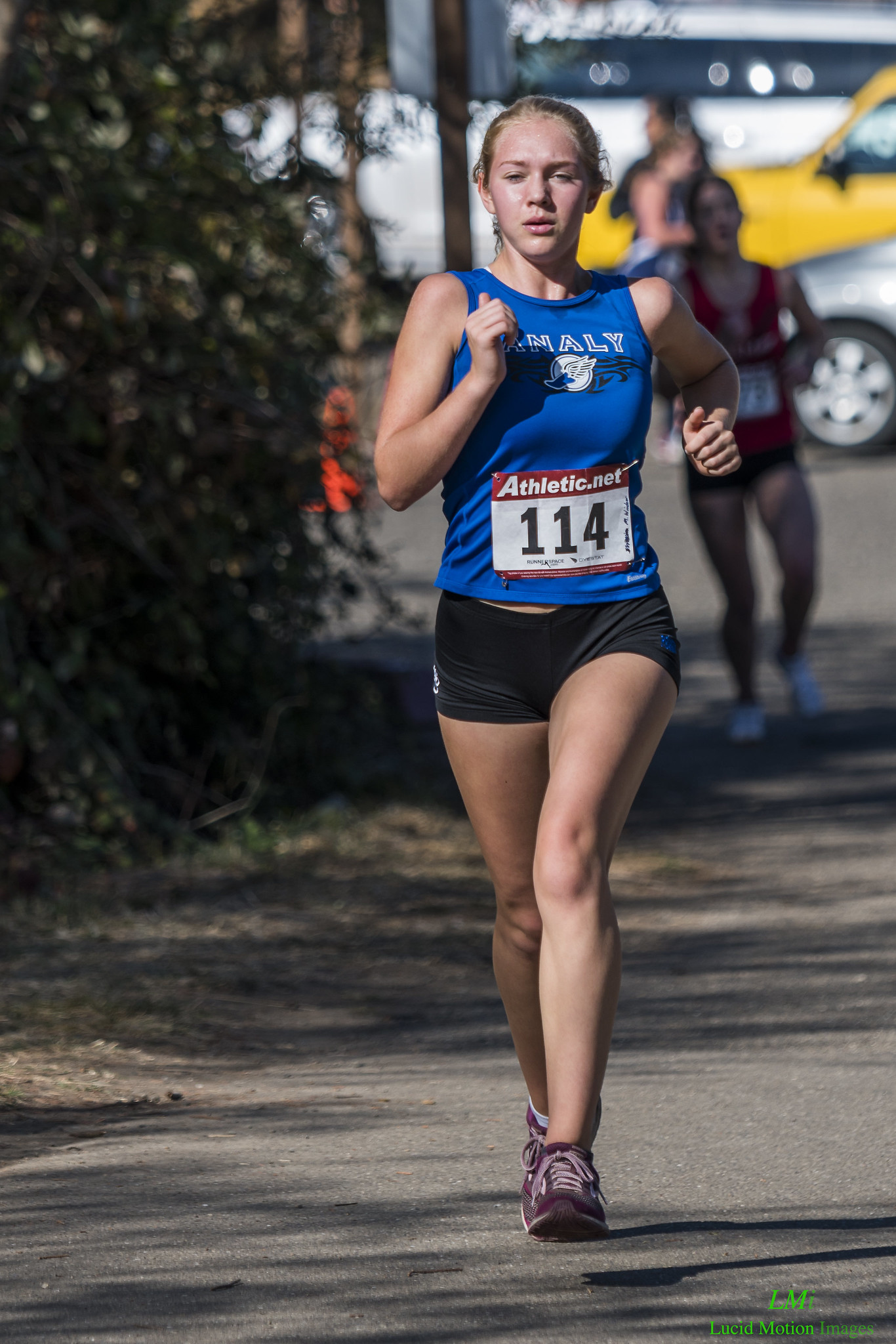 El Molino's Jeanne Broome was 7th in 21:30.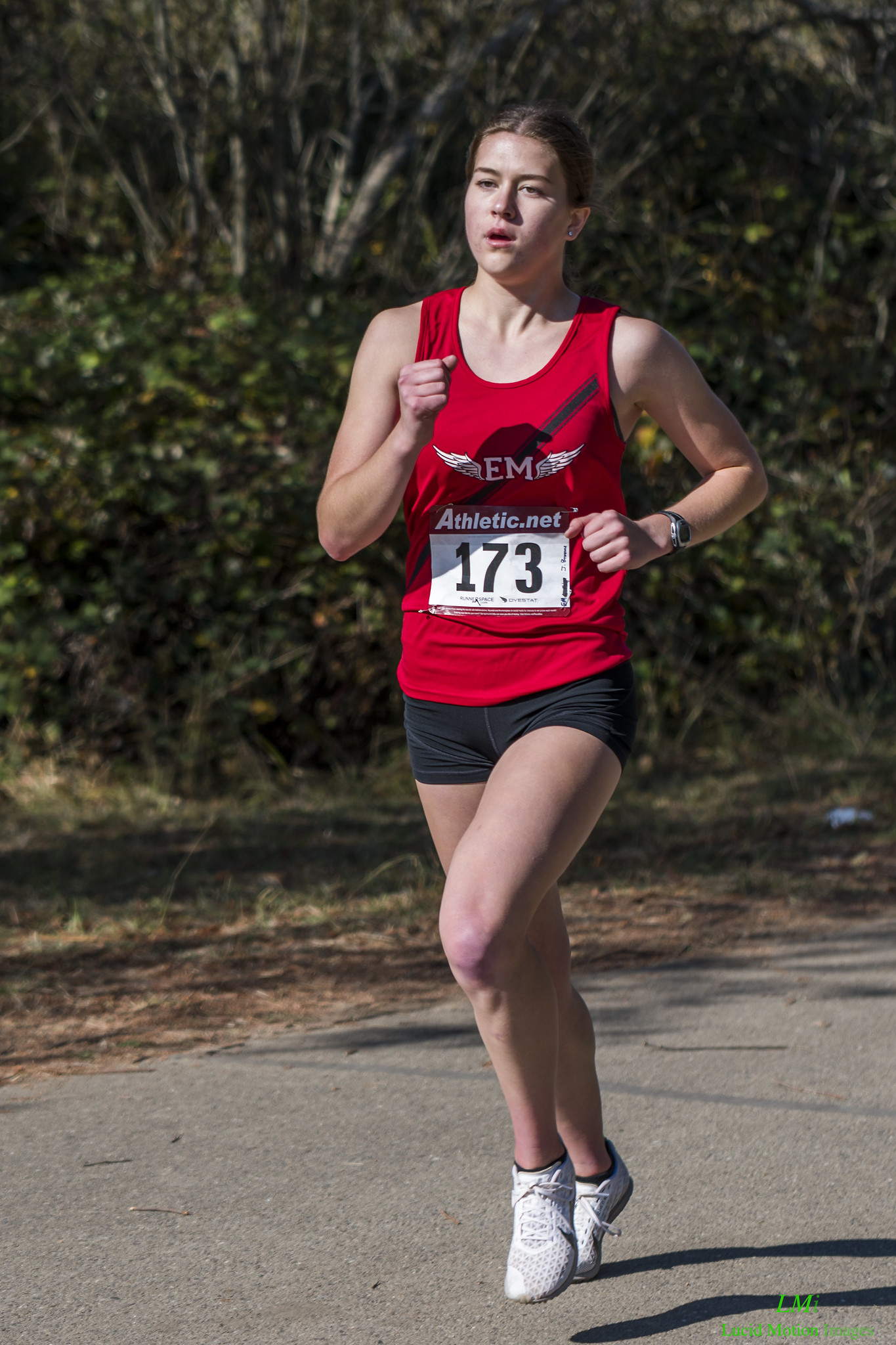 Windsor's Ava Smith was 8th in 21:39.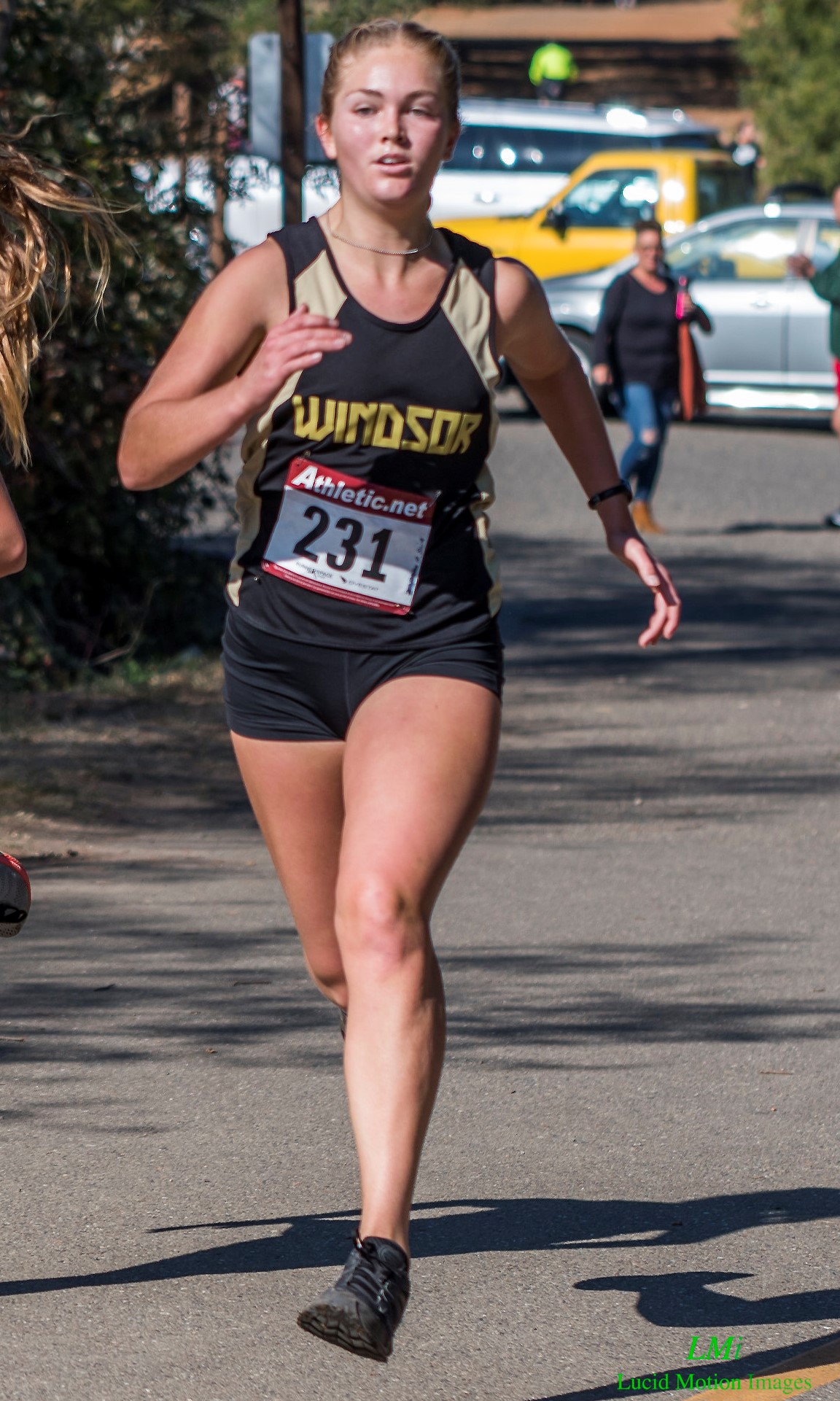 El Molino's Sienna Fassett was 9th in 21:41.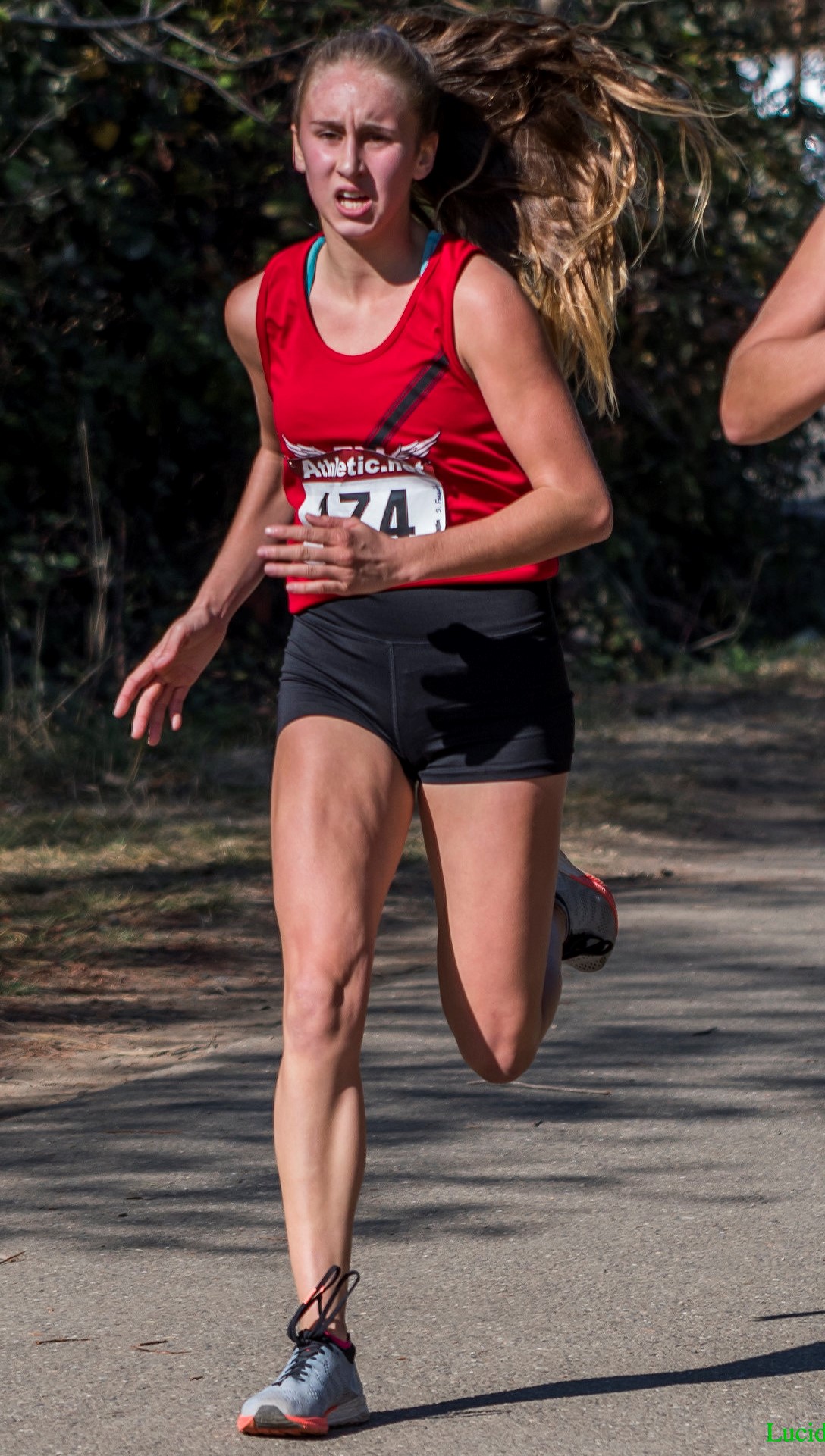 Rancho Cotate's Natalie Nava was 10th in 21:50.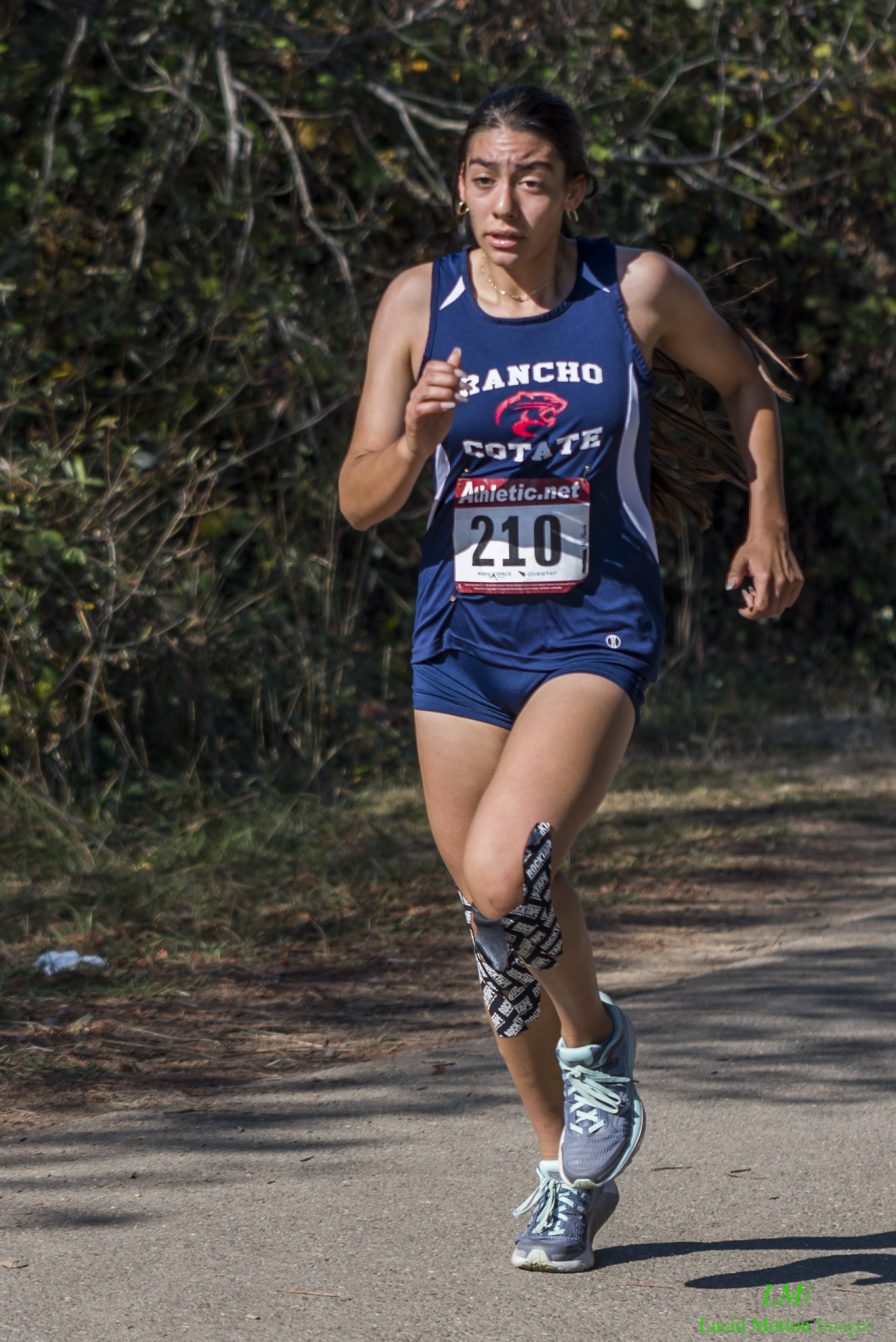 Meet History
Varsity
   1 Windsor        34, Total Time: 1:49:32, Average: 21:54                                                    
   2 Analy          36, Total Time: 1:50:24, Average: 22:05                                                    
   3 Rancho Cotate  52, Total Time: 2:00:30, Average: 24:06  
El Molino, Cardinal Newman & Elsie Allen all incomplete

Meet Record: 16:51 Sarah Sumpter, Healdsburg 2007

  1 Dawson, Carolina          10 Analy                 20:06    1             
  2 Chung, Lilja              10 Windsor               20:12    2             
  3 Johnson, Nataleigh        11 Windsor               20:50    3             
  4 Monroe, Madison           11 Rancho Cotate         21:05    4             
  5 Orozco, Jennifer           9 Analy                 21:08    5             
  6 Windsor, Madeline         12 Analy                 21:28    6             
  7 Broome, Jeanne            11 El Molino             21:30                  
  8 Smith, Ava                12 Windsor               21:39    7             
  9 Fassett, Sienna           10 El Molino             21:41                  
 10 Nava, Natalie             10 Rancho Cotate         21:50    8             
 11 Christensen, Madelyn      10 Analy                 21:54    9             
 12 Pignataro, Jayda          12 Windsor               22:49   10             
 13 mitchell, Nyema           11 Rancho Cotate         23:16   11             
 14 Tucker, Prissilla         10 Windsor               24:02   12             
 15 Soriono, Kelly            12 Rancho Cotate         24:07   13             
 16 Cruz, Dafne               11 Windsor               25:11   14             
 17 McNatt, Emma              10 Analy                 25:48   15             
 18 Case, Olivia              12 Rancho Cotate         30:12   16             
 19 Nelson, Jenna             12 Rancho Cotate         30:42   17  

Junior Varsity
   1 Analy  15,          Total Time: 2:07:32,  Average: 25:32

  1 Suard, Vinice              9 Cardinal Newman       24:09                  
  2 Cohen, Rachel              9 Analy                 24:18    1             
  3 Cohen, Amy                 9 Analy                 24:53    2             
  4 Baptista, Jasmin           9 Analy                 25:36    3             
  5 Squires, Lucille          10 Analy                 25:53    4             
  6 Jame, Margaux             12 Analy                 26:52    5             
  7 Everson, Maddie           12 Analy                 27:23    6             
  8 Righetti, Christina       11 Analy                 29:44    7             
  9 Donis, Cielo              11 Elsie Allen           31:13