Thomas Benjamin saw my recent story on Amber Peirsol and sent me the photo below.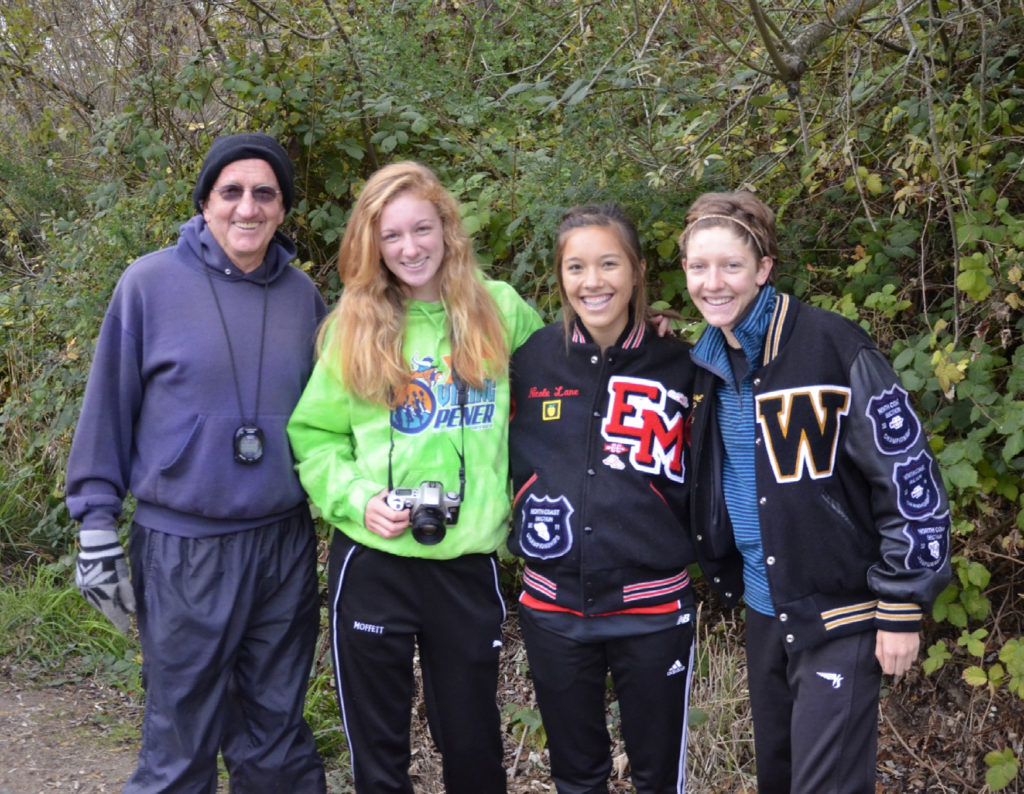 It includes legend Darryl Beardall, 2010 Empire Runner of the Year Ashley Moffett, 2011 Empire Runner of the Year Nicole Lane and Amber Peirsol shortly before the 2011 SCL cross country finals.
Here is a piece I did on Nicole Lane.
Ashley Moffett is preparing for her senior year of track at the University of San Francisco and last year turned in a fast 10,000m in 36:31.31 to bump Lane out of the Empire's All-Time top 10 list.
More about Moffett
Here are a few stories about Darryl Beardall: Runner's World, Empire Runners, Youtube.
10,000 METERS
31:48.71 Kim Conley, New Balance (Montgomery '04) at Stanford 5/4/2014
31:59.23 Alia Gray, Roots Running Project (Maria Carrillo '07) at Peyton Jordan Invit 5/1/16
32:35.87 Sara "Bei" Hall, ASICS (Montgomery '01) at Pacific 10,000m Pursuit-Sacramento 12/6/2015
33:19.77 Sarah Sumpter, UC Davis (Healdsburg '08) Stanford Invitational 4/6/2012
33:33.81 Chris Boyd, Adidas (Empire Runners '93) in 1995
35:45.80 Kathy Lenno, SSU at San Francisco State 5/11/01
36:28.41 Shannon Rich, Chico State (Rancho Cotate) at Mt. SAC Relays 4/15/10
36:31.31 Ashley Moffett, Univ. San Francisco (Casa Grande '13) Mt. SAC Relays 4/15/16
36:52.73 Lisa Gay, Chico (Montgomery) 1994
37:22.91 Jenny Hunt, SSU 2002
37:24.85 Nicole Lane, UC Davis (El Molino '12) Big West Championships 5/16/14