Amber Peirsol had a stellar career while at Windsor High.
She has now graduated from the University of Vermont and turned in some great performances there as well.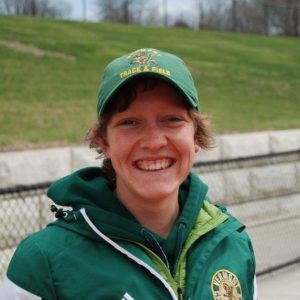 At Vermont
2016 Highlights
January 30th won indoor 1000m race in 2:55.26 at New Hampshire-Field House.
February 6th won indoor mile in 4:51.21 at Scarlet and White Invitational in Boston.
April 16th won 1500m at the Silfen Invitational.
April 30th ran 800 in 2:13.98.
May 15th ran 1500m in 4:35.09 at IC4A/ECAC Outdoor Championships.
MILE
4:24.54i Kim Conley, New Balance (Montgomery '04) at New Balance Games in New York 1/25/14
4:31.50i Sara Bei, Asics (Montgomery '01) at Millrose Games 1/29/10
4:38.39 Lauren Wallace, Oiselle (Ukiah '08) Gent (BEL) 7/21/14
4:44.45c Julia Stamps, Santa Rosa H.S. 5/31/97
4:45.58c Rylee Bowen, Sonoma Academy at 5/30/15 NCS MOC
4:51.09c Jenny Aldridge, Maria Carrillo 6/3/00
4:51.09c Jacque Taylor, Casa Grande 5/31/08
4:51.21i Amber Peirsol, University of Vermont (Windsor '12) at Scarlet and White Invitational in Boston.
4:54.98i Trina Cox, Abilene Christian (SRHS '99, SRJC) at Fayetteville, AR 2/11/05
4:55.99c Laurie Hollingworth, Piner (SSU) 6/7/81
At Windsor High she was a two time 1st Team All-Empire cross country runner.
Senior
1600
2nd NCS Redwood 5:14.00
3rd SCL 5:20.51
8th NCS MOC 5:11.66
5:11.66 3rd '12, All-Time*
800
2:27.14+ 10th '12
XC 5th SCL, 13th NCS II
Junior
1600
1st Castleberry 5:32.9
2nd NCS Redwood 5:18.86
2nd SCL 5:23.68
8th NCS MOC 5:12.48
5:12.48 2nd '11, All-Time*
800
3rd SCL 2:27.70
2:25.54 6th '11
XC 7th NCS II, 7th SCL, 160th STATE, 1st Team All-Empire
Sophomore
3200
2nd SCL 12:04.56
11:49.24+ 7th '10
3000
8th Stanford 10:44.13
1600
3rd NCS/Redwood 5:10.95
11th NCS/MOC 5:12.71
5:10.95 5th '10, 37th All-Time
XC 4th SCL, 5th NCS II, 66th STATE, 1st Team All-Empire
Freshman
3200
1st El Molino Relays 11:32.04
2nd Viking 11:47.07
11:32.04 6th 09, 47th All-Time
1600
3rd SCL 5:16.54+
5:12.81 6th 09, 42nd All-Time
XC
5th SCL, 11th NCS II, 102nd STATE