APRIL 25, 2018, Wednesday
Rancho Cotate and Cardinal Newman at Ukiah
Casa Grande and Maria Carrillo at Santa Rosa
Windsor at Montgomery
EL MOLINO, ANALY at SONOMA VALLEY
ELSIE ALLEN at HEALDSBURG
PINER at PETALUMA
LOWER LAKE, ST. HELENA, SONOMA ACD, PT. ARENA, ST. VINCENT at CLOVERDALE
CLEAR LAKE, TECH, MENDOCINO, WILLITS at FT. BRAGG
RINCON VALLEY, MIDDLETOWN, LAYTONVILLE, CALISTOGA at KELSEYVILLE
Rancho Cotate and Cardinal Newman at Ukiah
VARSITY BOYS
Cardinal Newman – 64, Rancho Cotate – 50, Ukiah – 44
4×100 Meters:
Ranch Cotate – 45.4
Cardinal Newman – 47.4
Ukiah – 47.7
1600 Meters –
Dain Milliman (CN) – 4:56.71
Leopold Van Den Daele (CN) – 4:59.60
Hendrik Telfer (U) – 5:03.24
Lenny Morales (RC) – 5:07.90
Mario Prado (CN – 5:21.11
Luca Szabo (U) – 5:21.31
Johnathon Rivera (U) – 5:27.43
Matthew Prendiville (CN) – 5:39.26
Christian Rauch (CN) – 5:42.45
Aidan Lagorio (U) – 5:47.22
Carlos Perez (RC) – 5:50.20
Darius Naro (RC) – 5:57.62
Colin Farr (U) – 6:29.53
110 Hurdles:
Bowen Palengat (RC) – 17.30
Ryan Duffy (CN) – 18.8
Cody Smith (U) – 20.6
Daniel Lieban (U) – 22.1
400 Meters:
David Simoni (CN) – 54.0
Dominie Batti (RC) – 54.3
Cameron Davis (RC) – 55.9
George Grant (CN) – 57.9
Logan Kraemer (U) – 1:14.0
100 Meters:
James Reagan (RC) – 11.9
Jeremy WU (CN) – 12.1
Jett Dumont (CN) – 12.2
Curtis Espinoza (U) – 12.4
Justin Mowery (U) – 13.2
800 Meters:
David Simoni (CN) – 2:06.40
Cade Gravier (U) – 2:07.17
Giovanni Cliburn (U) – 2:14.75
Dain Milliman (CN) – 2:14.99
Leopold Van Den Daele (CN) – 2:16.27
Hendrik Telfer (U) – 2:18.80
Johnathon Rivera (U) – 2:22.59
Luca Szabo (U) – 2:28.14
Aidan Lagorio (U) – 2:35.58
300 Hurdles:
Bowen Palengat (RC) – 43.0
Ryan Duffy (CN) – 43.9
James Reagan (RC) – 46.1
Cody Smith (U) – 47.1
Torron Henderson (U) – 1:01.4
200 Hurdles:
Dominic Betti (RC) – 23.2
David Simoni (CN) – 24.3
Cameron Davis (RC) – 24.3
Robert Laube (RC) – 25.0
Jeremy WU (CN) – 25.1
Jett Dumont (CN) – 25.2
Kody Smith (U) – 25.3
3200 Meters:
Cade Gravier (U) – 11:02.07
Leopold Van Den Daele (CN) – 11:03.14
Lennyn Morales (RC) – 11:22.44
Mathew Prendiville (CN) – 12:43.60
Carlos Perez (RC) – 13:00.28
Darius Naro (RC) – 14:10.65
4×400 Meters:
Cardinal Newman – 3:45.5
Ukiah – 3:55.5
Shot Put:
Torron Henderson (U) – 43' 2 ½ "
Kalathan Laiwa-Mckay (U) – 42' 10 ¾"
Hector Vega (CN) – 37'
Camden Weaver (CN) – 33' 7"
Logan Kraemer (U) – 33' 3 ¼"
Spencer Rico (U) – 33'
SHOT PUT: Sam Davison (CN) – 32' 8 ¼"
Discus:
Sam Davison (CN) – 134" 6"
Kalathan Laiwa-McKay (U) – 112' 10"
Torron Henderson (U) – 111' 11"
Hector Vega (CN) – 107' 3"
Spencer Rico (U) – 105' 9"
High Jump:
Joey Adams (RC) – 5' 4"
Robert Laube (RC) – 5'
Long Jump:
Kyle Pham (U) – 19' 8"
Jeremy WU (CN) – 17'5"
Sindre Fredheim (U) – 17'
Robert Laube (RC) – 16' 9"
Jasper Cauckwell (U) – 15' 11"
Brian Davis (RC) – 15' 8"
George Grant (CN) – 15' 8"
Kalathan Laiwa – McKay (U) – 14"
Triple Jump:
Dan Milliman (CN) – 35'
Jasper Cauckwell (U) – 31' 11"
Robert Laube (RC) – 31' 10"
Spencer Rico (U) – 31' 6"
Brian Davis (RC) – 30' 7"
Sindre Fredheim (U) – 30' 2"
Pole Vault results for Varsity Boys were not added into the final scores as the bar broke which made it impossible for to athletes to Vault. Here are the results as they stood when bar was broken. Adding in these scores doesn't change the outcome of the Boys Varsity competition.
Pole Vault: Daniel LIeben (U) – 9' 6" / Joey Adams (RC) – 9' / Brian Davis (RC) – 9'
Josh Savora (CN) and Kody Smith (U) did not have an opportunity to Vault.
VARSITY GIRLS
Ukiah – 60, Cardinal Newman – 48, Rancho Cotate – 43
4×100 Meters:
Rancho Cotate – 53.1
Cardinal Newman – 54.4
Ukiah – 55.1
1600 Meters:
Amaris L' Heureux (U) – 5:38.87
Alexis Swoboda (U) – 6:04.50
100 Hurdles:
Allison Wild (RC) – 17.3
Olivia Nicholes (CN) – 17.3
Katie Naro (RC) – 18.3
Clare Curran (CN) – 19.4
Morgan Clark (U) – 20.7
400 Meters:
Alex Niehaus (CN) – 1:05.3
Madison Monroe (RC) – 1:06.8
Karina Deharo (U) – 1:07.05
Morgan Clark (U) – 1:09.30
Reese Lashinski (CN) – 1:09.55
Jenna Bonzi (CN) – 1:10.34
100 Meters:
Lois Auriol (RC) – 13.02
Olivia Nicholes (CN) – 13.7
Madison Monroe (RC) – 14.1
Grace Brazil (U) – 14.3
Valentina Evans (U) – 14.4 Page 4
300 Hurdles:
Katie Naro (RC) – 53.18
Xochi Gutierrez (U) – 53.9
Allison Wild (RC) – 1:06.1
Clare Curran (CN) – 1:06.8
800 Meters:
Ruby Telfer (U) – 2:46.0
Alexis Swoboda (U) – 2:53.2
200 Meters:
Alex Niehaus (CN) – 27.3
Lois Auriol (CN) – 28.4
Madison Monroe (R) – 28.6
Olivia Nicholes (CN) – 28.6
Morgan Clark (U) – 29.7
Karina Deharo (U) – 30.2
Reese Lashinski (CN) – 30.6
Bella Erwin (CN) – 30.6
Kaili Golden (CN) – 31.4
3200 Meters:
Ruby Telfer (U) – 14:34.78
4×400 Meters:
Ukiah – 4:39.22
Cardinal Newman – 4:48.4
Shot Put:
Danielle Cunningham (U) – 34' 2"
Lyla Swanton (CN) – 26' 8 ¼"
Thea Krasts (U) – 26' 4 ½"
Lindsey Ammons (CN) – 25' 11 ½"
Semaj Lemelle (U) – 25' 10 ½"
Olivia Williams (CN) – 24' 3 ½ "
Clarice Quigley (U) – 20' 8 ½ "
Chloe Larramendy (U) – 20' 5 ½"
Page 5
Discus:
Lyla Swanton (CN) – 90' 2"
Danielle Cunningham (U) – 87' 3"
Olivia Williams (CN) – 85' 6"
Lindsay Ammons (CN) – 81' 6"
High Jump:
Katie Naro (RC) – 4' 4"
Eli Lerch (RC) – 4'2"
Pole Vault:
Tiegan Carter (U) – 8' 6"
Thea Krasts (U) – 7'
Long Jump:
Valentina Evans (U) – 14' 6"
Semaj Lemelle (U) – 13'6"
Bella Erwin (CN) – 13' 3"
April Jackson (RC) – 12' 6"
Triple Jump:
Bella Erwin (CN) – 27' 7"
April Jackson (RC) – 26' 10"
JV GIRLS
Rancho Cotate – 54, Ukiah – 30, Cardinal Newman – 17
4×100 Meters: Ukiah A – 58.19
Rancho – 58.43
Ukiah B – 1:04.15
1600 Meters: Nyema Mitchell (RC) – 6:47.24
Olivia Case (RC) – 7:34.42
100 Hurdles: Louisa Hernandez (RC) – 21.27
Samantha Sparkman (U) – 22.11
400 Meters:
100 Meters: Emylia Ruffin (U) – 14.49
Kaili Golden (CN) – 14.81
Samantha Sparkman (U) – 15.30
Sara Barr (U) – 15.50
Oceana Sipila (U) – 15.50
Olivia Denbo (U) – 15.71
Anna Dolleris (U) – 15.90
Desarai Cox (U) – 16.68
Jolie L' Heureux (U) – 16.87
Piuliang Li (CN) – 17.74
Sophia Sutherland (CN) – 17.93
800 Meters: Nyema Mitchell (RC) – 3:09.72
Olivia Case (RC) – 3:28.43
300 Hurdles: Louisa Hernandez (RC) – 1:00.68
Jolie L' Heureux (U) – 1:09.46
Desarai Cox (U) – 1:11.96
200 Meters: Emylia Ruffin (U) – 29.86
Olivia Denbo (U) – 31.96
Daniela Henripuez (RC) – 32.01 Page 1
JV Girls
200 Meters: Anna Dolleris (U) – 33.43
Desarai Cox (U) – 35.27
Piuliang Li (CN) – 37.11
3200 Meters:
4×400 Meters:
Shot Put: Kaia Cargill (CN) – 24' 5 1/2"
Kristen Martinez (RC) – 22' 5 ½"
Audrey Seymour (CN) – 19' 6 ¼"
Discus: Kaia Cargill (CN) – 65' 10"
Kristen Martinez (RC) – 59' 5"
Audrey Seymour (CN) – 54' 9"
Eli Lerch (RC) – 48' ½"
High Jump:
Pole Vault: Oceana Sipilia (U) – 6'
Long Jump: Secilia Sanchez (RC) – 14' 10"
Meagan Whitehall (RC) – 10' 7 ½"
Triple Jump: Secilia Sanchez (RC) – 28' 3"
Meagan Whitehall (RC) – 26' 5"
JV BOYS
Ukiah – 59, Rancho Cotate – 50, Cardinal Newman – 14
4×100 Meters: Rancho Cotate – 51.46
1600 Meter: Lorenzo Diaz (U) – 5:25.51
Johnathon Medina (RC) – 5:32.20
Caleb Mucho (U) – 5:35.56
Walker Raugewitz (U) – 5:45.16
Mark Stout (CN) – 5:49.93
Anthony Clark (RC) – 5:51.65 Page 2
110 Hurdles: Zane Petersen (U) – 20.93
Jaden Vallejos (RC) – 21.83
400 Meters: Jesus Salazar (RC) – 58.93
Dayian Martinez (RC) – 1:00.14
Frank Alonso (RC) – 1:03.17
Jacob Mello (U) – 1:04.30
Thomas Thies (U) – 1:13.49
100 Meters: Dawson Dayton (U) – 13.24
Alex Hill (RC) – 13.49
Scott Wang (CN) – 13.81
Jacob Mello (U) – 14.11
800 Meters: Walker Raugewitz (U) – 2:36.34
300 Hurdles: Jesus Salazar (RC) – 53.49
Jaden Vallejos (RC) – 57.90
200 Meters: Dayian Martinez (RC) – 25.99
Frank Alonso (RC) – 27.08
Scott Wang (CN) – 29.02
3200 Meters: Caleb Mucho (U) – 12:10.05
Johnathon Medina (RC) – 12:41.76
Anthony Clark (RC) – 14:21.83
4×400 Meters:
Shot Put: Michael Bevilacqua (CN) – 27' 11"
Victor Galarza (U) – 24' 4 ¾"
Discus: Michael Bevilacqua (CN) – 74' 10 1/2"
Victor Galarza (U) – 51' 4 1/2"
High Jump: Dawson Dayton (U) – 4' 6"
Pole Vault: Zane Petersen (U) – 8' 6"
Page 3
JV Boys
Long Jump: Jacob Mello (U) – 14' 7"
Dawson Dayton (U) – 14' 7"
Thomas Thies (U) – 11' 6"
Triple Jump:
Casa Grande and Maria Carrillo at Santa Rosa
Varsity Boys
Maria Carrillo 74, Santa Rosa 55, Casa Grande 38
4 x 100 Relay
MC '43.5 5
SR '44.7 3
CG '45.4
1600 Meter
Langston Hay SR 4:32.2
Ben Lawson MC 4:33.5
Colton Swinth MC 4:34.2
Andrew Engle SR 4:37.6
Sam Joslyn SR 4:37.83
Owen Hite CG 4:38.76
Will Hite CG 4:39.24
Logan Moon CG 4:39.88
Alexis Frais CG 4:53.68
Zach Lindemann MC 4:54.84
Luke Baird CG 5:13.96
110 Hurdle
Brayden Glascock SR '15.1 5
Marcus Wolski MC '15.6 3
Gavin Herculson MC '15.9 2
Huizhi Yang CG '16.5
Tobias Humphreys CG 17.5
400 Meter
Will McCloud MC '50.9 5
J. Love CG '53.2 3
R. Gack SR '54.5 2
C. Sachen CG '54.5
Jonathan Stringer-Stine SR 55.0
Cody Johnson CG 56.9
Simon Holin CG 57
Robert Bailey SR 59.5
100 Meter
Severin Ramirez MC '10.7 5
M. Mason CG '10.9 3
Dimetre Coffey MC '11.0 2
Tre Prince SR 11.4
Nathaniel Seims SR 11.62
Cole Kuper CG 11.64
Quinton Cuellar MC 11.68
Aedan Hollingshead CG 11.84
Matthew Wieland CG 12.02
Cody Johnson CG 12.12
Kyle Uber CG 12.24
800 Meter
Langston Hay SR '2:01.4 5
Taylor Ingram MC '2:02.8 3
Connor Scott SR '2:03.7 2
Will Mc Cloud MC '2:04.8
Pience Kapustka MC 2:05.9
Matthew Giroux CG 2:08.31
Logan Moon CG 2:09.31
Benjamin Chi SR 2:09.85
Aaron Beaube CG 2:12.00
Jacob Wright MC 2:12.47
Alexis Frias CG 2:12.84
Jacob White MC 2:14.06
Adesh Bassi MC 2:14.78
300 Hurdle
Braden Glascock SR '40.9 5
Marcus Wolski MC '42.3 3
Gavin Herculson MC '42.5 2
Huizhi Yang CG '47.3
200 Meter
Severin Ramirez MC '21.8 5
Matthew Mason CG '22.1 3
Trevien Prince SR '22.5 2
Nathanial Seims SR '22.9
Jalydon Love CG 23.3
Aedan Hollingshead CG 23.4
Johnathan Stringer-Stine SR 24.4
Cody Johnson CG 24.4
Matthew Wieland CG 24.8
3200 Meter
Rory Smail MC '10:16.2 5
Harrison Frankl MC '10:17.6 3
Garrett Esponda CG '10:24.7 2
Nolan Hosbein CG '10:28.9
Sam Joslyn SR 10:29.3
Jack Pickle MC 10:31.31
Owen Pugh MC 10:32.15
Patrick Philip MC 10:33.15
Elijah Ettedgui MC 10:35.46
Andrew Gotshall CG 10:40:34
Andrew McKamey SR 10:41.90
Steven Grams SR 10:43.52
Andrew Engle SR 11:00.06
Jake Dietlin CG 11:02.06
4×400 Relay
SR '3:36.2 5
CG '3:39.7 3
Discus
Scott Mc Camish SR '142'3″ 5
Alex Azanon CG '124'9″ 3
Brandon Cobb SR '116'9″ 2
Jake Menninger CG '112'10"
Chris Herrera MC 112'1"
Matthew Hart CG 108'9"
Xochipilli-Olivera SR 107'4"
Ryan Willat MC 97'7"
Logan Glascock SR 91.9"
Sam Leitch MC 75'8"
Andrew Marshall MC 56'6"
Shot Put
Chris Herrera MC 43'11"
Matt Hart CG 42'9″
Alex Azannon CG 41'0″
Xochipilli Vera SR 37'11"
Scott McCamish SR 36'1"
Ryan Willat MC 34'4"
Brandon Cobb SR 33'7"
Logan Glascock SR 32'2"
Sam Leitch MC 25'4"
Andrew Marshall MC 22'7"
Long Jump
Mason Adams MC 19′ 6 3/4″
Marty Pain CG 18′ 7 1/4″
Matthew Mason CG 18′ 4 1/4″
Kyle Uber CG 18' 4″
Cody Kuper CG 18' 3"
Nathan Cook SR 17' 10"
Ryan Murgatroyd MC 17' 8"
Robert Bailey SR 17' 5 3/4"
Cody Johnson CG 17' 1"
Luca Salmon MC 16' 9 1/4"
Xochi Vera SR 14' 10 1/2"
Rory Bourdage SR 14' 3 1/2"
High Jump
Ryan Mugatroyd MC 6' 0″
Mason Adams MC 5'10"
Pontus Rydell SR 5' 8″
Cooper Plattus MC 5' 8″
Remington Gack SR 5' 4″
Luca Salmon MC 5′ 4″
Matt Groux CG 5' 2″
Triple Jump
Ryan Murgatroyd MC 37′ 5 1/2″
Marty Payne CG 37' 2″
Kyle Uber CG 36′ 6 1/2″
Mason Adams MC 36′ 6 1/2″
Cole Kuper CG 36' 6″
Remington Gack SR 36' 1″
Pontus Rydell SR 33' 2″
Aaron Rivas SR 32′ 8 1/2″
Matthew Wieland CG 31′ 9 1/2″
Orion Tiscornia SR 31' 4 1/4″
Pole Vault
Orion Tiscornia SR '9'0″ 5
Kenny Moreno SR '7'6″ 3
Varsity Girls
Maria Carrillo 80, Santa Rosa 64, Casa Grande 21
4 x 100 Relay
MC '49.7 5
'52.6 3
SR '53.1
MC '55.0
1600 Meter
Sydnie Rivas MC 5:24.9
Aimee Armstrong MC 5:25.2
Nicole Morris MC 5:28.1
Detreglia CG 5:33.4
Baswell CG 5:36.94
Sojka CG 5:37.78
Hannah Cohen-Sandler MC 5:47.90
Joseph SR 5:50.34
Jordan Pride SR 6:14.40
100 Hurdle
Habiba Sanusi MC '15.7 5
Jessica Stercl MC '16.9 3
D. Brutus CG '17.9 2
Orosz SR '18.2
ChloeWinsemius CG 18.8
Mervil Weedernita CG 19.08
Kimberly Padilla CG 19.34
Daisy Arango-Hernandez CG 20.46
400 Meter
Kiely Rowe MC 1:01.4
AnikaWilliams SR 1:02.8
EmilyMelton CG 1:03.7
Sarah Edwards SR 1:04.2
Zoe Hermsen MC 1:05.3
Emma Simon SR 1:06.1
Alessandra Alvarenga CG 1:13.2
100 Meter
L. Doran CG '12.7 5
Sarah Aanenson MC NT 3
A. Wong SR '13.0 2
M. Tiu CG '13.2
Izel Zamora SR 13.2
Mia Shew-Smith CG 13.4
Nailea Flores SR 13.6
Isa Ponce SR 13.6
Nita Mervil CG 13.7
Epiphany Gierok MC 13.7
AAlyna Silva CG 13.8
Tiarra Jeff CG 13.9
Francisca Theodore CG 14.4
Leticia Manzo CG 14.7
Alivia Young MC 15.2
800 Meter
Caroline Duffy SR '2:20.4 5
Jacque Hale SR '2:24.9 3
Talia MC '2:26.7 2
Jasmin MC '2:29.2
Grace Petregla CG 2:31.8
Avery Damron MC 2:32.5
Victoria Sojka CG 2:33.6
Hannah Cohen Sandler MC 2:35.4
Abby Vestnys CG 2:36.18
Emma Baswell CG 2:37.02
Ellie Civelo MC 2:38.02
Ananita Jensen MC 2:39.50
Aubrey Moessing MC 2:40.96
300 Hurdle
A. Williams SR '49.1 5
Jessica Stercl MC '51.0 3
Dorah Brutus CG '53.3 2
N. Mervil CG '54.9
Kayla Briceno CG 55.1
Eliana Bruce SR 55.9
200 Meter
Assata Polk MC '25.3 5
Izel Zamora SR '26.8 3
Anna Wong SR '27.1 2
Lianah Oue MC '27.2
Emily Melton CG 27.3
Sarah Edwards SR 28.4
Kimberly Padilla CG 29.9
3200 Meter
Megan Field MC '12:04.3 5
Sydnie Rivas MC '12:07.6 3
Katrina Frandsen SR '12:36.3 2
Celeste Chavez CG '12:43.1
Talia Leano MC 12:55.0
Haley Joerger MC 13:10.9
Lucia Garay CG 13:21.6
4×400 Relay
MC '4:09.5 5
SR '4:12.0 3
CG '4:33.0
MC '4:37.0
Discus
Caitlin Grace SR 115' 11″
Lillian McCoy CG 107' 0″
Kendall Schroth SR 100' 7″
Kayley Walker SR 99' 3″
Daniela Botello SR 93' 1″
Chloe Candelario MC 86' 6″
Angela Amantite MC 81' 8″
Bella Samii MC 81' 4″
Lael Joseph SR 73' 2″
MacDalah Fry SR 70' 6″
Felicia Helbig MC 66' 9″
Leilani Highland CG 63' 11″
Mackenzie Cramer MC 61' 9″
Faith Murray MC 47' 5″
Tricia Cayetano MC 39' 4″
Shot Put
Lillian McCoy CG 34'9″ PR
Caitlin Grace SR 34'8″ PR
Kayley Walker SR 32'9″
Kendall Schroth SR 30'2″
Daniela Botello SR 29'10"
Macdalah Fry SR 28'9" PR
Leilani Highland CG 27'8"
Bella Samii MC 26'11"
Francisca Theodore CG 24'5"
Chloe Candelario MC 24'3"
Felicia Helbig MC 21'9" PR
Mackenzie Cramer MC 21'7"
Cassidy Trejo MC 20'11" PR
Tricia Cayetano MC 16'0"
Long Jump
Sarah Aanenson MC 16' 8″
Caroline Duffy SR 14' 11 3/4″
Habibah Sanusi MC 14' 7″
Isa Ponce SR 13' 7 1/4″
Tierra Jeff CG 13' 7"
Eleana Bruce SR 12' 9 1/2"
Lauren Duran CG 12' 9"
Celina Silva CG 12' 8 1/4"
francisca Theodore CG 12' 4"
Katie Simpson SR 11' 10"
High Jump
Bria Keelty SR 4'8″
Beth Orosz SR 4'8″
Lael Joseph SR 4'6″
Evi Burke SR 4'4″
Chloe Winsemius CG 4'4"
Kiely Rowe MC 4'2"
Grace Alchemy SR NH
Epiphany Gierok MC NH
Triple Jump
Habibah Sanusi MC 34' 8 1/2″
Sarah Aananson MC 34′ 4 1/2″
Savannah Nied MC 30′ 10 3/4″
Sarah Kellehner SR 29' 9″
Franciscia Theodore ? CG ? 29′ 1/2″
Bria Keelty SR 27′ 7 1/2″
Eliana Bruce SR 27′ 2 3/4″
Tiarra Jeff CG 26' 9 1/2 "
Jennifer Williams SR 25' 2 1/2″
Pole Vault
Savannah Nied MC 11' 1″
Sarah Kelleher SR 9' 0″
Bria Kellty SR 9' 0″
Faith Murrary MC 8' 6″
Eliana Bruce SR 7' 6"
Katie Simpson SR 7' 0"
JV Boys
Santa Rosa 57, Maria Carrillo 56, Casa Grande 27
4 x 100 Relay MC '47.0 5 CG '48.75 3 SR '49.99
1600 Meter Faris Delgado SR 04:59.00 5 Omar Alveraz MC 4.59.94 3 Matthew Arietta MC 05:05.00 2 Tristan Singleton MC 05:07.00
110 Hurdle Crossler CG '19.8 5
400 Meter Bryce Chinn MC '56.31 5 Joshua Chang MC '56.72 3 D. Lublinere CG '57.84 2 Brandon Pragusa MC '59.02
100 Meter C. Wood MC '11.8 5 Bryce Chinn MC '11.93 3
800 Meter Owen Telloian SR '2:15.25 5 Faris Delgado SR 02:25.00 3 Kyle Hirth MC 2:2557 2 Antonio Lorenzana SR 2;29.19
300 Hurdle Brandon Pragasa MC '47.50 5 Joshua Chang MC '47:59 3 Jose Jimenez Gomez CG '52.12 2 Nicolas Crossler CG '54.22
200 Meter Cody Wood MC '23.8 5 Travis McNulty SR '23.90 3 Jason Alvardo MC '24.40 2 Daniel Lubliner CG '24.66
3200 Meter Kyle Heischer SR '11:06.52 5 Jacob Allen CG '11:20.00 3 Henry Bowen SR '12:50.96 2
4×400 Relay SR '4:24.02 5
Discus Jack Foley SR '97'0″ 5 Liam Galbreath CG '82'2″ 3 Conner Gloster CG '77'2″ 2 Darren Niedlinger CG '77'1″
Shot Put Jack Foley SR '33'6″ 5 Daren Neid Linger CG '32'6″ 3 Jaden Gray SR '33'6″ 2 Conner Gloster CG '31'10"
Long Jump Ethan Chen MC '16' 7 3/4″ 5 David O'Sullivan SR '15' 11 1/2″ 3 Aaron Rivas SR '14 6″ 2 Ethan Kofahl SR '13' 11 1/4″
High Jump Chris Holland SR '5'4″ 5 Cody Wood MC '5'4″ 3 Dystinend Fair MC '5'4″ 2 Eil Moeller MC '5'0″
Triple Jump Linus Rydell SR '35'9″ 5
Pole Vault
JV Girls
Santa Rosa 65, Casa Grande 26, Maria Carrillo 9
4 x 100 Relay CG '56.37 5 SR '56.56 3
1600 Meter Jamie Lu MC 06:18.00 5 Emily Cates SR 06:19.00 3 Sarah Ngyen MC 06:29.00 2 Leslie Valdez MC 06:49.00 1
110 Hurdle Madison Cathcart CG '22.58 5
400 Meter M. Fike SR '10.71 5 J. Williams SR '11.68 3 A. Steeves CG '14.06 2 Jamie Lu MC '15.96 1
100 Meter J. Lundberg CG '13.71 5 C. Mantoani CG '13.84 3 M. Milllea SR '13.87 2 B. Arango CG '14.06 1
800 Meter
300 Hurdle
200 Meter Camille Mantoani CG '28.56 5 Jordan Lundberg SR '29.50 3 Alexia Varela SR '29.88 2 Megan Fike SR '29.88 1
3200 Meter
4×400 Relay SR '5:00.78 5
Discus Sandy Ramirez SR '78'2″ 5 Makayla Millea SR '69'9″ 3 Ellisha McKamey SR '66'3″ 2 Piper Kirk SR '64'9″ 1
Shot Put Lizett Camacho SR '24'7″ 5 Jenniffer Camacho SR '24'1″ 3 Ellisha McKamey SR '21'7″ 2 Sandy RAmeriz SR '20'11" 1
Long Jump Lily Green SR '14'1″ 5 Jada Burn SR '11'0″ 3 Ellisha MvKamey SR '10' 7 3/4″ 2 Piper Kirk SR '9' 7 1/2″ 1
High Jump
Triple Jump Makayla Miller SR '27' 1/2″ 5
Pole Vault
Varsity Boys
Montgomery 89, Windsor 42
4x100m
MHS 46.3
WHS DQ
1600m
Lucas Chung WHS 4:41
Hunter Larson WHS 4:49
Brandon Alvarado MHS 5:02
Kyle Theuerkauf MHS 5:05
Kibby Tesfamichael MHS 5:29
Hayden Dalsing MHS 5:38
110 Hurdles
Brent Oru-Craig MHS 15.2
Hunter Wagner MHS 15.8
Scott McLaughlin WHS 16.0
Charles Fisher MHS 18.7
Nicolas Pagan WHS 18.9
Grant Hurd MHS 19.1
Jake Maltby MHS 19.1
400m
Brent Oru-Craig MHS 53.3
John Cionci WHS 57.0
Ramon Cruz MHS 58.3
Garrett Hurd MHS 60.8
100m
Jaden Fernandez MHS 11.2
Max Sandwina WHS 11.5
Sebastian Vazquez WHS 11.6
Raven Davis WHS 11.6
800m
Lucas Chung WHS 2:10.3
Vincent Corday WHS 2:12.8
Brandon Alvarado MHS 2:16.1
John Cionci WHS 2:19.4
Garrett Hurd MHS 2:24.2
Kyle Theuerkauf MHS 2:24.5
Kibby Tesfamichael MHS 2:37.7
Hayden Dalsing MHS 2:40
300 Hurdles
Brent Oru-Craig MHS 40.9
Charles Fisher MHS 45.1
Jake Maltby MHS 49.8
Scott McLaughlin WHS 52.6
200m
Jaden Fernandez MHS 23.5
Raven Davis WHS 24.2
Max Sandwina WHS 24.3
Lucas Chung WHS 25.2
Gabriel Tucker MHS 25.8
Jace Filippetti MHS 32.3
3200m
Hunter Larson WHS 11:00.5
Kyle Theuerkauf MHS 11:30.8
Landon McAlister WHS 12:10.2
Joshua Jones MHS 13:01.1
Kibby Tesfamichael MHS 13:27.6
4x400m
MHS 4:03.8
WHS 4:09.1
Long Jump
Waisea Jikoiono MHS 19-7
Vincent Corday WHS 19-0.5
Giovanni Yepez MHS 18-10.75
Gabriel Tucker MHS 17-6
Grant Hurd MHS 17-5
Nicolas Pagan WHS 17-1
Scott McLaughlin WHS 17-0.5
Triple Jump
Vincent Corday WHS 38-10.75
Shot Put
Austin Vaccaro MHS 39-11.5
Brian Day MHS 33-9
Dominic Hiltebrand MHS 31-9
Matthew Bockon MHS 28-0
Jace Filippetti MHS 24-11
Discus
Brian Day MHS 139-8
Austin Vaccaro MHS 89-5
Dominic Hiltebrand MHS 66-1
Matthew Bockon MHS 63-6
Jace Filippetti MHS 59-8
High Jump
Waisea Jikoiono MHS 6-4
Jacob Williams MHS 5-8
Gabriel Tucker MHS 5-6
John Cionci WHS 5-0
Pole Vault
Hunter Wagner MHS 12-0
Orion Dowdall MHS 10-0
Varsity Girls
Montgomery 96, Windsor 23
400R
Montgomery 53.7
1600
Mariah Briceno MHS 5:36
Bailey Companella WHS 5:36.5
Leah Haley MHS 5:39
Jasmine Becker MHS 5:44
Erin O'Mara WHS 5:46
Abbey Colvin MHS 5:51
Kaliana Brown WHS 5:52
100HH
Mya Jones MHS NT
Shelby Logan MHS 27.8
400
Grace Mackey MHS 62.4
Jayda Pignataro WHS 65.7
100
Emma Haley MHS 13.4
Jessica Dueck MHS 13.7
Mya Jones MHS 13.8
Raeonnah Thomas MHS 15.3
800
Mariah Briceno MHS 2:30
Leah Haley MHS 2:36
Bailey Companella WHS 2:40
Jasmine Becker MHS 2:44
Abbey Colvin MHS 2:46
300LH
Mya Jones MHS 61.1
Anna Schultz MHS 62.0
Shelby Logan MHS 66.6
200
Grace Mackey MHS 27.3
Jessica Dueck MHS 29.4
3200
Leah Haley MHS 12:31.9
Jasmine Becker MHS 12:51.3
Erin O'Mara WHS 12:52.9
Abbey Colvin MHS 13:54.3
1600R
Montgomery 04:40.2
LJ
Emily Johnson WHS 15-11.5
Kate Tembrock WHS 14-6.5
SP
Kaitlyn MaCaulay WHS 26-6.5
Jessica Villegas MHS 25-8
Anna Schultz MHS 23-4.5
Angelica Achacon MHS 22-8
Sara Germay MHS 20-7.5
Raeonnah Thomas MHS 19-6
Sophia Gulbransen MHS 17-8.5
DT
Jessica Villegas MHS 95-3
Sara Germay MHS 86-9
Kaitlyn MaCaulay WHS 78-1
Anna Schultz MHS 62-4
Sophia Gulbransen MHS 60-5
Angelica Achacon MHS 54-10
HJ
Natalie Barr MHS 4-10
Isabella Ponts MHS 4-10
Elizabeth Pool WHS 4-6
Kate Tembrock WHS 4-6
PV
Emma Haley MHS 8-6
EL MOLINO, ANALY at SONOMA VALLEY
Timing system problems
Video of meet by Jim Peterson
Varsity Boys – HB 113, EA 13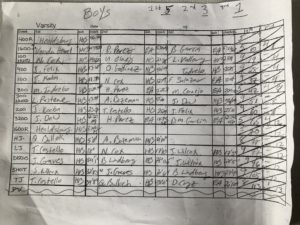 Varsity Girls – HB 96, EA 17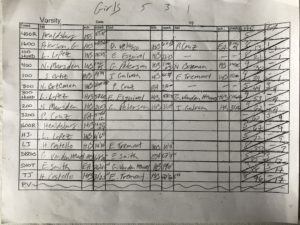 Varsity Boys Team Scores (15 Events Scored)              
==========================================================================
    Team                        Pts    Spr  Dst  Hrd  Rel  Thr  Jmp  Oth 
--------------------------------------------------------------------------
  1 PHS-V                       69     23   10    6    0   11   19    0  
  2 Piner-V                     62      4   17   12    5    7   17    0  


             Varsity Girls Team Scores (15 Events Scored)              
==========================================================================
    Team                        Pts    Spr  Dst  Hrd  Rel  Thr  Jmp  Oth 
--------------------------------------------------------------------------
  1 PHS-V                       93     22   16   12    5    7   31    0  
  2 Piner-V                     34      5   11    6    0   11    1    0  


                 JV Boys Team Scores (9 Events Scored)                 
==========================================================================
    Team                        Pts    Spr  Dst  Hrd  Rel  Thr  Jmp  Oth 
--------------------------------------------------------------------------
  1 PHS-JV                      54     14    9    0    5   10   16    0  
  2 Piner-JV                     9      0    0    0    0    6    3    0  


                JV Girls Team Scores (6 Events Scored)                 
==========================================================================
    Team                        Pts    Spr  Dst  Hrd  Rel  Thr  Jmp  Oth 
--------------------------------------------------------------------------
  1 PHS-JV                      31      0   18    0    0    0   13    0  
  2 Piner-JV                    10      0    0    0    0   10    0    0                       

                     Varsity Boys Pole Vault                     
=================================================================
    Name                  Yr Team                      Mark   Pts
-----------------------------------------------------------------
  1 Kael Seaver              PHS-V                11-00.00      5
  2 Addison Gaspar           Piner-V               7-06.00      3
  3 Ben Somma                Piner-V               7-06.00      1

                    Varsity Girls Pole Vault                     
=================================================================
    Name                  Yr Team                      Mark   Pts
-----------------------------------------------------------------
  1 Sallie Hollingshead      PHS-V                 9-00.00      5
  2 Erika Gilmore            PHS-V                 8-06.00      3
  3 Savannah Engler          PHS-V                 7-00.00      1

                      Varsity Boys 100 Meter Dash                      
=======================================================================
    Name                  Yr Team                      Time  Wind   Pts
-----------------------------------------------------------------------
  1 Anthony Moeckel          PHS-V                   11.97    NWI     5
  2 Devon Hong               PHS-V                   12.04    NWI     3
  3 Lucas Stevenson          PHS-V                   12.15    NWI     1

                     Varsity Girls 100 Meter Dash                      
=======================================================================
    Name                  Yr Team                      Time  Wind   Pts
-----------------------------------------------------------------------
  1 Cali Sullivan            PHS-V                   13.02    NWI     5
  2 Courtney Bell            PHS-V                   13.22    NWI     3
  3 Mya Walker               PHS-V                   14.07    NWI     1

                    Varsity Girls 100 Meter Hurdles                    
=======================================================================
    Name                  Yr Team                      Time  Wind   Pts
-----------------------------------------------------------------------
  1 Sydney Dennis            PHS-V                   17.16    NWI     5
  2 Cynthia Rosales          Piner-V                 18.31    NWI     3
  3 Annika Schmid            PHS-V                   19.65    NWI     1

                    Varsity Boys Discus Throw                    
=================================================================
    Name                  Yr Team                      Mark   Pts
-----------------------------------------------------------------
  1 Jackson Robbins          PHS-V                  103-04      5
  2 Michael Pichardo         PHS-V                   99-04      3
  3 Kevin Ruiz               Piner-V                 97-03      1

                   Varsity Girls Discus Throw                    
=================================================================
    Name                  Yr Team                      Mark   Pts
-----------------------------------------------------------------
  1 Lorena Lung              Piner-V                 76-09      5
  2 Madeline Santos          PHS-V                   75-02      3
  3 Samantha Ainlay          Piner-V                 74-04      1

                    Varsity Boys 110 Meter Hurdles                     
=======================================================================
    Name                  Yr Team                      Time  Wind   Pts
-----------------------------------------------------------------------
  1 Kevin Ainlay             Piner-V                 17.25    NWI     5
  2 Aidan Gilmore            PHS-V                   19.56    NWI     3
  3 Addison Gaspar           Piner-V                 20.85    NWI     1

                   Varsity Boys 800 Meter Run                    
=================================================================
    Name                  Yr Team                      Time   Pts
-----------------------------------------------------------------
  1 Jack Dunbar              PHS-V                    2.06      5
  2 Jonny Vargas             Piner-V                  2.12      3
  3 Jilberto Reyes           Piner-V                  2.17      1

                   Varsity Girls 800 Meter Run                   
=================================================================
    Name                  Yr Team                      Time   Pts
-----------------------------------------------------------------
  1 Cynthia Rosales          Piner-V                  2.26      5
  2 Camille Flynn            PHS-V                    2.27      3
  3 Anna Hospodar            PHS-V                    2.39      1

                     Varsity Boys High Jump                      
=================================================================
    Name                  Yr Team                      Mark   Pts
-----------------------------------------------------------------
  1 Gianni Johnson           PHS-V                 5-08.00      5
  2 Aidan Gilmore            PHS-V                 5-04.00      3
  3 Vu Ngo                   Piner-V               5-02.00      1

                     Varsity Girls High Jump                     
=================================================================
    Name                  Yr Team                      Mark   Pts
-----------------------------------------------------------------
  1 Hannah Dillingham        PHS-V                 4-08.00      5

               Varsity Boys 4x400 Meter Relay               
============================================================
    Team                                          Time   Pts
------------------------------------------------------------
  1 Piner-V                                   3:49.00      5
  2 PHS-V                                     3:57.00      0

              Varsity Girls 4x400 Meter Relay               
============================================================
    Team                                          Time   Pts
------------------------------------------------------------
  1 PHS-V                                     4:41.00      5

                      Varsity Boys Shot Put                      
=================================================================
    Name                  Yr Team                      Mark   Pts
-----------------------------------------------------------------
  1 Kevin Ruiz               Piner-V              34-08.00      5
  2 Michael Pichardo         PHS-V                32-06.50      3
  3 Ivan Madriz              Piner-V              32-03.00      1

                     Varsity Girls Shot Put                      
=================================================================
    Name                  Yr Team                      Mark   Pts
-----------------------------------------------------------------
  1 Lorena Lung              Piner-V              26-09.50      5
  2 Madeline Santos          PHS-V                25-09.50      3
  3 Christina Leach          PHS-V                24-11.00      1

                 Varsity Boys 300 Meter Hurdles                  
=================================================================
    Name                  Yr Team                      Time   Pts
-----------------------------------------------------------------
  1 Kevin Ainlay             Piner-V                 44.46      5
  2 Aidan Gilmore            PHS-V                   47.11      3
  3 Addison Gaspar           Piner-V                 49.07      1

                 Varsity Girls 300 Meter Hurdles                 
=================================================================
    Name                  Yr Team                      Time   Pts
-----------------------------------------------------------------
  1 Sydney Dennis            PHS-V                   52.45      5
  2 Izzy Milltowers          Piner-V                 59.90      3
  3 Annika Schmid            PHS-V                 1:01.00      1

                   Varsity Boys 1600 Meter Run                   
=================================================================
    Name                  Yr Team                      Time   Pts
-----------------------------------------------------------------
  1 Jack Dunbar              PHS-V                    4.35      5
  2 Jonny Vargas             Piner-V                  4.40      3
  3 Nathan Hayes             Piner-V                  4.42      1

                  Varsity Girls 1600 Meter Run                   
=================================================================
    Name                  Yr Team                      Time   Pts
-----------------------------------------------------------------
  1 Camille Flynn            PHS-V                 5:34      5
  2 Anna Hospodar            PHS-V                 5:47      3
  3 Lucie Ellis              PHS-V                 5:55      1

                       Varsity Boys Triple Jump                        
=======================================================================
    Name                  Yr Team                      Mark  Wind   Pts
-----------------------------------------------------------------------
  1 Kevin Ainlay             Piner-V              37-11.00    NWI     5
  2 Anthony Moeckel          PHS-V                36-09.00    NWI     3
  3 Ryan Ball                Piner-V              36-03.00    NWI     1

                       Varsity Girls Triple Jump                       
=======================================================================
    Name                  Yr Team                      Mark  Wind   Pts
-----------------------------------------------------------------------
  1 Sydney Dennis            PHS-V                34-04.50    NWI     5
  2 Kylie McCorkel           PHS-V                33-00.75    NWI     3
  3 Annika Schmid            PHS-V                29-00.00    NWI     1

               Varsity Boys 4x100 Meter Relay               
============================================================
    Team                                          Time   Pts
------------------------------------------------------------

              Varsity Girls 4x100 Meter Relay               
============================================================
    Team                                          Time   Pts
------------------------------------------------------------

                   Varsity Boys 400 Meter Dash                   
=================================================================
    Name                  Yr Team                      Time   Pts
-----------------------------------------------------------------
  1 Nathan Hale              PHS-V                   53.59      5
  2 Austin Luong             Piner-V                 53.81      3
  3 Jack Sullivan            PHS-V                   56.78      1

                  Varsity Girls 400 Meter Dash                   
=================================================================
    Name                  Yr Team                      Time   Pts
-----------------------------------------------------------------
  1 Lauren Gregorio          Piner-V               1:06      5
  2 Erika Gilmore            PHS-V                 1:07      3
  3 Miranna Lindberg         PHS-V                 1:08      1

                      Varsity Boys 200 Meter Dash                      
=======================================================================
    Name                  Yr Team                      Time  Wind   Pts
-----------------------------------------------------------------------
  1 Nathan Hale              PHS-V                   24.35    NWI     5
  2 Jack Sullivan            PHS-V                   24.75    NWI     3
  3 Minh Nguyen              Piner-V                 24.79    NWI     1

                     Varsity Girls 200 Meter Dash                      
=======================================================================
    Name                  Yr Team                      Time  Wind   Pts
-----------------------------------------------------------------------
  1 Cali Sullivan            PHS-V                   26.92    NWI     5
  2 Courtney Bell            PHS-V                   27.28    NWI     3
  3 Miranna Lindberg         PHS-V                   28.76    NWI     1

                   Varsity Boys 3200 Meter Run                   
=================================================================
    Name                  Yr Team                      Time   Pts
-----------------------------------------------------------------
  1 Nathan Hayes             Piner-V              10:11.37      5
  2 Emmanuel Delgado         Piner-V              10:18.52      3
  3 Jeremiah Cano            Piner-V              11:10.85      1

                  Varsity Girls 3200 Meter Run                   
=================================================================
    Name                  Yr Team                      Time   Pts
-----------------------------------------------------------------
  1 Fatima Ohrares           Piner-V              13:51.16      5
  2 Lila Singh               PHS-V                14:23.36      3
  3 Ashley Tejada            Piner-V              16:18.24      1

                        Varsity Boys Long Jump                         
=======================================================================
    Name                  Yr Team                      Mark  Wind   Pts
-----------------------------------------------------------------------
  1 Vu Ngo                   Piner-V              19-08.50    NWI     5
  2 Anthony Moeckel          PHS-V                18-04.50    NWI     3
  3 Reanne Ball              Piner-V              18-00.00    NWI     1

                        Varsity Girls Long Jump                        
=======================================================================
    Name                  Yr Team                      Mark  Wind   Pts
-----------------------------------------------------------------------
  1 Sydney Dennis            PHS-V                15-02.75    NWI     5
  2 Kylie McCorkel           PHS-V                14-07.50    NWI     3
  3 Lauren Gregorio          Piner-V              14-05.50    NWI     1

                       JV Boys Pole Vault                        
=================================================================
    Name                  Yr Team                      Mark   Pts
-----------------------------------------------------------------
  1 Charlie Weitzenberg      PHS-JV                7-00.00      5

                        JV Boys 100 Meter Dash                         
=======================================================================
    Name                  Yr Team                      Time  Wind   Pts
-----------------------------------------------------------------------

                      JV Boys Discus Throw                       
=================================================================
    Name                  Yr Team                      Mark   Pts
-----------------------------------------------------------------
  1 Jack Santos              PHS-JV                  96-11      5
  2 Eduardo Alcantar         Piner-JV                48-06      3

                      JV Girls Discus Throw                      
=================================================================
    Name                  Yr Team                      Mark   Pts
-----------------------------------------------------------------
  1 Vanessa Rodriguez        Piner-JV                35-06      5

                      JV Boys 800 Meter Run                      
=================================================================
    Name                  Yr Team                      Time   Pts
-----------------------------------------------------------------
  1 Luke Ronshausen          PHS-JV                   2.12      5
  2 Carlos Calito Garcia     PHS-JV                   2.21      3
  3 Alex Juarez Aragon       PHS-JV                   2.29      1

                     JV Girls 800 Meter Run                      
=================================================================
    Name                  Yr Team                      Time   Pts
-----------------------------------------------------------------
  1 Eleanor Burnett          PHS-JV                2:54.17      5
  2 Shayla Woelfel           PHS-JV                2:56.57      3
  3 Elizabeth Greenlief      PHS-JV                2:57.48      1
  4 Kimberly Martinez        Piner-JV              3:21.37       

                 JV Boys 4x400 Meter Relay                  
============================================================
    Team                                          Time   Pts
------------------------------------------------------------

                 JV Girls 4x400 Meter Relay                 
============================================================
    Team                                          Time   Pts
------------------------------------------------------------

                        JV Boys Shot Put                         
=================================================================
    Name                  Yr Team                      Mark   Pts
-----------------------------------------------------------------
  1 Jack Santos              PHS-JV               33-08.50      5
  2 Eduardo Alcantar         Piner-JV             21-06.00      3

                        JV Girls Shot Put                        
=================================================================
    Name                  Yr Team                      Mark   Pts
-----------------------------------------------------------------
  1 Vanessa Rodriguez        Piner-JV             16-02.50      5

                     JV Boys 1600 Meter Run                      
=================================================================
    Name                  Yr Team                      Time   Pts
-----------------------------------------------------------------

                     JV Girls 1600 Meter Run                     
=================================================================
    Name                  Yr Team                      Time   Pts
-----------------------------------------------------------------
  1 Eleanor Burnett          PHS-JV                6:11.76      5
  2 Shayla Woelfel           PHS-JV                6:40.44      3
  3 Elizabeth Greenlief      PHS-JV                7:11.34      1

                          JV Boys Triple Jump                          
=======================================================================
    Name                  Yr Team                      Mark  Wind   Pts
-----------------------------------------------------------------------
  1 Joseph Alioto            PHS-JV               31-04.50    NWI     5

                         JV Girls Triple Jump                          
=======================================================================
    Name                  Yr Team                      Mark  Wind   Pts
-----------------------------------------------------------------------
  1 Monet Bennett            PHS-JV               24-06.50    NWI     5

                 JV Boys 4x100 Meter Relay                  
============================================================
    Team                                          Time   Pts
------------------------------------------------------------
  1 PHS-JV                                      50.06      5

                 JV Girls 4x100 Meter Relay                 
============================================================
    Team                                          Time   Pts
------------------------------------------------------------

                     JV Boys 400 Meter Dash                      
=================================================================
    Name                  Yr Team                      Time   Pts
-----------------------------------------------------------------
  1 Anthony Bolinger         PHS-JV                1:00.00      5

                        JV Boys 200 Meter Dash                         
=======================================================================
    Name                  Yr Team                      Time  Wind   Pts
-----------------------------------------------------------------------
  1 Carlos Calito Garcia     PHS-JV                  26.03    NWI     5
  2 Mason Rodrigues          PHS-JV                  26.36    NWI     3
  3 Aiden Seifert            PHS-JV                  26.71    NWI     1

                        JV Girls 200 Meter Dash                        
=======================================================================
    Name                  Yr Team                      Time  Wind   Pts
-----------------------------------------------------------------------

                     JV Boys 3200 Meter Run                      
=================================================================
    Name                  Yr Team                      Time   Pts
-----------------------------------------------------------------

                           JV Boys Long Jump                           
=======================================================================
    Name                  Yr Team                      Mark  Wind   Pts
-----------------------------------------------------------------------
  1 Joseph Alioto            PHS-JV               16-09.00    NWI     5
  2 Victor Mendoza           Piner-JV             15-10.00    NWI     3
  3 Luke Ronshausen          PHS-JV               15-09.50    NWI     1

                          JV Girls Long Jump                           
=======================================================================
    Name                  Yr Team                      Mark  Wind   Pts
-----------------------------------------------------------------------
  1 Shayla Woelfel           PHS-JV               12-08.75    NWI     5
  2 Monet Bennett            PHS-JV               11-06.00    NWI     3




LOWER LAKE, ST. HELENA, SONOMA ACD, PT. ARENA, ST. VINCENT at CLOVERDALE
CLEAR LAKE, TECH, MENDOCINO, WILLITS at FT. BRAGG
Varsity Boys
100
Hirsch Jonathan Technology 12.5
Martinez Jose Fort Bragg 12.7
Lo Andy Fort Bragg 12.7
Fontanilla Nathaniel Fort Bragg 13.0
McCulloch Brandon Technology 13.1
Walters Evan Technology 13.1
Portillo Kevin Fort Bragg 13.3
Kullberg Henri Technology 13.4
Ruiz Alex Fort Bragg 14.0
Helgren Andrew Technology 14.5
Nelson James Fort Bragg 14.6
Skaggs Levi Willits 13.5
Villalpando Noel Fort Bragg 13.8
200
Martinez Jose Fort Bragg 25.7
Arenas Hector Fort Bragg 26.0
McCulloch Brandon Technology 26.1
Hirsch Jonathan Technology 26.2
Walters Evan Technology 26.8
Kullberg Henri Technology 27.1
Villalpando Noel Fort Bragg 27.3
Lo Andy Fort Bragg 27.5
Skaggs Levi Willits 27.7
Paoli Kyle Fort Bragg 28.1
Nelson James Fort Bragg 30.1
400
Arenas Hector Fort Bragg 59.12
Ing Soujit Technology 59.95
Nelson James Fort Bragg 66.94
800
Toscano Daniel Fort Bragg 2:24.0
Gaona Daniel Fort Bragg 2:35.0
Lopez Jacob Clear Lake 2:58.0
1600
Barker Aidan Technology 5:05.0
Triplett Misael Mendocino 5:24.0
Gaona Daniel Fort Bragg 5:31.0
Bliss Tyler Technology 5:51.0
Leach Jaren Technology 5:52.0
Barrett Joey Technology 5:58.0
Lopez Jacob Clear Lake 6:16.0
Chan Gerardo Fort Bragg 6:17.0
Lopez Christian Fort Bragg 6:46.0
3200
Barker Aidan Technology 10:59.0
Bliss Tyler Technology 12:20.0
Leach Jaren Technology 12:35.0
Millen Judah Fort Bragg 12:38.0
Barrett Joey Technology 12:39.0
110HH
Portillo Eric Fort Bragg 16.7
300IH
Portillo Eric Fort Bragg 44.3
Ing Soujit Technology 48.7
Lo Andy Fort Bragg 50.4
400R
Fort Bragg 48.1
Technology 49.2
1600R
Fort Bragg 4:08.7
Technology 4:17.0
HJ
Hernandez Carlos Fort Bragg 4-10
Helgren Andrew Technology NH
Leach Jaren Technology NH
Kullberg Henri Technology NH
PV
Hernandez Carlos Fort Bragg 10-06
Paoli Kyle Fort Bragg 8-00
LJ
Fontanilla Nathaniel Fort Bragg 17-09.50
Toscano Daniel Fort Bragg 16-09.25
Hernandez Carlos Fort Bragg 16-06.50
Walters Evan Technology 16-05.25
Hirsch Jonathan Technology 16-02.00
Millen Judah Fort Bragg 15-09.50
McCulloch Brandon Technology 15-05.50
Lo Andy Fort Bragg 15-03.00
Skaggs Levi Willits 12-09.75
Lopez Christian Fort Bragg 12-07.50
TJ
Millen Judah Fort Bragg 32-04.25
Toscano Daniel Fort Bragg 30-08.00
SP
Segura Jeremy Fort Bragg 35-08.50
Manzano Josue Fort Bragg 35-00.00
Knight Roman Willits 33-10.00
Chan Gerardo Fort Bragg 32-05.00
Helgren Andrew Technology 30-06.50
Scott Quintin Clear Lake 30-04.50
Varelas Victor Fort Bragg 30-00.00
Hinson Liam Technology 29-02.50
Lopez Christian Fort Bragg 25-00.00
Gonzalez Bryan Fort Bragg 24-09.00
Cardona Irving Fort Bragg 24-08.00
DT
Manzano Josue Fort Bragg 98-11
Helgren Andrew Technology 91-10
Scott Quintin Clear Lake 91-05
Knight Roman Willits 84-11
Hinson Liam Technology 73-04
Varelas Victor Fort Bragg NM
Varsity Girls
100
Herman Holly Technology 14.8
Fox Gigi Fort Bragg 15.0
Sutton Ava Fort Bragg 15.3
Custer Madison Fort Bragg 15.5
Rivera Fernanda Technology 15.5
Brogan-Gealey Heather Mendocino 15.6
Bush Makayla Willits 15.7
Velasco Valeria Willits 15.9
Heredia Evelin Fort Bragg 16.0
Dulai Aveen Technology 16.0
Davis Miah Fort Bragg 16.1
McGregor Alyssa Fort Bragg 16.2
Arreguin Lisa Fort Bragg 16.3
Mendoza Lexi Fort Bragg 16.5
Fraser Alyssa Willits 17.1
Hernandez Alexa Fort Bragg 17.9
Varelas Fernanda Fort Bragg 18.0
200
Munoz Celeste Fort Bragg 28.7
Jardstrom Tianna Clear Lake 28.9
Black Amaya Fort Bragg 29.6
Ing Sousiva Technology 30.9
Lo Megan Fort Bragg 30.9
Herman Holly Technology 31.3
Fox Gigi Fort Bragg 31.3
Brogan-Gealey Heather Mendocino 32.4
Dulai Aveen Technology 34.5
Powers Hadley Mendocino 35.7
400
Ramirez Maria Fort Bragg 68.9
Venegas Keyla Fort Bragg 71.3
Gilchrist Emma Fort Bragg 72.8
Lofchie Beatrice Technology 76.2
Andersen Sunny Fort Bragg 78.0
Villasenor Evelyn Fort Bragg 79.6
800
Jardstrom Tianna Clear Lake 2:43:00
Ramirez Maria Fort Bragg 2:46:00
Andersen Sunny Fort Bragg 3:05:00
Villasenor Evelyn Fort Bragg 3:11:00
Anton Ariel Mendocino 3:15:00
1600
Jardstrom Tianna Clear Lake 6:06:00
Venegas Keyla Fort Bragg 6:27:00
Naulty Jade Fort Bragg 6:33:00
Evans Brieana Willits 7:01:00
Dondanville Madeleine Fort Bragg 7:07:00
Powers Hadley Mendocino 7:28:00
Smith Jada Willits 7:29:00
3200
Naulty Jade Fort Bragg 14:08:00
Evans Brieana Willits 14:55:00
Anton Ariel Mendocino 16:35:00
100HH
Eyenga Amandine Fort Bragg 20.6
Mendoza Lexi Fort Bragg 21.2
Davis Miah Fort Bragg 21.8
Custer Madison Fort Bragg 21.9
Arreguin Lisa Fort Bragg 22.3
300LH
Eyenga Amandine Fort Bragg 59.8
Mendoza Lexi Fort Bragg 61.4
Bazor Natallea Fort Bragg 62.7
Lofchie Beatrice Technology 64.0
Arreguin Lisa Fort Bragg 65.1
40R
Fort Bragg 56.9
Technology 57.8
1600R
Fort Bragg 4:54:0
HJ
Bazor Natallea Fort Bragg 4-06
Gilchrist Emma Fort Bragg 4-04
Sutton Ava Fort Bragg 4-02
Varelas Fernanda Fort Bragg 3-08
Baumgartener Natalie Fort Bragg 3-08
Dondanville Madeleine Fort Bragg 3-08
Hernandez Alexa Fort Bragg NM
PV
Woodruff Paige Clear Lake 9-00, =50th All-Time
Fox Gigi Fort Bragg 7-06
LJ
Herman Holly Technology 13-09.25
Jardstrom Tianna Clear Lake 12-08.00
Rivera Fernanda Technology 12-02.75
Bush Makayla Willits 12-02.00
Brogan-Gealey Heather Mendocino 12-00.00
Davis Miah Fort Bragg 11-01.50
Varelas Fernanda Fort Bragg 10-11.00
Heredia Evelin Fort Bragg 10-08.50
TJ
Baumgartener Natalie Fort Bragg 28-10.50
Davis Miah Fort Bragg 24-10.25
SP
Hall Ruby Fort Bragg 26-05.00
Duong Tina Technology 24-11.00
Potter Amarah Willits 22-04.00
Bush Makayla Willits 22-00.00
Cramer Cecilia Willits 21-09.00
Garcia Zulaimy Fort Bragg 21-06.00
Colli-Naal Perla Fort Bragg 19-07.00
Calderon Abby Fort Bragg 18-00.00
Mingo Destinee Clear Lake 17-07.00
DT
Hall Ruby Fort Bragg 92-10
Duong Tina Technology 59-10
Dondanville Madeleine Fort Bragg 56-08
Potter Amarah Willits 53-10
Colli-Naal Perla Fort Bragg 49-00
Cramer Cecilia Willits 47-10
Calderon Abby Fort Bragg 44-08
Garcia Zulaimy Fort Bragg 42-07
Mingo Destinee Clear Lake 39-11
F/S Boys
100m 1 Copperfield Spencer Willits 12.2
100m 2 Gordon Russell Fort Bragg 12.3
100m 3 Valdez Donavin Clear Lake 12.7
100m 4 Jones Brendan Clear Lake 12.9
100m 5 Moran Carlos Fort Bragg 13.1
100m 6 Gordon Ruddy Fort Bragg 13.2
100m 7 Turner Patrick Willits 13.5
100m 8 Archer Tristan Technology 13.6
100m 9 Reynolds Nicholas Fort Bragg 13.8
100m 10 Flores Moises Fort Bragg 14.0
100m 11 Pena Daniel Fort Bragg 14.1
100m 12 Can Orlando Fort Bragg 14.2
100m 13 Pena Gabriel Fort Bragg 14.3
100m 14 Boe Alexa Fort Bragg 14.6
100m 15 Bertolino Giovanni Willits 14.6
100m 16 Burbeck Tyler Fort Bragg 17.8
200m 1 Moran Alan Fort Bragg 25.1
200m 2 Monasterio Joey Fort Bragg 27.7
200m 3 Streeter Caelen Technology 28.06
200m 4 Ku Pech Antonio Fort Bragg 28.97
200m 5 Pena Daniel Fort Bragg 29.56
200m 6 Yeomans Henry Fort Bragg 30.08
200m 7 Can Orlando Fort Bragg 30.09
200m 8 Pena Gabriel Fort Bragg 30.23
200m 9 Boe Alex Fort Bragg 30.97
200m 10 Burbeck Tyler Fort Bragg 40.05
400m 1 Ginet Canto Mendocino 64.40
400m 2 Ford Sayer Clear Lake 66.96
800m 1 Ruiz Enrique Fort Bragg 2:22:00
800m 2 Ginet Canto Mendocino 2:42:00
1600m 1 Ruiz Enrique Fort Bragg 5:10:00
1600m 2 Turner Patrick Willits 5:11:00
1600m 3 Lopez Jimmy Fort Bragg 5:49:00
1600m 4 McQuaid Luke Clear Lake 6:45:00
3200m 1 Lopez Jimmy Fort Bragg 12:42:00
3200m 2 Bell Jake Fort Bragg 12:45:00
110mH 1 Gordon Russell Fort Bragg 17.4
110mH 2 Pyorre Davis Fort Bragg 20.1
110mH 3 Cano Raul Fort Bragg 23.1
110mH 4 Wiltermood Dylan Technology 23.9
300mH 1 Gordon Russell Fort Bragg 46.87
300mH 2 Gordon Ruddy Fort Bragg 52.35
300mH 3 Ford Sayer Clear Lake 53.57
300mH 4 Scuderi-Schulman Ethan Clear Lake 55.10
300mH 5 Moran Carlos Fort Bragg 55.84
300mH 6 Wiltermood Dylan Technology 61.00
4x100m 1 Fort Bragg 49.31
4x100m 2 Clear Lake 50.50
4x400m 1 Fort Bragg 4:18.03
HJ 1 Yeomans Henry Fort Bragg 5-02
HJ 2 Jones Brendan Clear Lake 5-00
HJ 3 Valadez Donavin Clear Lake 4-08
HJ 3 Monasterio Joey Fort Bragg 4-08
HJ 5 Bertolino Giovanni Willits 4-06
HJ 5 Scuderi-Schulman Ethan Clear Lake 4-06
HJ 5 Copperfield Spencer Willits 4-06
HJ 8 Turner Patrick Willits 4-04
HJ 9 Pyorre Davis Fort Bragg 4-04
PV 1 Monasterio Joey Fort Bragg 10-00
PV 2 Pyorre Davis Fort Bragg 10-00
PV 3 Boe Alex Fort Bragg 8-00
PV 4 Scuderi-Schulman Ethan Clear Lake 7-06
PV 5 Streeter Caelen Technology 6-06
PV 5 Barrett Joey Technology 6-06
LJ 1 Bell Jake Fort Bragg 17-02.50
LJ 2 Cano Raul Fort Bragg 17-02.00
LJ 3 Copperfield Spencer Willits 16-06.25
LJ 4 Valadez Donavin Clear Lake 16-05.00
LJ 5 Moran Alan Fort Bragg 14-06.00
LJ 6 Jones Brendan Clear Lake 14-05.25
LJ 7 Ku Pech Antonio Fort Bragg 14-04.00
LJ 8 Can Orlando Fort Bragg 14-00.50
LJ 9 Flores Moises Fort Bragg 13-06.75
LJ 10 Bertolino Giovanni Willits 13-01.00
LJ 11 Pena Daniel Fort Bragg 12-11.50
LJ 12 McQuaid Luke Clear Lake 12-01.50
LJ 13 Mora Adolfo Fort Bragg 11-03.50
LJ 14 Burbeck Tyler Fort Bragg 10-02.00
LJ 15 Cen Jair Fort Bragg 9-09.50
LJ — Reynolds Nicholas Fort Bragg NM
TJ 1 Cano Raul Fort Bragg 34-07.00
TJ 2 Bell Jake Fort Bragg 31-02.00
SP 1 Sturr Felipe Clear Lake 38-06.50
SP 2 Sanchez Angel Willits 35-04.00
SP 3 Cresci Gian Fort Bragg 33-09.00
SP 4 Sturgeon Grady Fort Bragg 33-01.50
SP 5 Renick Nathaniel Willits 32-07.00
SP 6 Mingo Donald Clear Lake 32-02.00
SP 7 Legendre Dominic Clear Lake 31-07.00
SP 8 Sanabria Saul Clear Lake 29-09.00
SP 9 Cen Jair Fort Bragg 28-09.50
SP 10 Mora Adolfo Fort Bragg 28-02.50
SP 11 Archer Tristan Technology 25-01.00
SP 12 Burbeck Tyler Fort Bragg 16-01.50
DT 1 Sturgeon Grady Fort Bragg 104-01
DT 2 Copperfield Spencer Willits 85-07
DT 3 Sturr Felipe Clear Lake 81-02
DT 4 Mingo Donald Clear Lake 77-10
DT 5 Renick Nathaniel Willits 75-10
DT 6 Mora Adolfo Fort Bragg 74-08
DT 7 Cresci Gian Fort Bragg 72-02
DT 8 Sanabria Saul Clear Lake 64-05
DT 9 Archer Tristan Technology 59-05
DT 10 Reynolds Nicholas Fort Bragg 59-05
DT 11 Sanchez Angel Willits 57-02
DT 12 Legendre Dominic Clear Lake 50-07
RINCON VALLEY, MIDDLETOWN, LAYTONVILLE, CALISTOGA at KELSEYVILLE
Varsity Boys
100m
Name School Mark
J. Farris KV 11.7
D. Ledesma KV 12.1
T. Green KV 12.3
J. Duarte KV 12.3
Z. Taylor KV 12.5
S. Rich MT 12.5
S. Ikeh LAY 12.8
J. Gregoire KV 13.1
A. Martinez UL 13.6
J. Peterson LAY 14.1
H. Sanderson LAY 14.3
E. Mendoza UL 14.3
200m
Name School Mark
J. Farris KV 25.2
B. German MT 26.2
J. Duarte KV 26.5
O. Hill LAY 27.9
D. Yellowtail CAL 29.1
H. Ramos UL 32.1
400m
Name School Mark
B. Marek KV 57.9
B. Steele MT 1:00.1
B. English RVC 01:02.9
b. German MT 1:03.2
O. Hill LAY 1:04.0
D. Yellowtail CAL 1:05.7
P. Duarte KV 1:07.2
T. Bui KV 1:18.9
800m
Name School Mark
I. Methem RVC 02:25.2
S. Petersen RVC 02:27.4
J. Amendola KV 02:30.9
I. Rascon MT 02:31.5
G. Herrera CAL 02:32.5
J. Tostie MT 02:33.1
1600m
Name School Mark
B. English RVC 4:58.4
S. Peterson RVC 5:16.5
I. Methem RVC 5:19.2
T. Cobb MT 5:25.5
D. Bandadet RVC 5:29.2
J. Amendola KV 5:30.1
I. Rascon MT 5:37.5
J. Tostie MT 5:42.2
G. Herrera MT 5:43.2
M. Dusatko MT 5:53.3
3200m
Name School Mark
I. Rason MT 11:59.0
J. Tostie MT 13:11.0
T. Breiner MT 14:05.0
110m Hurdles
Name School Mark
E. Dodd MT 19.1
A. Verhey MT 19.5
S. Dolan RVC 20
300m Hurdles
Name School Mark
S. Dolan RVC 49.6
B. Merrick KV 52
J. Fares MT 50.5
E. Dodd MT 59.2
4 x 100m Relay
School Mark
Kelseyville 51.4
Laytonville 55.7
4 x 400m Relay
School Mark
Middletown 4:07.9
Kelseyville 4:10.7
High Jump
Name School Mark
J. Morris MT 5'8
T. O'Neill MT 5'4
D. Ledesma KV 5'2
M. Steven LAY 4'8
Long Jump
Name School Mark
T. Green KV 17'10
D. Ledesma KV 17'8
K. Molder RVC 17'6
J. Duarte KV 17'3
T. O'Neill MT 17'2
J. Morris MT 17'1.5
D. Yellowtail CAL 15′
E. Medezma UL 11'4
Triple Jump
Name School Mark
D. Ledesma KV 36'10.5
T. O'Neill MT 36'6
J. Morris MT 35'2
K. Molder RVC 34'10
A. Verhey MT 32'2
M. Steven LAY 30'5
J. Peterson LAY 27'6
Shot Put
Name School Mark
K. Molder RVC 39'8.5
M. Breiner MT 36'3.5
E. Howael LAY 30'11.75
H. Ramos UL 30'11.5
D. Gregoire KV 30'9.75
C. Prorps RVC 30'7
M. Steven LAY 28'0.5
T. Olson MT 27'11.25
S. Rich MT 26'8.25
J. Martins RVC 25'9.75
M. Leggitt MT 21'7.25
Discus
Name School Mark
Breiner MT 107'3
Morris MT 97'10
Ramos UL 88'10
Olson MT 79'10
Newsome MT 77'9
Rich MT 75'3
Dodd MT 71'9
Gregoire KV 70'8
Ikeh LAY 65'8
Molder RVC 58'4
Leggitt MT 56'1
Peterson LAY 51'3
Varsity Girls
100m
Name School Mark
K. Lemoine MT 13.6
B. Short RVC 14.1
A. Terry MT 14.2
B. Young MT 15
L. Infante CAL 15.5
J. Lonjines CAL 15.9
K. Paulsen KV 16
D. Gonzalez KV 16
M. Martin DelCampo MT 16.5
A. Jordan UL 17.2
J. Castellanos KV 17.8
200m
Name School Mark
A. Terry MT 31.6
N. Stevens KV 32.8
M. Martin DelCampo MT 33.8
J. Lonjines CAL 34.6
A. Methum RVC 34.9
D. Gonzalez KV 35.3
J. Yang RVC 35.6
A. Jordan UL 39
J. Castellanos KV 41.7
400m
Name School Mark
G. Southern MT 01:11.9
E. Reim MT 01:16.5
M. Martin DelCampos MT 01:18.0
J. Guerrero MT 01:22.6
800m
Name School Mark
A. Methem RVC 2:56.7
J. Yang RVC 2:59.8
J. Heth CAL 3:05.8
L. Escobedo CAL 3:08.0
G. Munoz CAL 3:12.4
1600m
Name School Mark
Y. Lozano KV 6:06.7
A. Lethum RVC 6:27.3
L. Escobedo CAL 6:30.7
K. Maccario MT 8:00.4
3200m
Name School Mark
Y. Lozano KV 13:53
J. Yang RVC 15:50.2
L. Engle MT 17:35.6
K. Maccario MT 18:13.9
100m Hurdles
Name School Mark
C. Schimansky MT 18.9
B. Henry KV 19.3
A. Hart MT 19.6
A. Herrmann MT 21.2
B. Young MT 22.5
300m Hurdles
Name School Mark
B. Henry KV 01:00.9
A. Hart MT 01:05.1
K. Paulson KV 01:12.4
4 x 100m Relay
School Mark
Middletown 58.7
Calistoga 01:02.7
Kelseyville 01:05.2
4 x 400m Relay
School Mark
Middletown 5:09.4
Calistoga 5:35.7
High Jump
Name School Mark
A. Herrmann MT 4'10, =CMC leader
C. Schimanski MT 4'8
T. Leonard CAL 4′
Long Jump
Name School Mark
B. Short RVC 13'6.5
T. Leonard CAL 13'5.5
C. Schimanski MT 11'11
L. Escobedo CAL 11'2
L. Infante CAL 10'9.5
G. Monoz CAL 10'8
A. Jordan UL 10'6.5
J. Lonjines CAL 10'4
J. Guerrero CAL 10'2
J. Heth CAL 10'1
N. Stevens KV 9'9.5
E. Juquez KV 9'5
Triple Jump
Name School Mark
B. Short RVC 29'8
T. Leonard CAL 26'7
A. Herrmann MT 25'6.5
Shot Put
Name School Mark
H. Morris MT 29'10.5
H. Barrera CAL 26'5
G. Vargas CAL 21'1.5
E. Jaquez KV 20'1
E. Smith UL 19'8.75
A. Aquino CAL 19'5.5
M. Guerrero KV 15'6.5
L. Chavez CAL 12'10.25
Discus
Name School Mark
H. Morris MT 94'1
Love UL 68'5
Herrmann MT 64'5
Barrera CAL 63'7
Vargas CAL 60'11
Short RVC 58'1
Aquino CAL 55'6
Smith UL 38'10
Chavez CAL 38'5
Castellanos KV 36'3
Guerrero KV 34'2
Frosh-Soph Boys
100m
Name School Mark
R. Guaydacan UL 13
D. Tingle MT 13.4
R. Cortez MT 13.4
P. Aragon MT 13.5
S. Quezada MT 14
200m
Name School Mark
J. Juarez UL 25.6
F. Devine MT 26.8
J. Ikeh LAY 27
S. Peterson RVC 27.5
R. Cortez MT 29.8
I. Diaz MT 29.8
C. Prather KV 30.1
400m
Name School Mark
F. Devine MT 01:00.8
J. Juarez UL 01:01.0
I. Diaz MT 01:09.3
800m
Name School Mark
J. Pyzer MT 02:38.9
D. Bandeta RVC 02:39.8
K. Karns UL 03:05.6
1600m
Name School Mark
F. Sanchez MT 5:51.7
I. Diaz MT 5:53.1
R. Guaydacan UL 5:57.5
P. Alvarado UL 6:03.0
J. Rego MT 6:07.8
T. Breiner MT 6:19.6
3200m
Name School Mark
No Runners
110m Hurdles
Name School Mark
P. Aragon MT 18.6
H. Cadwaller MT 18.7
S. Quezada MT 21.7
F. Sanchez MT 22
J. Rego MT 22.3
T. Breiner MT 23.4
C. Shaffer MT 25.4
300m Hurdles
Name School Mark
J. rego MT 58.5
H. Cadwaller MT 59.4
S. Quezada MT 01:00.7
T. Breiner MT 01:01.9
C. Shaffer MT 01:04.3
4 x 100m Relay
School Mark
Kelseyville 59.7
Upper Lake DQ
4 x 400m Relay
School Mark
Middletown 04:30.0
Rincon Valley 04:48.2
High Jump
Name School Mark
C. Shaffer MT 4'8
H. Sanderson LAY 4'8
H. Cadwallader MT 4'6
J. Ikeh LAY 4'5
P. Aragon MT 4'2
Long Jump
Name School Mark
F. Devine MT 15'2
J. Ikeh LAY 14'4.5
J. Sanderson LAY 14'4.5
J. Juarez UL 12'10
S. Quezada MT 12'9
C. Prather KV 12'7
C. Shaffer MT 12'1
K. Karns UL 12'0.5
E. Mendoza MT 11'9.5
A. Watson KV 9'2.5
Shot Put
Name School Mark
G. Rockwell MT 34'5
N. Elder MT 31'9.75
J. Jojola UL 29'4
K. Nance MT 26'9.75
E. Mendoza MT 24'0.25
H. Sanderson LAY 23'0.75
A. Watson KV 22'0.5
Discus
Name School Mark
Rockwell MT 88'5
Tingle MT 83'11
Elder MT 71'6
Marfing RVC 71′
Watson KV 65'11
Nance MT 65'4
Jojola UL 53'1
Mendoza MT 52'4