Just like I did a couple of days ago for the Girls Triple Jump, I now have spent a good portion of my three day weekend going through records to updated the Boys 800m.
Before that my performance list was only five deep with Petaluma's Dan Aldridge owning all of them.
I now have a complete 50 deep ending at 1:54.58.
Aldridge still dominates with the top five and nine of the top 21.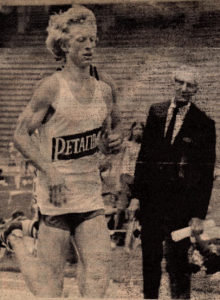 Montgomery's Dave Rodriquez and Maria Carrillo's Dante Hay each have seven of the top 50 marks.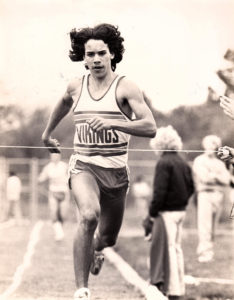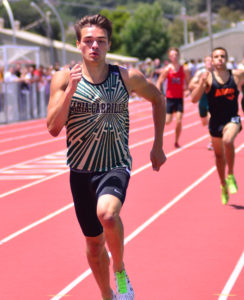 Santa Rosa's Dan Held has five.
Montgomery's Mark Spina and Blake McDowall have three along with Casa Grande's Nick Rauch.
Vintage's Mark Hadley, Cardinal Newman's J.K. Withers, and Montgomery's Geoff Ramsey all have two.
Lower Lake's Mike Perez, Willits's Jerry Siebert, Santa Rosa's Lloyd Johnson, Montgomery's Regan Masi, Casa Grande's Antoine Shired and Sonoma Academy's Austin Orr each have one.
18 of the 50 fastest runs have been since the year 2000 or the last 18 years, with 12 happening in the next 18 years (1982-1999) and largest amount 19 in (1964-81).
Montgomery has five different runners in the group accounting for 16 of the 50 marks with Santa Rosa and Casa Grande being the only other schools with more than one boy.
Perez who only has a single mark on the 800 list, he does have 6 of top 33 1600's, has the only mark in the top 10 for the 800 in the last 27 years.
ALL-TIME REDWOOD EMPIRE TRACK & FIELD
Boys Top 800m Performances
1:49.31* Dan Aldridge, Petaluma 5/24/75 1:49.7y
1:49.90* Dan Aldridge, Petaluma 5/31/75 1:50.3y
1:50.50* Dan Aldridge, Petaluma 6/21/75 1:50.9y
1:51.10* Dan Aldridge, Petaluma 6/7/75 1:51.5y
1:51.39* Dan Aldridge, Petaluma 6/6/75 1:51.8y
1:51.54 Dave Rodriquez, Montgomery 6/7/81
1:51.86 Dan Held, Santa Rosa 6/2/90
1:51.87 Dave Rodriquez, Montgomery 6/7/80
1:51.89* Dan Aldridge, Petaluma 5/17/75 1:52.3y
1:52.13 Mike Perez (1), Lower Lake 4/21/06
(10)
1:52.19* Mark Hadley, Vintage 5/25/74 1:52.6y
1:52.36 Marc Spina, Montgomery 6/7/86
1:52.36 Dante Hay, Maria Carrillo 6/7/14
1:52.39* Dan Aldridge, Petaluma 5/10/75 1:52.8y
1:53.04 Dante Hay, Maria Carrillo 5/31/14
1:53.05 Dan Held, Santa Rosa 5/26/90
1:53.21 J.K. Withers, Cardinal Newman 5/1/04
1:53.38* Jerry Siebert (1), Willits 6/2/56 1:53.8y
1:53.38* Dan Aldridge, Petaluma 5/7/75 1:53.8y
1:53.51 Dave Rodriquez, Montgomery 6/6/80
(20)
1:53.58* Dan Aldridge (9), Petaluma 5/18/74 1:54.0y
1:53.62 Dave Rodriquez, Montgomery 6/6/81
1:53.72 Dante Hay, Maria Carrillo 5/31/13
1:53.74+ Dave Rodriquez, Montgomery 5/30/81
1:53.78* Antoine Shired (1), Casa Grande 1977 1:54.2y
1:53.82 Austin Orr (1), Sonoma Academy 5/31/13
1:53.84+ Dan Held, Santa Rosa 5/25/90
1:53.85 Mark Spina, Montgomery 5/31/86
1:53.94 Dante Hay, Maria Carrillo 4/19/14
1:53.95 Dante Hay, Maria Carrillo 6/6/14
(30)
1:53.98 Blake McDowall, Montgomery 5/26/07
1:54.04+ Dave Rodriquez, Montgomery 5/31/80
1:54.04+ Mark Spina (3), Montgomery 5/24/86
1:54.06 Dan Held, Santa Rosa 6/1/90
1:54.14+ Dave Rodriquez (7), Montgomery 4/11/81
1:54.14 Dante Hay, Maria Carrillo 5/24/13
1:54.18* Lloyd Johnson (1), Santa Rosa 5/25/74 1:54.6y
1:54.18* Dave Rodriguez, Montgomery 5/26/79 1:54.6y
1:54.26 Dan Held (5), Santa Rosa 6/3/89
1:54.28 Nick Rauch, Casa Grande 5/2/15
(40)
1:54.31 Dante Hay (7), Maria Carrillo 5/18/13
1:54.34 Regan Masi (1), Montgomery 6/6/03
1:54.35 Nick Rauch, Casa Grande 5/31/14
1:54.36 J.K. Withers (2), Cardinal Newman 4/3/04
1:54.38* Mark Hadley (2), Vintage 1:54.8y 5/11/74
1:54.43 Blake McDowall, Montgomery 6/1/07
1:54.46 Nick Rauch (3), Casa Grande 5/30/15
1:54.48* Geoff Ramsey, Montgomery 5/13/73 1:54.9y
1:54.49 Blake McDowall (3), Montgomery 6/2/07
1:54.58* Geoff Ramsey (2), Montgomery 5/26/73 1:55.0y
(50)