In this composition I am attempting to rank the best years for each event using the top marks from those years.
Greater explanation of these rankings
As an added bonus Michael Lucid has captured many of the defining moments of those years.
Although I have been around to witness most of these seasons I am still in awe of the level of incredible depth some of these years have produced.
Complete stats
As of 6/15/2021
100 | 200 | 400 | 800 | 1600 | 3200 | 110HH | 300IH | 400R | 1600R
HJ | PV | LJ | TJ | SP | DT

100 METERS
2015 seven at 11.13 or faster
10.74+ Lani Gaspar, 12, El Molino, SCL Champion, NCS Redwood Champ, 5th NCS
10.97 Tommy Streb, 12, Cardinal Newman, NBL Champion
11.00 Ian Herculson, 11, Maria Carrillo, 2nd NCS Redwood
11.02 Xavier Freeman, 12, Analy
11.03 Isazah King, 12, Lower Lake, CMC Champion
11.04 LaVon Browne, 12, St. Helena, CMC HJ Champion 2014
11.13 Justin Zinnerman, 12, Rancho Cotate, NCS HJ Champion 2014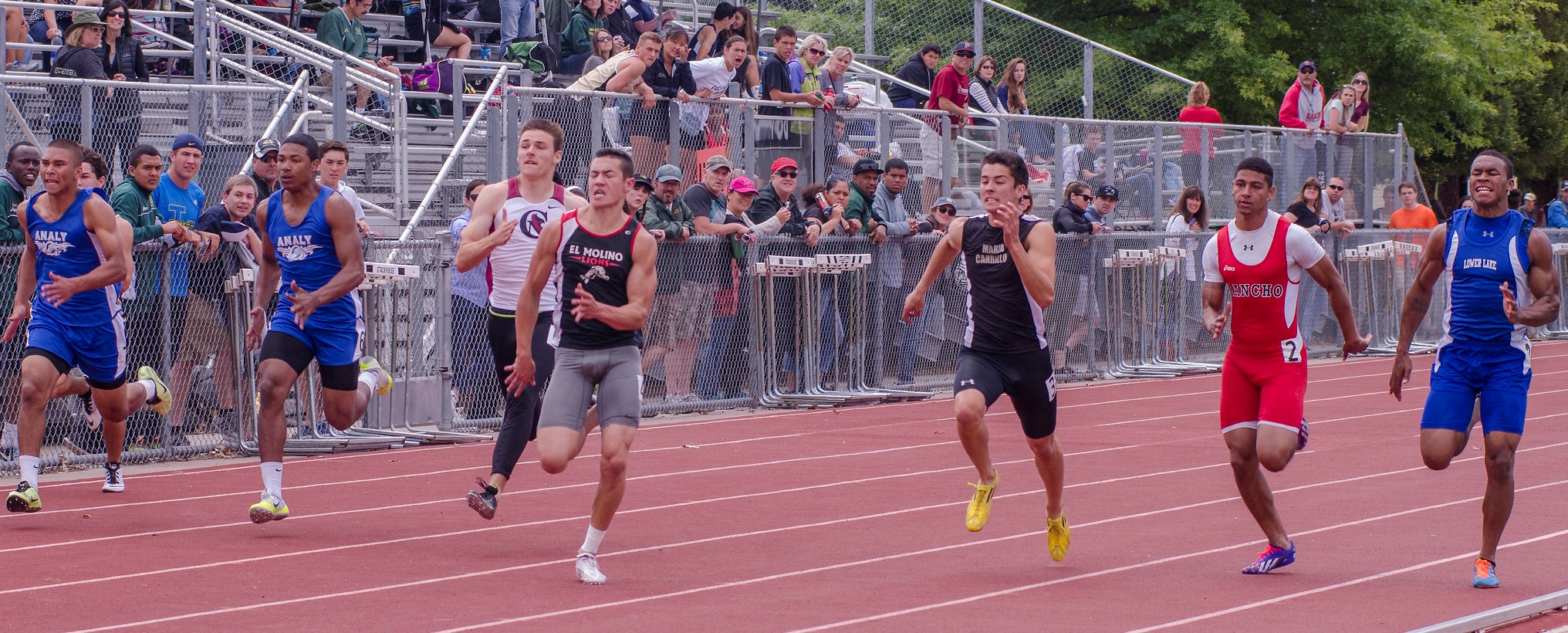 ---
2018 seven 11.14 or faster
10.86 Severin Ramirez, 11, Maria Carrillo, NBL Champion, NCS Redwood Champ, 5th NCS
10.94 Ryan Searl, 10, St. Helena, CMC Champion
11.04+ Demetrie Coffey, 12, Maria Carrillo
11.08 Bennett Simpson, 12, Analy, SCL Champion
11.13 Jaymes Tischbern, 12, Montgomery
11.14+ Jackie Farris, 12, Kelseyville, CMC 200 Champion
11.14+ Mathew Mason, 11, Casa Grande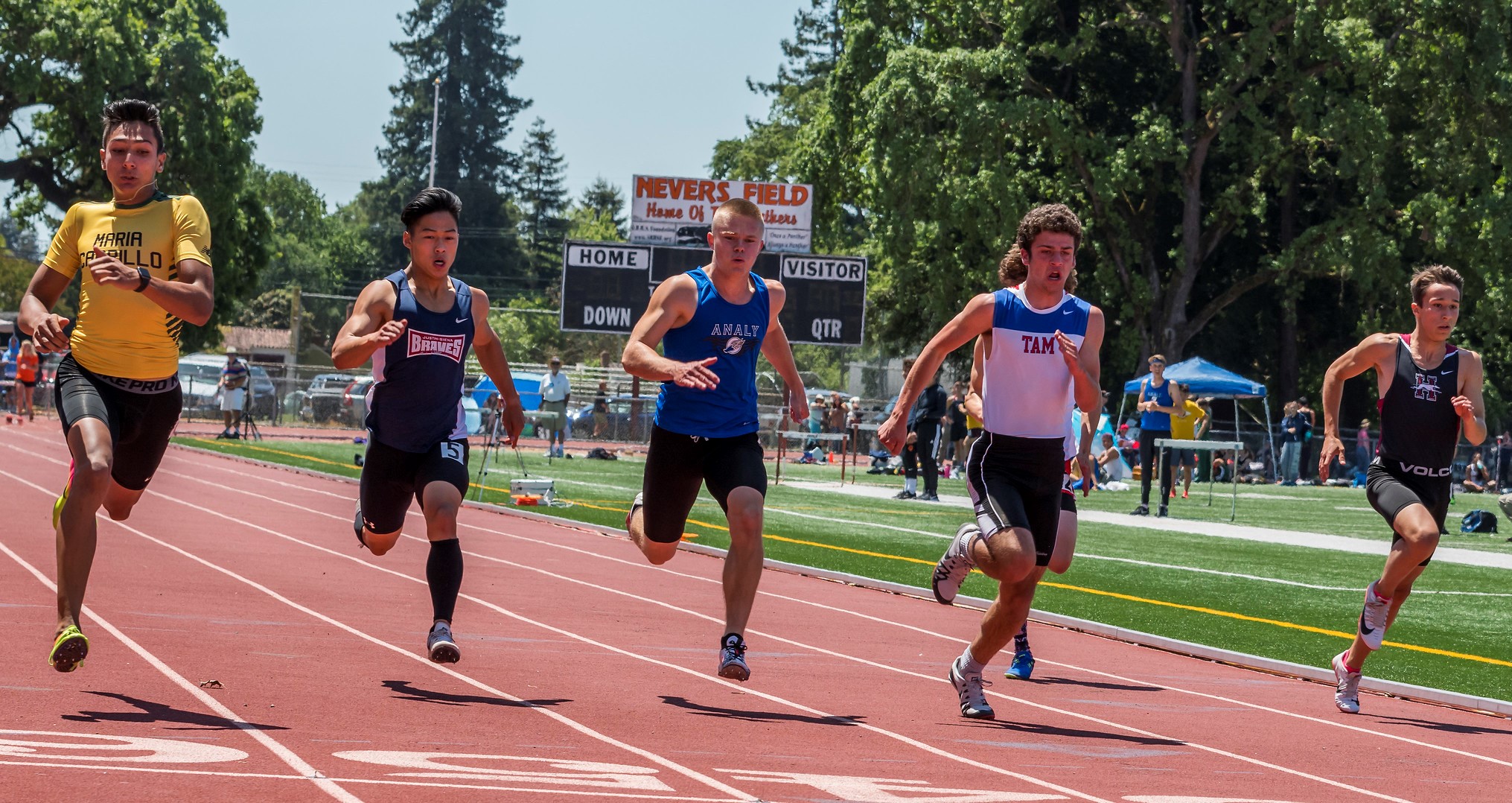 200 METERS
2010 five 22.43 or faster
21.74 Thomas Kozel, 12, Healdsburg, SCL Champion, NCS Redwood Champ, 4th NCS
22.24+ David Tange, 12, Petaluma
22.27 Tim Compton, 12, Willits, CMC Champion
22.31 Andrew Kozel, 9, Healdsburg
22.43 Bryan Nunez, 10, Cardinal Newman, NBL Champion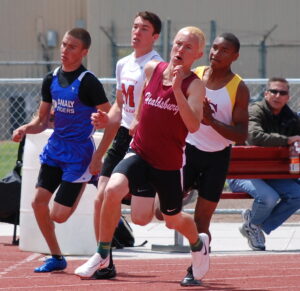 2018 five 22.44 or faster
21.92 Severin Ramirez, 11, Maria Carrillo, NBL Champion, 2nd NCS Redwood, 4th NCS
21.94 Jaymes Tischbern, 12, Montgomery
22.16 Tyler VanArden, 11, Maria Carrillo
22.34+ Mathew Mason, 11, Casa Grande
22.44+ Bennett Simpson, 12, Analy, SCL Champion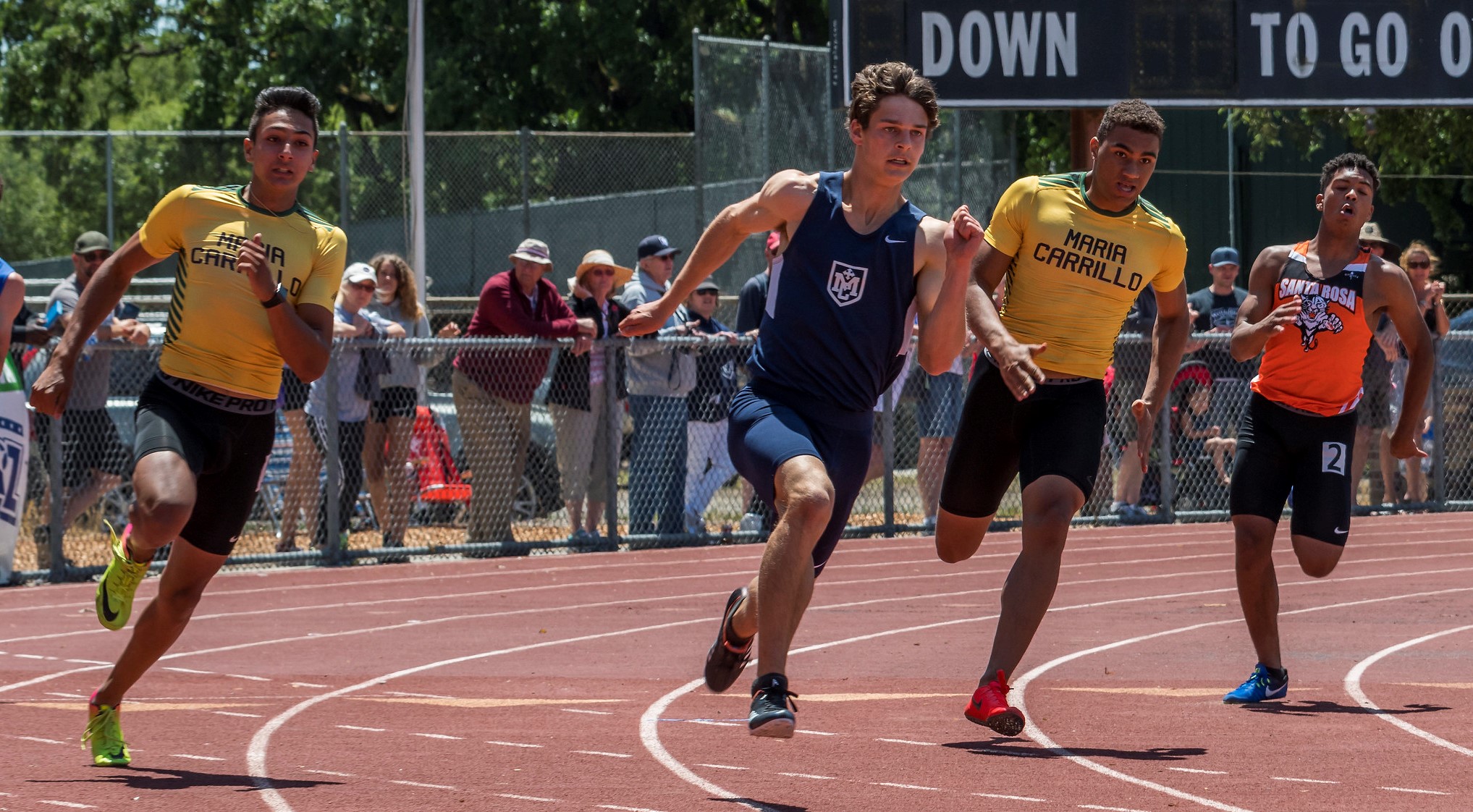 ---
400 METERS
1974 six 50.15 or faster
48.96 Jose Martinez, Petaluma 49.0y
49.36 Bart Williams, Vallejo 49.4y, 5th NCS
49.65 Loyd Johnson, Santa Rosa 49.7y, NBL Champion, 2nd NCS 3A
49.85 Art Pinkney, Vallejo 49.9y
50.15 Gil Proctor, Cardinal Newman 50.2y
50.15 Victor Goodwin, Vallejo 50.2y

---
2019 five 50.15 or faster
49.00 Severin Ramirez, 12, Maria Carrillo, NBL Champion, NCS Redwood Champ, NCS 4th
49.52 Justin Patterson, 11, Cardinal Newman, 2nd NCS Redwood
49.57 Jalydon Love, 12, Casa Grande
49.75 Tyler VanArden, 12, Maria Carrillo
49.97 Croix Stewart, 9, American Canyon, VVAL Champion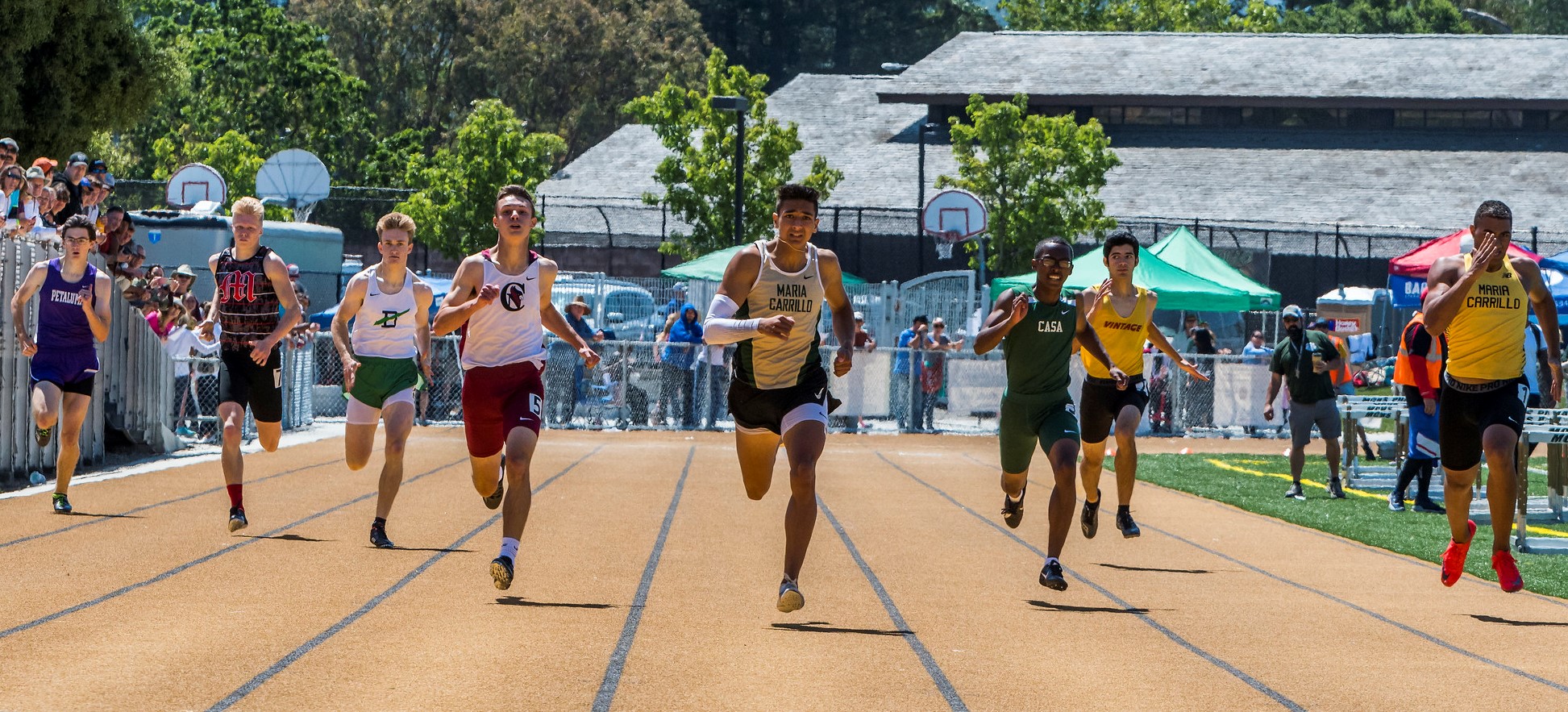 ---
2013 four 50.15 or faster
47.21 Herbie Polk, 12, Maria Carrillo, NBL Champion, NCS Redwood Champ, 2nd NCS
48.10 Andrew Kozel, 12, Healdsburg, SCL Champion,
49.75 Dontae Garcia, 12, Maria Carrillo
49.92 Dante Hay, 11, Maria Carrillo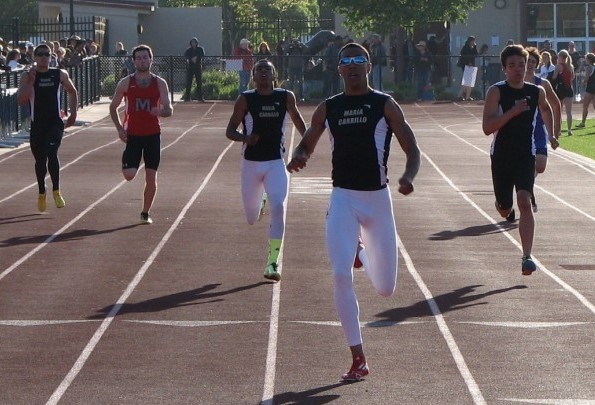 800 METERS
1974 five 1:57.86 or faster
1:52.19* Mark Hadley, Vintage, NBL Champion, 2nd NCS
1:53.58* Dan Aldridge, Petaluma, NCS 3A Champion, NCS Champ 1975, 2nd State Meet 1975
1:54.18* Lloyd Johnson, Santa Rosa, =4th NCS
1:56.86* Jon Sisler, Petaluma
1:57.86* Phil Bond, Petaluma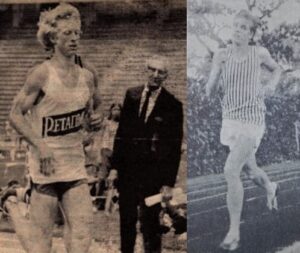 ---
2014 five 1:58.43 or faster
1:52.36 Dante Hay, 12, Maria Carrillo, NBL Champion, NCS Redwood Champ, 3rd NCS, 7th State Meet
1:54.35 Nicholas Rauch, 11, Casa Grande, 5th NCS
1:55.81 Owen Ljung, 12, Sonoma Valley, SCL Champion
1:57.15 Zach Price, 12, Windsor
1:58.43 Casey Kramer, 12, Petaluma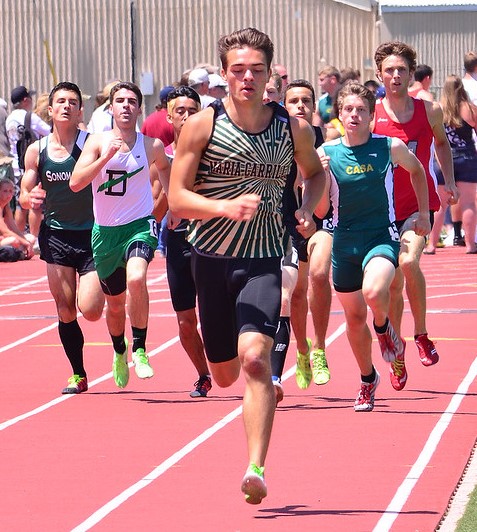 ---
2004 four 1:56.84 or faster
1:53.21 J.K. Withers, 12, Cardinal Newman, NBL Champion, NCS Redwood Champion, 8th State Meet 1600
1:55.23 David Wellman, 12, Maria Carrillo, 4th NCS
1:55.82 Josh Williams, 11, Piner, 5th NCS
1:56.84+ Dawit Tesfasilassie, 11, Piner

1600 METERS
2011 six 4:21.02 or faster
4:14.17 Luis Luna, 11, Piner, NCS Champion 3200, 6th State Meet 3200
4:19.70 Forrest Shaffer, 12, Petaluma
4:19.90 Alexi Taylor, 11, Cardinal Newman
4:20.13 Daniel Hauptman, 12, Maria Carrillo, NBL Champion
4:20.72 Ben Tarango, 12, Casa Grande, SCL Champion, 2nd NCS Redwood
4:21.02 Ryan Douglas, 10, Petaluma
4:25.24 Jose Mendoza, 11, Montgomery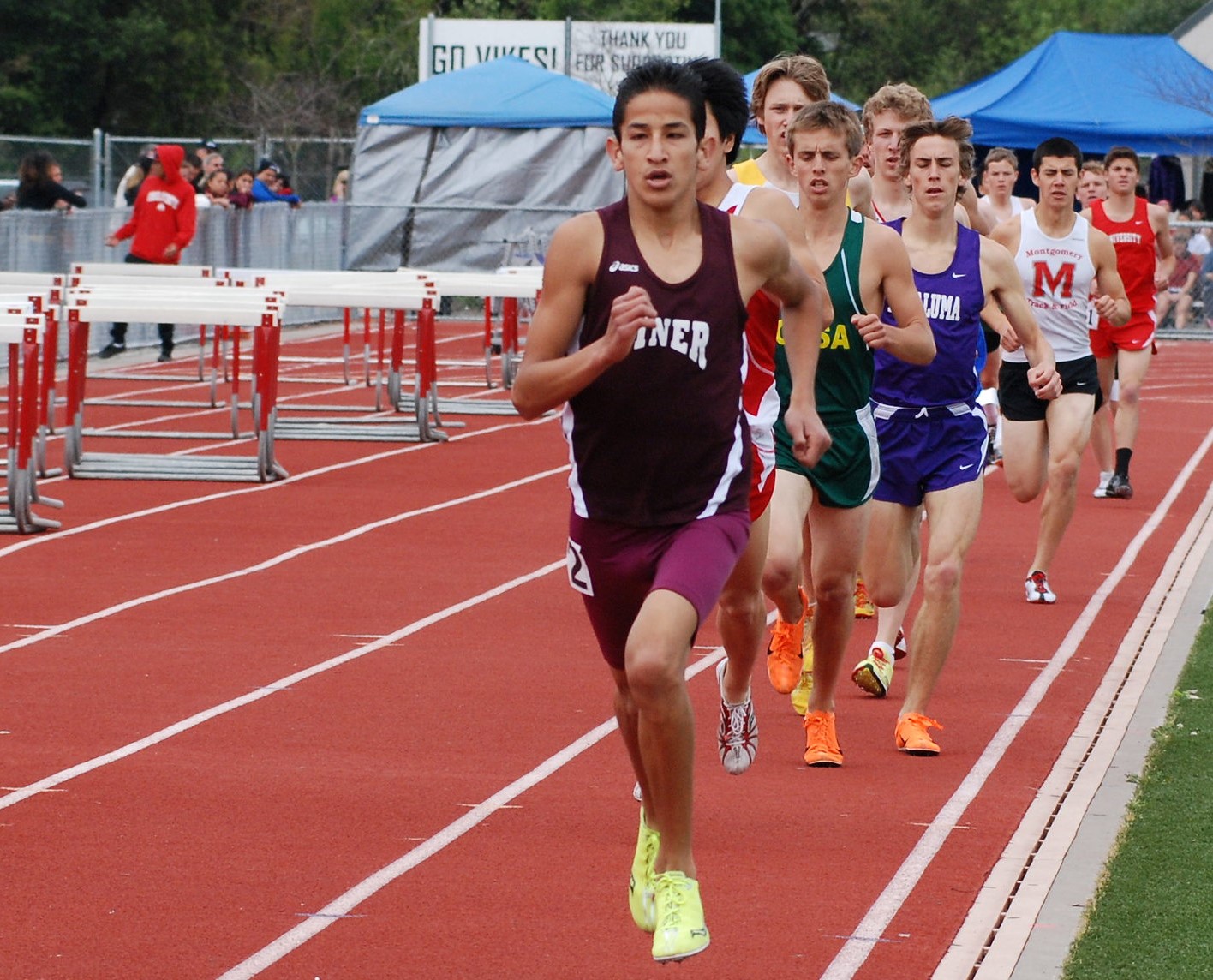 ---
2019 five 4:21.69 or faster
4:16.81 Colton Swinth, 11, Maria Carrillo, NBL Champion, 2nd NCS Redwood, 4th NCS
4:17.67 Lucas Chung, 12, Windsor
4:18.73 Pierce Kapustka, 11, Maria Carrillo
4:19.59 Dante Godinez, 12, Healdsburg
4:21.69 Rory Smail, 11, Maria Carrillo
4:22.66 Emmanuel Guzman, 12, Vintage, VVAL Champion
4:22.96 Owen Hite, 10,, Casa Grande
4:25.43 Andrew Engel, 11, Santa Rosa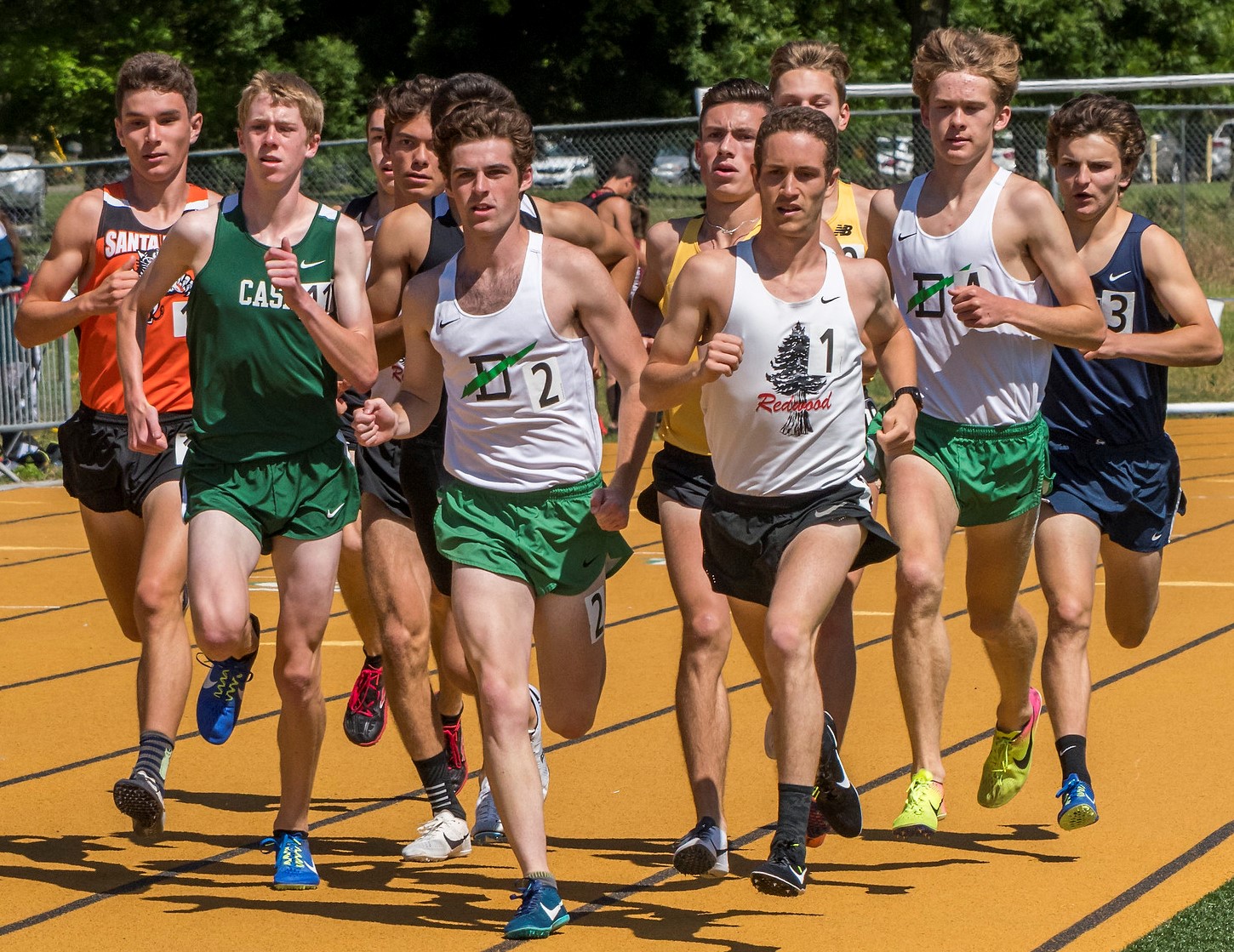 3200 METERS
1979 five 9:30.72 or faster
9:12.42* Dave Royal, Petaluma, NBL Champion, 2nd NCS 3A
9:24.95* Brian Hoyt, Piner, SCL Champion
9:26.34* Jim Noonan, Montgomery
9:30.25* Steve Howard, Ukiah
9:30.72* Greg Fogg, Rancho Cotate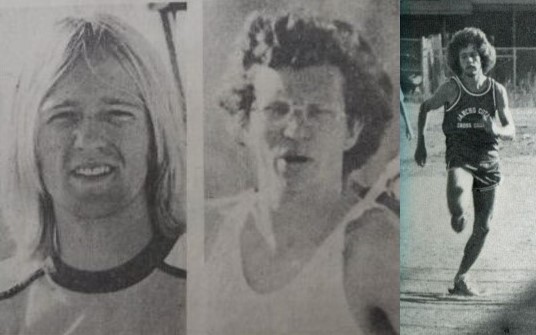 ---
2010 four 9:35 or faster
8:59.89 Reesey Byers, 12, Santa Rosa, NBL Champion, 2nd NCS Redwood, 2nd NCS
9:16.19 Luis Luna, 10, Piner, 3rd NCS, NCS Champion 3200 2011, 5th State Meet 2012
9:28.73 Gus Greenstein, 12, Maria Carrillo, 5th NCS
9:32.97 James Ramirez, 12, Maria Carrillo
9:38.00 Forrest Shaffer, 11, Petaluma
9:39.29 Nick Spector, 12, Sonoma Valley
9:40.14+ Hugh Dowdy, 12, Petaluma, SCL Champion, 6th State Meet 1600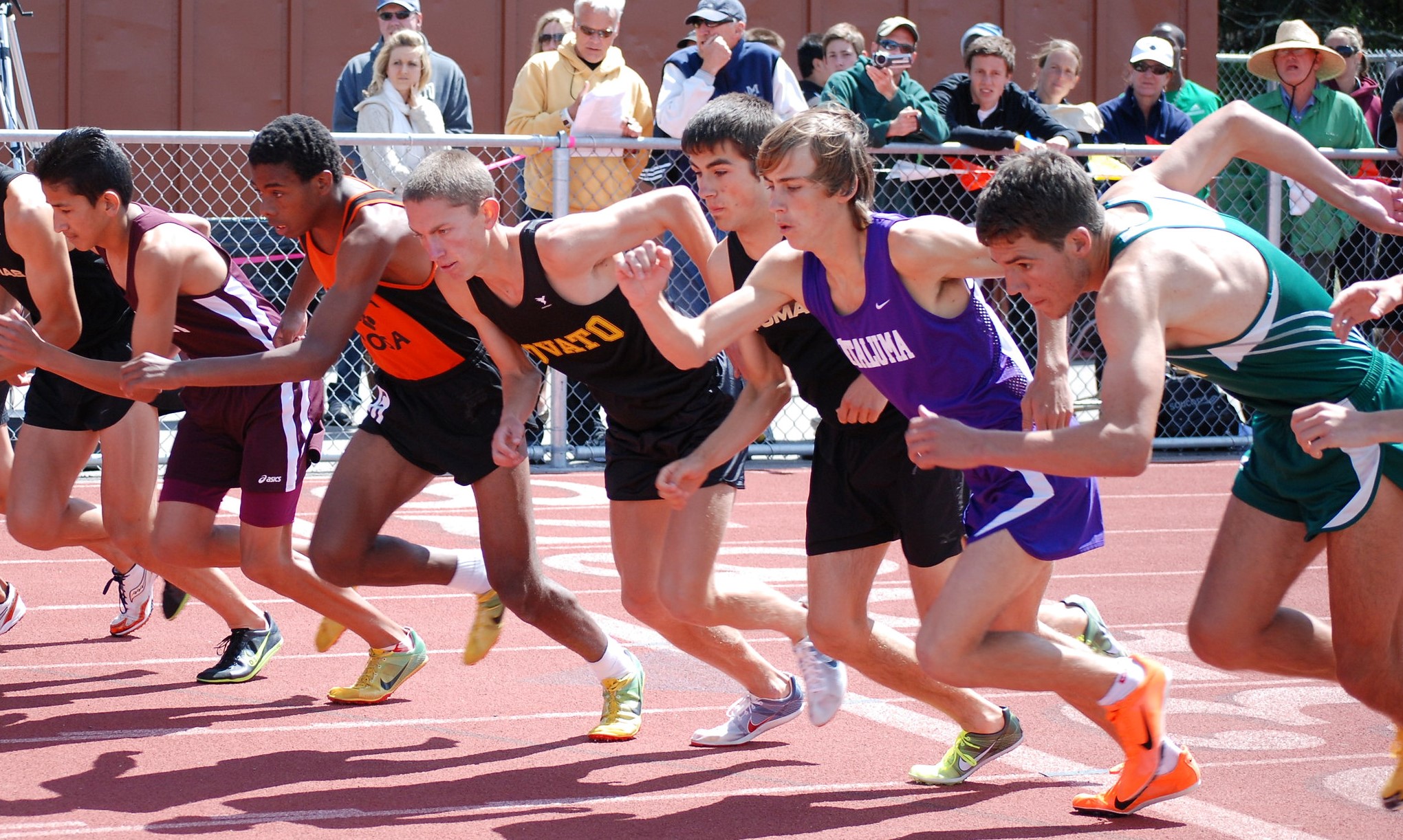 ---
2019 four 9:35 or faster
9:16.58 Andre Williams, 12, Sonoma Academy, CMC Champion, NCS 1A Champ, 5th NCS
9:18.34 Rory Smail, 11, Maria Carrillo, 2nd NCS Redwood
9:27.61 Lucas Chung, 12, Windsor, NBL Champion
9:32.46 Emmanuel Guzman, 12, Vintage
Watch 2019 Viking Classic 3200 Smail vs Williams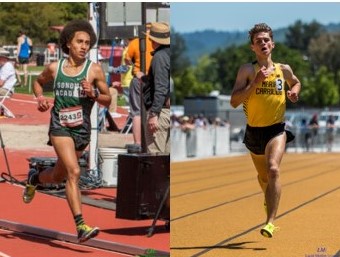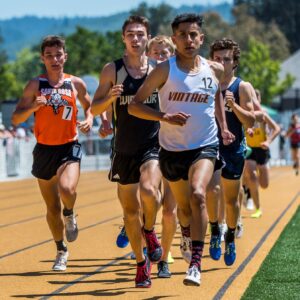 2 Rory Smail 11 Maria Carrillo 9:18.34
5 Lucas Chung 12 Windsor 9:33.15
7 Emmanuel Guzman 12 Vintage 9:35.18
8 Harrison Frankl 12 Maria Carrillo 9:43.34
9 Owen Hite 10 Casa Grande 9:43.60
11 William Hite 10 Casa Grande 9:45.40
12 Elijah Ettedgui 11 Maria Carrillo 9:57.32
13 Andrew Engel 11 Santa Rosa 10:07.96[/caption]
---
2021 four 9:35 or faster
9:19.89 Jacob Donohue, 11, Maria Carrillo
9:20.17 Nolan Hosbein, 12, Casa Grande
9:25.83 Jack Vanden Heuvel, 12, Healdsburg
9:32.44 Noe Vieyra, 11, Maria Carrillo

---
2014 four 9:35 or faster
9:16.31 Ryan Anderson, 12, Maria Carrillo, NBL Champion, 2nd NCS Redwood
9:26.69 Efren Reyes, 12, Piner
9:27.44 Brian Schultz, 9, El Molino, SCL Champion
9:33.14+ Mathew Salazar, 10, Casa Grande
9:35.44 Zach Price, 12, Windsor

110m HIGH HURDLES
1975 five 14.98 or faster
110m 120 yards
14.48 14.2y Larry Richardson, El Molino, SCL Champion, 2nd NCS 3A
14.78 14.5y Bart Williams, Vallejo
14.88 14.6y Gary Barnicoat, Vintage, NBL Champion
14.98 14.7y Tim McDonald, St. Helena, CMC Champion, 7th State Meet Pole Vault 1976
14.98 14.7y Matt Moon, Napa
15.28 15.0y Brian Burgo, Analy
15.28 15.0y Ricky Swift, Vallejo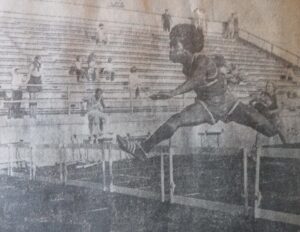 ---
1984 four 15.04 or faster
14.74 14.5 John Gash, Santa Rosa, tied 6th State Meet pole vault
14.84 14.6 Mike Koellsted, Calistoga, CMC Champion, NCS 1A Champ, 7th State Meet 1986
14.94 14.7 Marc Tourville, Montgomery
15.04 14.8 Aaron Braxton, Piner
15.24 15.0 Ryan Fogelman, Cardinal Newman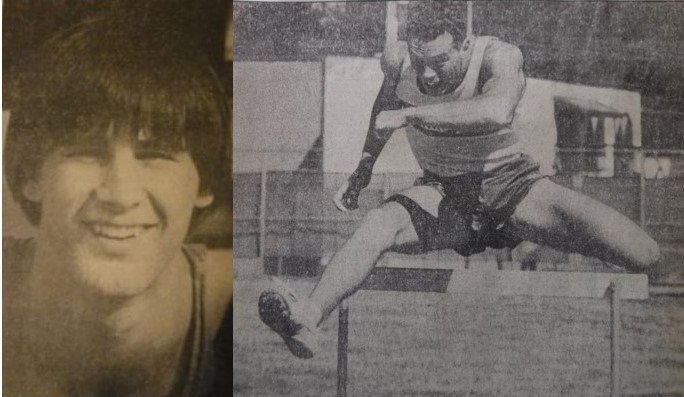 ---
1973 four 15.08 or faster
110m 120 yards
14.78 14.5y Francis Carrington, Montgomery, NBL Champion, NCS 3A Champ
14.98 14.7y Dave Cardwell, Vintage, 2nd NCS 3A
14.98 14.7y Reggie Huey, Vallejo
15.08 14.8y Larry David, Petaluma
15.28 15.0y Vernon Jackson, Vallejo
---
1972 four 15.08 or faster
110m 120 yards
14.98 14.7y Byron Porter, Vallejo
15.08 14.8y Francis Carrington, Montgomery, NBL Champion, NCS 3A Champion
15.08 14.8y Reggie Huey, Vallejo
15.08 14.8y Larry David, Petaluma
---
1974 three 15.18 or faster
110m 120 yards
14.28 14.0y Dave Cardwell, Vintage, NBL Champion, NCS 3A Champion
15.08 14.8y Mark Wallace, Vallejo
15.18 14.9y Gary Barnicoat, Vintage
15.28 15.0y Ken Johnson, Sonoma Valley ?14.7y, 2nd NCS 3A
15.28 15.0y Larry Richardson, El Molino
15.28 15.0y Vernon Jackson, Vallejo
15.28 15.0y Matt Moon, Napa
300m INTERMEDIATE HURDLES
Conversions here are for comparisons and are not as accurate as say 440 yards to 400 meter conversions.
1970 seven 40.34 or faster
300IH 180y Low Hurdles
39.14 19.2 Charles Porter, Vallejo, NBL Champion, NCS 3A Champ, 2nd NCS
39.64 19.7 Randy Barnes, Santa Rosa
39.84 19.9 Ralph Simmons, Hogan
39.94 20.0 Ben Willis, Vallejo
40.04 20.1 Dave Orchard, Ukiah
40.24 20.3 Dan Harlander, Analy, SCL Champion, 2nd NCS 3A
40.34 20.4 Mel Wallace, Hogan
---
1976 seven 40.44 or faster
300IH 330y Low Hurdles
39.34 38.8y Tim McDonald, St. Helena, CMC Champion, =2nd NCS
39.44 38.9y Brett Mulvihill, Fort Brag
39.54 39.0y Scott Snyder, Vintage, NBL Champion
39.94 39.4y Dave Ducay, Vallejo
40.34 39.8y Tony Barton, Piner
40.44 39.9y Mark Patkin, Healdsburg, SCL Champion
40.44 39.9y Tony Lopez, Cardinal Newman
40.74 40.2y Ron Dunlap, Sonoma Valley
40.74 40.2y Jim Meyers, Casa Grande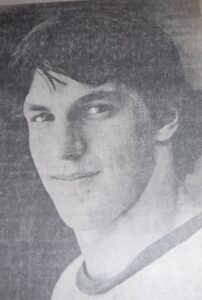 ---
1978 six 40.44 or faster
300IH 330y Low Hurdles
38.54 38.0y Jim Flores, Piner, SCL Champion, NCS 3A Champ, 4th NCS
38.64 38.1y Mark Stryker, El Molino, 5th NCS
39.54 39.0y Chuck Peterson, Montgomery, NBL Champion
39.64 39.1y Bob Barham, Ukiah
39.74 39.2y Mike Trudeau, Piner
40.44 39.9y Mansen, Petaluma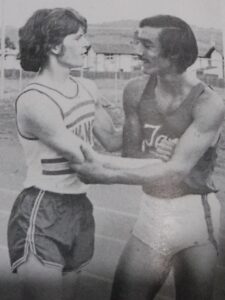 ---
2019 Best actual IH season, five 40.61 or faster
38.76 Brayden Glascock, 12, Santa Rosa, NBL Champion, 2nd NCS Redwood, 3rd NCS
39.56 Vince Corday, 12, Windsor, NCS Redwood Champion
39.81 Brent Oru-Craig, 12, Montgomery
40.14 Landon Mispagel, 12, Justin-Siena, VVAL Champion
40.61 Russel Gordon, 10, Fort Bragg
40.67 Eric Portillo, 12, Ft. Bragg, CMC Champion, NCS 1A Champ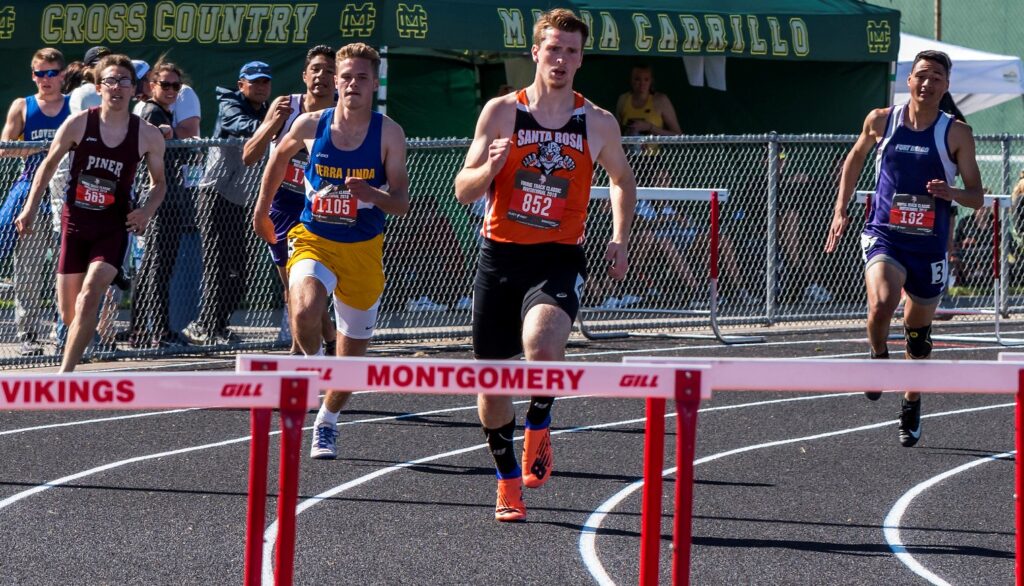 ---
2010 four 40.61 or faster
38.80 Kyle Hauser, 12, Santa Rosa, 4th NCS
39.05 Tyler Baker, 12, Maria Carrillo, NBL Champion, 2nd NCS Redwood, 5th NCS
39.37 Caleb Cunha, 11, Fort Bragg, CMC Champion
40.04+ Jeremy Thompson, 12, Maria Carrillo
40.89 Bryson Dumont, 12, Cardinal Newman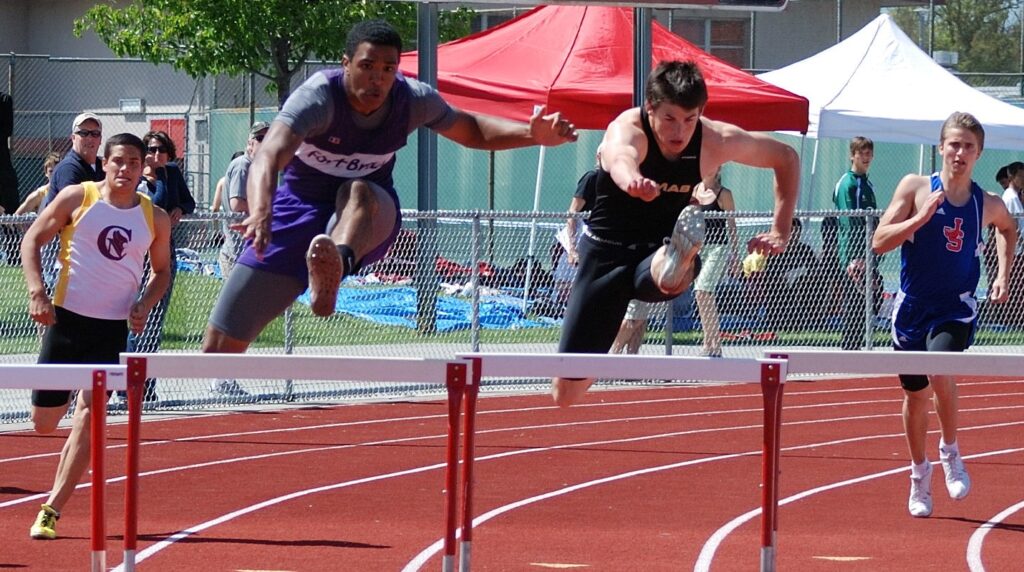 ---
1995 four 40.61 or faster
38.89 38.89 Chris Barnsdale, Montgomery, NBL Champion, NCS Redwood Champ, 2nd NCS
39.54 39.54 Jason Andrews, Rancho Cotate, 5th NCS, NCS Champ 1997
39.74 39.5 Seth Barrett, Santa Rosa, 2nd NCS Redwood, NCS High Jump Champ 1997
40.04 39.8 Ryan Young, Ukiah
Watch the 1995 NCS Redwood 300IH here
1995 NCS Redwood 300IH results
39.31 Chris Barnsdale, Montgomery
40.10 Seth Barrett, Santa Rosa
40.90 Jason Andrews, Rancho Cotate
---
2009 four 40.61 or faster
39.24 Eric Arneson, 12, Healdsburg, SCL Champion, 3rd NCS
39.52 Jeremy Thompson, 11, Maria Carrillo, NBL Champion, 2nd NCS Redwood
39.57 Tyler Baker, 11, Maria Carrillo
40.11 Chris McCloskey, 12, Santa Rosa
40.80 Caleb Cunha, 10, Fort Bragg, CMC Champion, NCS 1A Champ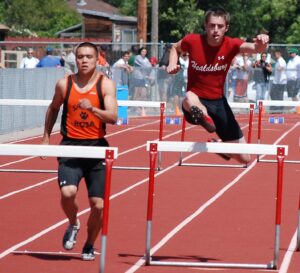 4x100m Relay
1970 four 43.19 or faster
42.89 42.9y Vallejo, NBL Champions
42.89 42.9y Hogan, NCS 3A Champions, 3rd NCS
42.99 43.0y Petaluma
43.19 43.2y Analy, SCL Champion
---
2011 four 43.77 or faster
43.42 Cardinal Newman, NBL Champion
43.74+ Healdsburg
43.76 Rancho Cotate
43.77 Montgomery, 2nd NCS Redwood
44.19 Casa Grande, SCL Champion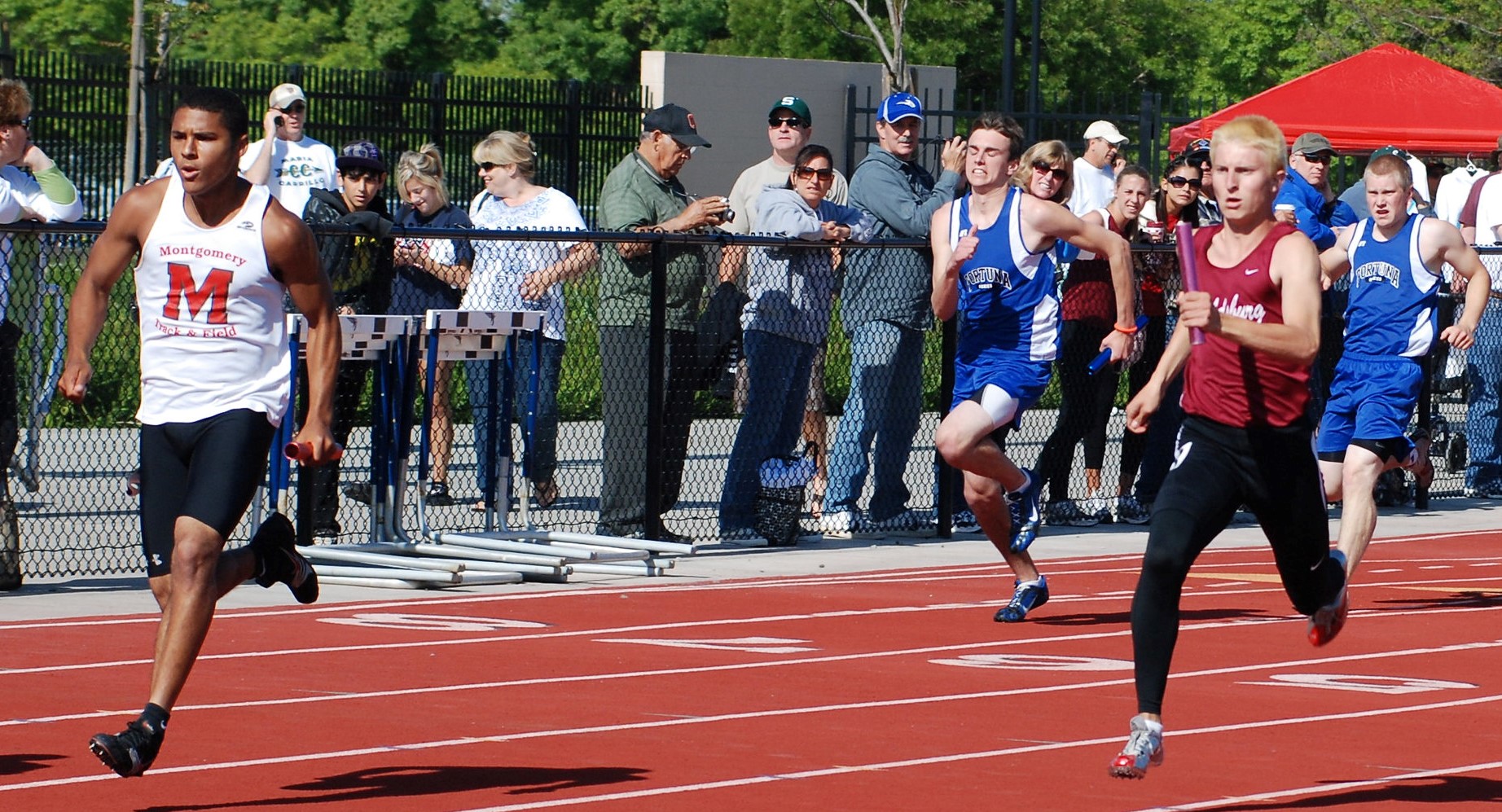 ---
2010 four 43.84 or faster
43.32 Cardinal Newman, NBL Champions, NCS Redwood Champs
43.34+ Rancho Cotate
43.38 Healdsburg, SCL Champions, 2nd NCS Redwood
43.84+ Montgomery
44.07 Petaluma
44.12 Casa Grande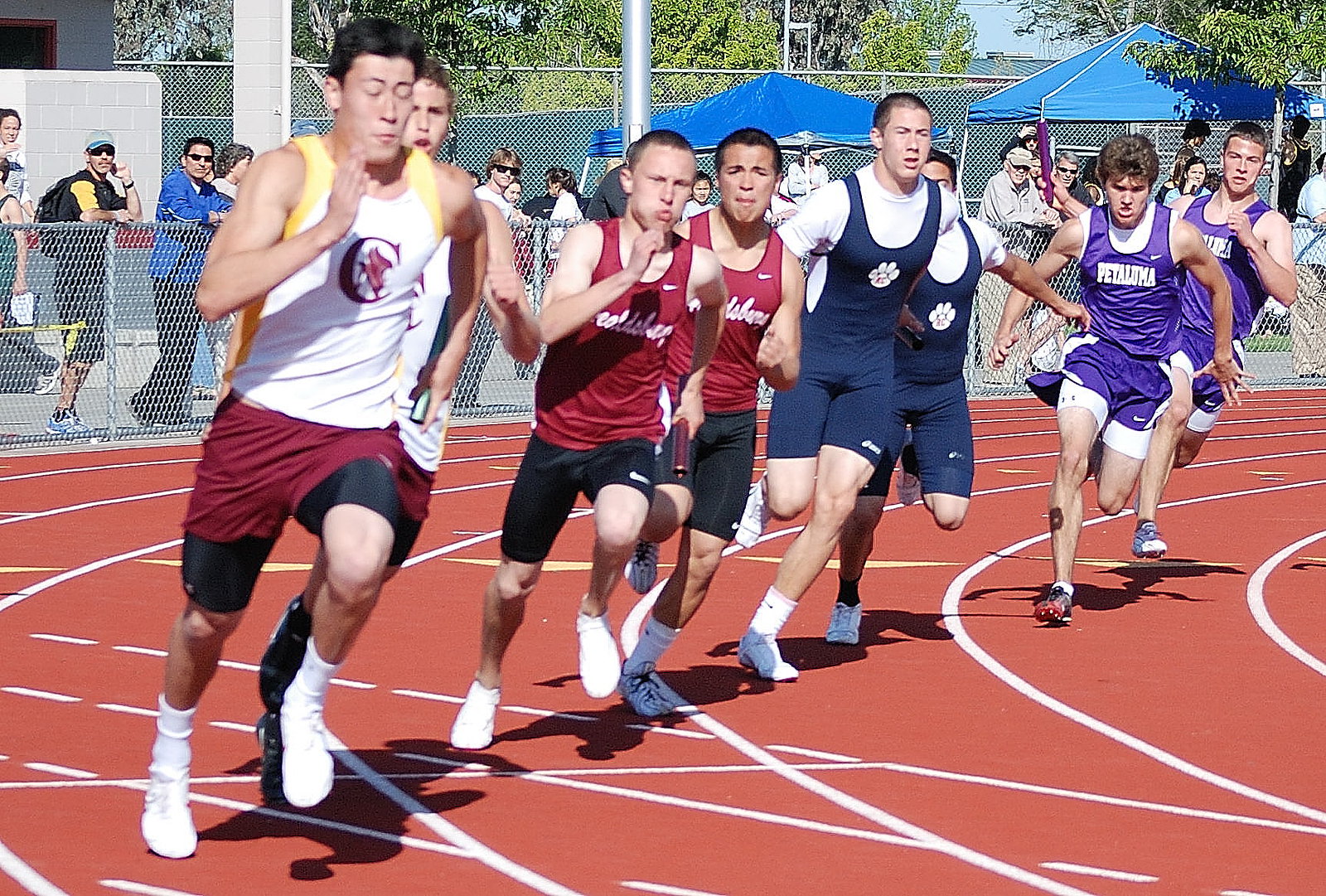 4x400m Relay
1974 five 3:25.64 or faster
3:20.77* Vallejo 3:21.7y, 2nd NCS 3A, 3rd MOC
3:21.17* Cardinal Newman 3:22.1y
3:23.56* Santa Rosa 3:24.5y, NBL Champions
3:24.15* Petaluma 3:25.1y
3:25.64* Vintage 3:26.6y
---
1972 four 3:26.34 or faster
3:17.89* Vallejo 3:18.8y, NBL Champion, 2nd NCS 3A, 3rd NCS
3:20.97* Cardinal Newman 3:21.8y, SCL Champions, NCS 3A Champions, 2nd NCS
3:25.74* Napa 3:26.7y ?3:24.5
3:26.34* Montgomery 3:27.3y
3:27.63* Santa Rosa 3:28.6y
3:28.73* Sonoma Valley 3:29.7y
---
1973 three 3:21.97 or faster
3:20.67* Montgomery 3:21.6y, NBL Champions, NCS 3A Champs, 3rd NCS
3:20.67* Cardinal Newman 3:21.6y, SCL Champions, 2nd NCS
3:21.97* Vallejo 3:21.8y, 2nd NCS 3A
3:27.04* Petaluma 3:28.0y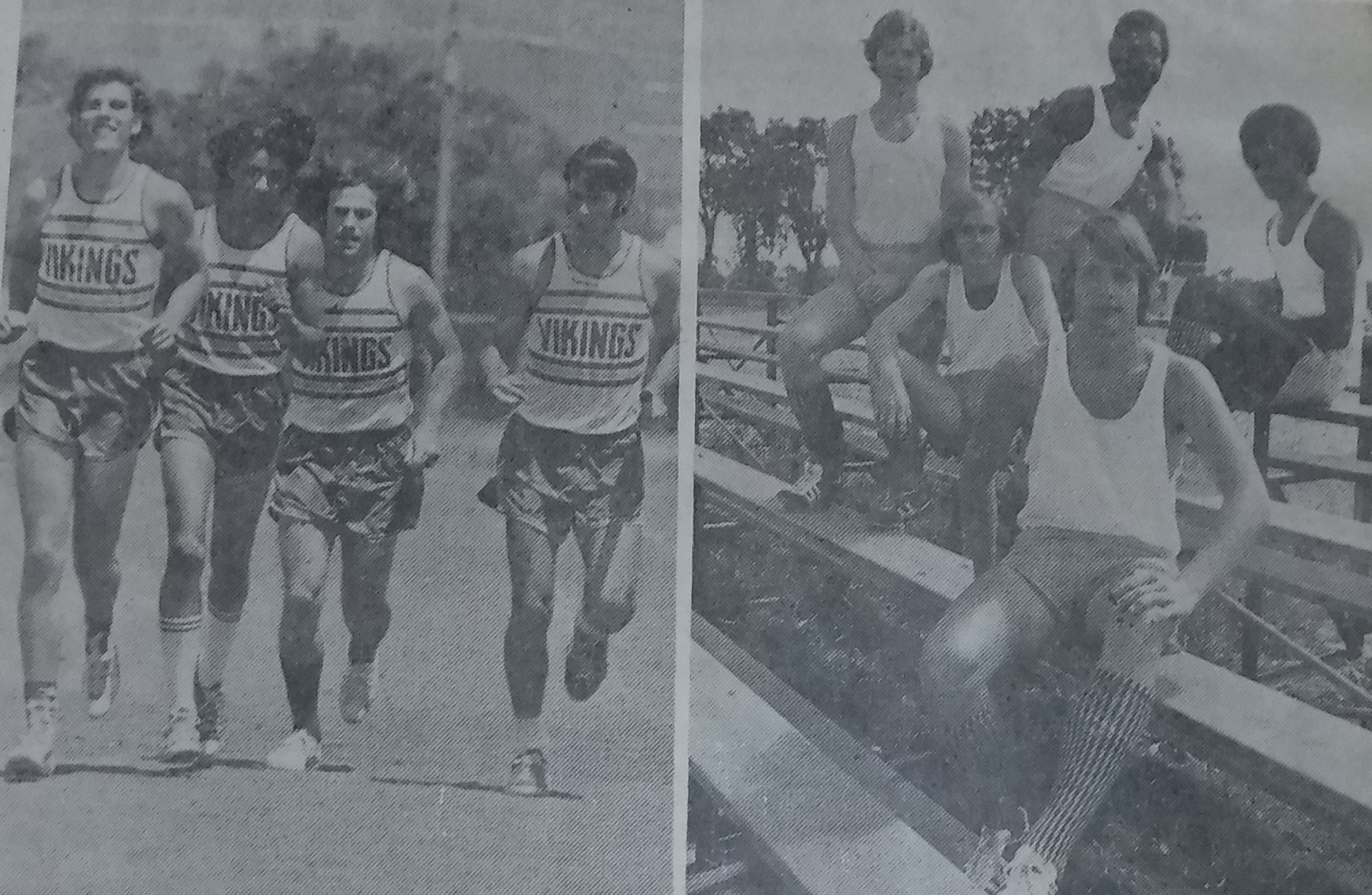 ---
2010 three 3:26.03 or faster
3:25.58 Cardinal Newman, NBL Champions
3:25.88 Healdsburg, SCL Champions, NCS Redwood Champs
3:26.03 Rancho Cotate
3:27.60 Maria Carrillo, 2nd NCS Redwood
3:27.85 Petaluma

HIGH JUMP
1980 eleven at 6-4 or higher
6-6 Dave Swanson, Analy, SCL Champion, 2nd NCS, NCS Champ 1982, 4th State Meet 1982
6-6 Greg Cavalin, Montgomery, NBL Champion
6-6 Arnold Silva, Santa Rosa, NCS 3A Champion, =5th NCS
6-6 Ron Kamaka, Rancho Cotate, 2nd NCS 3A
6-4½ Mike Spradlin, Petaluma
6-4 Greg McGinnis, Lower Lake, NCL N. Champion
6-4 Gordon Martinelli, Calsitoga, NCL S. Champion
6-4 Dave Saulsbury, El Molino
6-4 Jeff Paul, Cardinal Newman
6-4 Ralph Garcia, Clear Lake
6-4 Mike Bartleson, Clear Lake
6-2 Riki Moore, Leggett Valley, NCS 1A Champion
6-2 Tim Jones, Healdsbug
6-2 Jon Wheeler, Petaluma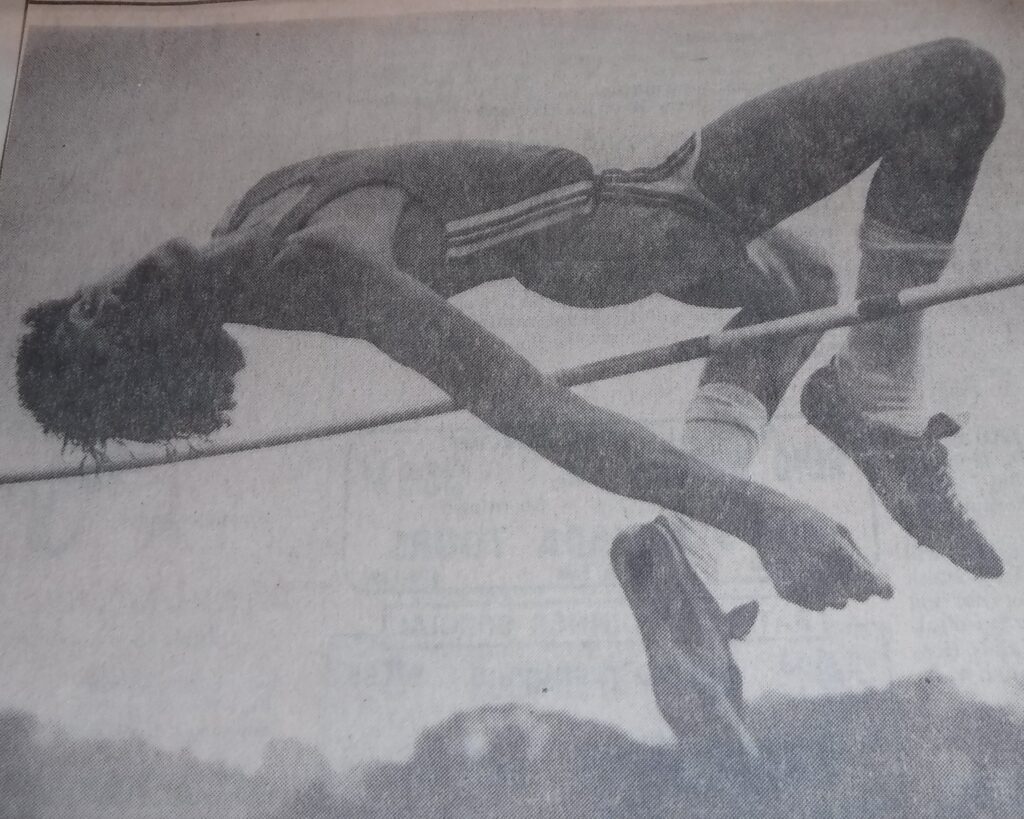 ---
1981 eight at 6-4 or higher
6-8 Ron Kamaka, Rancho Cotate
6-6 Dave Swanson, Analy, NCS Champion 1982, 4th State Meet 1982
6-5 Craig McMillan, Cloverdale, NCS 1A Champion
6-4½ John Miskill, Upper Lake, NCL II Champion
6-4½ Greg McGinnis, Lower Lake
6-4 Dave Chesser, Willits, NCL I Champion
6-4 Jon Wheeler, Petaluma
6-4 Tim Jones, Healdsbug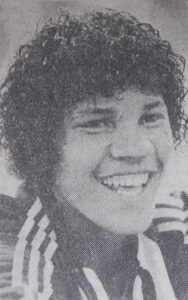 POLE VAULT
2003 six at 13-6 or higher
15-3 Matt Tillinghast, 11, Montgomery, NBL Champion, NCS Redwood Champ, NCS Champ
15-0¾ Mike Tillinghast, 11, Montgomery, 2nd NCS Redwood, 3rd NCS
14-3i Michael Sullivan, 12, Casa Grande, SCL Champion, 4th MOC
13-6 Mike Fye, 12, El Molino
13-6 Martin Field, 10, Montgomery
13-6 Nick Barton, 12, Petaluma
13-0 Chase Covington, 10, Maria Carrillo
13-0 Ben Gordon, 11, Santa Rosa

---
1979 four 13-6 or higher
14-4 Tom Mikalson, Montgomery, NBL Champion, 2nd NCS 3A
14-3 Russ Reinhard, Willits, NCL I Champion, NCS 1A Champ, 2nd NCS
14-1½ Rich Kingsborough, Piner, SCL Champion
13-6 Marc Couey, Piner, NCS 3A Champion
13-0 Dave Damon, Ukiah
13-0 Chris Land, St. Helena
13-0 Mark Wilson, Santa Rosa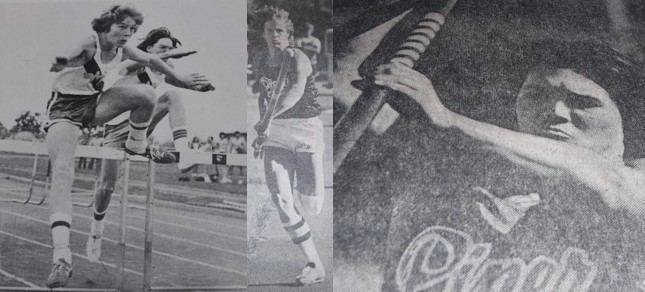 ---
1990 four 13-6 or higher
14-6 Emil Bruneau, Willits, NCL I Champion, NCS 1A Champion, 3rd NCS
14-0 Kris Warnock, Sonoma Valley
13-7 Chad Griffith, Rancho Cotate
13-6 Jared Kenworthy, Piner, NBL Champion
---
1978 four 13-6 or higher
14-7 Mark Patterson, Piner, SCL Champion, NCS 3A Champion
13-6 Jim Crowhurst, Montgomery, NBL Champion, 2nd NCS 3A, =5th NCS
13-6 Tony Bashaw, Ukiah
13-6 Tim Ryan, Rancho Cotate
13-0 Rich Kingsborough, Piner, 3rd NCS
13-0 Russ Reinhard, Willits, NCL I Champion, =5th NCS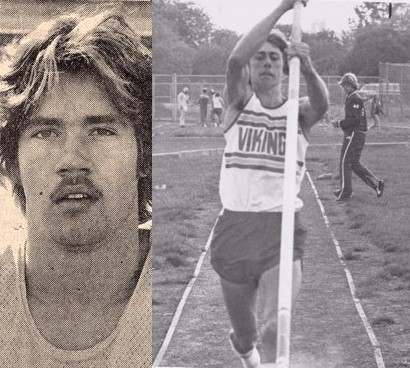 LONG JUMP
1978 four at 22-4½ or farther
23-0 Marvin Colter, Piner, NCS 3A Champion, NCS Champ TJ, 5th State Meet TJ
22-11½ Jim Flores, Piner, SCL Champion
22-9¾ Ray Marchbanks, Santa Rosa, NBL Champion, 5th NCS
22-4½ Jesse Jones, Casa Grande
21-10 Mark Stryker, El Molino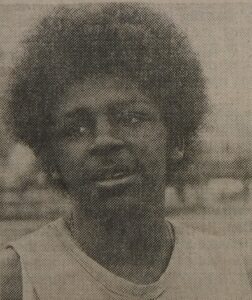 ---
1989 four at 22-0 or farther
22-5½ Steve Simon, Cardinal Newman, NBL Champion, 3rd NCS
22-1½ Paul Maloney, St. Vincent, CMC Champion, NCS 1A Champ, 4th State Meet high jump
22-0¼ Scott Taylor, Casa Grande, SCL Champion
22-0 Marcell Lawson, Casa Grande, NCS 100 Champion
TRIPLE JUMP
1982 five at 44-3½ or farther
46-9 Rob McCorkel, Petaluma, NBL Champion, NCS 3A Champion, 4th NCS
45-1 Neil Colter, Rancho Cotate
45-0 Brian DeSilva, Fort Bragg, NCL I Champion, NCS 1A Champion
44-5½ Brad Svennungsen, Sonoma Valley, SCL Champion
44-3½ Don Brosio, Piner
44-2½ Erik Fleet, Piner
44-2 Anthony Jones, Santa Rosa
43-10½ Tim Bellen, Piner
43-10 Steve Pardini, Analy
43-4 Aaron Braxton, Piner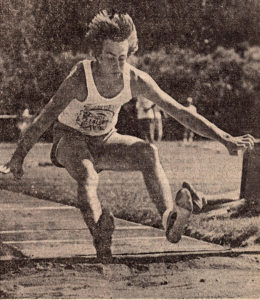 ---
1975 four at 44-4¾ or farther
45-7½ Larry Richardson, El Molino
45-5½ Terry Ekkiott, Vallejo, NBL Champion, 2nd NCS 3A
44-10 Fred Montini, Sonoma Valley, SCL Champion
44-4¾ Jerry Robinson, Cardinal Newman
44-2 Ron Austin, Vallejo
43-1¼ Herm Shoate, Vallejo
---
1973 four at 44-3½ or farther
46-3 Tyree Gray, Montgomery, NBL Champion, 2nd NCS 3A, 5th NCS
44-6¾ Fred Simpson, Analy, SCL Champion
44-6 Gary Gomes, Montgomery
44-3½ Venson Washington, Vallejo
44-0½ Vernon Jackson, Vallejo
43-7 Al Holleyman, Napa
---
1978 four at 44-3 or farther
48-7 Marvin Colter, Piner, SCL Champion, NCS 3A Champion, NCS Champion, 5th State Meet
47-9 Ray Marchbanks, Santa Rosa, NBL Champion, 2nd NCS 3A, 2nd NCS
46-11½ Allen Kuhn, Cloverdale, NCL I Champion, NCS 1A Champion
44-3 Ernie Ongaro, Analy
43-8 Mark Levy, Ukiah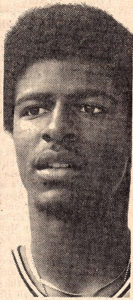 ---
1979 four at 44-3 or farther
45-3½ Jeff Johnson, Petaluma, NBL Champion, 3rd NCS 3A
44-4 John Williams, Piner, SCL Champion
44-3 Tony Masolini, Piner
44-3 Pat Fetzer, Ukiah
6th 42-6½ Ross Falconer, Kelseyville, NCL II Champion, NCS 1A Champion
42-0½ 12th in 1979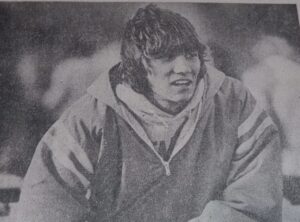 SHOT PUT
1977 six at 53-1 or farther
59-10 John Balletto, Analy, SCL Champion, NCS 3A Champ, NCS 2nd, top 8 State Meet
57-10½ Rick Mohr, Analy, 2nd NCS 3A, 4th NCS
55-7¼ Matt Reinhard, Willits, NCL I Champion, NCS 1A Champ
53-5 Ken Harrison, Montgomery, NBL Champion
53-2 Ruben Plevney, El Molino
53-1 Rolf Frankenbach, Montgomery
51-4½ Andy Gilliam, Piner
50-11 Chris Sorensen, Analy
50-10 Larry Coombes, Santa Rosa
50-4 Ken George, Piner
50-1½ Mike Plevney, El Molino

---
1981 five 52-1½ or farther
63-10½ Dennis DeSoto, Santa Rosa, NBL Champion, NCS Champ, 2nd State Meet
55-2¾ Dave Wright, Petaluma, 4th NCS
55-0½ Rodney Scinto, Cardinal Newman
53-0¼ Mark Grandy, Rancho Cotate
52-1½ Mark McVeigh, Sonoma Valley, SCL Champion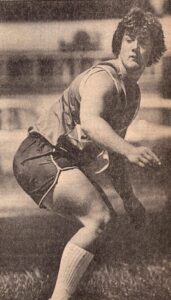 DISCUS
1977 five at 159-7 or farther
169-8½ John Balletto, Analy, SCL Champion, NCS 3A Champion, top 8 State Meet Shot Put
164-9 Chris Sorensen, Analy
163-0 Brian Lake, Casa Grande
159-7 Brent Finley, Montgomery
159-7 Ruben Plevney, El Molino
158-6 Rick Mohr, Analy, NCS 3A 2nd
156-0½ Rolf Frankenbach, Montgomery, NBL Champion
153-8 Larry Coombes, Santa Rosa
153-1 Ken George, Piner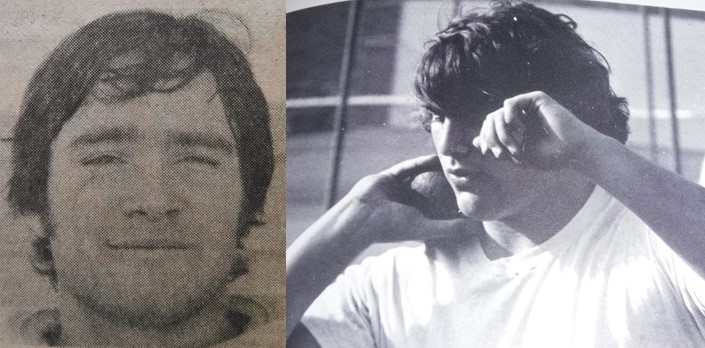 ---
1978 five at 159-6¼ or farther
167-8½ Brian Lake, Casa Grande, 2nd NCS 3A
164-3 Chris Sorensen, Analy, SCL Champion
162-3 Steve Jones, Calistoga, NCS 1A Champion, 3rd NCS
160-4 John Harpe, Laytonville, NCL II Champion
159-6¼ Dave Troppy, Santa Rosa, NBL Champion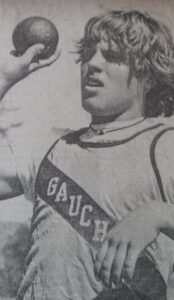 ---
1972 four at 159-11 or farther
165-4 Jan DeSoto, Santa Rosa, NBL Champion, 2nd NCS 3A, 3rd NCS
163-3½ Wayne Catron, El Molino, SCL Champion, NCS 3A Champ
162-11 Jerry Riley, Sonoma Valley
159-11 Jeff Faulk, Montgomery