Freshman Croix Stewart may be new to the Redwood Empire scene but he has at least 11 seasons of track experience under his belt before this season.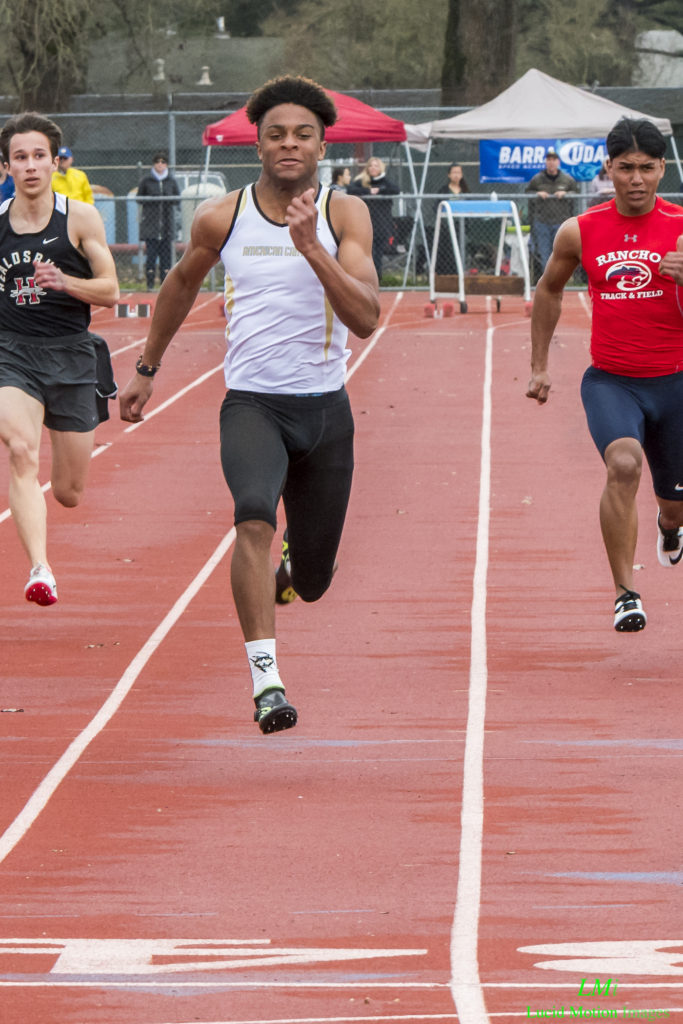 Last year at the AAU Junior Olympic Nationals Stewart won both the 100 and 200 13-14 year old races.
His four races on that one day were 100 prelim 10.94 +0.9, 200 prelim 22.21 +2.6, 100 final 11.13 -1.4 and 200 final 22.51 -1.9, winning all.
Videos
Interview: Croix Stewart Wins the 14yo Boys 100m AAU Junior Olympic Games
2018 AAU Jr Olympics- 14 yr old Boys 200 Finals
Croix Stewart Uses His Strength To Catch Up With Competition 2017 AAU Junior Olympic Games Coverage
13yr Croix Stewart 23.35s 200m Finals AAU Junior Olympics 2017
His mother is American Canyon coach Qwen Stewart .
Watch the video I took of his Big Cat 100m race here.
Besides his amazing day at the Big Cat we now have his 1600m relay split from there at 50.1.
1 American Canyon 'A' 3:34.81, VVAL leader
2 Maria Carillo 'B' 3:36.90, NBL leader
3 Healdsburg 'A' 3:36.91
Qwen says they are looking at Pasadena Invitational and possibly the Arcadia as big races for him. And then of course state.
Here are some of his youth progressions.

100 Meters
2008 Outdoor	6U	22.10
2009 Outdoor	6U	18.43 
2010 Outdoor	6U	16.89 
2011 Outdoor	7-8	14.91 
2012 Outdoor	7-8	14.73 
2013 Outdoor	9-10	13.37 
2014 Outdoor	9-10	13.21 
2015 Outdoor	11-12	12.46    2015 Indoor	11-12	12.46   
2016 Outdoor	11-12	12.36    2016 Indoor	11-12	12.37    
2017 Outdoor	13-14	11.92 
2018 Outdoor	13-14	10.94  +0.9
2019 Big Cat    Varsity 10.92  +0.0

200 Meters
2009 Outdoor	6U	40.80
2010 Outdoor	6U	35.77 
2011 Outdoor	7-8	31.34 
2012 Outdoor	7-8	30.83 
2013 Outdoor	9-10	28.09 
2014 Outdoor	9-10	27.12 
2015 Outdoor	11-12	26.08   2015 Indoor	11-12	27.13  
2016 Outdoor	11-12	25.26 
2017 Outdoor	13-14	23.85 
2018 Outdoor	13-14	22.21  +2.6
2019 Big Cat    Varsity 22.50  +0.0

400 Meters
2009 Outdoor	6U	1:40.24
2010 Outdoor	6U	1:35.20 
2011 Outdoor	7-8	1:20.66 
2012 Outdoor	7-8	1:11.67 
2013 Outdoor	9-10	1:11.23 
2014 Outdoor	9-10	1:04.66 
2015 Outdoor	11-12	1:02.91 
2016 Outdoor	11-12	58.17 
2017 Outdoor	13-14	55.84 
2018 Outdoor	13-14	54.32 
2019 Big Cat    Varsity 51.06