CIF State Cross Country Championships
November 25, 2017 Woodward Park 5K Course, Fresno CA
Division V
Rylee Bowen video interview
I have seen enough of our local runners who seemed to be struggling a bit in their senior year and then come through big time in the state championship to know to never write them off. Sara Bei is the first to come to mind.
Sonoma Academy senior Rylee Bowen is the next to prove that point. By Rylee standards she has done almost nothing this cross country season and finished only third at the North Coast Section Championships last week. Some I think may have felt they were being generous to even rank her 6th in the state going into the meet.
After winning this race her freshman and sophomore years she finished only 6th last year.
Not this year, as she showed she is still the queen of the division V race and making her a three time state winner. Bei won four in her divisions and Julia Stamps also won three in division I.
Today's race was an NCS showcase.
After the first split the NCS had five of the top six.
Leading was Claire Jackson of University(SF) (6:48.9) followed by Rylee (6:50.5) then southern sections Sophie Gitlin of Flintridge Prep (6:50.8).
State meet favorite Emily Perez of St. Joseph N.D. (6:52.2) was close behind followed by Branson teammates Grace Dailey (6:53.6) and Callie Jones (6:56.1).
The San Diego Section had the next two in Alaina Zamorano of Christian (6:58.4) and Lexi Watkins of La Jolla Country Day (7:00.2) with Rylee's sophomore sister Kate, not ranked in top ten this year, next (7:00.8).
By the second split Rylee Bowen had taken the lead by over a second in 12:26.3.
Gitlin had moved to 2nd in 12:27.5 with Perez at 12:27.8.
Watkins moved up to 4th in 12:29.1 followed by Dailey (12:30.5), Jackson (12:30.6), Jones 12:33.1), Kate Bowen (12:37.7) and Zamorano (12:37.7).
By the finish Rylee pulled even farther away to win by seven seconds in 18:18 on the 5k course.
Perez gave the NCS a 1-2 finish as she crossed the line next in 18:25.
Watkins edged Dailey as both clocked 18:27 with Gitlin leading her team to state championship finishing herself in 5th (18:33).
Zamorano 6th (18:34), Jones 7th (18:35), Andi Carnell of St. Margarets 8th (18:39), Jackson (18:40) and also surprising many was Kate Bowen in 10th (18:50) for her second top ten finish at state.
Technology's Iris Berto 19th at 19:22 improved on her 2016 20th place and 28th from 2015.
Kelseyville's Yareli Lozano also ran a good race finishing 46th in 20:21.
Northern California came away with three state champions, Rylee, Wagner, mentioned below in D III, and Liam Anderson of Redwood on boys side.
PD story: Sonoma Academy's Rylee Bowen wins 3rd state cross country title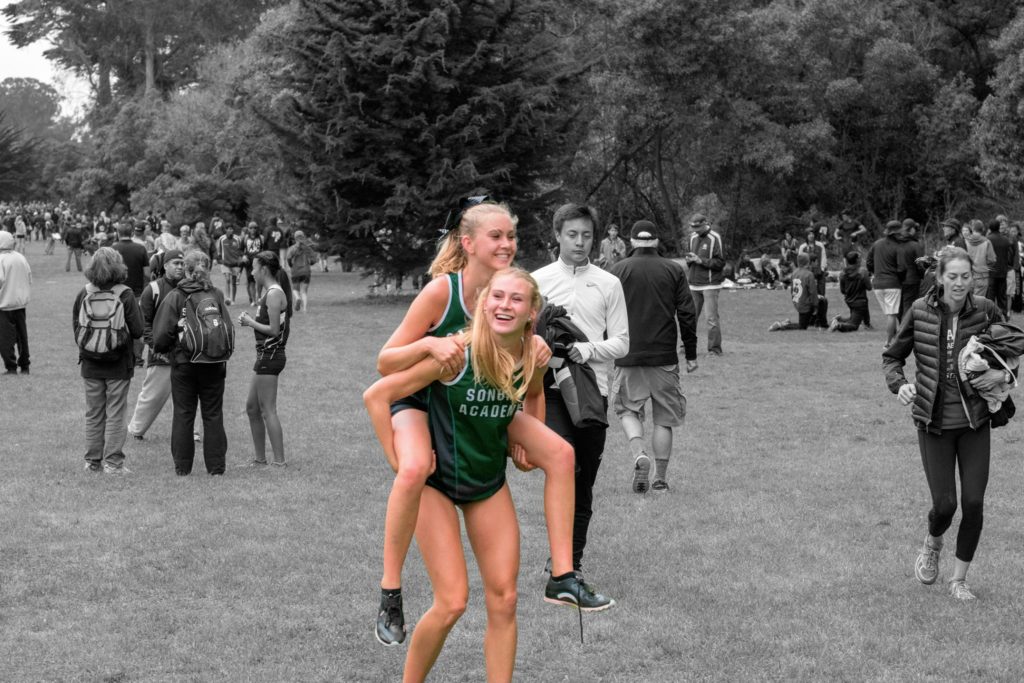 Division IV
Claudia Lane of Malibu as predicted destroyed the course record in 16:31.
Hana Hall of Univ Prep, Sara "Bei" Hall's daughter, placed is 10th (18:40)
Healdsburg's Gabby Peterson moved up from 18th early on to 7th later in the race.
From coach Kelly Blanchard, "Gabby faded over the last 200m and hit the classic 'wall,' Still an incredible achievement to be a 3x State Qualifier and Matt (Blanchard) and I are so proud of her."
Peterson finished in 25th at 19:08, still one place better than last year with that senior year still to come.
Video
Division III
Maria Carrillo girls had the best Empire team finish of our four teams with a sixth place finish. The Puma's moved up in place as a team moving from 10th as a team after the first mile and then up to 7th after two before the final section earning their 6th place medals.
Campolindo from the NCS grabbed the state championship.
In the individual race La Costa Canyon junior Kristin Fahy lead most of the race but collapsed with about 200 meters to go andwas unable to finish allowing NCS's Gillian Wagner of Redwood to win in 17:50.
Maria Carrillo's Sydnie Rivas moved up through the pack, 14th early on but passing runners until the end placing in 10th at 18:42.
Her next three teammate did virtually the same thing.
Aimee Armstrong moving from 19th to finish in 14th at 18:50.
Nicole Morris 71st to 59th in 19:56.
Jasmin Hirth 133rd to 82nd in 20:21.
Talia Leano brought the team home as their 5th runner finishing in 103rd at 20:37.
Puma's remaining finishers were Meghan Field 142nd in 21:09 and Avery Damron at 167th in 21:59.
Montgomery's Leah Haley placed 102n in 20:36.
Div V RESULTS
Div I RESULTS
Div II RESULTS
Div IV RESULTS
Div III RESULTS
Top Empire by time

Rylee Bowen, Sonoma Academy     18:18
Sydnie Rivas, Maria Carrillo    18:42
Kate Bowen, Sonoma Academy      18:50
Aimee Armstrong, Maria Carrillo 18:50
Gabby Peterson, Healdsburg      19:08
Iris Berto, Technology          19:22 
Nicole Morris, Maria Carrillo   19:56

Yareli Lozano, Kelseyville      20:21
Jasmin Hirth, Maria Carrillo    20:21
Leah Haley, Montgomery          20:36  
Talia Leano, Maria Carrillo     20:37
Meghan Field, Maria Carrillo    21:09
Avery Damron, Maria Carrillo    21:59

Maria Carrillo                1:38:24

Top Empire by place
1st Rylee Bowen, Sonoma Academy
10th Sydnie Rivas, Maria Carrillo
10th Kate Bowen, Sonoma Academy
14th Aimee Armstrong, Maria Carrillo
19th Iris Berto, Technology
25th Gabby Peterson, Healdsburg
46th Yareli Lozano, Kelseyville
59th Nicole Morris, Maria Carrillo
82nd Jasmin Hirth, Maria Carrillo
102nd Leah Haley, Montgomery
103rd Talia Leano, Maria Carrillo
142nd Meghan Field, Maria Carrillo
167th Avery Damron, Maria Carrillo
6th Maria Carrillo
State Meet Bests
By division
By school
By year
By time for Woodward Park, Fresno