Healdsburg's Gabrielle Peterson came away with two medals at the 2019 State meet.
She joins Julia Stamps 1997 and Sara Bei 1998-2001 as double medalist in the 1600 and 3200.
Gabby Peterson makes her mark with state track performances
State track and field notebook: Analy's Sierra Atkins starts off in a flash
Video interview: Gabrielle Peterson 5th Place Girls 3200m and 6th Place 1600m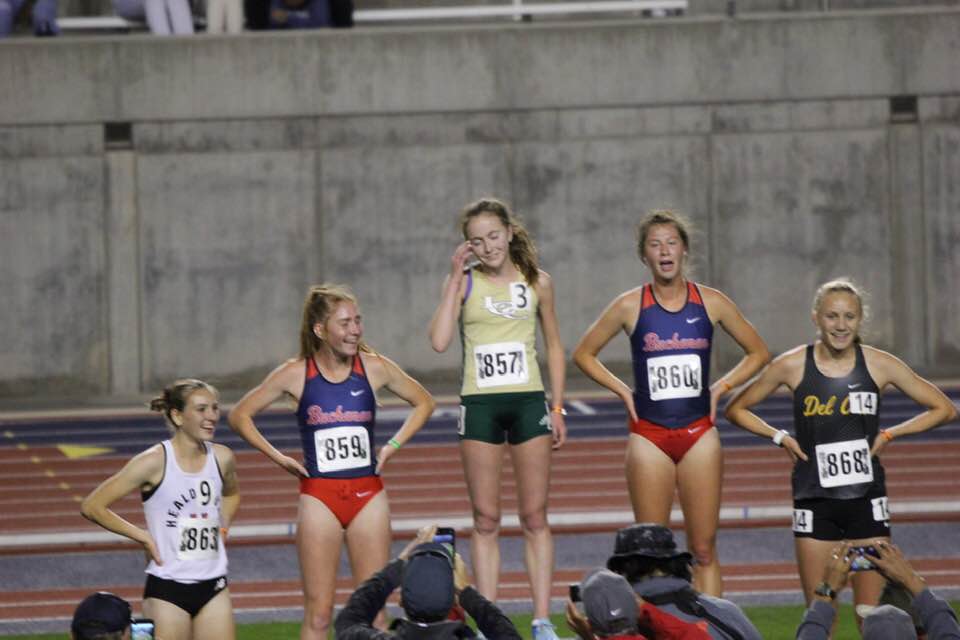 Middletown's Bryson Trask had an incredible day yesterday, the finals were not so kind to him.
After yesterdays Empire record in the discus, see below, there were great hopes for a medal but his series today, 149-7, 155-9, FOUL, earned him 11th in the state, which is still one of the best places in recent years. The Empires last top 8 finisher in the discus was a well known guy named Paul Troppy, Santa Rosa 7th discus 161-8.
The shot turned out about the same with another 11th place finish after throws of 52-9.75, 55-8.75, 54-11.25 .
Healdsburg's Gabrielle Peterson finally got her state meet track medal as she became our seventh girl to medal in the 1600.
The race unfolded with a beginning very common to our area. Analy's Sierra Atkins came thru the first lap in the lead at 68.9 with Peterson leading the following pack at 70.1. About 550 meters into the race Peterson made her move passing Atkins and opening up a lead on the field.
Peterson came by 800 in 2:22 with Atkins in second 1.5 seconds back and the pack closing fast.
A group of four started coming around Peterson at the 1100 meter mark as everyone started spreading out.
A fifth girl passed Peterson right at the bell lap. It looked like Peterson closed some on fifth over the last 200m but finished in 6th at 4:51.86.
It was Peterson's 11th sub 4:52 of her career.
Atkins meanwhile ran 4:58.28 to finish 9th in the state.
Not to bad to have two of the top ten 1600 meter runners in the state.
Watch the race
Peterson splits
1:10.08, 2:21.97, 3:36.23, 4:51.86
1:10.08, 1:11.89, 1:14.26, 1:15.63
Atkins splits
1:08.91, 2:23.51, 3:40.54, 4:58.28
1:08.91, 1:14.60, 1:17.03, 1:17.74
In the 3200 meter race Peterson and St Helena's Harper McClain came away with their best races ever.
Peterson ran in 5th almost the whole race from 800 meters on and finished in 10:23.85 to secure the 5th best mark ever in the Empire.
McClain ran just off her shoulder for most of the race dropping to 7th on the last lap but still becoming the Empire's 6th best ever with her 10:29.68 finish. Three of the girls ahead of McClain are seniors.
Watch the race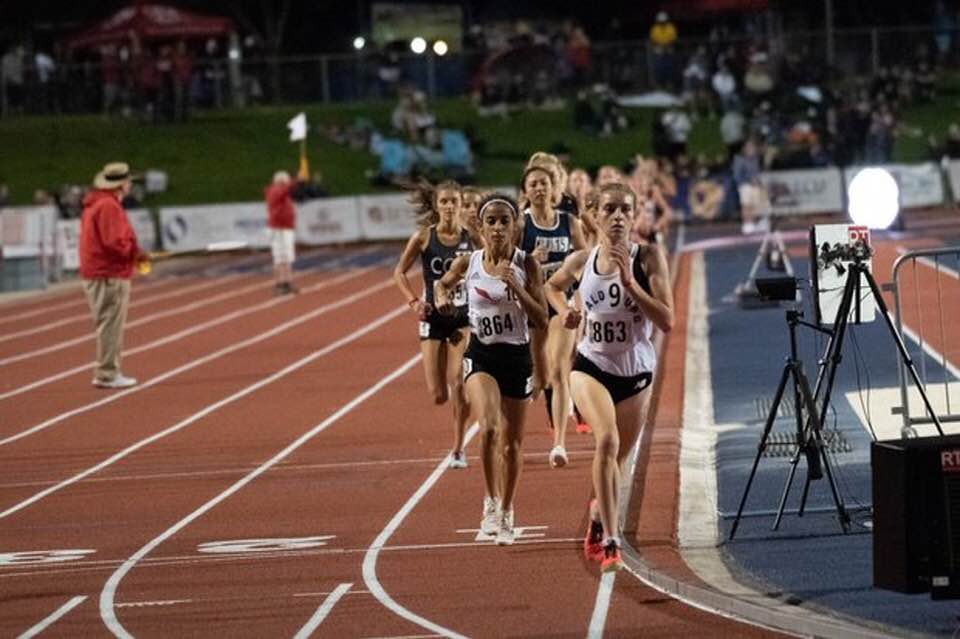 Empire 3200m
10:11.11 Sara Bei, Montgomery #1 2001
10:12.20 Julia Stamps, Santa Rosa #1 1996
10:13.20 Rylee Bowen, Sonoma Academy #1 2016
10:20.74+ Amber Trotter, Ukiah #1 2002
10:23.85 Gabriel Peterson, Healdsburg #1 2019
10:29.68 Harper McClain, St Helena #1 2019
10:30.82 Trina Cox, Santa Rosa #2 1997
10:34.39 Jacque Taylor, Casa Grande #1 2007
10:37.32 Shelby Leland, Ukiah #2 2002
10:37.78 Sherri Minkler, Analy #1 1985
Lap times for Peterson and McClain
3rd 1:14.04 McClain
4th 1:14.19 P
5 2:31.37 Peterson
8 2:31.61 McClain
6 3:48.56 Peterson
7 3:49.41 McClain
5 5:08.34 Peterson
6 5:08.82 McClain
5 6:28.33 Peterson
6 6:30.02 McClain
5 7:48.41 Peterson
6 7:51.00 McClain
5 9:09.11 Peterson
7 9:11.28 McClain
5th 10:23.85 Peterson
7th 10:29.68 McClain
7th LJ 18-10 (1.4) Sarah Aanenson, 11, Bear River
Trials 5/24/19
First event of the day was a huge one for the Redwood Empire.
Middletown's Bryson Trask opened up with a 175-5 discus toss, a distance he has only bettered three times.
Then on his second attempt he did what every kid dreams of, a huge 181-10 PR to erase the Empire record, that has lasted 38 years, of 181-6¼ by Chris Day, Montgomery 4/29/81.
Trask would finish with a fine 175-1 final toss to move on to the finals with the third best mark of the day.
1 Gino Cruz, Newbury Park Ss, 195-0
2 Daniel Viveros, Liberty Ces, 186-5
3 Bryson Trask, Middletown Ncs, 181-10
12th 158-02
Maria Carrillo's Zavier Rodrigues came as close to making the finals in the high jump as you can.
Rodrigues cleared the opening height of 6-4 on his first attempt.
At the conclusion of that height he was tied for first with nine others.
At 6-6 eleven jumpers got over that height with 12 spots moving on.
That left Rodrigues and three other jumpers who cleared 6-4 on their first try, but failed to clear 6-6 to jump off for the final spot.
Tyler Cash of Canyon won that moving him on and leaving the other three tied for 13th.
The Girls' 1600m Run had two heats with one of our girls in each.
Analy's Sierra Atkins as always was not afraid to set the pace against some of the best runners in the nation.
Atkins led through the first two laps clocking 67.72 and 2:21.28. She actually had a 1.5 second lead on the rest of the field.
Two runners moved ahead of her at the gun lap, with a third crossing before her final 4th place spot in 4:53.55.
Watch heat 1
Healdsburg's Gabrielle Peterson's heat went out much slower with the leader coming thru in 72.72, slower than last place in heat 1.
Peterson was 4th in 72.93.
The pack actually slowed from their with Peterson taking the lead at about 500m and continuing to lead at the 800 in a slow, for these elites, 2:28.47.
Peterson then turned on the burners with a 71.37 third lap to string out the field.
Another 71 second final lap allowed Peterson to easily grab an automatic advancing 3rd place spot in 4:51.65, well clear of 4th in 4:53.75.
Watch heat 2
All photos by James Peterson.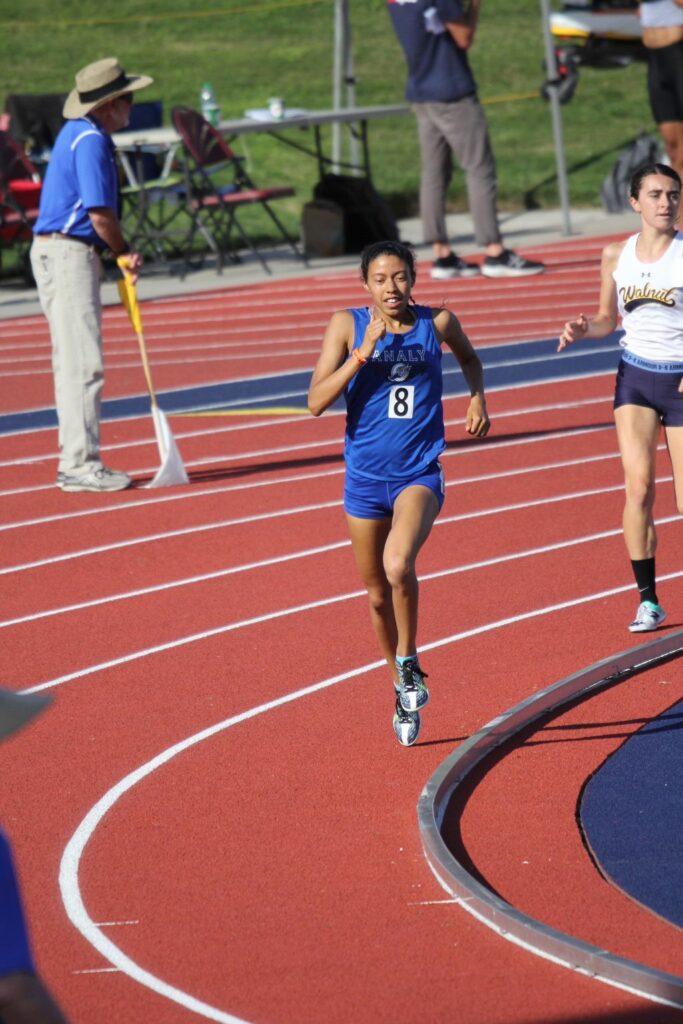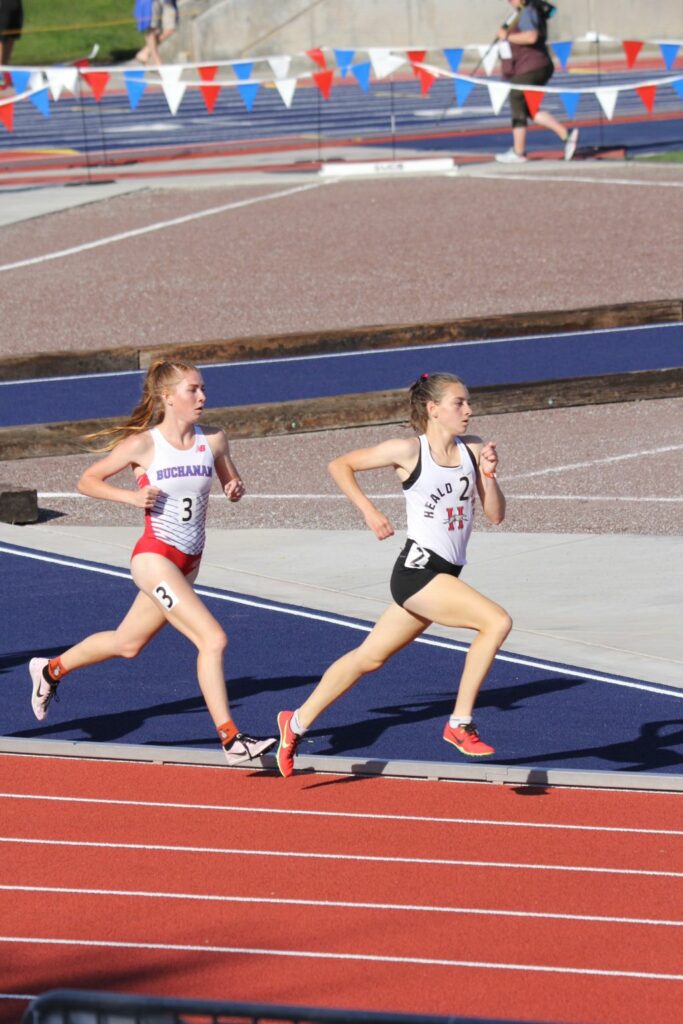 Trask was now back, this time in the shot put.
Ukiah's Kalathan Laiwa-McKay had the big day I was hoping for from him as he not only had a life time best to move into the All-Time top 25 but actually cracked the top 20 with a 54-11 PR that placed him a fine 14th, just two spots out of moving on. He was 6th among underclassman.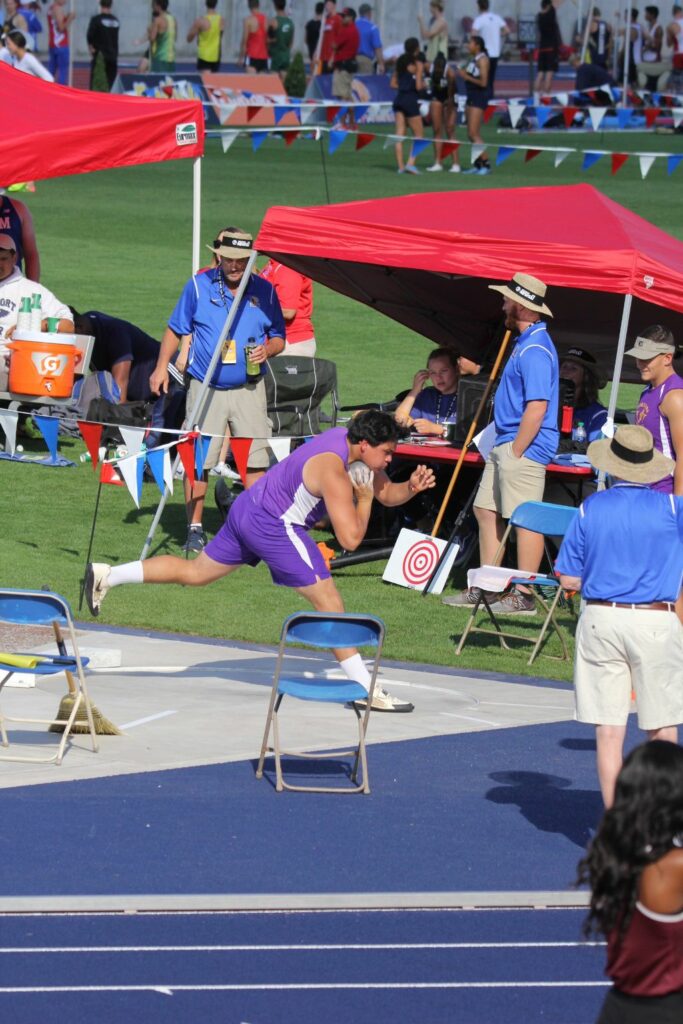 Trask opened up with a solid 55-5 to hold 9th after the first round.
Trask improved in round two to 56-5 but remained in 9th.
He improved again in the last round with a 56-7.75 toss and moves on to the finals finishing in 11th.
El Molino junior Kassidy Sani had a fine series in the girls discus at 125-5, 122-9, 127-1 to place 17th and 8th among underclassman.
Rodrigues was now back again this time in the 110m HH.
He ran one of his fastest races with a good 15.09 +1.2 for 21st.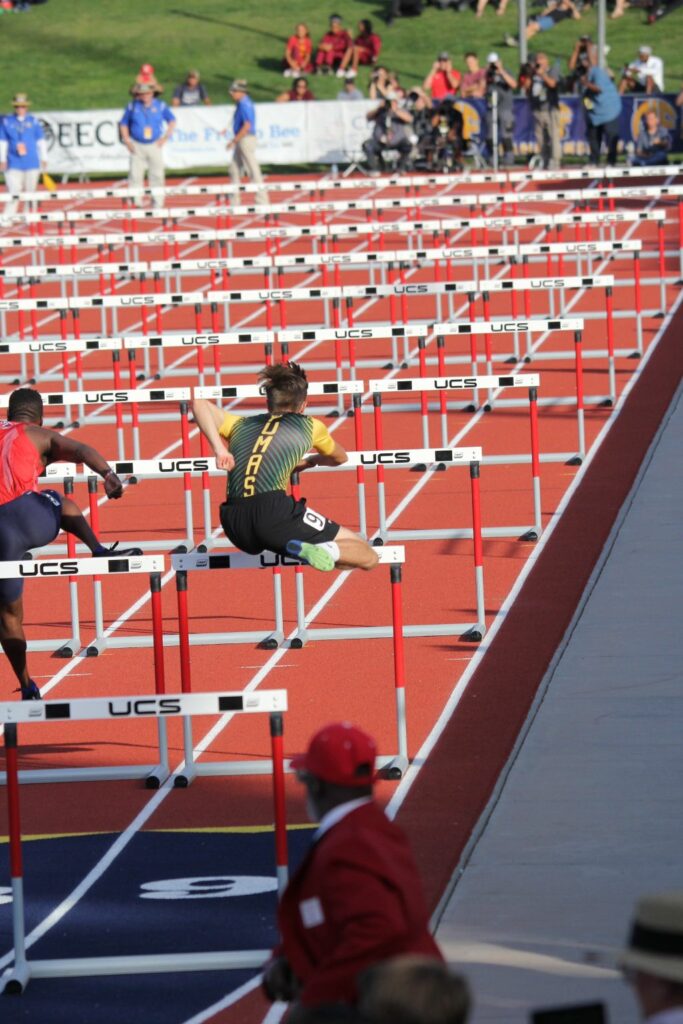 Justin-Siena's Gianna Troppy tied her best ever with a 5-2 clearance on her second attempt to finish in 21st.
Casa Grande junior Lillian McCoy opened up with a 37-8.75 toss but could not improve on that and finished in 21st but still the 7th underclassman.
Santa Rosa's Brayden Glascock finished 4th in his heat and 16th overall in 39.14 to better his 2018 time and place.
Casa Grande's 1600m Relay team came within 0.65 seconds of their school record to finish in 22nd at 3:23.91.
Peterson and St. Helena's Harper McClain will both be in the 3200m Run Finals Saturday,