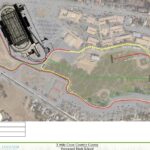 The 2018 meet only had races for Division I, II & III. All other races were cancelled do to air quality.
2017 Notes
The last two years have had slightly different courses at Hayward for the NCS Finals.
As stated below, from this years NCS meet director, the 2017 course used is hoped to be the permanent one and he believes that the course used will allow us to keep the course records from the old course.
From 2017 NCS meet director
We will not be returning to the "old course," as the new Hayward High School stadium configuration will not allow it.
The 2016 course was approximately 150 meters short of 3.0 miles.
This year's course was 3.0 miles. This was verified by the management committee.
The management committee plans to include the 2017 performances on the all time list without an asterisk. We believe this year's course is comparable to the "old course."
It is very likely, and our hope, that this, the 2017 course, will be the same course we use for all future NCS championships.
Redwood Empire Best times
2001, 2002, 2004-2015, 2017-19, 2021-
1997, 2000 & 2003 NCS Championships were at the Ukiah's course
15:01 Tiernan Colby, Sonoma Academy 2022
15:03 Luis Luna, Piner, 2011
15:04 Sterling Lockert, Petaluma 2008
15:05 Emmanuel Guzman, Vintage 2018
15:06 Ryan Anderson, Maria Carrillo 2013
15:07 Lucas Chung, Windsor 2018
15:09 Reesey Byers, Santa Rosa 2009
15:11 Colton Swinth, Maria Carrillo 2019
15:13 Andrew Stevens, Santa Rosa 2022
15:15 Andrew Zellman, Ukiah 2009
(10)
15:17 Alex Conner, Sonoma Valley 2011
15:19 Jacob Donohue, Maria Carrillo 2021
15:20 Paul Holden, Ukiah 2011
15:20 Rory Smail, Maria Carrillo 2019
15:21 Matt Fitch, Montgomery 2002
15:21 Dawit Tesfasilassie, Piner 2004
15:21 Jaime Silva, Piner 2011
15:23 Rory McLeod, Santa Rosa 2008
15:26 Calvin Thigpen, Maria Carrillo 2006
15:26 Matt Salazar,Casa Grande 2013
(20)
15:27 Pierce Kapustka, Maria Carrillo 2019
15:29 Brian Schulz, El Molino 2015
15:29 Omar Alvarez-Hernandez, Maria Carrillo 2019
15:31 Forrest Shaffer, Petaluma 2010
15:31 Daniel Pride, Santa Rosa 2015
15:33 Devin Lockert, Petaluma 2007
15:34 Hugh Dowdy, Petaluma 2009
15:34 David Acuna, Napa 2019
15:35 Jude DeVries, Montgomery 2021/22
15:36 Nate Huckeba, Maria Carrillo 2007
(30)
15:37 Michael Tomasi, Santa Rosa 2011
15:38 Kenny Smith, Willits 2007
15:39 Ruben Mora-Roman, Analy 2002
15:39 Efren Reyes, Piner 2013
15:40 Blake McDowall, Montgomery 2006
The 2016 course was approximately 150 meters short of 3.0 miles.
15:16 Brian Schulz, El Molino 2016
15:21 Luca Mazzanti, Santa Rosa 2016
15:29 Jonny Vargas, Piner 2016
Meet and course Record: 14:30 Blair Hurlock, De La Salle 2013
Team Bests
75:47 Dublin 2018
76:41 Granada 2022
76:44 Granada 2018
76:53 De La Salle 2019
77:02 Dublin 2017
77:09 Maria Carrillo 2019
77:18 Granada 2019
77:26 De La Salle 2013
77:27 Dublin 2019
77:30 Dublin 2021
(10)
77:33 Redwood 2022
77:38 St. Joseph Notre Dame 2013
77:49 Campolindo 2022
77:53 Campolindo 2011
77:55 Campolindo 2008
78:01 Amador Valley 2019
78:02 Petaluma 2008
78:09 Albany 2022
78:10 Campolindo 2019
78:14 Campolindo 2013
(20)
78:18 Campolindo 2021
78:18 Granada 2021
78:29 San Ramon Valley 2011
78:29 Campolindo 2018
78:33 Granada 2017
78:34 Piner 2011
78:37 Dougherty Valley 2018
78:40 Amador Valley 2018
78:42 De La Salle 2018
78:52 Petaluma 2007
(30)
78:53 Monte Vista 2019
78:56 De La Salle 2017
78:58 Maria Carrillo 2018
78:59 Monte Vista 2007
79:00 Sir Francis Drake 2017
79:00 Newark Memorial 2021
79:01 Monte Vista 2015
79:04 Clayton Valley Charter 2022
79:06 San Ramon Valley 2009
79:08 Castro Valley 2009
(40)
79:12 Livermore 2013
79:14 Campolindo 2015
79:19 Maria Carrillo 2013
79:25 College Park 2008
79:26 Maria Carrillo 2021
79:35 Amador Valley 2008
79:35 Miramonte 2011
79:36 De La Salle 2005
79:40 Petaluma 2009
79:40 Albany 2021
(50)
2016 Course
77:48 Campolindo 2016
77:54 Redwood 2016
77:17 Dublin 2016
78:23 Monte Vista 2016