Maria Carrillo boys are making an amazing 7th straight trip to the state meet.
They were the Empire's first boys NCS Champions since, you guessed it, Carrillo who won in 2015.
At the NCS Finals Puma senior's Ben Lawson (5th 15:45 for 3 miles) and Scott Kruetzfeldt (7th 15:54) lead the team.
Splitting between them and earning an individual spot to state was Windsor junior Lucas Chung (6th 15:46).
The Carrillo team will see what they can do to try and lay claim to the best Empire team ever.
They are currently ranked third in the state. In division III only Petaluma 2008 and Piner 2011 have ever placed that high at state.
Time wise this team at the Clovis Invitational earlier this year, run on the same course as state, ran the 6th fastest time ever by an Empire team and if their top 5 can average just 6 seconds a mile better at state they will surpass the Petaluma team of 2008 as the fastest. They need only a top six placing and a 1 second per runner improvement to pass up the best Carrillo team ever.
West Torrance and Palos Verdes are the two teams ranked ahead of them while on the individual side NCS Champ Liam Anderson of Redwood is expected to battle Kevin Ramos of Rubidoux for those honors.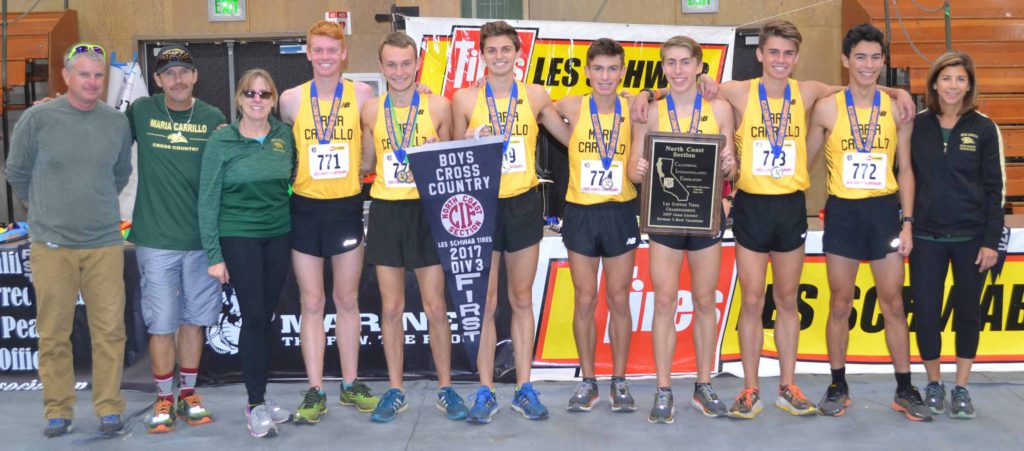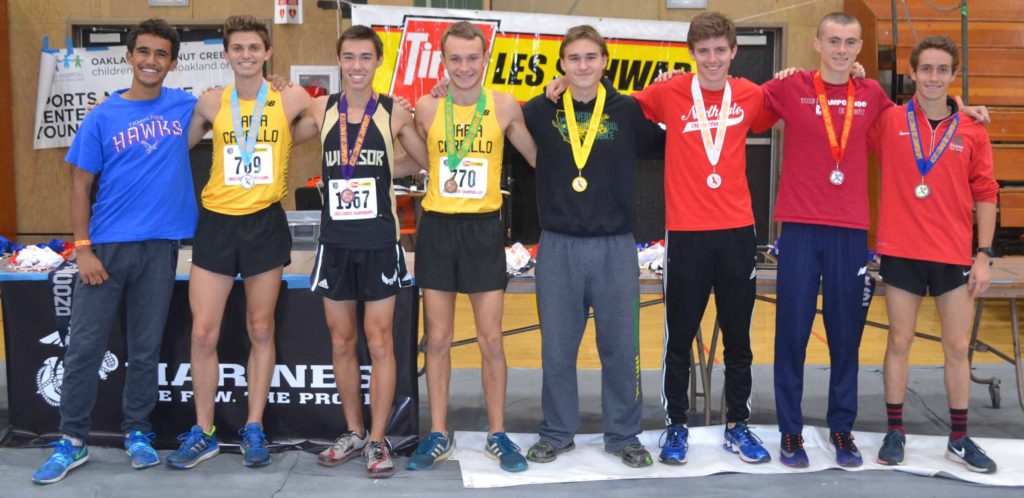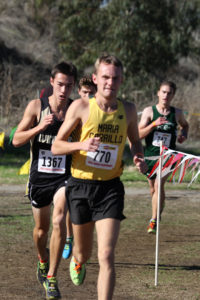 Ben Lawson will be making his third trip
to the state meet after leading the team at
state last year.
He was the NBL Champion this year
just edging out Chung.
Windsor's Lucas Chung has pushed the pace
with Lawson only to be passed in the final stretch's,
will he hold him off at State?
.
.
.
.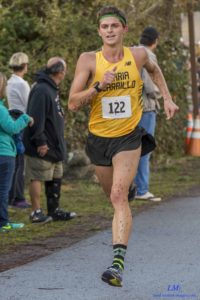 Puma Scott Kruetzfeldt will also be making his
third trip to state. His 7th place at NCS shows he
is peaking at the right time.
.
.
.
.
.
.
.
.
.
.
.
I have not been able to confirm yet Carrillo's seven entries into state but at NCS they went with sophomore's Colton Swinth and Rory Smail, senior Zach Lindemann (2nd trip to state) and juniors Harry Frankl and Will McCloud (2nd trip to state).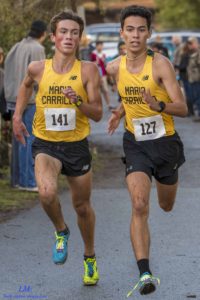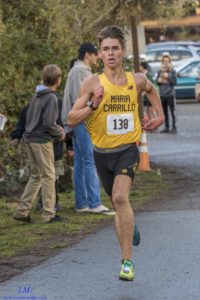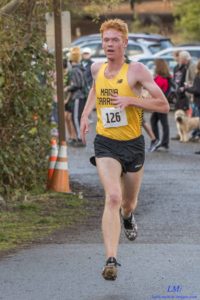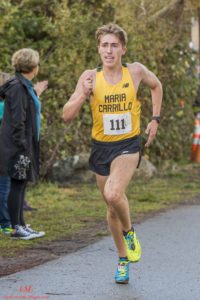 .
.
.
.
.
.
.
.
.
.
.
.
.
.
.
.
.
.
.
.
.
.
.
.
.
.
State meet history by year
MARIA CARRILLO AT STATE
best qualifier:
Steve Laurie, 11th III 1998, 11th IV 1997
Team: 7th III '07, 11th III '06, 11th II '12, 12th III '04, 13th II '03, 14th II '13, 15th III '16, 17th II '05 & '15, 18th II '14, 21st III '11
last qualifier:
Team lead by Ben Lawson 56th III '16
Woodward Park is in Fresno and has been used since 1987 for the state championships.
Woodward Park All-Time Records
Name School Year Time
Ryan Mack Ukiah 1998 15:23
Reesey Byers Santa Rosa 2009 15:23
Todd Trask Healdsburg 1986 15:24
Celedonia Rodriguez Elsie Allen 1998 15:25
Sterling Lockert Petaluma 2008 15:25
Luca Mazzanti, Santa Rosa 2016 15:25 State
Luis Luna Piner 2011 15:28
Hugh Dowdy Petaluma 2009 15:29 State, 15:48 Clovis
Rory McLeod Santa Rosa 2008 15:30
Ryan Anderson Maria Carrillo 2013 15:36 Clovis, 15:37 State
(10)
Forrest Shaffer Petaluma 2010 15:37
Alex Conner Sonoma Valley 2011 15:38
Brian Schulz El Molino 2015 15:39
Andrew Zellman Ukiah 2009 15:40
Ben Lawson, Maria Carrillo 2016 15:43 Clovis
Steve Guerrini Santa Rosa 1990 15:46
Efren Reyes Piner 2012 15:48
Brian Cole St. Helena 2006 15:50
Matt Salazar Casa Grande 2013 15:51
Paul Holden Ukiah 2011 15:52
(20)
Jaime Silva Piner 2012 15:53
Daniel Pride Santa Rosa 2015 15:53
Nate Kabanuck Casa Grande 1999 15:56
Devin Lockert Petaluma 2008 15:56
Brian King Cardinal Newman 2009 15:56
Dawit Tesfasilas Piner 2004 15:57
Kevin Poteracke Petaluma 2010 15:57
Ryan Douglas Petaluma 2012 15:57
Jordan Scobey Maria Carrillo 2014 15:59
Mike Contos Montgomery 1987 16:00
Ricky Esponda Casa Grande 1992 16:00
(31)
Blake McDowall Montgomery 2006 16:01
Matt Fitch Montgomery 2002 16:02
Carson Kimball Maria Carrillo 2015 16:02
Mike Perez Lower Lake 2005 16:04
Benjamin Stern Petaluma 2008 16:04
Wes Methum, Rincon Vly. Christian 2016 16:04
Steve Laurie Maria Carrillo 1998 16:05
Jonny Vargas, Piner 2017 16:05 Clovis
Dan Held Santa Rosa 1989 16:06
Austin Orr Sonoma Academy 2012 16:06
(41)
Alexi Taylor Cardinal Newman 2010 16:07
Peter Egerton Santa Rosa 1994 16:08
Brent Shaw Cardinal Newman 1998 16:08
Brandon Felipe Petaluma 2007 16:08
David Toomey Montgomery 1993 16:09
Nate Huckeba Maria Carrillo 2007 16:11
Jordan Kinley Maria Carrillo 1999 16:12
Calvin Thigpen Maria Carrillo 2006 16:12
JK Withers Cardinal Newman 2003 16:13
Cody Jinright Petaluma 2008 16:14
Clark Bernard Petaluma 2010 16:14
Zac West Maria Carrillo 2014 16:14
(53)
Zach Barrett Santa Rosa 1994 16:15
Daniel Hauptman Maria Carrillo 2010 16:15
Andre Williams, Kelseyville 2016 16:16, now at Sonoma Academy
Dan Brecht Petaluma 1995 16:17
Aria Kiani Montgomery 2009 16:17 Clovis
Team Times
1:19:55 Petaluma 2008 (15:59 0:43), (Former North Coast Section record)
1:20:42 Piner 2011 (16:09 1:20)
1:20:50 Petaluma 2010 (16:10)
1:21:04 Petaluma 2009 (16:13)
1:21:21 Maria Carrillo 2013, Clovis
1:21:32 Maria Carrillo 2017, Clovis
1:21:51 Petaluma 2007 (16:23)
1:22:07 Maria Carrillo 2012 (16:26 1:08)
1:22:17 Petaluma 2006 (16:28)
1:22:38 Montgomery 1992 (16:32)
(10)
1:23:21 Santa Rosa 2008 (16:41)
1:23:38 Maria Carrillo 2015 (16:44), 1:25:55 (17:11), Clovis
1:23:39 Santa Rosa 2009 (16:44)
1:23:48 Maria Carrillo 2006 (16:46)
1:23:49 Montgomery 2000 (16:46)
1:23:49 Maria Carrillo 2016 (16:46), 1:25:20 (17:04), Clovis
1:23:50 Ukiah 1997 (16:46)
1:23:53 Piner 2010 (16:47)
1:23:55 Piner 2012 (16:47 2:05)
1:23:56 Maria Carrillo 2007 (16:48)
(20)
1:23:59 Sonoma Academy 2012 (16:48 1:29)
1:24:03 Santa Rosa 1988 (16:49)
1:24:04 Maria Carrillo 2014 (16:49 1:31)
1:24:17 Santa Rosa 1994 (16:52)
1:24:19 Piner 2015 (16:52) State, 1:28:10 (17:38), Clovis
1:24:20 Casa Grande 2014 (16:52 1:21)
1:24:34 Maria Carrillo 2003 (16:55)
1:24:39 Montgomery 1993 (16:56)
1:24:48 Petaluma 2005 (16:58)
1:25:07 Montgomery 2002 (17:02)
(30)
1:25:11 Piner 2017 Clovis
1:25:13 Maria Carrillo 2011 (17:03 0:58)
1:25:19 Maria Carrillo 2005 (17:04)
1:25:20 Casa Grande 2013 (17:04 1:46)
1:25:25 Maria Carrillo 2004 (17:05)
1:25:33 Sonoma Academy 2016 (17:07)
1:25:35 Montgomery 1996 (17:07)
1:26:13 Piner 2013, Clovis
1:26:34 Ukiah 2001 (17:19)
1:26:38 Cardinal Newman 2011 (17:20 1:40)
(40)
1:26:45 Casa Garnde 1992 (17:21)
1:26:45 Montgomery 2007 (17:21)
1:26:48 Santa Rosa 2003 (17:22)
1:26:52 Montgomery 1990 (17:23)
1:27:13 Cardinal Newman 2003 (17:27)
1:27:51 Sonoma Academy 2011 (17:35 0:54)
1:27:53 Santa Rosa 2002 (17:35)
1:28:48 Piner 2016, (17:46) Clovis
1:29:12 Montgomery 2005 (17:51)
1:29:36 Cardinal Newman 2002 (17:56)
(50)
Other school records
1:31:57 Santa Rosa Christian 2005 (18:24)
compiled by Jim Crowhurst