Maria Carrillo girls are making an amazing 7th straight trip to the state meet.
Montgomery's Leah Haley will join them as a individual qualifier moving on to Fresno.
Division III race is at 12:35 pm Saturday.
At the Clovis Invitational earlier this year, run on the same course as state, this 2017 Puma team ran the third fastest time in school history behind only their 2004 team that placed 2nd at state in division II and their 2008 team that placed 3rd in division III.
Last years team placed 14th lead by Aimee Armstrong's 44th place finish.
In October this years team was ranked 5th in state.
NCS Champion Gillian Wagner of Redwood may be the favorite to win state.
This year's team, at the North Coast Section Finals, were lead by three top 15 finishers as Sydnie Rivas (5th-18:03), Aimee Armstong (8th-18:31) and Nicole Morris (13th-18:51) powered the team to a second place finish behind Campolindo, a team expected to battle La Costa Canyon for the state team title, and the Puma's looking like a definite top ten team.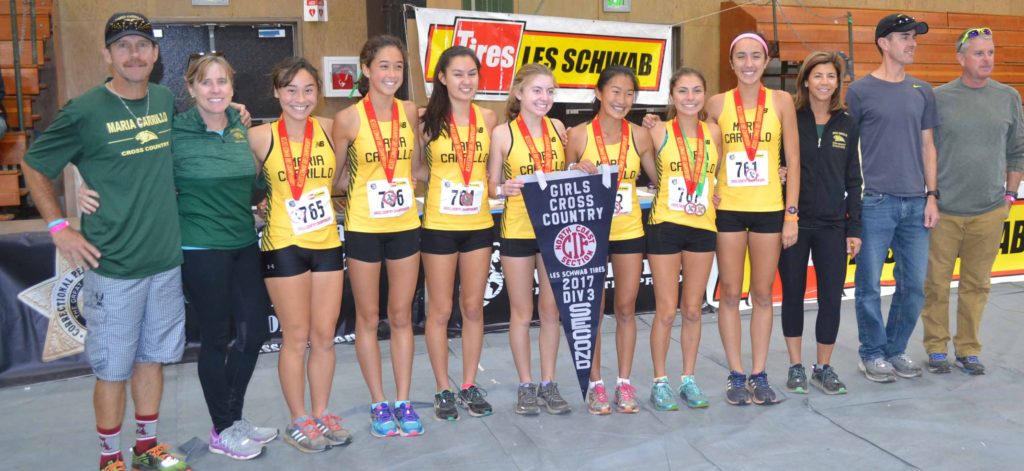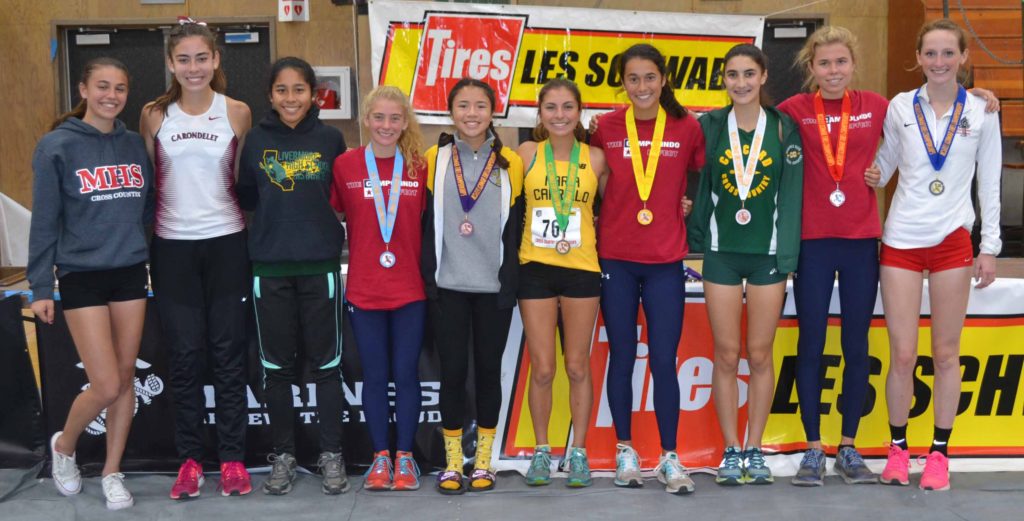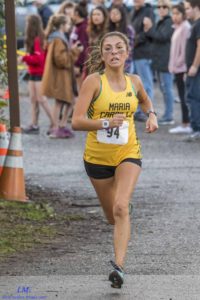 Maria Carrillo senior Sydnie Rivas is making her fourth trip to Fresno. The last three years she has been one of the Puma's top five scoring runners at state all three years.
This year she is currently leading the team having won the North Bay League Championships and was 5th at NCS.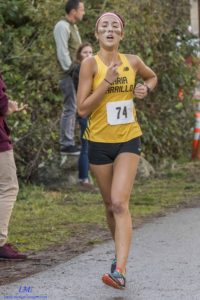 Aimee Armstrong is a junior and has lead the Puma's in pretty much every race this year that Rivas has not.
Last year at state she was the fastest Empire runner behind the Bowen sisters and Gabrielle Peterson and her freshman season she was one of the Puma's five scoring runners at state as well.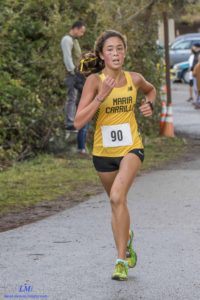 Freshman Nicole Morris is the newest star in the area. She helped Carrillo to sweep the top three spots in the NBL and had the seventh fastest time in all the Empire at NCS.
.
.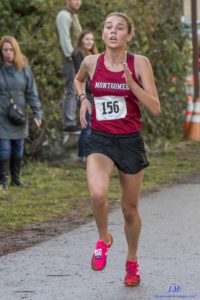 Montgomery junior Leah Haley earned her way to state the hard way as an individual. Her strong run to grab the last state berth at NCS showed she will not only be one to watch at state but in 2018 as well.
.
.
.
.
.
.
.
.
.
.
I have not been able to confirm yet Carrillo's seven entries into state but at NCS they went with juniors Talia Leano (3rd trip to state) and Meghan Field (2nd trip to state) plus sophomores Jasmin Hirth and Avery Damron. This is a strong group of runners who anyone of them would be the number one runner on most teams in the Redwood Empire.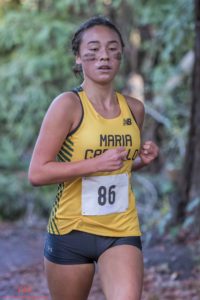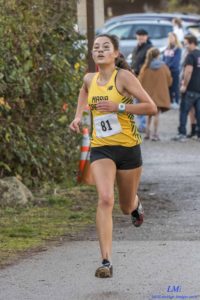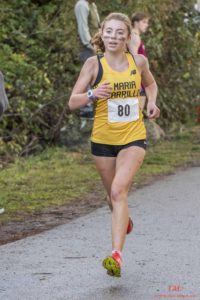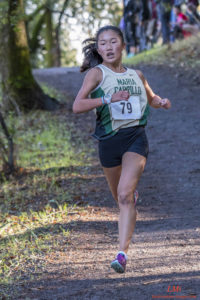 .
.
.
.
.
.
.
.
.
.
.
.
.
.
.
.
.
.
.
.
.
.
.
.
MARIA CARRILLO AT STATE
best qualifier:
Jenny Aldridge 3rd II 2001, 3rd III 1999 & 2000 & 4th 1998
Leanne Fogg 8th III
Amy Robinson 10th II 2001, 21st '02
Team: 2nd II '04, 3rd III '06 & '08, 4th III '07, 5th II '01, 7th II '05, 8th III '00, 12th III '11, 14th III '16, 15th II '02-'03 & '13, 17th II '12 & '14, 20th II '15
MONTGOMERY AT STATE
Sara Bei 1st II '99 & '00 & 1st III '97 & '98
Julie Nacouzi 2nd II '09, 46th II '08
Kim Conley 4th II '01, 6th '03, 9th '02
Sarah Bashel 8th III 1998, 14th II 2000 & 41st 1999
Team: 1st II '00, 3rd II '01, 3rd II '02, 5th III '97, 9th III '98, 22nd II '06
last qualifier:
Julie Nacouzi 2nd II '09, 46th II '08
Top 20 division III state placings
1st Sara Bei, Montgomery 1997 & 1998
3rd Jenny Aldridge, Maria Carrillo 2000, 3rd 1999, 4th 1998
7th Jonette Vollmer, Fort Bragg 1989, 9th '88
8th Sarah Bashel, Montgomery 1998
8th Leanne Fogg, Maria Carrillo 2006
9th Isabel Andrade, Petaluma 2008, 19th '09
14th Lauren Kraus, Maria Carrillo 2010
15th Ashlee Drady, Maria Carrillo 1999, 16th 2000
16th Sara Jakel, Sonoma Valley 1993
19th Lauren Curtin, Maria Carrillo 2007 & 2008
Top 10 division III Teams
3rd Maria Carrillo 2006
3rd Maria Carrillo 2008
4th Maria Carrillo 2007
5th Montgomery 1997
7th Fort Bragg 1988
8th Maria Carrillo 2000
9th Montgomery 1998
Woodward Park All-Time Records
54th All-Time Team: Montgomery 2000 State Meet 93:29
Julia Stamps, Santa Rosa 1996 16:43 State #2 All-Time + =Sr class record, 2nd Jr & 4th So class record
Amber Trotter, Ukiah 2001 16:55 Clovis #3 All-Time, 17:01 State
Sara Bei, Montgomery 2000 17:13 State #27 All-Time, #4 So
Sarah Sumpter, Healdsburg 2007 17:26 State
Jacque Taylor, Casa Grande 2009 17:29 State
Julie Nacouzi, Montgomery 2009 17:29 State 17:42 Clovis
Phyliss Blanchard, Rancho Cotate 2003 17:42 State
Trina Cox, Santa Rosa 1998 17:48 State
Kim Conley, Montgomery 2003 17:53 State
Delaney White, Santa Rosa 2015 17:51 State
(10)
Nicole Lane, El Molino 2011 18:04 State 18:24 Clovis
Kathy Dalton, Sonoma 1986 18:13 Kinney
Jenny Aldridge, Maria Carrillo 2000 18:13 State
Sherri Minkler, Analy 1984 18:14 Kinney
Isabel Andrade, Petaluma 2008 18:15 State
Rylee Bowen, Sonoma Academy 2015 18:13 State
Adria Barich, Casa Grande 2015 18:19 State
Lauren Kraus, Maria Carrillo 2010 18:28 State
Brittny Escamille, El Molino 2006 18:29 State
Kim Handel, Montgomery 2002 18:31 State
Aimee Armstrong, Maria Carrillo 2017 18:31 Clovis
(21)
Amy Robinson, Maria Carrillo 2003 18:33 State
Nika Horn, Santa Rosa 1991 18:34 State
Shelby Leland, Ukiah 2002 18:34 State
Ashley Moffett, Casa Grande 2010 18:36 State
Jeanise Eisenman, Calistoga 1986 18:37 Kinney
Sarah Bashel, Montgomery 2000 18:38 State
Kelly Rogers, Healdsburg 2000 18:38 State
Kate Bowen, Sonoma Academy 2016 18:39 State
Lori Shanoff, Petaluma 1980 18:43 Kinney
(30)
Leanne Fogg, Maria Carrillo 2006 18:44 State
Lauren Curtin, Maria Carrillo 2008 18:47 State
Ashton LeSieur, Casa Grande 2004 18:50 State
Sydnie Rivas, Maria Carrillo 2017 18:50 Clovis
Sarah Hallas, Ursuline 1996 18:51 State
Katy Lee, Sonoma Academy 2010 18:53 State
Gabrielle Peterson, Healdsburg 2016 18:53 State
Alyssa Goody, Sonoma Academy 2014 18:55 State
Jacqui Wentz, Maria Carrillo 2005 18:54 State
Shannon Rich, Rancho Cotate 2005 18:54 State
(40)
Francesca Honey, Petaluma 2008 18:56 State
Amy Stanfield, Sonoma Valley 2015 18:56 State
Andrea Natoli, Maria Carrillo 2011 18:57 State
Cynthia Rosales, Piner 2015 18:58 State
Jennie Dempsey, Analy 1988 19:00 State
Heidi Thiele, Maria Carrillo 2009 19:01 State
Elisa Pedersen, Montgomery 2000 19:02 State
Megan Reeder, Santa Rosa 1991 19:03 State
Shaz Breedlove, Maria Carrillo 2013 19:03 Clovis, 19:04 State
Dominique Ratto, Casa Grande 2009 19:06 State
Brynna Thigpen, Maria Carrillo 2011 19:06 State
(51)
State Meet Team Times
2000 1:33:29 Montgomery, avg. 18:42, Division II State Champs
2002 1:35:12 Montgomery 19:03
2008 1:36:08 Maria Carrillo 19:14, Division III best
2004 1:37:01 Maria Carrillo 19:25
2009 1:37:04 Casa Grande
2017 1:37:14 Maria Carrillo Clovis
1997 1:37:30 Santa Rosa, Division I best
2007 1:37:38 Maria Carrillo
2006 1:37:41 Maria Carrillo
1996 1:37:56 Santa Rosa
(10)
2001 1:38:04 Maria Carrillo
2001 1:38:13 Montgomery
2016 1:38:17 Maria Carrillo
2009 1:38:19 Maria Carrillo
1991 1:38:23 Santa Rosa
2008 1:38:25 Casa Grande
2005 1:38:45 Maria Carrillo
2011 1:38:48 Maria Carrillo
2001 1:38:52 Ukiah
2013 1:39:05 Maria Carrillo
(20)
2015 1:39:09 Maria Carrillo
2000 1:39:12 Maria Carrillo
1998 1:39:16 Santa Rosa
2007 1:39:17 Casa Grande
2009 1:39:36 Petaluma
2014 1:39:40 Maria Carrillo
1998 1:39:45 Montgomery
2003 1:39:46 Maria Carrillo
2012 1:40:22 Maria Carrillo
2014 1:40:39 Sonoma Academy, Division V best
(30)
1997 1:40:40 Montgomery
2013 1:41:25 Casa Grande
2016 1:41:37 Sonoma Acadmey
1990 1:42:25 Santa Rosa
1996 1:42:54 CN/Ursuline, Division IV best
2015 1:42:58 Sonoma Acadmey
2012 1:43:02 Casa Grande
2000 1:43:21 Ukiah
1993 1:43:53 CN/Ursuline
2002 1:44:11 CN/Ursuline
(40)
1991 1:44:28 CN/Ursuline
1999 1:44:52 Santa Rosa
2006 1:45:19 Montgomery
1992 1:45:29 CN/Ursuline
2003 1:46:08 Ursuline
1997 1:48:05 Middletown
1988 1:48:34 Fort Bragg
2017 1:49:05 Piner
2005 1:50:48 Willits
2005 1:55:54 CN/Ursuline
(50)