Former El Molino star Nicole Lane won the Santa Rosa Half Marathon on 8/24/19 in 1:17:06.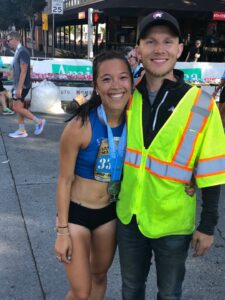 HALF-MARATHON BESTS
1:09:44 Kim Conley (Montgomery '04) USATF Half Marathon Championships 1/18/15
1:10:07 Sara "Bei" Hall, Team Hall (Montgomery '01) Houston Half Marathon 1/18/16
1:12:48 Alia Gray (Maria Carrillo '07) Houston Marathon 1/17/16
1:17:06 Nicole Lane, (El Molino '12) Santa Rosa Half Marathon 8/24/19
1:17:08 Julia "Stamps" Mallon, (Santa Rosa HS '96) AFC Half Marathon, San Diego 8/18/13
"2018 RER Runner of the Year" Andre Williams, Sonoma Academy won the 5k race at 15:58.
Middletown junior Isaac Rascon was 4th in 17:08.
Montgomery's Mariah Briceno won the women's 10k race at 43:45.
Casa Grande's Nolan Hosbein was 2nd in the 10k race at 35:41.