Sonoma Academy's Rylee Bowen broke both the Meet and Stadium records for the Girls' 2000 Meter Steeplechase at the Texas Relays 3/31/16.
Rylee lead every split pulling away to a 19 second victory.
Photos
Rylee's splits 57.08, 1:25.99, 1:28.98, 1:32.65, 1:28.65 easily won in 6:53.34.
The last 4 splits are for laps longer than 400m.
It is the fastest time this year surpassing 7:19.93 by Annie Pierce (Gibbons, Raleigh, NC).
National HS Record (&) Maddie Meyers Seattle, WA 6:29.20 2011
Old Myers Std Record (S) Keelin Hollowood Saratoga Springs 6:59.02 2013
Old TX Relays Record (M) Keelin Hollowood Saratoga Springs 6:59.02 2013
2016 Texas Relays results
1 Rylee Bowen 10 – Sonoma Academy 6:53.34
2 Gabrielle Jennings 12 – First Baptist 7:12.33
3 Ashton Foytik 09 – NB Canyon 7:25.95
4 Emily Forster 09 – Lean Rouse 7:33.06
5 Marissa Flournoy 12 – Aus Bowie 7:34.63
6 Sophia Roach 09 – Cedar Park 7:34.67
7 Alyssa Jochen 12 – Katy 7:38.14
8 Victoria Valka 12 – Conroe Oak Ridge 7:47.66
9 Jasmine Amo Hum Kingwood 7:51.75
10 Emma Godfrey 12 – Lufkin Hudson 7:54.14
11 Aaliyah Nelson 11 – Katy 7:54.52
12 Rylie Knight 12 – Kingwood Park 7:58.11
13 Sierra Romero-Hearrell 12 – Rosenberg Lamar Cons 8:01.13
14 Summer Wilson 10 – Aus Bowie 8:10.65
15 Kimber Watson 10 – Kingwood Park 8:16.32
16 Ellea Lamb 11 – Hockaday School 8:16.63
17 Rebekah Rodriguez 12 – Klein Collins 8:34.90
18 Claire Lukacs 11 – Our Lady of the Hills 8:36.06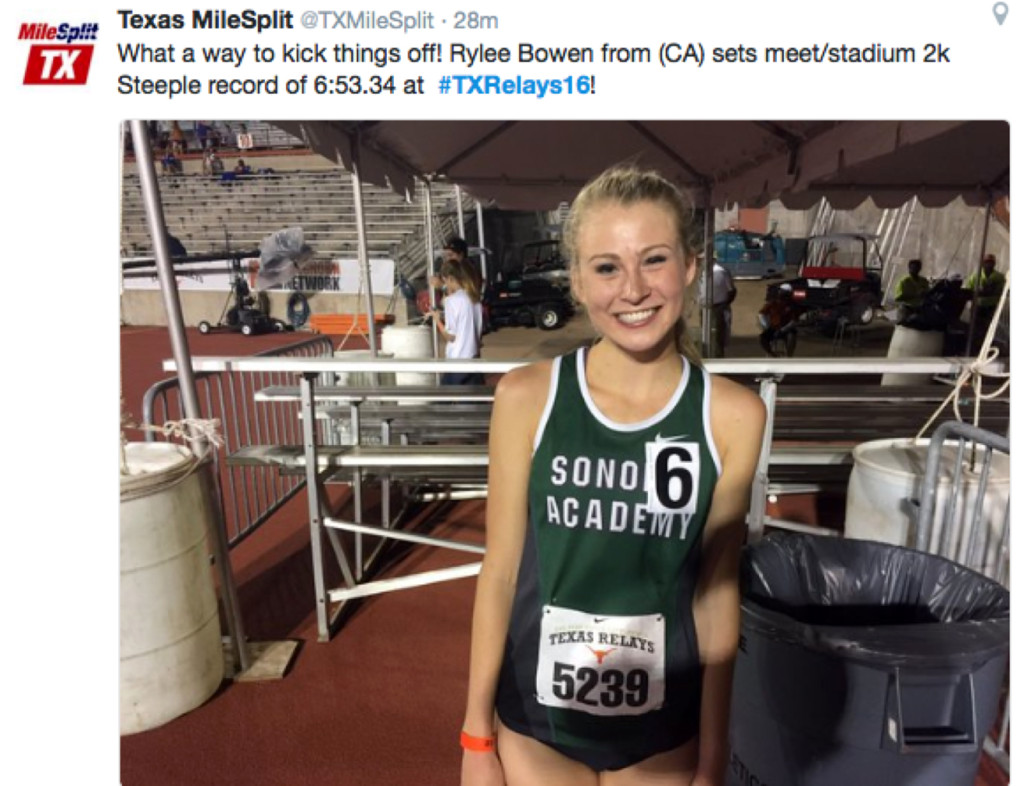 National Class Records
Freshman: 6:41.26 2015 Rylee Bowen, Sonoma Academy
Sophomore: 6:37.27 7/10/2011 Amy-Eloise Neale, GlacierPeak,Snohomish,WA
Junior: 6:29.20 7/10/2011 Maddie Meyers, Northwest, Seattle, WA
Senior: 6:30.73 5/5/2012 Brianna Nerud, N Shore,Glen Head,NY
All-Time US bests
6:29.20 *Madeleine Meyers (Northwest, Seattle) 2011
6:29.56 *Brianna Nerud (N Shore, Glen Head, NY) 2011
6:33.01 MaryKate Anselmini (Ward Melville, E Setauket, NY) 2011
6:33.7 Shelby Greany (Suffern, NY) 2009
6:35.63 *Marie Lawrence (Reno, Nv) 2006
6:36.05 Lindsey Ferguson (Saratoga Springs, NY) 2006
6:37.27 **Amy-Eloise Neale' (Glacier Peak, Snohomish, Wa) 2011
6:37.52 Bethany Neeley (Eastern, Greentown, In) 2013
6:41.15 Kara McKenna (Suffern, NY) 2006
6:41.26 ***Rylee Bowen (Sonoma, Santa Rosa, Ca) 2015
6:43.73 *Hannah Davidson (Saratoga Springs, NY) 2007
6:43.78 Valerie Palermo (Schroeder, Webster, NY) 2013
6:43.96 Keelin Hollowood (Saratoga Spr, NY) 2013
6:44.42 Emma Coburn (Crested Butte, Co) 2008
6:44.7 Erin Clark (South, Eugene, Or) 2013
6:45.19 *Liz Deir (HF-Lima, Honeoye Falls, NY) 2006
6:45.91 Shaylyn Tuite (Pittsford-Mendon, Pittsford, NY) 2011
6:46.67 Ashley Higginson (Colts Neck, NJ) 2007
6:48.19 Emily de la Bruyere (Brearley, New York, NY) 2011
6:48.58 Kelly Hayes (Pearl River, NY) 2014
6:48.91 Catherine White (Northside, Roanoke) 2007
6:49.3 **Kate Zendell (Suffern, NY) 2013
6:49.4 Erin Cawley (Newark Vly, NY) 2009