Now Wendi Raatjes
Background info before the interview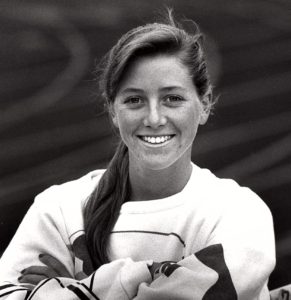 In 1985 Santa Rosa high's Wendi Simmons came on the scene and dominated everything she did. Sports writers may over use the word dominate but that is exactly what Simmons did in what sometimes seemed like every event there was. In the 80's SRHS was just a three year school but there is no doubt Simmons would have ruled as a ninth grader also.
We could look at her career in different ways but I think I will do it by meets.
North Bay League Finals
Ten individual titles and one relay in just three meets. * Six meet records.
1985 400 58.7, 800 2:23.9, LJ 18-2¼* also Mile Relay
1986 400 58.0*, 300LH 44.7*, LJ 18-4*
1987 400 58.3, 300LH 44.4*, LJ 17-11, TJ 36-9½*
Triple jump meet record still stands while the 400 record held for 11 years.
NCS Meet of Champions
Three titles
1986 Long Jump 18-1¾
1987 Long Jump 17-11½
1987 400 56.86
State Meet
In 1986 Simmons would qualify for the finals in both the 400 (57.15) and the 300 hurdles at the state trials.
She decided to drop the 400 and run just the hurdles finishing in 5th at 43.55.
You can watch that race here, Simmons is out in lane 8.
In 1987 she would run even faster but a stellar field put her in 7th at 43.27.
You can watch Simmons, still standing Empire record here. Simmons is out in lane 8 again on the 9 lane track.
Simmons is in lane 8 of the 9 lane track. This race was won by Janeene Vickers whose 40.26 trials time was the number 2 HS performance in US history. Vickers also won the 100H in #3 All-Time mark of 13.34 and won the 100 at this state meet. She would go on to win the bronze medal in the 1992 Olympics at the 400 hurdles.
Simmons was the first to ever break both 45 and 44 seconds for the hurdle race and the time still stands as the Empire record.
A few notes about events she did.
Did not take up the triple jump until her senior year. Her 38-10 jump added more than 2 feet to the Empire best and no one has come within a foot of it since.
300 hurdle record has never been matched.
She added almost a foot to the long jump record and only one girl has past that mark so far.
Had range from 25.9 200 to being NBL champ at 800.
Her 400 record held up for 12 years.
Came within 0.3 sections of breaking Empire record in Mile relay.
High jumped 5-2.
Not surprisingly she went on to be a top Heptathlete.
6,078 at 1996 Atlanta Olympic trials
(100H/14.15, SP/42-4¾, HJ/5-8, 200/24.31, LJ/20-8½, JT/125-5, 800/2:09.32)
Back when you were in High School
Did you ever have a performance in a meet that surprised even you, that you could do that well?
I'm not sure any of my performances were surprising. I had competed since I was 7 and I was very consistent in training and competing so I didn't have unexpected advances in performance, they were incremental. Later in life I realized my best triple jump performance was pretty good considering I had just learned it my sophomore summer.
What was your favorite accomplishment?
In HS, probable my 5th place finish at state, and my performances at the Stanford Invitational each year. It was those larger meets, where you weren't known or expected to place that meant most. After I left California for college I realized that we have an amazing level of ability in our state compared to much of the rest of the country. To compete in Track and Field in CA means you are competing against a few future NCAA Champions and often future Olympians.
Did you ever think about not doing track?
Yes…many people never saw that I was equally invested as a classical ballet dancer starting from age 5. In Jr. high my musculature started to change as a result of my track training so I took a year off to pursue ballet, knowing that if I could be a professional dancer, I would know in those early teen years. As I competed that year in dance I placed OK locally but was realistic that I wasn't headed for a professional company. I knew track could pay my way to college and I loved it so I returned to track but kept dancing until the end of my Junior year.
What motivated you in high school to do as well as you did?
I'm wired to love structure and when given the opportunity to perform physically I thrive. So organized sport fit's my DNA. Whether it's clearing the garage, or taking down an interval workout I get focused and take things step by step until it's finished. My husband and I call me "the finisher" because I hate to leave a task (mine or his) unfinished. I also have a internal drive that motivates me to execute physical activities quickly and efficiently. I should work on an assembly line somewhere…by employer would love me.
Were there times when someone, coach, official, press etc., did something that showed you that girls track was as important as the boys?
I never felt otherwise. My mom, Mickey, had been a Physical Education teacher before my sister was born and so growing up, sport was always made available to Jodi and me. There was never a time in our home where availability to sport was presented as a new concept. So every coach that volunteered endless hours, from Coach Saludas from my childhood club team, to coach Gash, Goetzel, and later my college and professional coaches and the dozens in between were testimony that girls sport was as not only available but important enough to invest their time. Especially as an adult I look back on them with such appreciation. Athletes can be pretty self centered, and I was no exception. Those coaches continued to invest in the athletes, sacrificing their time day after day.
Any funny stories you remember from your sports?
Not out on the track but I did have a team mate who would make me laugh to make sure I didn't get full of myself . On occasion the Press Democrat would include a picture of me from a meet. The following day I could be certain that Doug would sit behind me in class with the sports page and make up goofy captions for the picture, or draw me hanging mid-air from my flying braid. Most of my memories include teammates and our time interacting at practise and meets. You spend hours with them and you realize later that they were your family for that period in your life. Almost every HS individual I've kept in contact with was a T&F team members.
Any regrets about your high school career or a particular meet.
Nothing I can think of, but some advise to young athletes is to have perspective regarding athletics and be intentional about what you do each day. You are not in control of tomorrow nor do you know what it holds, so perform each day with an effort you could be content with if it is your last. Keep your perspective and identity in how you relate to others. Humility goes a long way.
Did you ever have a complex about people thinking you were not feminine because of how well you did sports?
No. Feminine and ability in sport were never competing issues in my home. The concept of being physically muscular as a masculine attribute was not something I was confronted with either. To be a female of worth doesn't hinge on conforming to traditional concepts of femininity anyway. To tell someone they are less female because of their appearance or ability in sport is ignorance, they didn't spontaneously take on a Y chromosome. It's inappropriate to accept that a traditionally "masculine" characteristic in a woman makes her less a woman. A female's femininity should come from internal characteristics like kindness, empathy, integrity, selflessness. I think because of Title lX my generation accepted fit, strong, and able as feminine.
Were there other girls back then that inspired you or impressed you?
My Dad, Rich, had tried out for the Olympics in the 440, so I was raised aware of a few world class women from generations before me as at he had met at least one of them. I knew the names of Wilma Rudolph and Babe Didrikson Zaharius from the past, and growing up with local standout Deanne Neff. I followed peer California competitors Janeen Vickers, Wendy Brown, and Shiela Hudson. Three future Olympians from CA.
How do you think your life would have been different if Title IX had not come along when it did and there were no high school sports for you to do?
Everything about growing up and my coaching career would have been different, obviously. To say it would have been unfulfilling is to claim that those who don't participate in sport have lesser lives which I realize is not true. Sport is a discipline of what the human body can accomplish but it is also a form of entertainment and pleasure that I have enjoyed my whole life. I'm grateful that activists before me made it possible to participate in sport. It was my pleasure to compete for 23 years and coach for 9 of those years. People love to both watch and perform in sport but our American culture has been seen to distorted it's role in our lives. We are enriched by sport, and whether told to or not…little girls and boys everywhere in the world come up with "Want to race?" even if there's no payout at the finish.
Ever do anything dumb like a foolish workout or meal or something before a meet?
No…in sport I was a diligent rule follower.
After HS
Anything you would like to pass on to someone just getting started in track or cross country?
Sure…if your just starting out and working out is miserable,don't quit, it takes some time but it will get better. Your body will get on board over time and you will improve. I have never seen anyone get worse in their first year of track and field or XCountry. Additionally, these sports are great because no one gets cut. Individual effort is respected and everyone has the opportunity to be on a team. I have yet to experience a T&F or XCountry team who has not encouraged all it's members based on there level of willingness to endure the training.
Anything you would like to pass on to the kids who have the potential to be one of the best?
If you commit to it, be intentional. No matter your level of ability don't just go through the motions. You will be at practice and perform each rep anyway…so get the most out of it and execute each effort with excellence. Your actions are a display of your commitment and character. Don't waste opportunities, each effort builds on the last and you're performance will benefit. Every athlete will retire someday, if you were given ability and enjoy the process, then work hard with appreciation and the dedication that your gift deserves. You have control over how you respond to life situations and the efforts you make, but stay aware that your physical physiology and opportunity was a gift given when you were born. Humble perspective and giving credit where it is deserved is an attractive quality that will take you far in sport and life.
Do you ever feel like the girls now take it for granted and do not realize there was a time when girls track was not considered as important as boys?
I am that generation who expects equality and I personally have only the head knowledge that it did or does not exist for everyone. I have been spoiled and have not experienced prejudice or injustice directed toward me because of either gender or race. I have only a theoretical appreciation for what I have, but I have a hope that everyone can experience the same God given gift.
Do you have a children and how will you feel if they want to run?
I have 3 boys and I'd give my right arm to have one of them interested in T&F. My husband and I met at UST&F Nationals a few years out of college. Dan was an international level high jumper and we were both trying to make a World Championship team. Our oldest, Jayden is our only biological son, so the anticipation I had for him to follow in Mom and Dad's spikes was a bit high. He is incredibly athletic but leans to the less common sports of "RedBull" and X-Games. The fun thing about having adopted sons, Sam and Marcus, is I didn't have preconceived expectations for them so we have been more free to helping them finding their own interest in sport. All three are incredibly active and athletic, but not so interested running.
Did you get a college scholarship from running?
Sure did, and because of the small school I went to I also finished college with Volleyball scholarship too.