As usual the Viking Classic produced so many great marks but here some that really stood out.
First off was the track itself as Montgomery unveiled it's brand new track.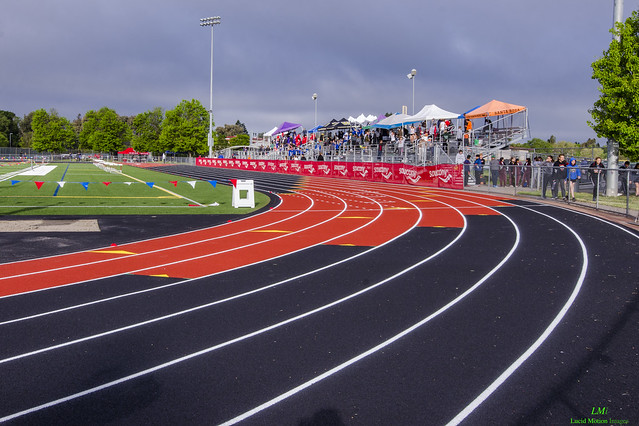 Girls 400 relay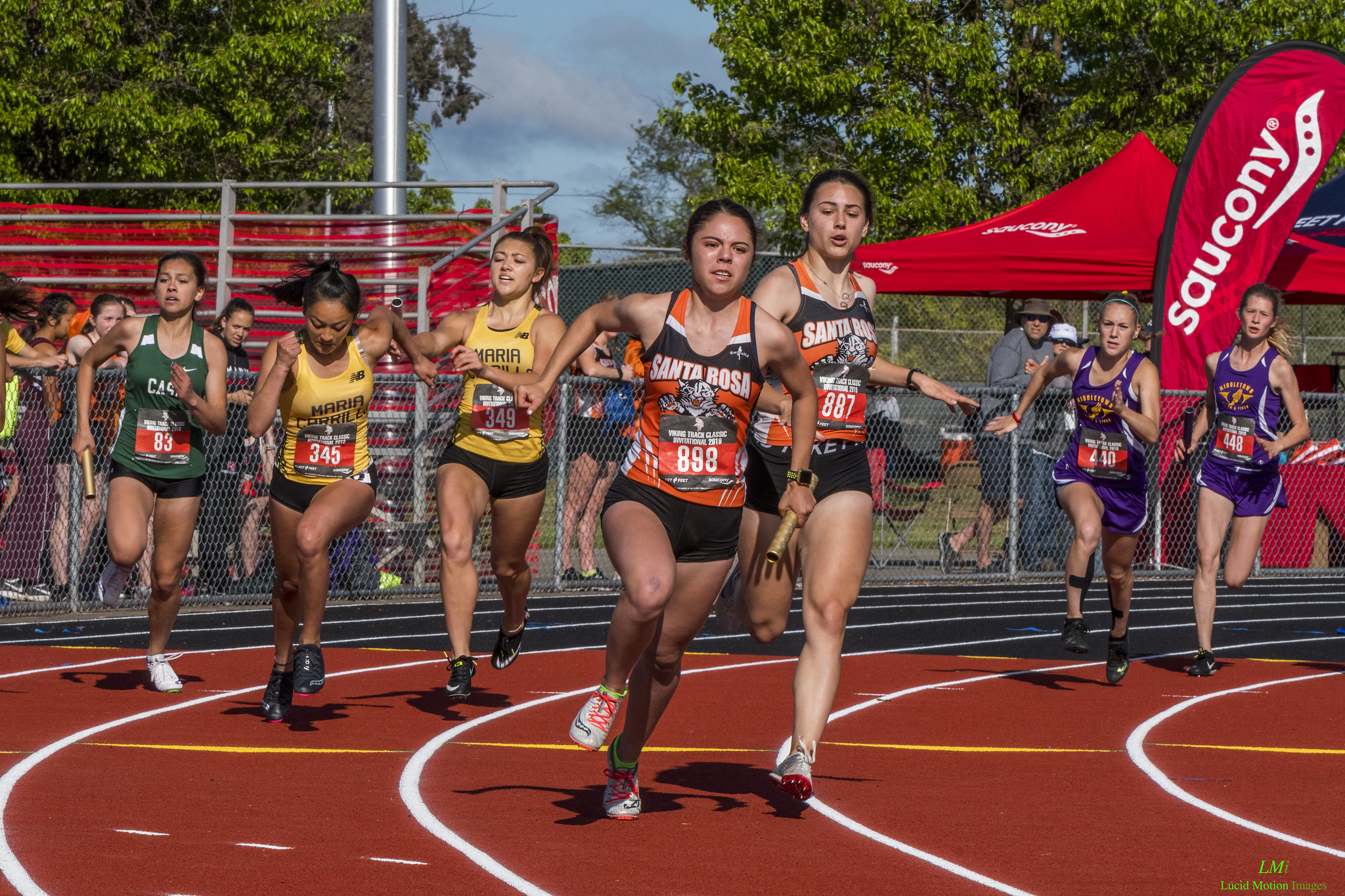 The 2019 Classic really started out with a bang, pun intended, as the Santa Rosa panther girls 400 relay team blew around the new oval to a Prep best 49.91 clocking, moving the team of Izzy Zamora, Bria Keelty, Kassidy Schroth and Ana Wong to 24th All-Time in the Redwood Empire.
Maria Carrillo turned in a fine 50.79 with Rancho Cotate 3rd in 51.24. Casa Grande ran a VVAL leader at 51.40 while Middletown a blink behind in 51.41 for a CMC leader mark and a new School Record.
Boys 400 relay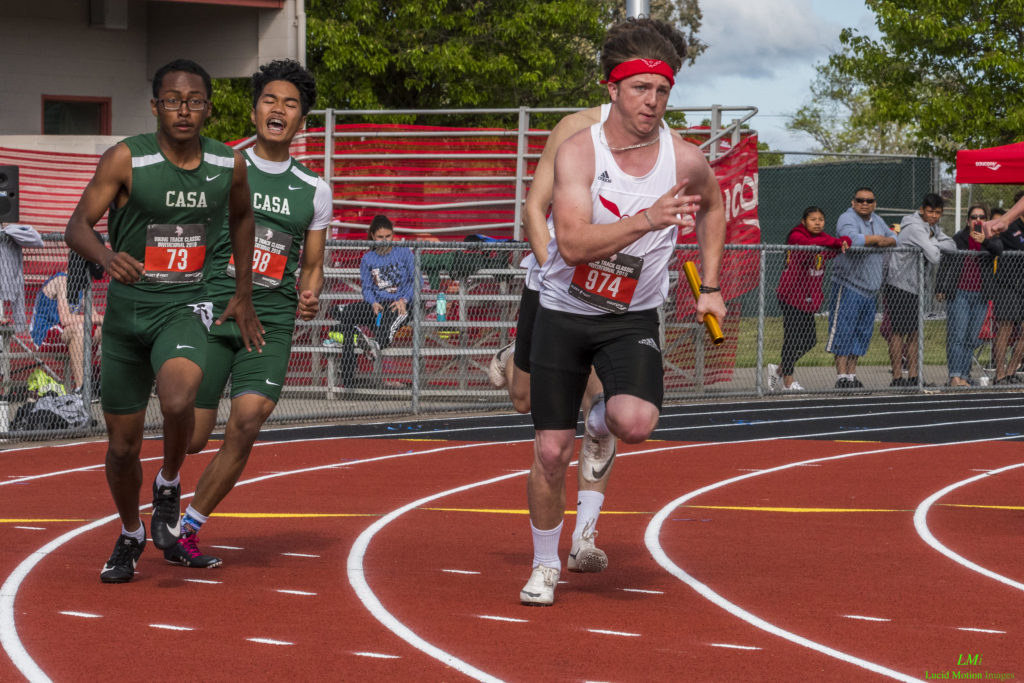 The CMC had an amazing five wins at this meet, the first coming in the boys 400 relay as St Helena stoped the clock at 44.09 for a new CMC leading time. Casa Grande (44.38), Windsor (44.90), Rancho Cotate (44.93) and El Molino 45.16) all had season bests.
Girls 1600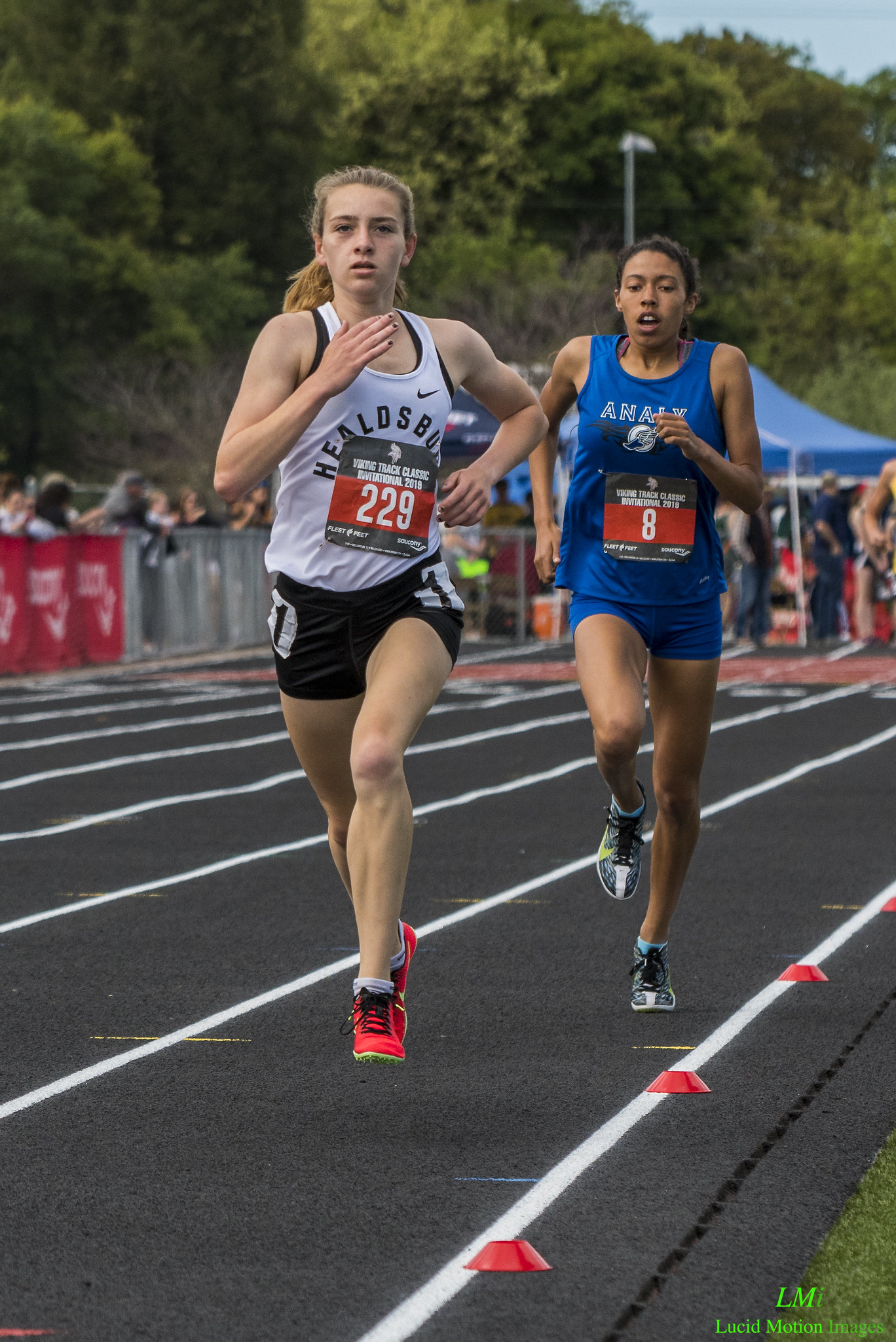 This meet has some incredible meet records. One that I thought might never be broken was the girls 1600.
Santa Rosa's Julia Stamps has held the record since 1996 when she posted a 4:50.5 time.
This years race was something to see, and if you missed it you can see it here.
Three days earlier Healdsburg's Gabrielle Peterson and Analy's Sierra Atkins had a mind blowing race in a dual meet which you can read about here as they went 4:51.82 to 4:57.08.
This race was even better as Atkins pushed the pace through the first 400 before Peterson took the lead for good before 800 crossing around 2:23.
From there Gabby ran by herself to the record producing a Prep best and meet record in 4:49.67. It is the fourth fastest 1600/mile in the state this year and her 2nd top 30 Performance.
Atkins turned in her 2nd sub 5 of the week at 4:57.07.
Maria Carrillo's Aimee Armstrong had a season best of 5:00.22 with new St Helena find Harper McClain lowering her best to 5:02.60, for a CMC leader, 23rd All-Time and 9th Sophomore All-Time.
The oldest meet records are from 1995
400 47.54, Corey Nelson, Rancho Cotate
PV 15-4, Rene Loraine, Petaluma
PD video
2019 State bests, mile conversions shown with an *. Gabby's is the 3rd best 1600 among the top 4.
1.  12	Meagen Lowe		4:45.19*  Buchanan	   Apr 19   61st Annual Mt. SAC Relays 
2.  10	Jacqueline Duarte	4:46.89*  Chino Hills	   Apr 19   61st Annual Mt. SAC Relays 
3.  12	Kristin Fahy		4:48.30*  La Costa Canyon  Mar 23   APU Distance MOC
4.  12	Gabrielle Peterson	4:49.67	  Healdsburg	   Apr 20   Viking Track Classic
5.  10	Audrey Suarez		4:50.39*  Mayfield	   Apr 06   Arcadia Invitational
6.  12	Mikaela Ramirez		4:51.20	  Ayala	           Apr 19   61st Annual Mt. SAC Relays 
7.  12	Fatima Cortes		4:51.33	  Great Oak	   Mar 23   APU Distance MOC
Boys 1600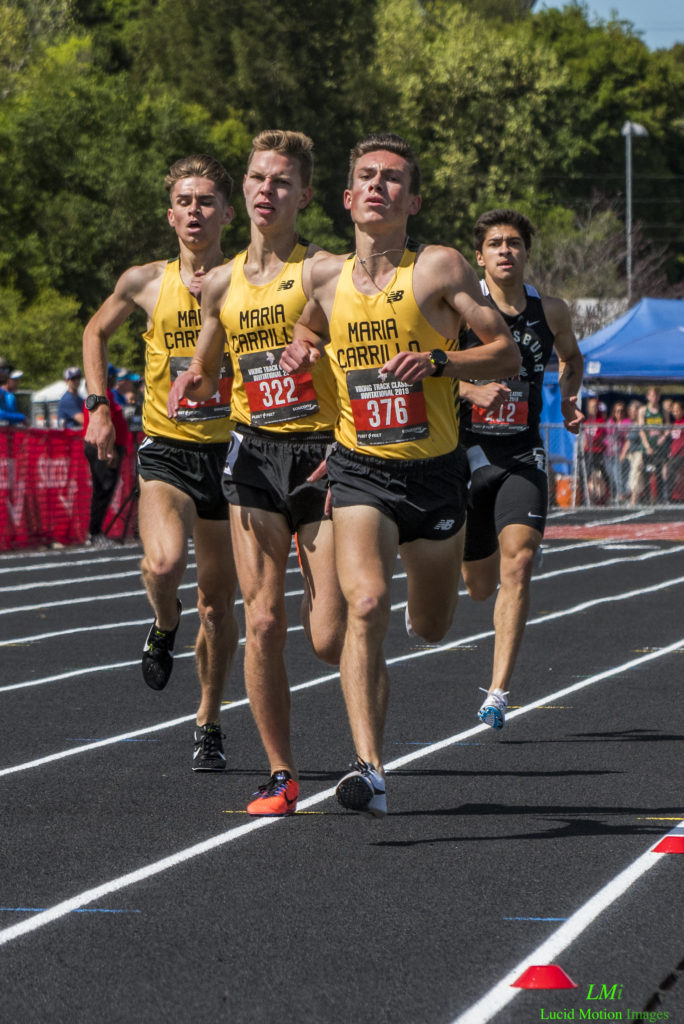 The boys 1600 race turned out to be a showcase for the might Puma distance runners.
Three Carrillo junior did most of the work leading the first 1300 meters before Healdsburg's Danta Godinez sprinted by them and hels the lead until 100 meters remained. Then the MC trio turned on the afterburners to finish more than a second up on the Greyhound with Colton Swinth in a new Prep best (4:21.61) with Rory Smail (4:21.69) and Pierce Kapustka (4:21.70), all within 9/100's of each other. Godinez was 4th in 4:22.82 and Casa Grande sophomore Owen Hite earned a VVAL leader in 4:24.31.
You can enjoy watching it again here.
1 	Swinth, Colton 	Maria Carrillo 	11 	4:21.61
2 	Smail, Rory 	Maria Carrillo 	11 	4:21.69 	
3 	Kapustka, Pierce Maria Carrillo 11 	4:21.70 	
4 	Godinez, Dante 	Healdsburg 	12 	4:22.82 	
5 	Hite, Owen 	Casa Grande 	10 	4:24.31	
Girls Shot Put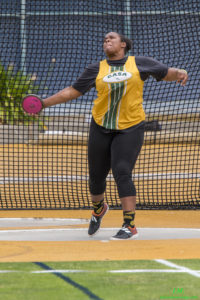 The girls shot didn't produce any surprises as standouts Lillian McCoy, Casa Grande 36'10" and Caitlin Grace, Santa Rosa 34'11" dominated the field.
Girls 100HH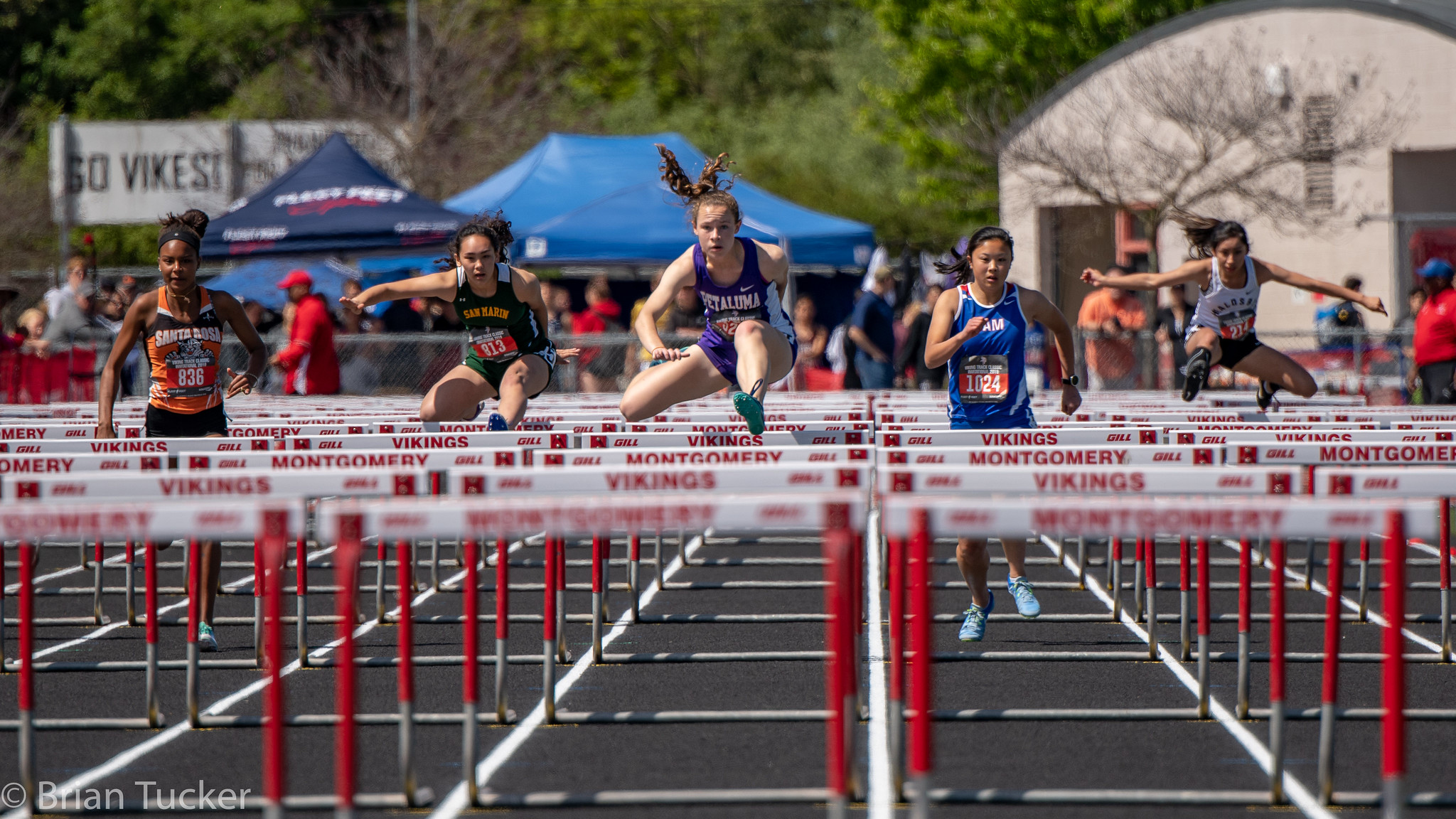 Petaluma's Sydney Dennis is having a super season and added four more great performances here.
The 100 hurdles was her first success as she set a Prep best at 16.32 for the 34th All-Time FAT mark. More than a full second up on the rest of the invite final. In the earlier races Santa Rosa's Anika Williams was nearly as good in 16.60 for =50th All-Time FAT.
Boys 110HH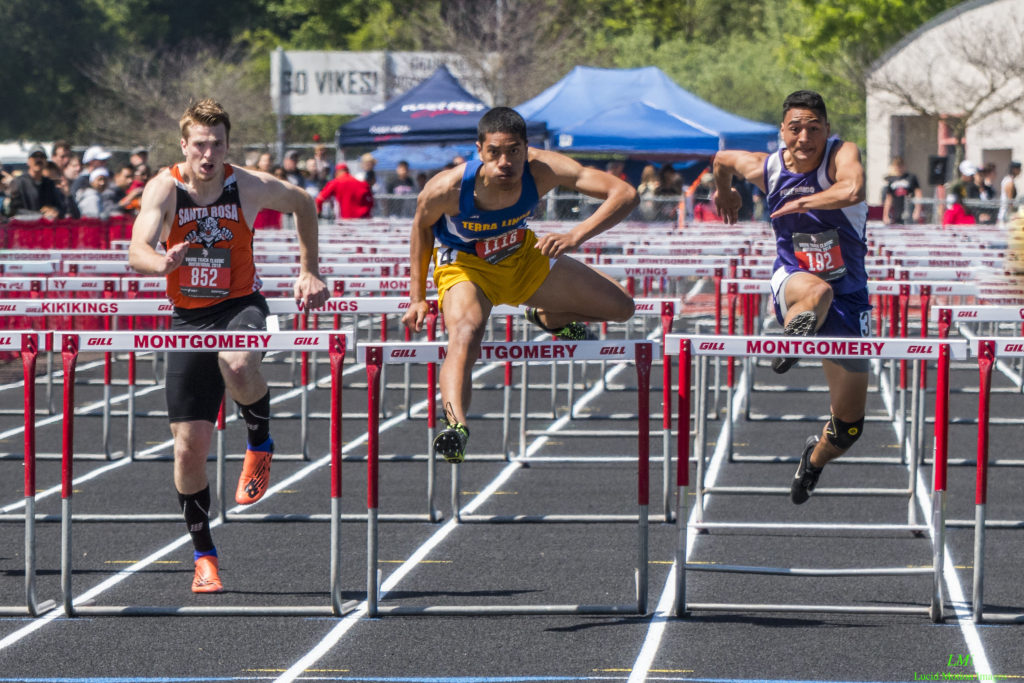 The boys 110 hurdles had Michael Niu, Terra Linda taking the top spot in 15.38 with Eric Portillo, Fort Bragg 15.55, CMC leader, =47th All-Time FAT and Brayden Glascock, Santa Rosa 15.66, NBL FAT leader.
Girls 400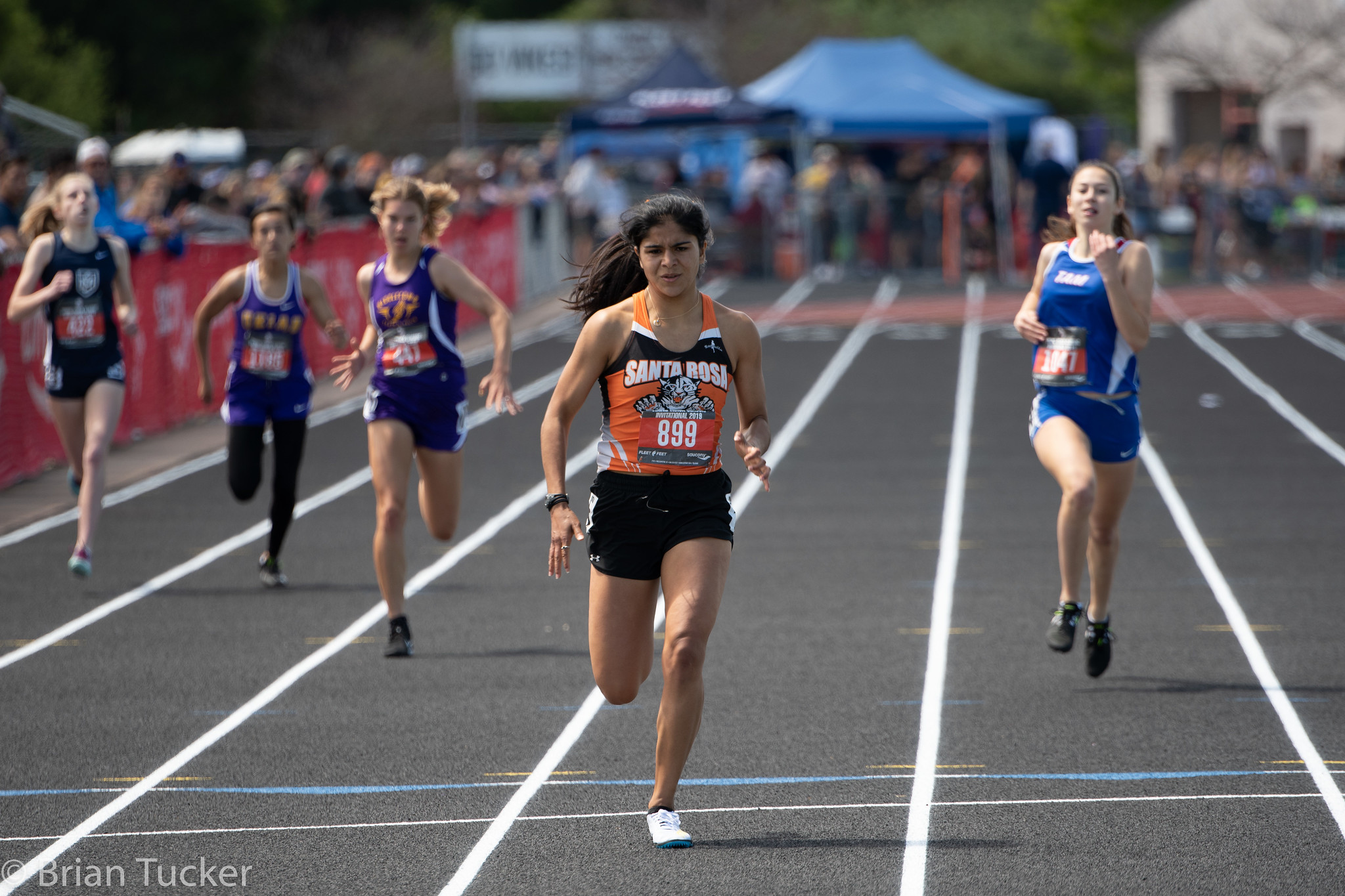 Santa Rosa Izel Zamora showed some real dominance in the 400 with a fast 58.86 Prep best, moving her to 35th All-Time.
2nd and 3rd went to Brianna Grissom, Lowell 1:00.23 and Ella Vasicek, Tamalpais 1:00.36 with Grace Southern, Middletown 1:00.42 taking down both the CMC leading mark and her school's record.
Boys 400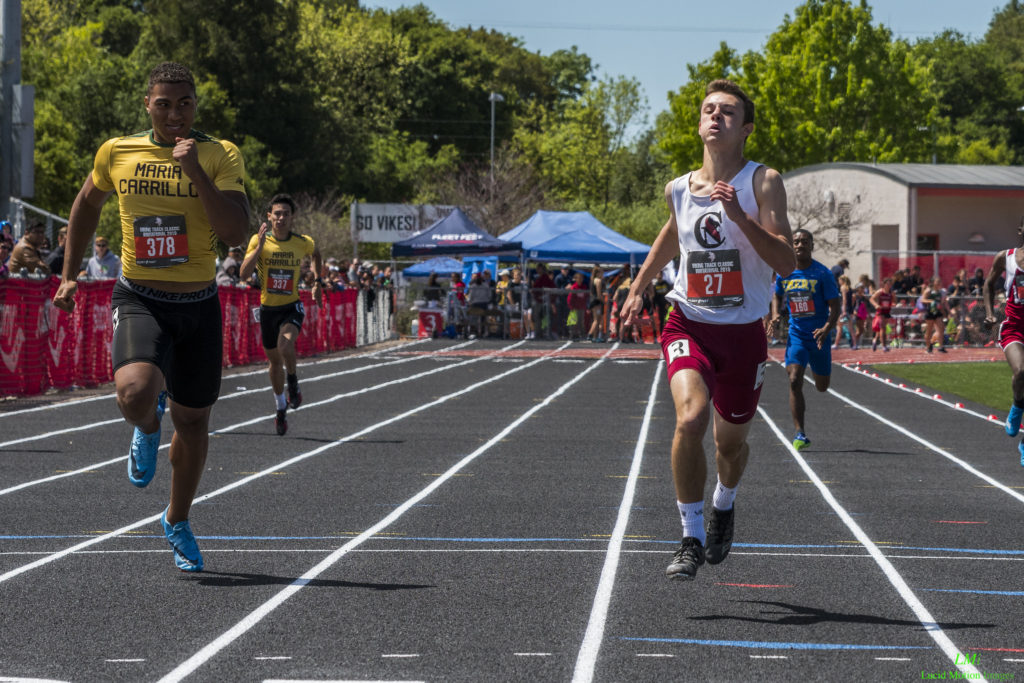 The boys 400 was even better as Cardinal Newman's Justin Patterson ran the 6th fastest junior time ever at 49.58, 23rd All-Time.
Maria Carrillo's Tyler Van Arden also cracked the 50 mark in 49.79 .
In earlier races Jalydon Love, Casa Grande 51.67 and Cody DiTomaso, St Helena 52.20, CMC leader had noteworthy races.
Boys Discus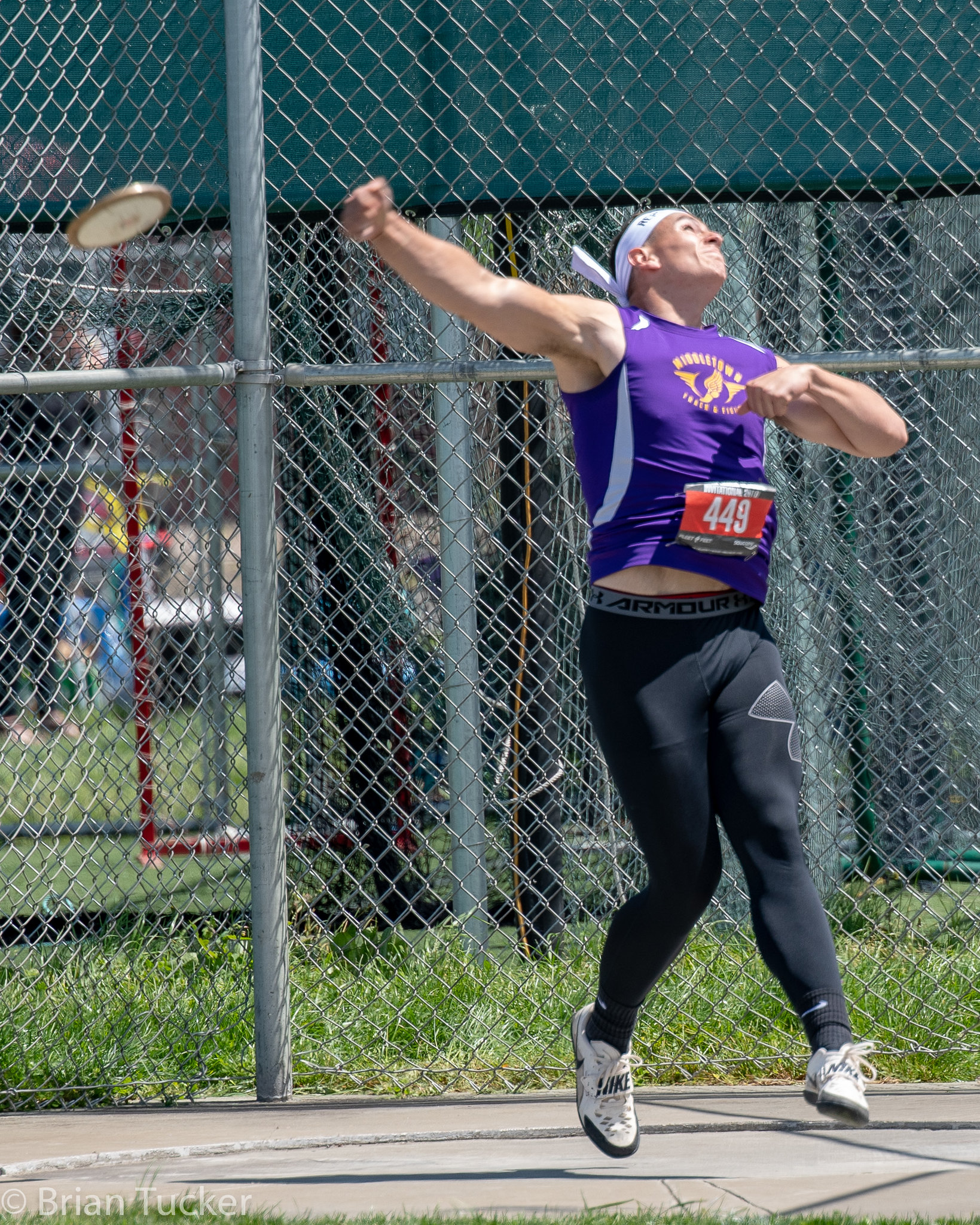 Middletown's Bryson Trask has been the best thrower all year and proved it here with a meet record in the discus at 176'01".
The mark erased the record by Brian Chase, Cardinal Newman 169-11 1996 and is the 11th farthest throw ever, see below.
And his other two throws were also monsters as his series was 171-6, 176-1, 174-3.
Trask now has seven throws over 169-10 trailing only state medalist Chris Day ion that department.
Throws over 169-10
Chris Day (22), Montgomery
Bryson Trask (7), Middletown
Larry Plinski (5), Montgomery
Dennis DeSoto (5), Santa Rosa
Cardinal Newman's Samuel Davison 155'04" threw in an earlier flight and lead until Track stepped in the ring.
Ukiah's Kalathan Laiwa-McKay (145'06") and Casa Grande's Alexander Azanon (127'00"), both had Pr's with Azanon taking the VVAL leader mark.
181-6¼ Chris Day, Montgomery 4/29/81
180-9 Larry Plinski, Montgomery 5/29/82
180-4½ Chris Day, Montgomery 5/24/80
179-1 Chris Day, Montgomery 6/6/81
179-0 Chris Day, Montgomery 4/22/81
178-7 Dennis DeSoto, Santa Rosa 5/30/81
176-11 Dennis DeSoto, Santa Rosa 4/30/81
176-11 Chris Day, Montgomery 6/5/81
176-4½ Chris Day, Montgomery 4/12/80
176-3 Bryson Trask, Middletown 2/23/19
176-1 Bryson Trask, Middletown 4/20/19
175-10 Chris Day, Montgomery 5/23/81
175-6 Chris Day, Montgomery 5/2/81
175-5 Bryson Trask, Middletown 3/16/19
24th 174-3 Bryson Trask, Middletown 4/20/19
40th 171-6 Bryson Trask, Middletown 4/6/19
Complete list
Girls 100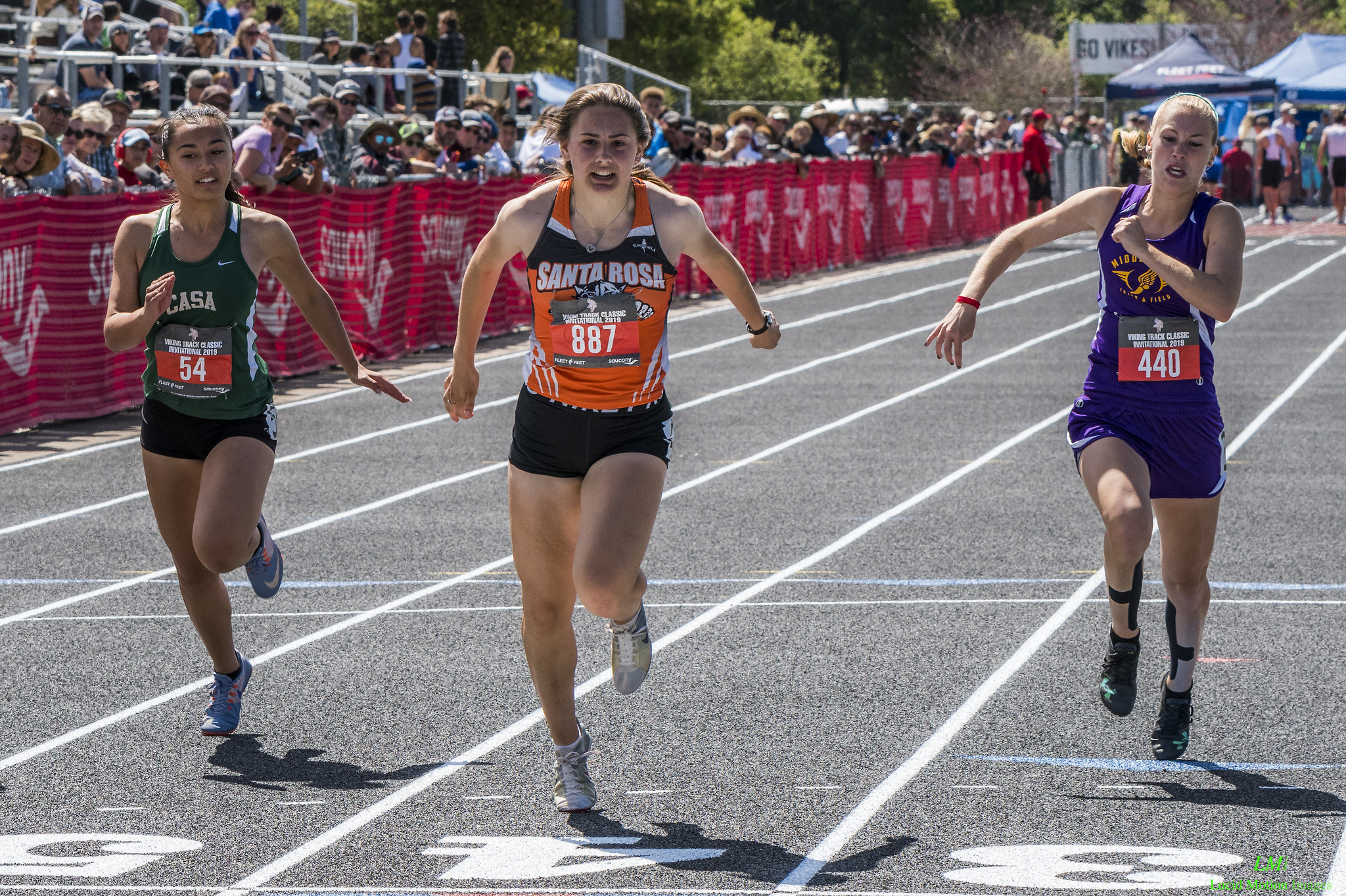 The 100's produced a lor of personal bests starting with the girls.
Santa Rosa's Kassidy Schroth is only a freshman but has been the class of the area in the sprints.
Here she easily won with 12.75 for a Prep best, 40th All-Time FAT and the 9th freshman FAT time ever.
Windsor's Isabela Chavez made the All-Timr list with a 12.84, =47th All-Time FAT.
Petaluma's Cali Sullivan was third in 12.94 and later in the 200 took the VVAL lead with a 26.77 4th placer.
Middletown's CMC star Kelsey Lemoine improved that leagues best to 12.95.
1 	Schroth, Kassidy Santa Rosa 	9 	12.75
2 	Chavez, Isabela Windsor 	10 	12.84	
3 	Sullivan, Cali 	Petaluma 	10 	12.94 	 
4 	Lemoine, Kelsey Middletown 	12 	12.95 
Boys 100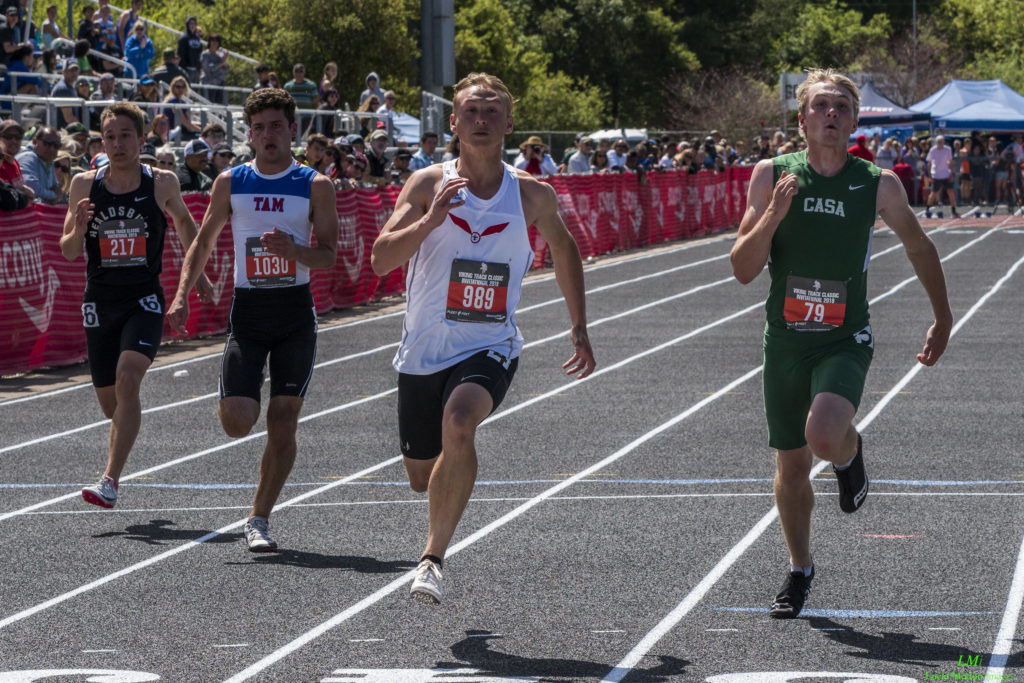 The CMC picked up it's second win of the day when St Helena's Ryan Searl needed a fast time to beat a fast field and got it with a 10.88, CMC leader, 18th All-Time, 5th Jr All-Time.
He needed all of that to better Casa Grande's Matthew Mason who broke 11 with a PR 10.94, =22nd All-Time.
The CMC took 3rd as well as Technology's Cameron Orloff surprised with an 11.05.
Rancho Cotate's Jay Luis ran the fastest time in the NBL this year at 11.10.
And Windsor's Jaden Fernandez at 11.21 moved to =9th FAT Sophomore ever.
1 	Searl, Ryan 	St Helena 	11  10.88 		
2 	Mason, Matthew 	Casa Grande 	12  10.94	
3 	Orloff, Cameron Technology 	12  11.05 	
4 	Luis, Jay 	Rancho Cotate 	12  11.10
5 	Fernandez, Jaden Windsor 	10  11.21
Girls 800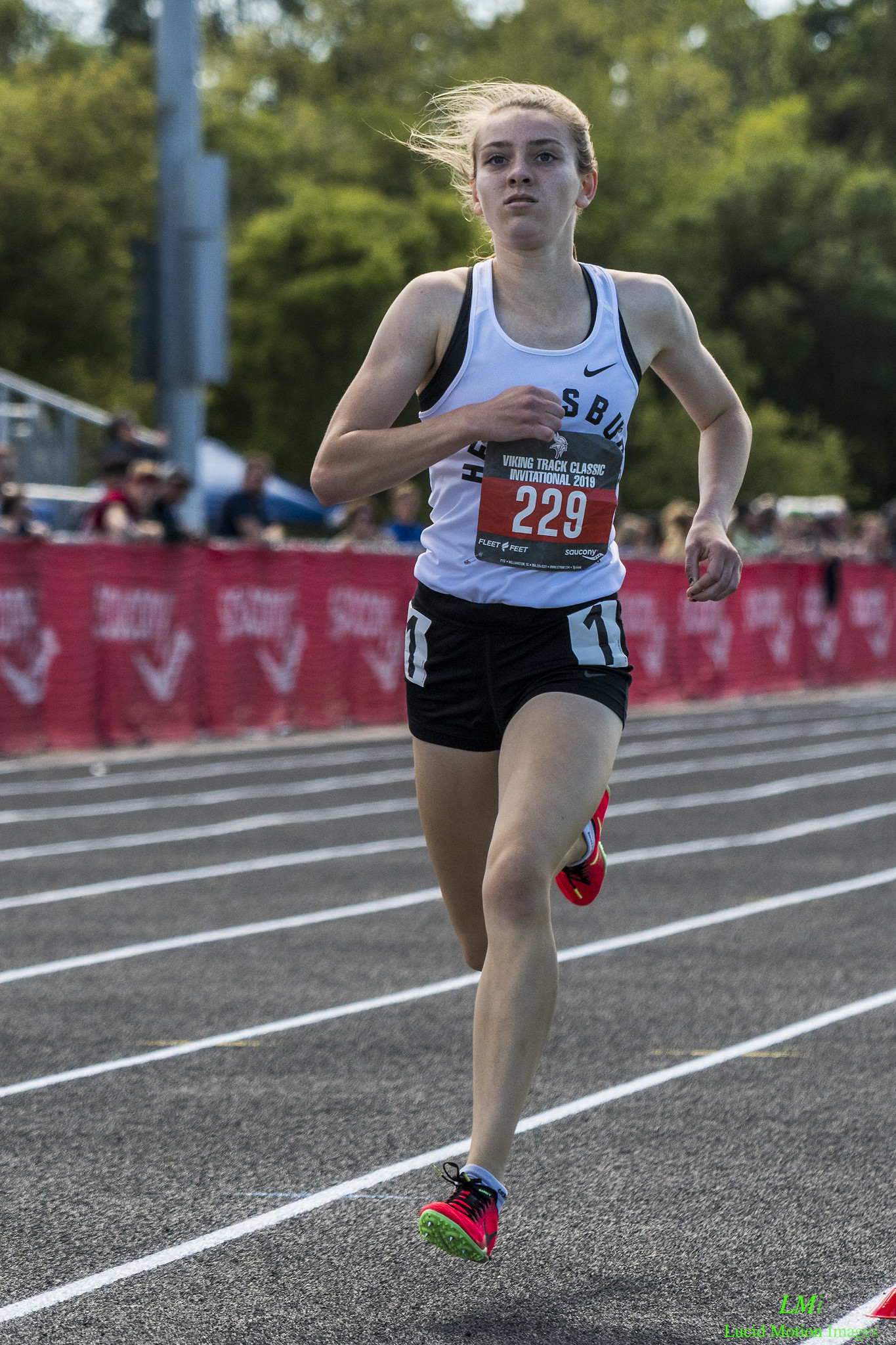 Gabby is simply in a class by herself. Her 2:17.56 easily beat a fine 2:20.87 by Armstrong.
Watch the race here.
Boys 800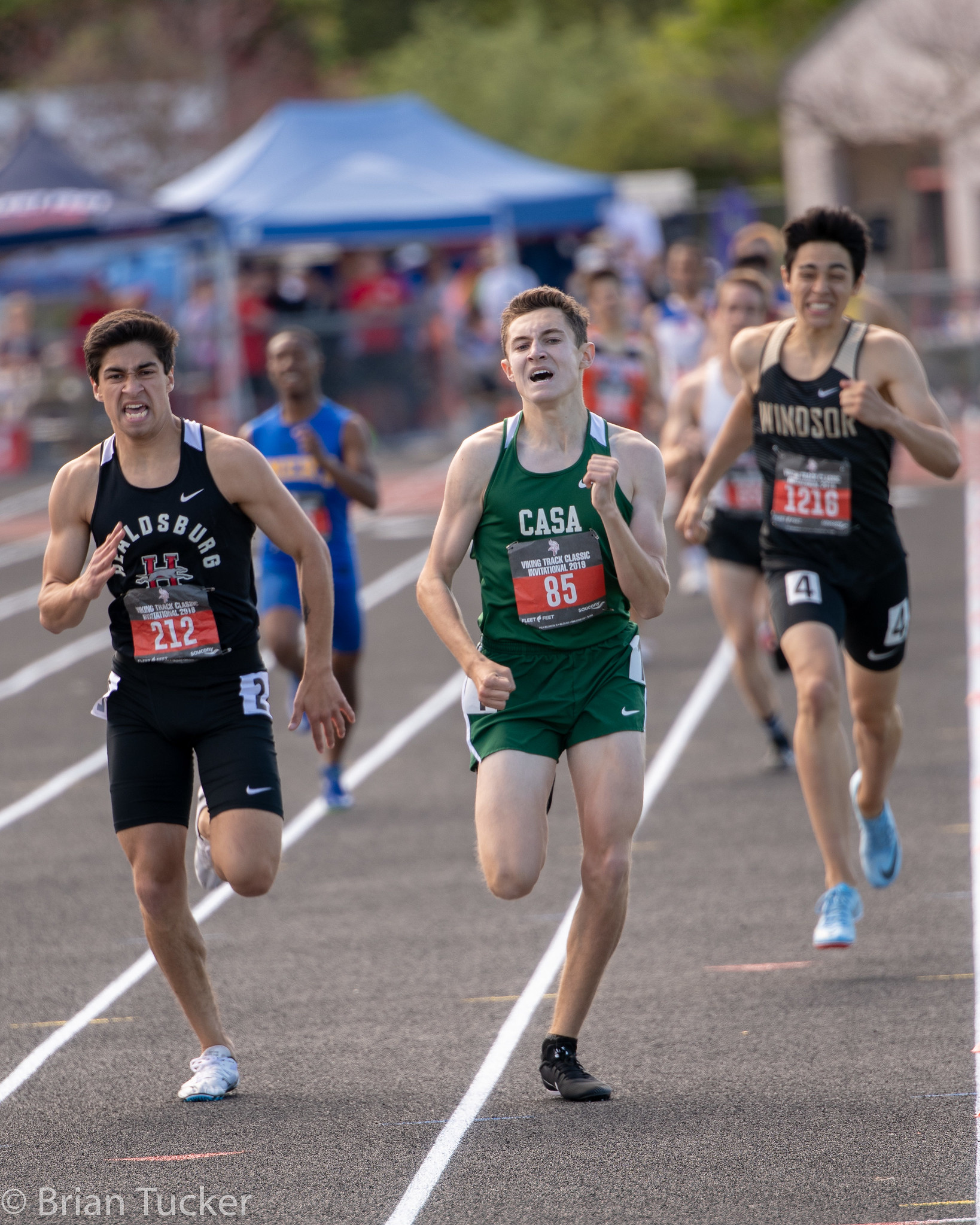 This is a GREAT race to watch and you can here starting at about 2:27 into the video.
This race promised to be something special. It had in it NCS leader Logan Moon from Casa Grande and NATIONAL cross country champion Liam Anderson from Redwood. It also had Godinez doubling back, from what I'm guessing was a disappointing 4th in the 1600, but as you will see he wanted this one bad.
Moon would shoot out fast from the start and open up a sizable lead by 200 meters. The pack cut that lead in half at the 400 mark with Godinez boxed into 4th behind Windsor's Vince Corday and Anderson. With 250 to go Moon opened up a bigger lead again but Godinez was now around Anderson and moving up. With 100 meters to go Corday was now right behind Moon with Godinez swinging to the outside to start his charge. Godinez couldn't get past Corday until 50 meters out and didn't pass Moon until the tape taking the event by 0.13 seconds. The top five would all break the 2 minute barrier.
1 	Godinez, Dante 	Healdsburg 	12 	1:56.65 	
2 	Moon, Logan 	Casa Grande 	11 	1:56.78 	
3 	Corday, Vince 	Windsor 	12 	1:57.74 	
4 	Kane-Ross, Todd Emery 	        11 	1:59.40 	
5 	Anderson, Liam 	Redwood (Larkspur) 12 	1:59.85 	
Boys Shot Put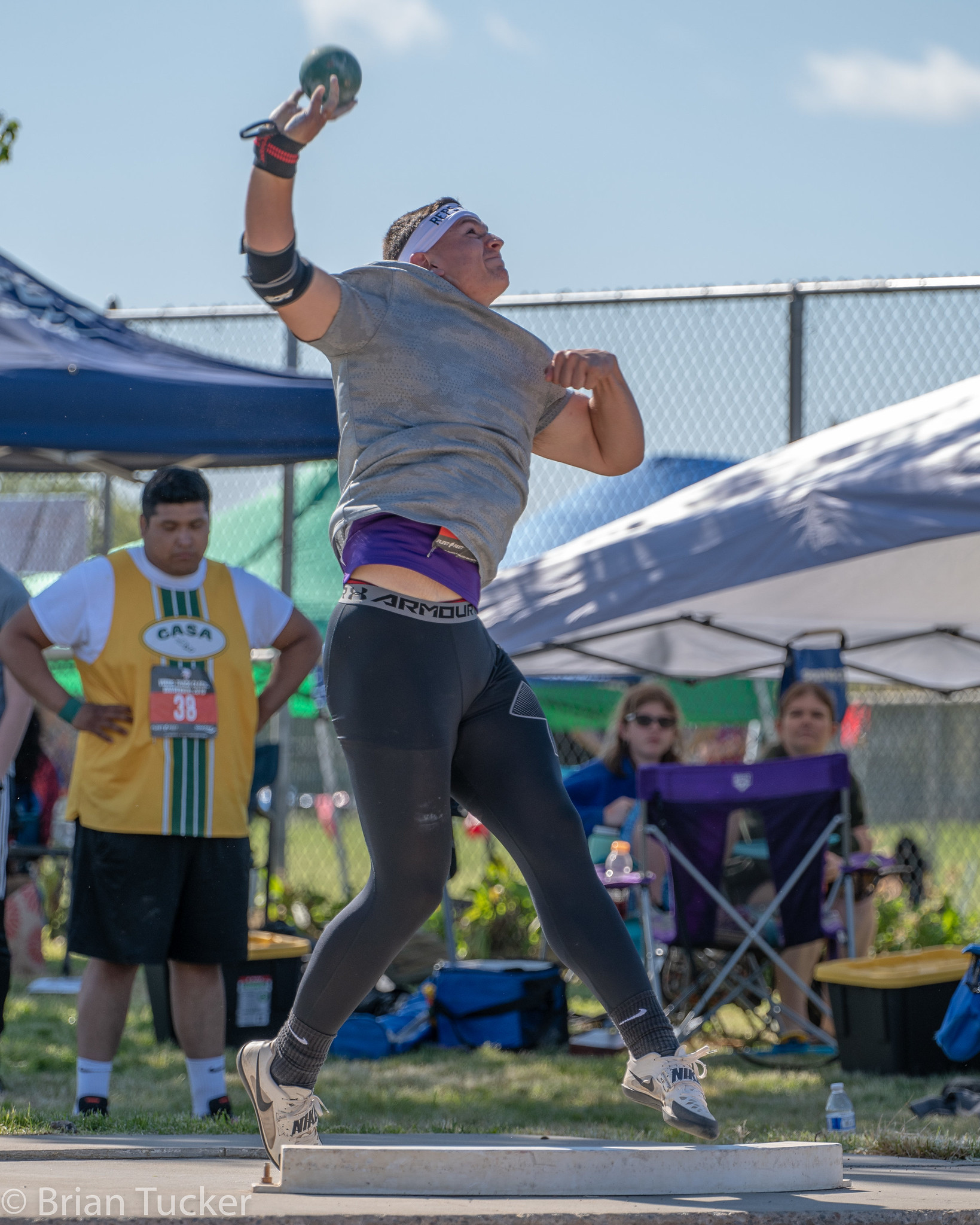 Ukiah's Kalathan Laiwa-McKay had a huge PR at 53'02" to take the NBL lead and move all the way to =38th All-Time, yet it still wasn't enough to better Middletown's Bryson Trask who completed his throwing double her with a 53'05" toss.
Girls Long Jump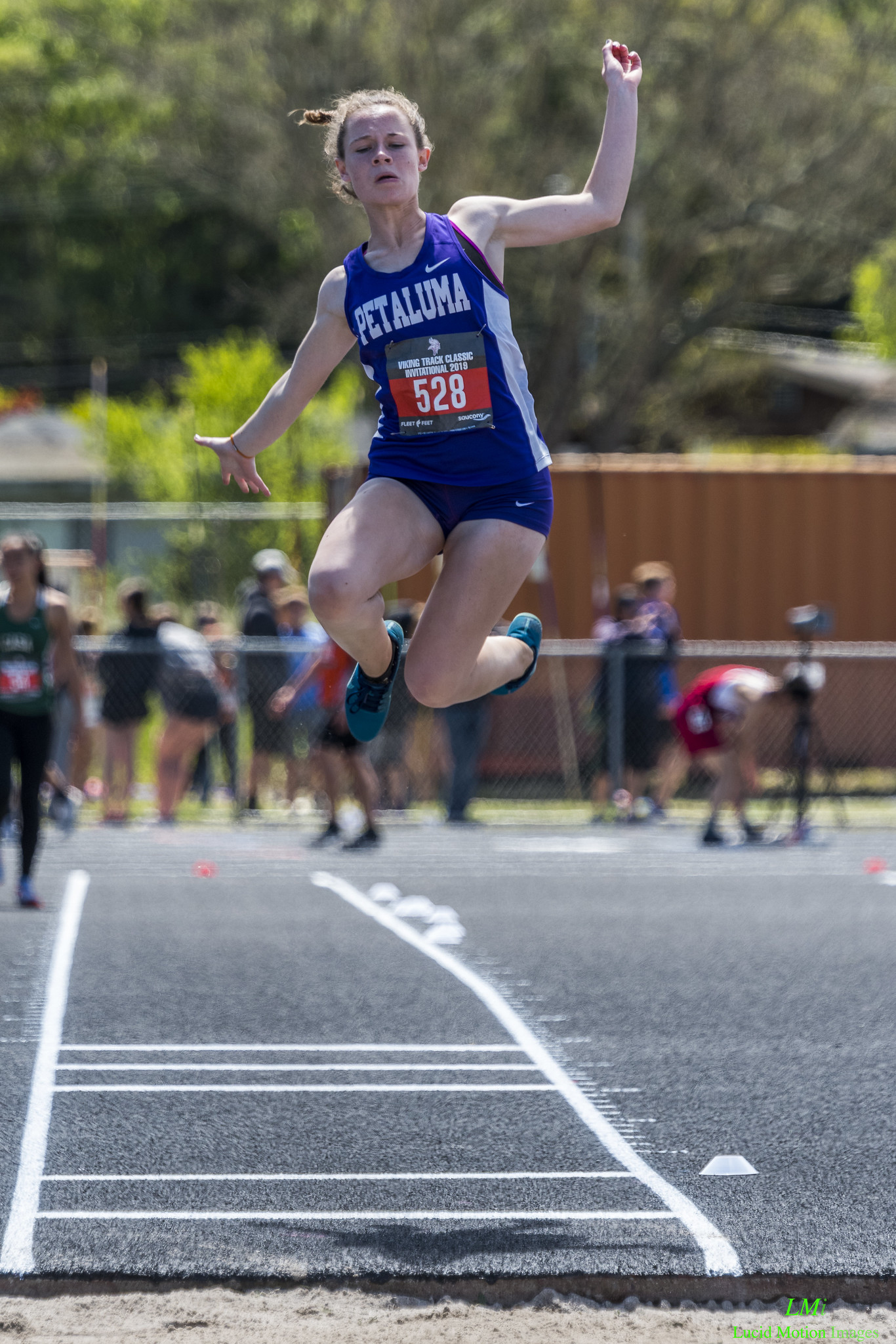 Petaluma's Sydney Dennis earned her second gold medal of the day with a 16'03" jump here.
Sonoma Valley's Kaylie Barrera was close behind in second at 15'11.75″
Sonoma Academy Azure Siraco had a CMC leader mark at 15'08.75″.
Boys Long Jump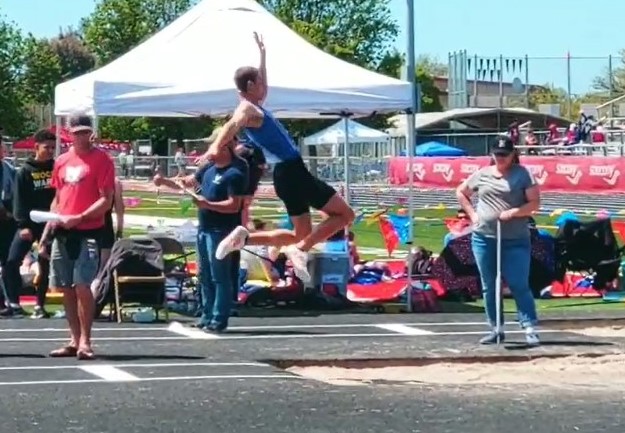 The boys long jump also produced a new CMC leader but this time it was for the winner as Rincon Valley Christians
Jacob Gutierrez-Worthy
spanned 19'08.25″ to edge out Maria Carrillo's
Mason Adams
(19'07.75″) and Casa Grande's
John Paul Tangonan
(19'07.25″).
Girls High Jump
Anyone take a photo of our winner at the Viking?
Casa Grande's Camille Mantoani I'm sure surprised a lot of people with her 5'01" jump here to win over consistent jumper Natallea Bazor of Fort Bragg at 5'00".
Girls 300LH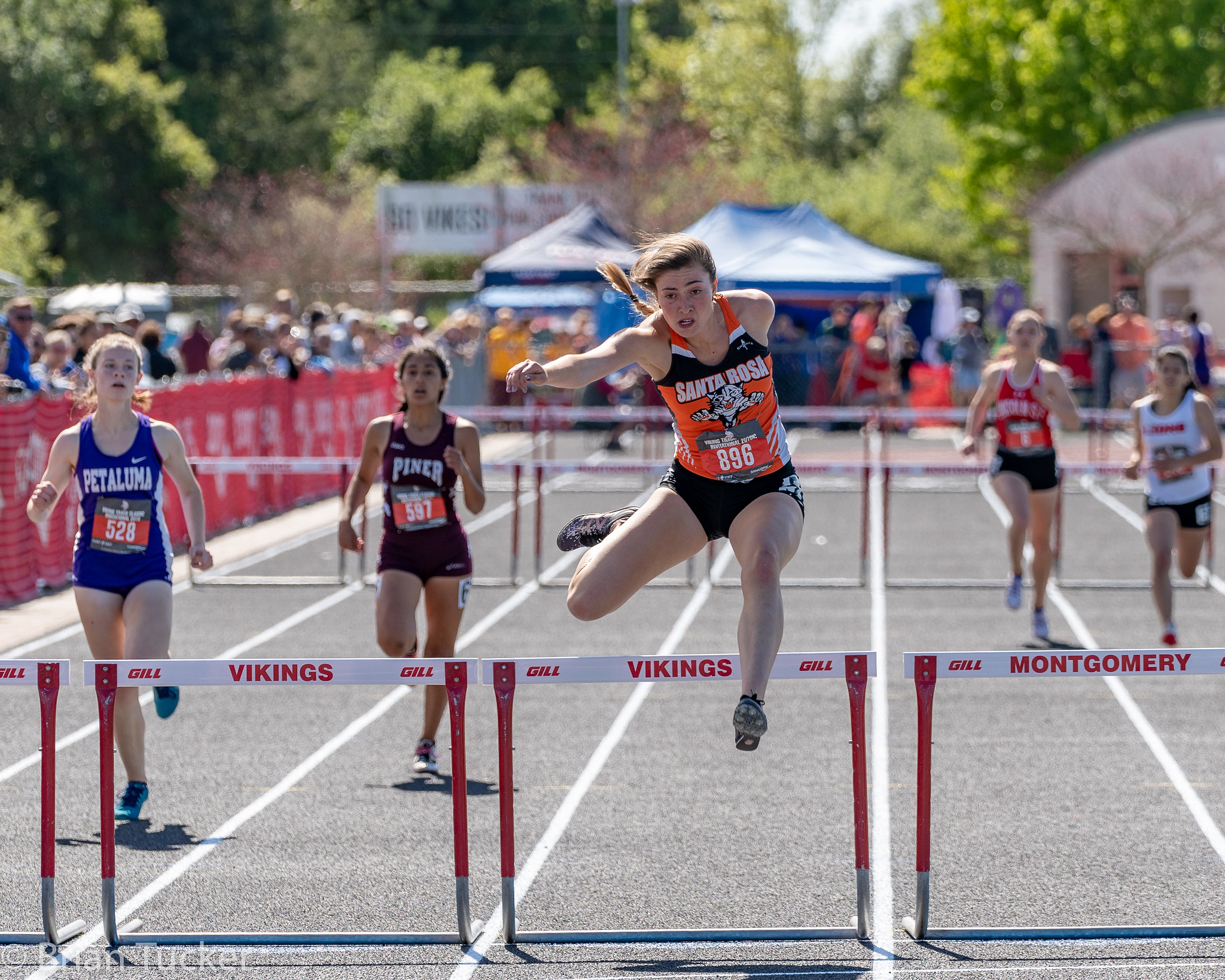 Sydney Dennis is hard to beat but a Prep best by Santa Rosa's Anika Williams did the trick as Tam's Mikayla Lin split them with her 48.47.
Dennis still had a VVAL leader with her 49.35 finish.
Boys 300 IH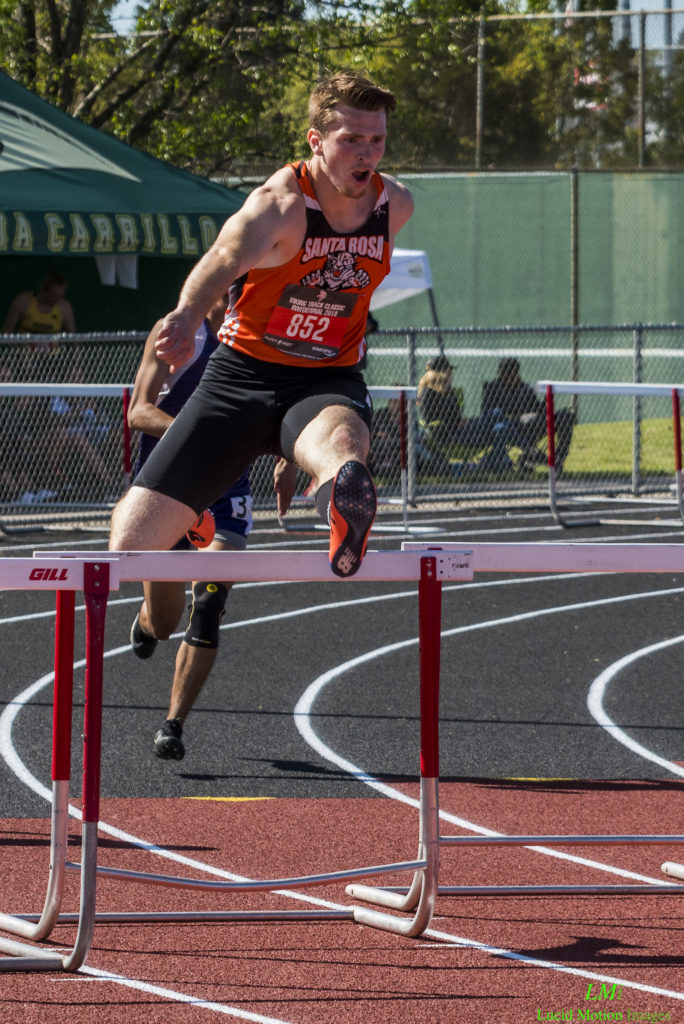 The Panthers made it two for two at 300 hurdles as Brayden Glascock not only set a Prep best but moved into the All-Time Top 10 at 39.07, 9th All-Time.
Terra Linda's Kobe Johnson was 2nd (40.48) but a surprise came for the next spot as sophomore Russel Gordon of Fort Bragg PRed big time at 40.61, CMC leader, =50th All-Time, 8th Soph. ahead of teammate Eric Portillo 40.67.
Boys High Jump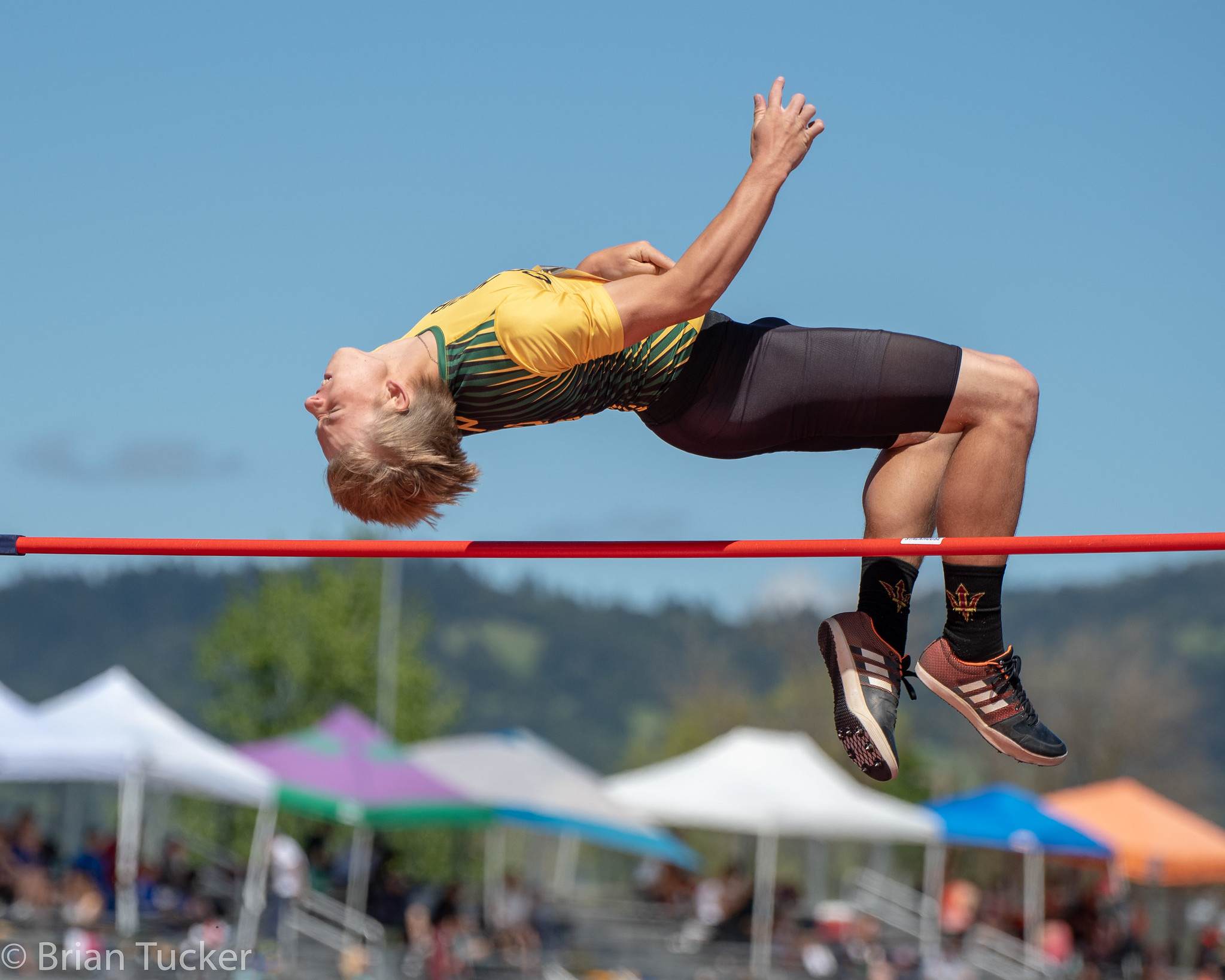 Maria Carrillo's Mason Adams equaled the 2019 Prep best by Sonoma Valley's Luke Sendaydiego at 6'04" with Sendaydiego and Montgomery sophomore Gabriel Tucker both clearing 6'02".
Girls Pole Vault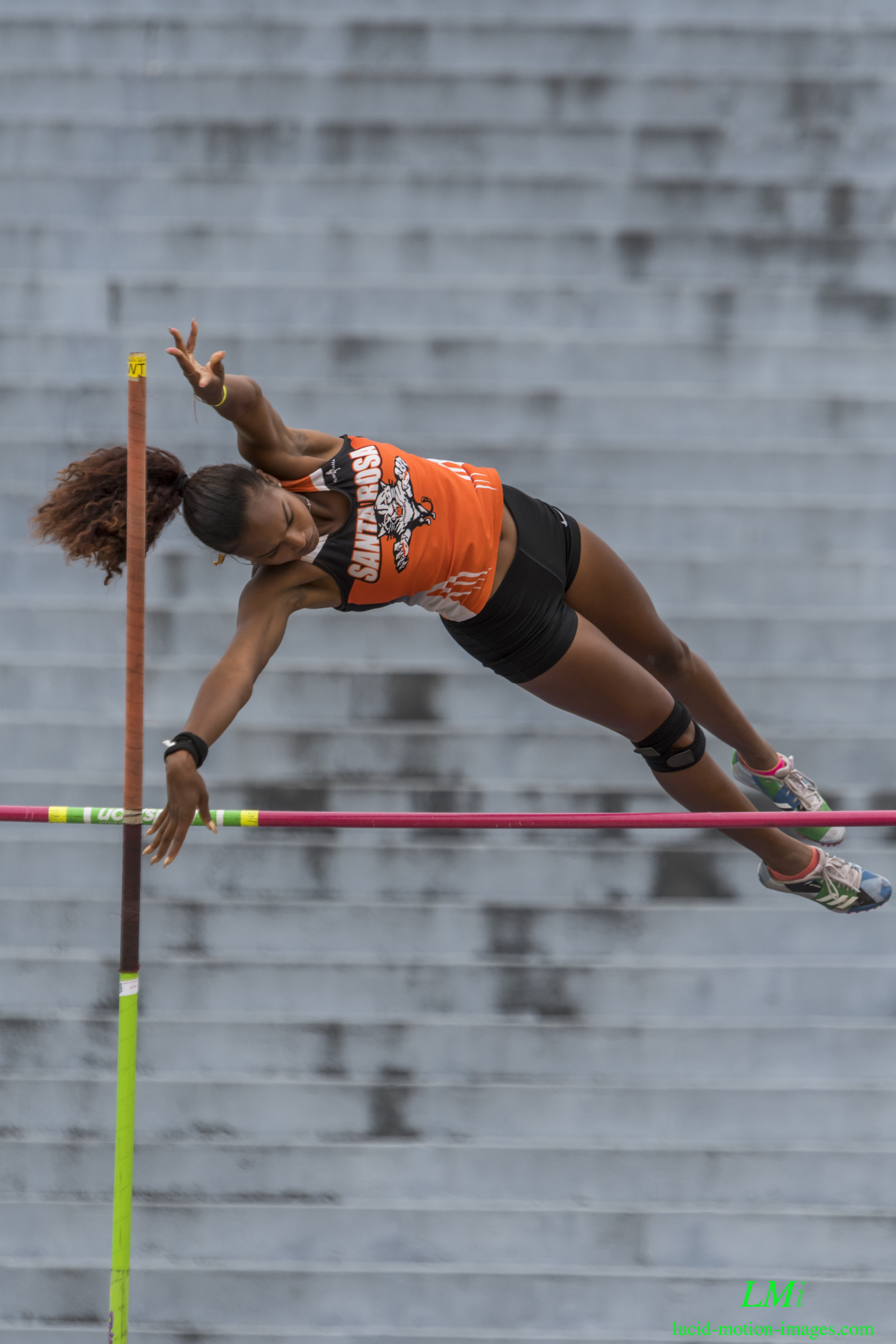 The Panthers went one two here with Aminata Daffeh and Bria Keelty both clearing 10 feet with Daffeh winning on misses.
Girls 200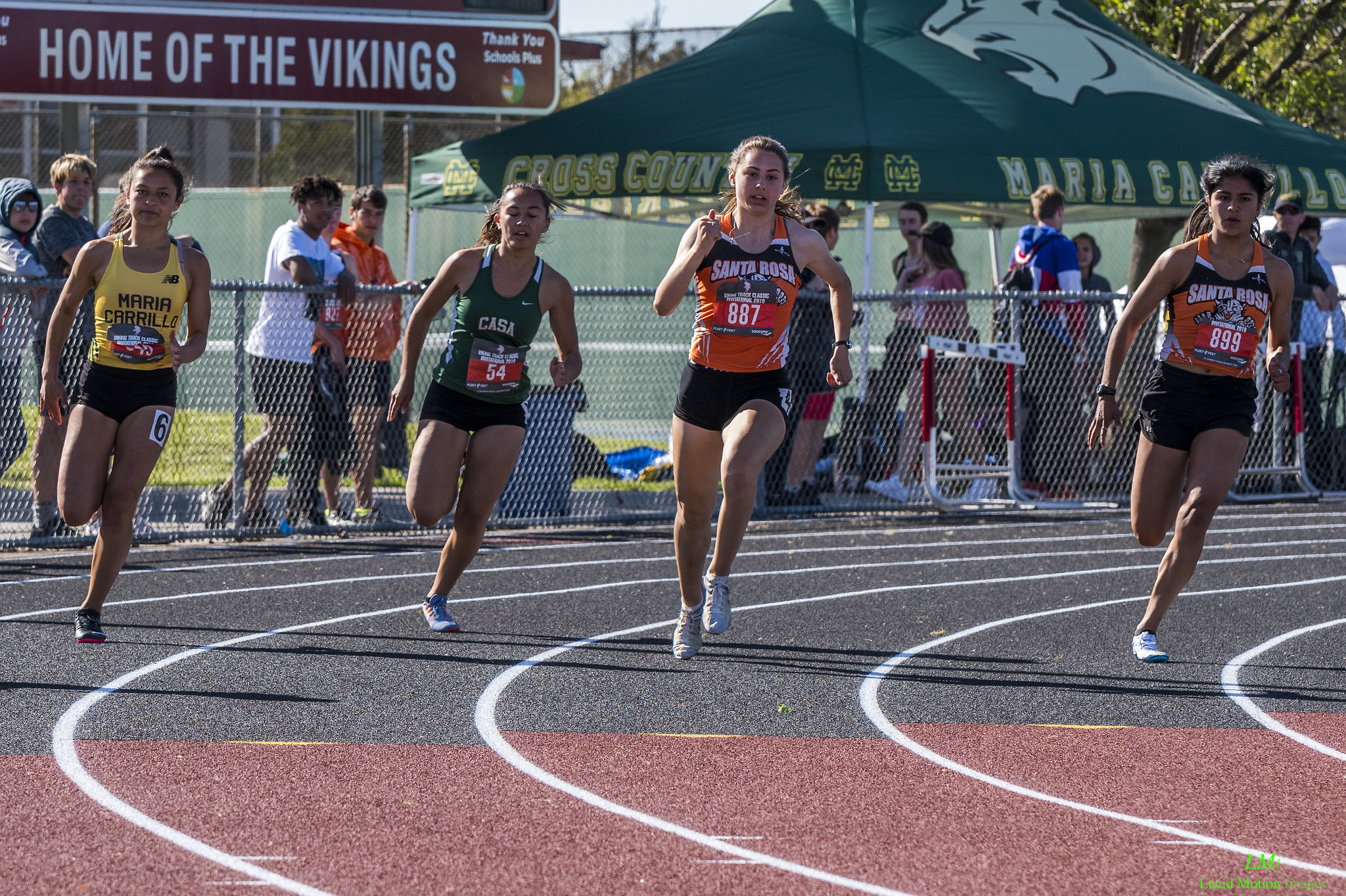 Again the Panthers go one two as Kassidy Schroth (26.25, Prep best, =40th All-Time FAT, =10th Freshman) and Izel Zamora (26.43, 50th All-Time FAT) both run blistering times.
Boys 200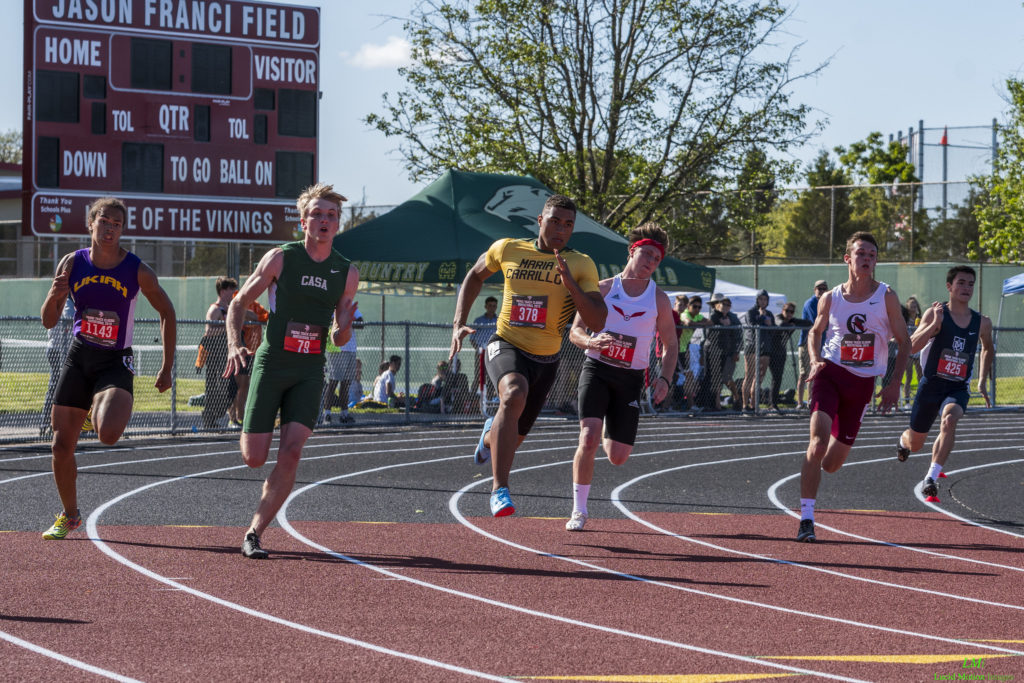 The boys half lap was even more impressive.
Casa Grande's Matthew Mason had a Prep best at 22.03 moving him to 24th All-Time.
Cardinal Newman's Justin Patterson had an NBL leader at 22.44, =36th All-Time FAT, with St Helena's Cody DiTomaso earning the CMC leader at 22.87.
Rancho Cotate's Jay Luis (22.91) and Ukiah's Jasper Cauckwell (22.91) both broke the 23 mark.
And in an earlier heat Casa's Jalydon Love went 22.67.
Girls Triple Jump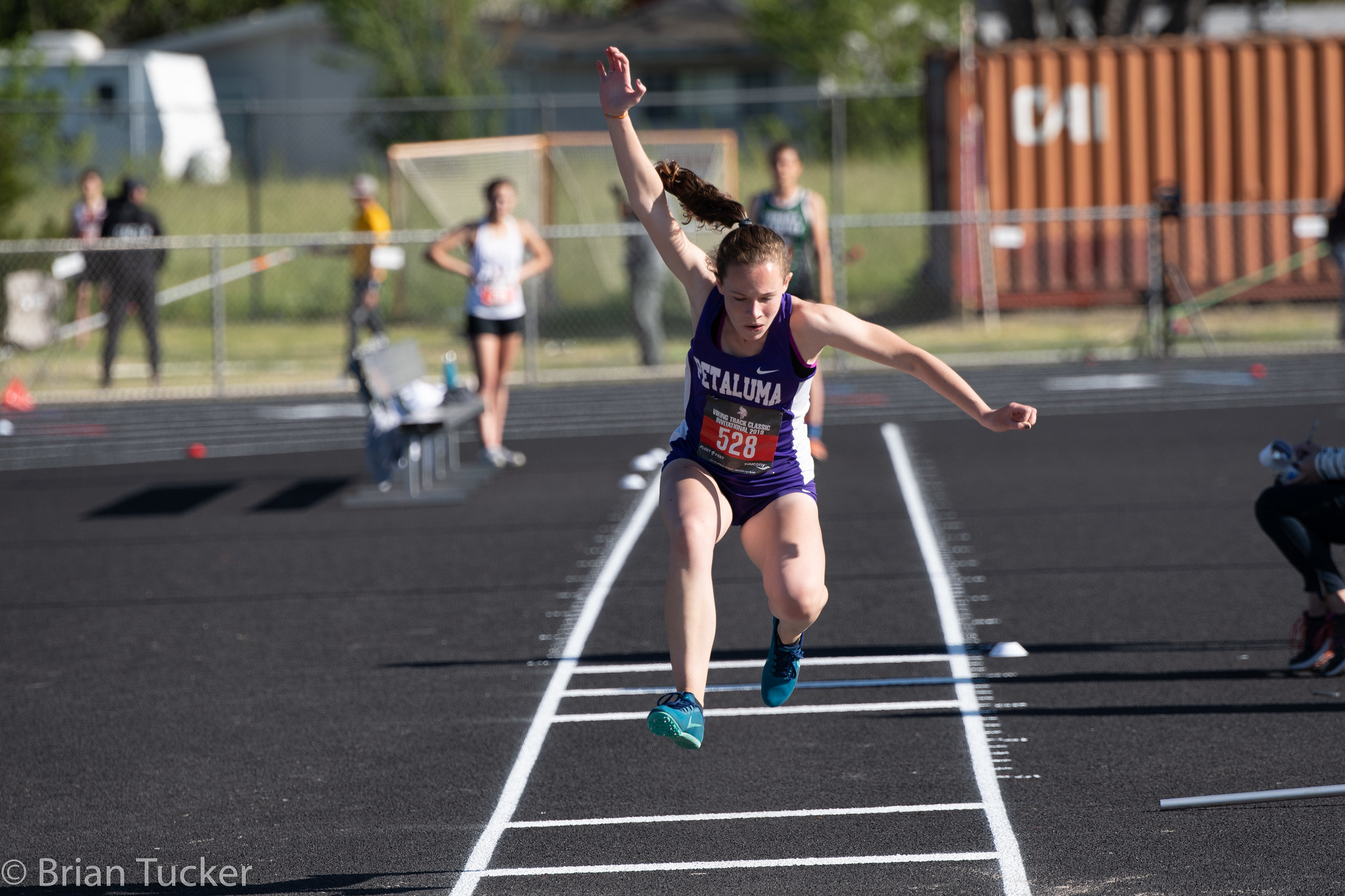 Sydney Dennis took her third individual win of the meet here at 34'11", it was actually her second best jump that determined the win as Sonoma Valley's Kaylie Barrera went the same distance that moved her to =40th All-Time.
Boys Triple Jump
Anyone take a photo of our winner at the Viking?
San Francisco University's Sean Huckleberry took this event at 41'10.50″ over Tamalpais' Will Holden-Wingate 41'02.25″ and Santa Rosa's Remington Gack 41'00.50″.
Girls 3200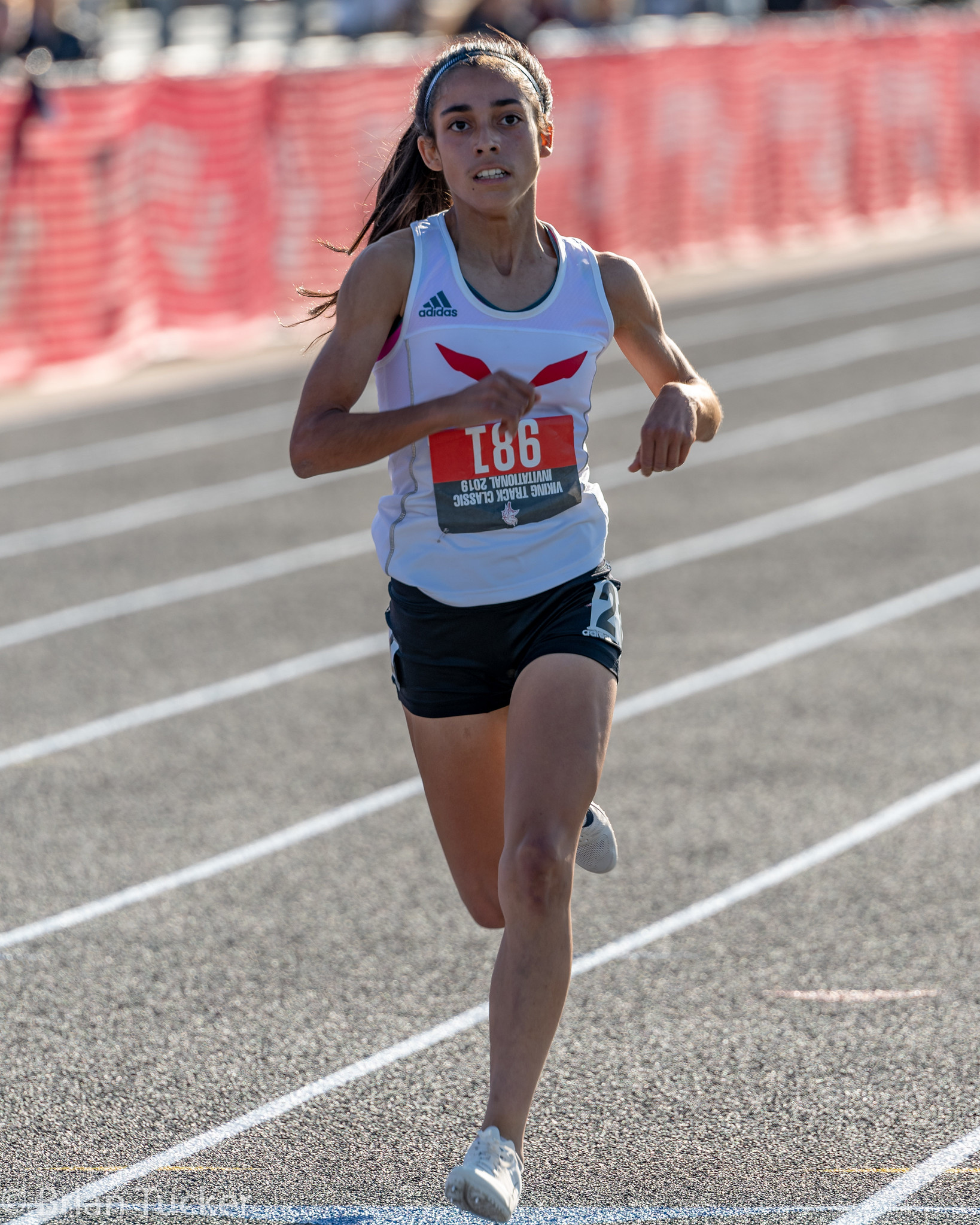 St Helena's Harper McClain is still untested in this event as she has won all three of her races at this distance with no one within a minute over her in any of them. Her 10:47.08 here is a new CMC leader, 13th All-Time and 7th Sophomore, her SLOWEST race was a 10:52.0.
Boys 3200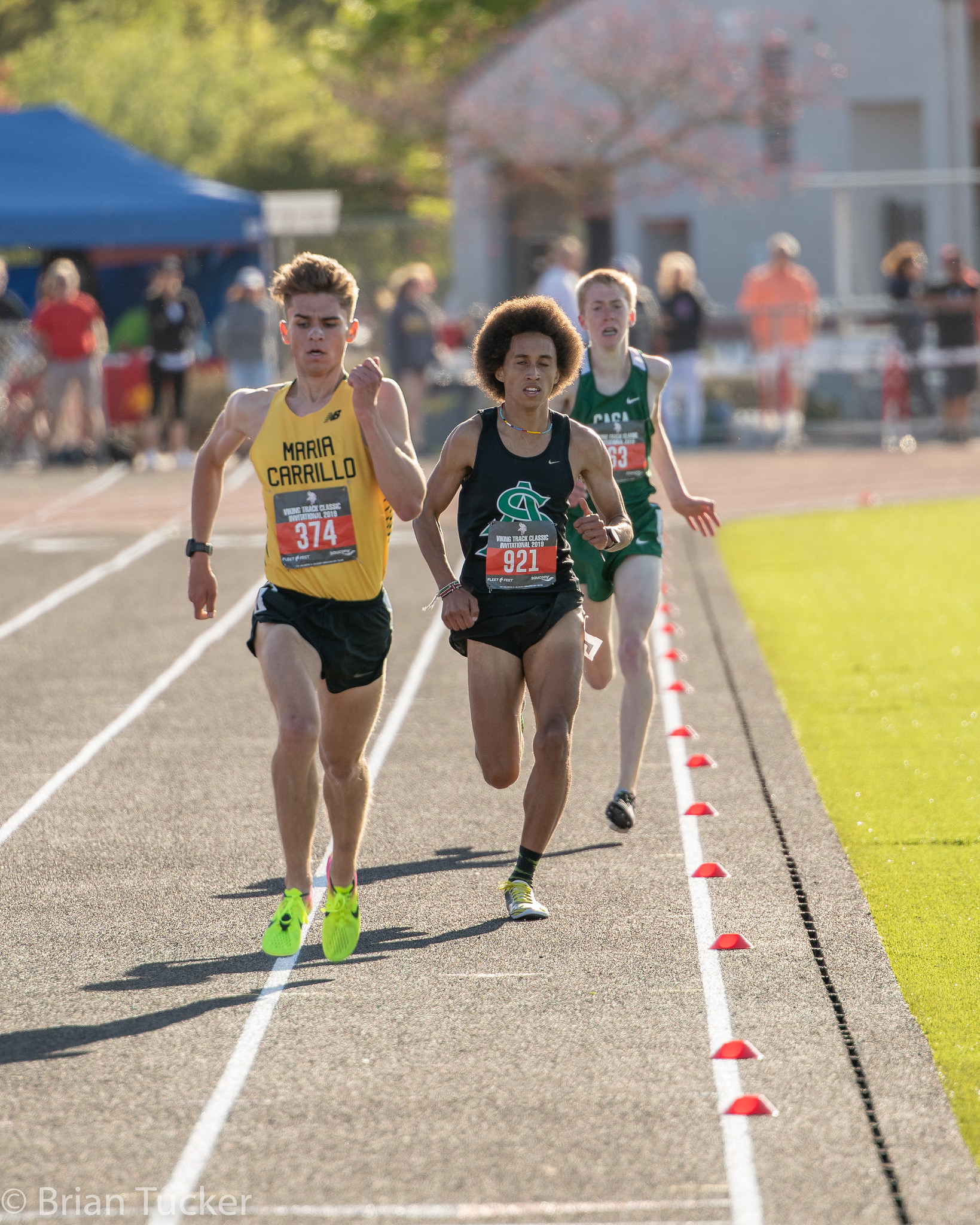 Sonoma Academy's Andre Williams who lead most of the race, Maria Carrillo's Rory Smail, doubling back from the 1600 and Casa Grande's Owen Hite separated themselves from the field early on and it was a three way race. It wasn't until 100 meters to go that Smail's speed allowed him to flash by Williams for the win (Smail 9:39.92, Williams 9:40.78, Hite 9:41.36).
You can watch the whole race here.
Girls Discus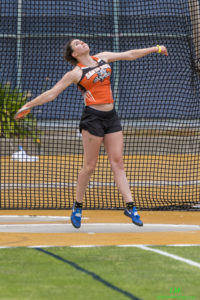 Yet another Panther win as Caitlin Grace's 119'10" was a clear winner over Middletown's Taelor Roderick (112'10") and Piner's Samantha Ainlay (111'07").
Boys Pole Vault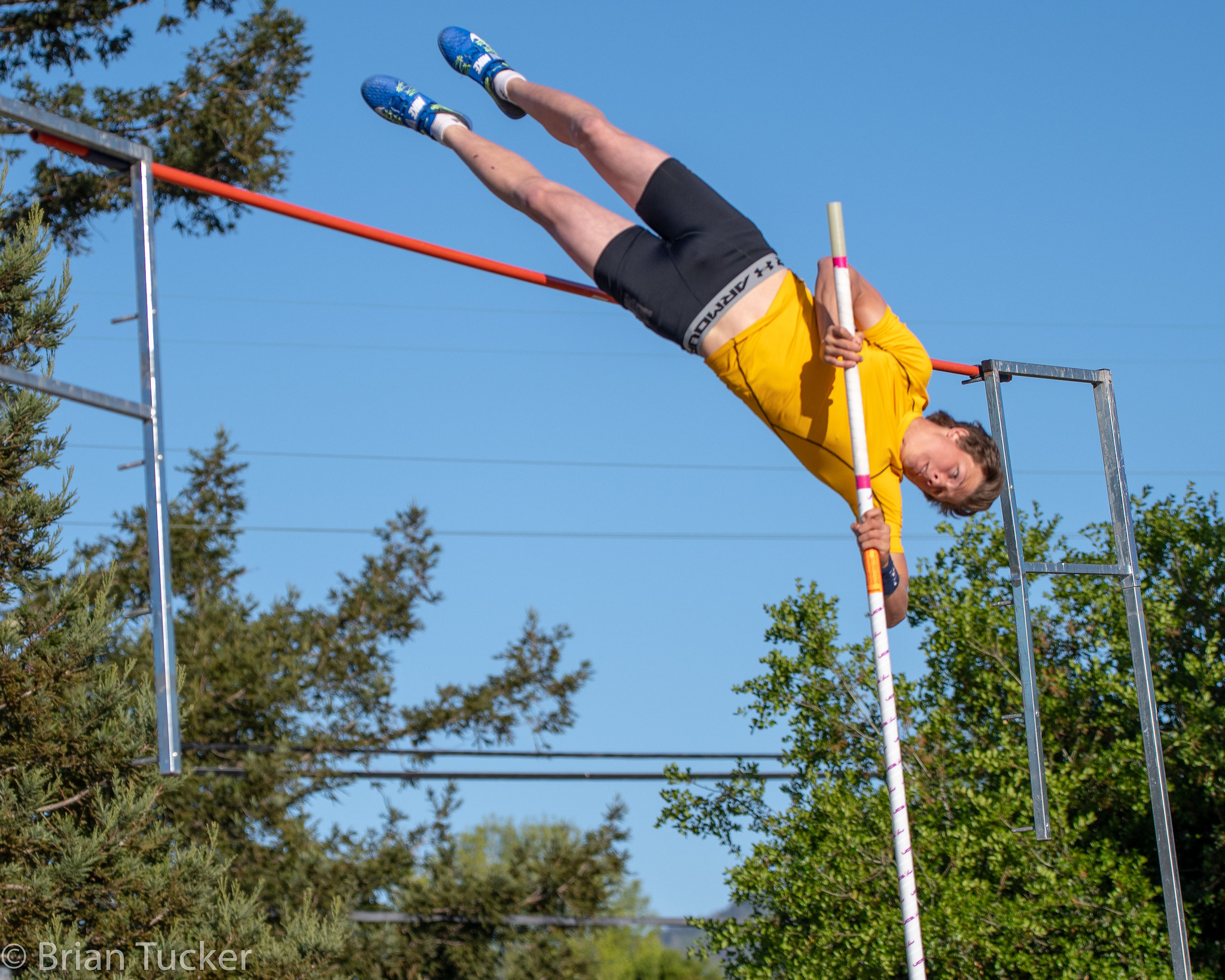 Abraham Lincoln's Sam Piechota soared over 13'06" for the win.
Girls 1600 Relay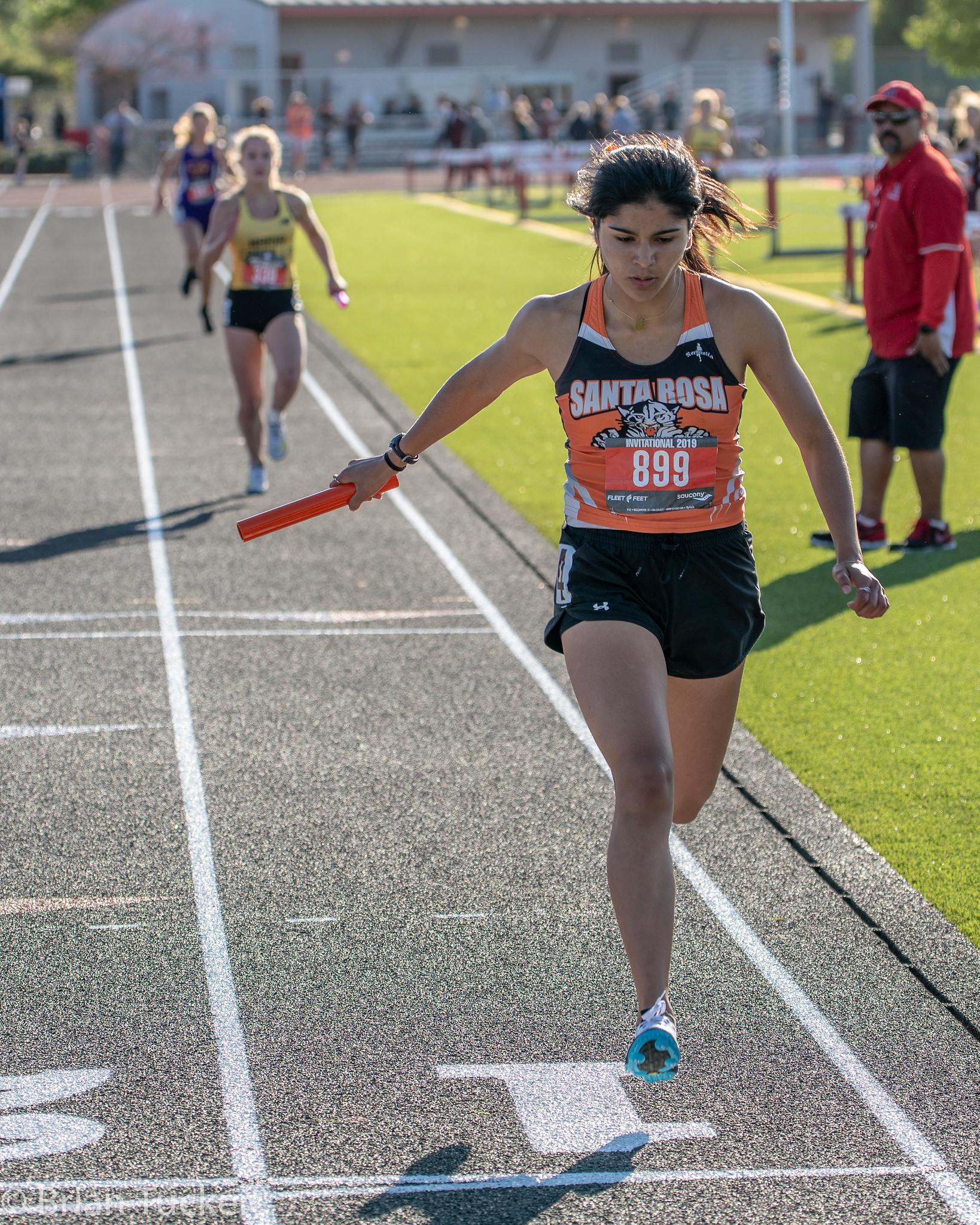 Panthers look ready for a Championship this year.
1 Santa Rosa 4:12.17
2 Maria Carrillo 4:14.67
3 Middletown 4:17.20
Boys 1600 Relay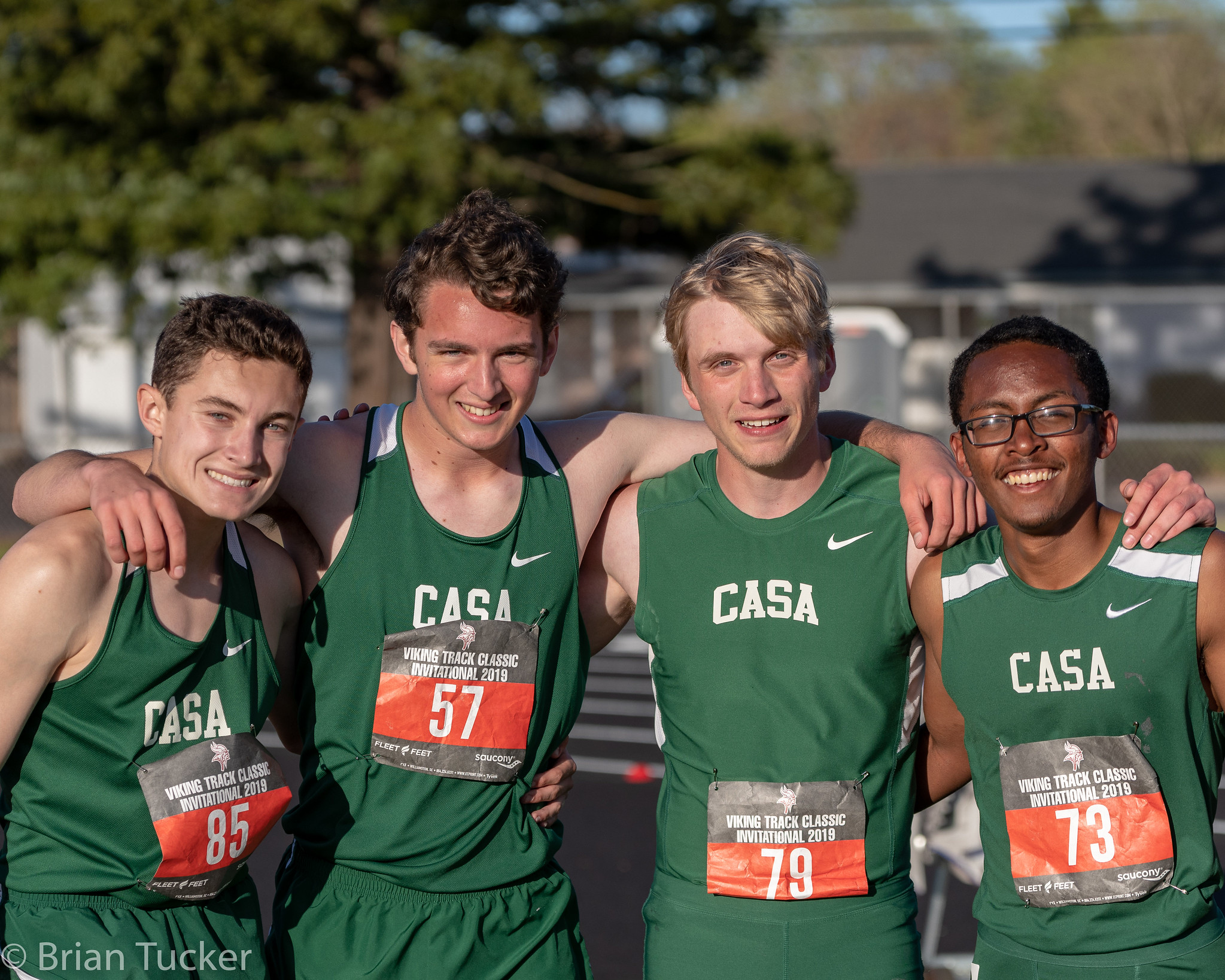 The Gaucho's had the best foursome on this day.
1 Casa Grande 3:32.09
2 Healdsburg 3:35.49