The Redwood Empire has picked up five State meet medals in this event.
Our third best event behind the 3200 (17) and 1600 (14).
It all started with the 1975 North Bay League champ, Ukiah's Jody Garrard, who ran the first Redwood Empire Record at 2:33.9 for 880 yards.
The next year a whooping, nearly 10 second drop, by the 1976 NBL champ, Montgomery's Cindy Peterson, who ran a 2:24.4 to lower the Record.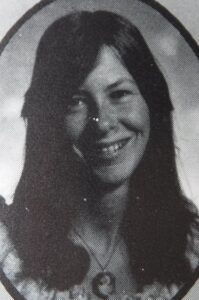 Ukiah's Denise King would take both the 1977 (2:29.8, 1978 (2:26.3 meet record) NBL meets and had a record 2:22.0 run in 1977. In the Sonoma County league Piner's Marie Poiereir, took the title at 2:28.5.
Petaluma's Ann Bertucci ruled the NBL taking the finals in 1979 (2:29.8) and 1980 (2:22.2 MR).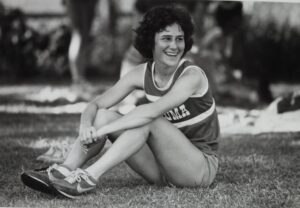 In 1981 California switched to metrics, making the two lapper 800 meters rather than 880 yards. The SCL finals actual switched to metrics in 1980.
While in the SCL Piner's Laurie Hollingworth would take the event into a whole other realm.
She would lower the Empire record five times her sophomore year, starting with a 2:21.6 880 at the Santa Rosa All-City meet and finishing that year at State with a 2:13.16 800m.
Hollingworth owned the SCL, winning all three distance races all three of her years. She broke six SCL records.
SCL Finals
1980 *5:14.0, *2:18.7, *11:46.7
1981  5:16.0,  2:20.6, *11:30.4
1982 *5:10.9, *2:16.8,  11:49.8
* New SCL meet record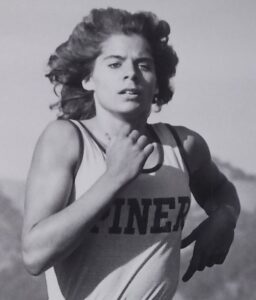 Hollingworth set meet records in the SCL finals for the 880 both her first and last years. The 1980's final time would last for 33 years as the meet record.
She found her greatest glory at the State finals where she medaled in either the 800 or the 1600 all three years and .
In 1980, she was 6th in the 800m in 2:15.20; 1981 5th in the 1600m in 4:54.27, and in 1982 she was 7th in the 1600m in 4:55.65.
She ran her final Redwood Empire Record at the 1980 state trials in 2:13.16. It held for eleven years.
4 x 800m Relay record 9:43.08* Petaluma 1980 Nancy Marinsek, Ann Bertucci, Lisa Dailey, Lori Shanoff
The following year, 1981, Shanoff broke the Redwood Empire's Junior class record with a 2:16.94.
In the NBL finals she lowered the meet record to 2:20.1.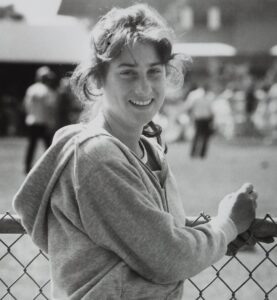 In the mid 80's the SCL had a great all around athlete in El Molino's Mara Konopasek.
In her three years she won 12 SCL individual titles including the 800 1984 (2:21.6), 1985 (2:19.0) and 1986 (2:19.7).
In the 1986 meet her 2:19.7 win was joined by wins in the 100m Low Hurdles (15.2), triple jump (34-11) and the 300m Low Hurdles (45.8), the last still stands as the SCL meet record.
For Santa Rosa's Nika Horn the NBL track finals were all hers. All three years she would win both the 800 and 1600.
She won the 1990 800 in a meet record 2:20.0, 1991 (2:21.3) and 1992 again lowering the meet record in 2:19.1.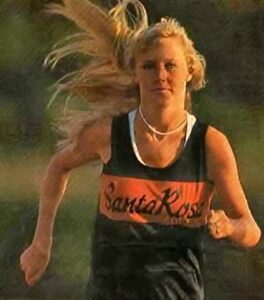 In 1992 she anchored the record setting Santa Rosa team at 4 x 800m Relay in 9:40.28* (Kari Horn 2:27.8, Rhonda Mazza 2:21.0, Megan Reeder 2:33.1, Nika Horn 2:18.3)
Around the same time in the SCL was probably our best ever 800 runner.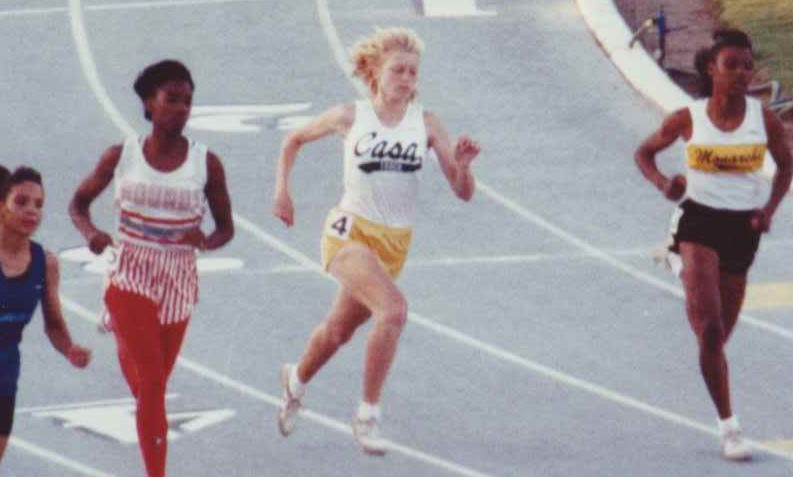 Casa Grande's Kerri Woolheater has held the Redwood Empire record for 28 years now.
In her Freshman year, 1989, she would break that class record with a 2:17.13.
She would win the SCL finals all four years, 1989 (2:24.7), 1990 (2:23.6), 1991 (2:25.2) and 1992 (2:21.7).
Her 1992 SCL finals dominated the meet with four wins 1600/5:11.4, 400/59.0 Meet Record, 800/2:21.7 and 200/26.0.
In the 1991 State finals Woolheater would break the Redwood Empire Record and earn a 5th place medal with a 2:12.16.
She would run the still standing Empire record at the NCS MOC in 1992 at 2:11.71.
The following week at State she would medal again at 4th in 2:12.59.
Sonoma Valley's Veronica Harrah ruled the SCL in her time.
She won SCL titles in 1993 (2:24.9), 1994 (2:25.7) and 1995 (2:25.8).
At the same time Montgomery's Pamela Richardson was doing all that and more in the NBL.
NBL tiles in 1993 (2:24.8), 1994 (2:17.49 Meet Record) and 1995 (2:18.18).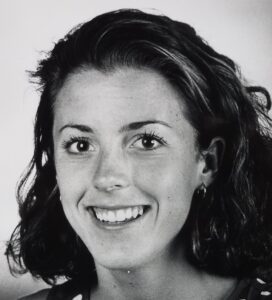 Watch her in the 1995 NCS Redwood meet
In 1995 Richardson would run 2:13.64 at Arcadia and finish the year with a 5th place State Meet medal in 2:13.68.
Here coach Larry Meridith wrote this about her state meet race. "It was a nerve-racking event for her coach. Following her tried and true method of even splits, Pamela trailed the entire field by about 15 meters through the 500-meter mark. That all changed as she turned it on down the backstretch and many in the lead pack began to fade. She moved all the way up to 4th place."
Also in 1995 Clear Lake's Desiree Gobert broke the Coastal Mountain Conference meet record with a 2:24.4.
Now Julia Stamps had mind boggling performances in the 1600 and 3200 but she would also run the 800 a couple of times a year for a little speed work.
And speed she had breaking the Empire's Freshman record for Rincon Valley J.H. with a 2:14.4 at the 1994 Pat Ryan Invitational.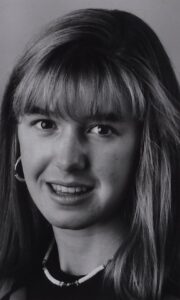 As a Sophomore, for Santa Rosa High, Stamps broke that class record with a 2:12.89.
In 1996 she won the Viking Classic in 2:15.24. Later in the year she ran 2:12.24 that was second All-Time to Woolheater's record and is still number four on the All-Time list.
Her senior year Stamps set our Indoor record at 2:13.96 at National Scholastic, Syracuse, N.Y.
At the Vallejo Relays her team would help set the still standing Empire record for the 4 x 800m Relay record at 9:23.9.
(Santa Rosa 1997 Katie Stafford 2:26.9, Julia Stamps 2:14.8, Trina Cox 2:20.5, Melissa Guanella 2:21.7)
Analy's Dirkje Dunham came up with two big times at the 1998 State trails and finals taking 6th in the finals at 2:13.58.
Maria Carrillo's Jenny Aldridge showed from her Freshman year, 1999, that she would be a forse in the 800 taking the Empire's class record in 2:13.46.
She would win the NBL finals all for years, 1999 (2:19.73), 2000 (2:17.35 meet record), 2001 (2:18.73) and 2002 (2:16.18 MR).
The meet record gave her and her father, Dan, both meet records at the same time.
She also headed the list for 2002 which is the best year for depth the event has ever had with six at 2:19.79 or faster.
2:14.24 Jenny Aldridge, 12, Maria Carrillo, NBL Champion, NCS Redwood Champ
2:18.38 Kim Handel, 10, Montgomery
2:18.71 Kristin Fladseth, 9, Maria Carrillo, 2nd NCS Redwood
2:19.03 Elissa Briggs, 12, Analy
2:19.57 Ashton LeSieur, 9, Casa Grande, SCL Champion
2:19.79 Ashlee Drady, 11, Maria Carrillo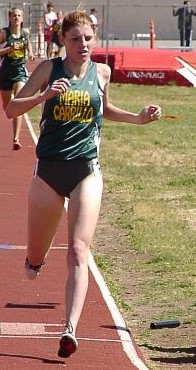 Now if you want to talk sister acts how about the Drady sisters.
They were our first great pair.
Jenny Drady ran 2:15.64 in 1999, her sister Ashlee ran 2:19.79 in 2002
In 2002 the SCL had it's new star in freshman Ashton LeSieur of Casa Grande.
She took the league title all four years, 2002 (2:21.14), 2003 (2:21.7), 2004 (2:28.0) and 2005 (2:24.8).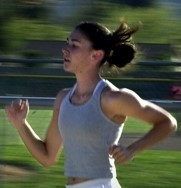 The NBL would get their next standout in 2004 as Maria Carrillo's Kristen Sanzari came on the scene.
She took NBL titles all four years, capping it with a new meet record in 2007 at 2:16.00.
2004 (2:21.09), 2005 (2:18.37), 2006 (2:19.02) and 2007 2:16.00 MR).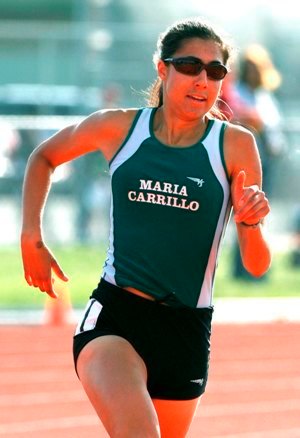 Her Freshman mark of 2:14.38 for 4th at NCS MOC is still the 3rd best freshman time ever.
Sanzari would run faster at MOC every year. Her final year, 2007, she would clock 2:12.51, which has her as still the number five performer All-Time.
MENTAL ASPECT KRISTEN SANZARI
Kristen Sanzari: Even a state meet vet can still make her nervous
She had six marks between 2:12.51-2:14.87 in her career.
Following Sanzari, Lauren Curtin helped the Puma's control the NBL for seven straight years.
Curtin would take the 2008 (2:20.77), 2009 (2:20.26) and 2010 (2:22.57) NBL titles.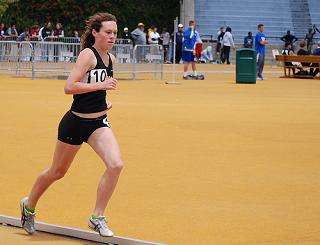 Casa Grande became only the second team to breal 9:30 in the 4 X 800 in 2010.
The team of Eva Luu, Dominique Ratto, Kylie Buck, Jacque Taylor ran 9:29.88.
Healdsburg's Maria Barragan took down a 31 year old record.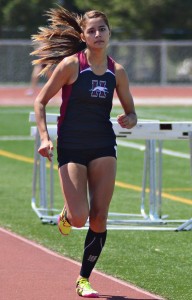 Barragan was the SCL champion in 2011 (2:20.56), 2012 (2:22.67) and 2013 (2:14.87).
That meet record still stands having erased the 1982 mark by Laurie Hollingworth of 2:16.8.
At the 2013 NCS Redwood meet she would clock 2:14.17.
Meanwhile in the NBL Santa Rosa's Sadia Ibrahim was having a career to challenge Woolheaters.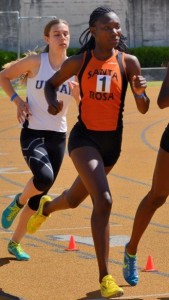 In 2011 she took the NBL at 2:26.97 and ran 2:12.99 at the NCS MOC meet.
2012 she ran 2:12.48 at Woody Wilson for what is still the number six performance ever. And again won the NBL finals in 2:21.21
In 2013 she would break the NBL meet record at 2:14.51, which still stands to this day.
At the Golden West meet she would come within 0.2 seconds of Woolheater's record for the number two performance ever at 2:11.91.
Her career had 11 times between 2:11.91 and 2:14.96 to the ten by Woolheater (2:11.71-2:15.24).
Nika Horn's daughter Rylee Bowen ran the number two freshman time ever in 2015 for Sonoma Academy at 2:13.66.
Bowen won the CMC title all four years. Breaking the 20 year old meet record in 2015 at 2:19.67.
As a Sophomore she would break Stamp's class record with a 2:12.80.
As a Junior she would break Woolheater's class record with a 2:11.91 at Mt Sac to tie Ibrahim for the number two performance ever.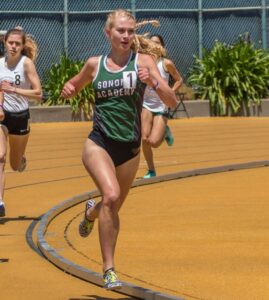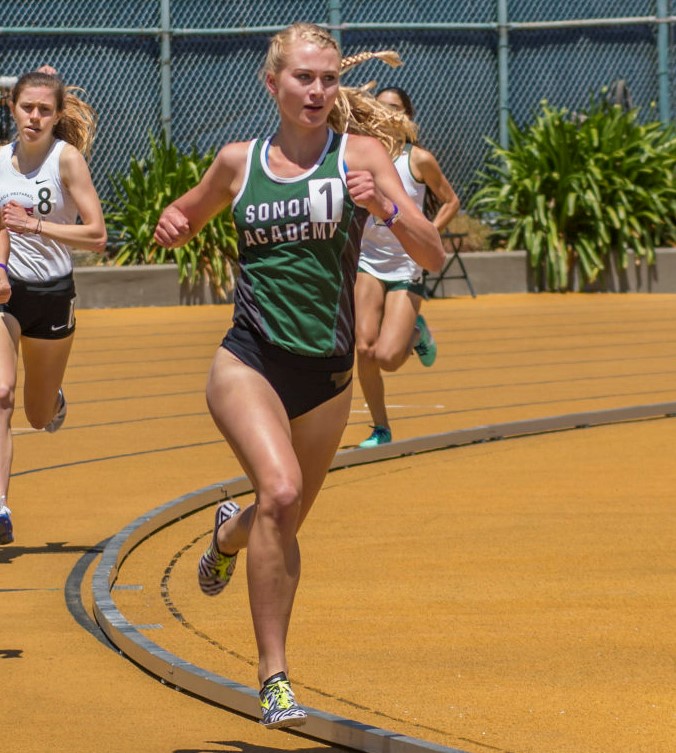 Santa Rosa's Aimee Holland turned in some big performances in 2016 winning Dublin Distance Fiesta (2:18.48), Viking Classic (2:21.03) and NBL (2:20.5). She first won the 2015 NBL title (2:20.95). In the 2016 season she had a best of 2:16.38.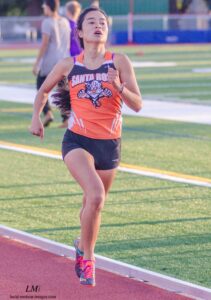 The year 2016 would be our 3rd best depth of marks with six at 2:20.20 or faster
2:12.80 Rylee Bowen, 10, Sonoma Academy, CMC Champion, NCS 1A Champ, NCS 1600 Champ
2:16.38 Aimee Holland, 12, Santa Rosa, NBL Champion, 2nd NCS Redwood
2:16.44+ Delaney White, 12, Santa Rosa
2:18.47 Talia Leano, 9, Maria Carrillo
2:19.42 Camille Flynn, 9, Petaluma
2:20.20 Kassia Chagnon, 11, Piner
2:21.85 Adria Barich, 12, Casa Grande
2:22.19 Amy Stanfield, 10, Sonoma Valley
2:22.50 Cynthia Rosales, 9, Piner
2:23.04+ Grace Mackey, 10, Montgomery

Of course Nika and her daughters hold our best all female family marks in the 800.
Sisters 2:11.91 Rylee, 2:23.13 Kate = 4:35.04 Bowen's
Mother/Daughter 2:19.34 Nika, 2:11.91 Rylee = 4:31.25 Horn/Bowen
Father/Daughter 1:49.31 Dan, 2:13.46 Jenny = 4:02.77 Aldridge's
Brother/Sister 2:02.24 Ryan, 2:13.46 Jenny = 4:15.70 Aldridge's
Healdsburg's Gabriel Peterson ran the #2 time in NBL meet history at 2:15.23. She won the SCL title in 2018.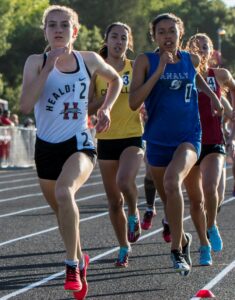 The year 2019 would be our 2nd best depth of marks with six at 2:20.09 or faster
2:15.23 Gabrielle Peterson, 12, Healdsburg, NBL Champion
2:15.65 Sierra Atkins, 12, Analy
2:17.56 Jane McLoughlin, 12, Napa, VVAL Champion
2:18.98 Leah Haley, 12, Montgomery, 2nd NCS Redwood
2:19.42 Aimee Armstrong, 12, Maria Carrillo
2:20.09 Carolina Dawson, 9, Analy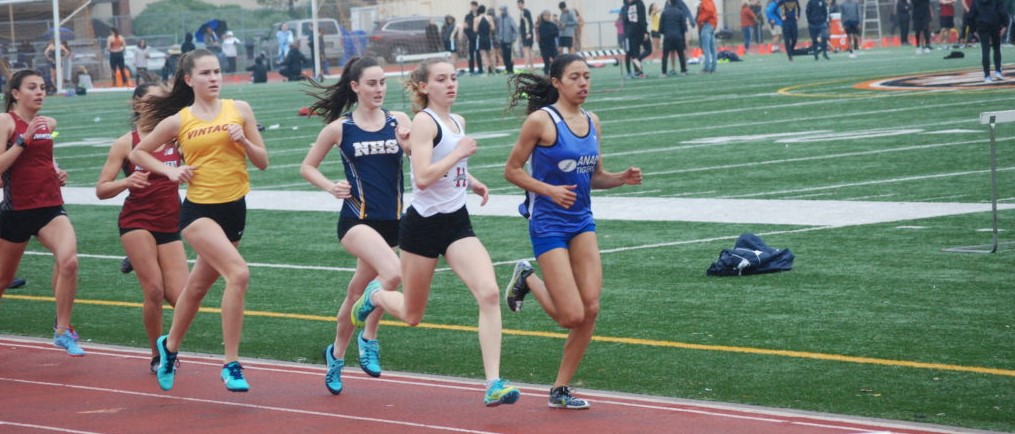 Watch NCS Redwood Race or Viking Classic or Big Cat
Top Performers Ever
2:11.71 Kerri Woolheater, Casa Grande #1 1992
2:11.91 Sadia Ibrahim, Santa Rosa #1 2012
2:11.91 Rylee Bowen, Sonoma Academy #1 2017
2:12.24 Julia Stamps, Santa Rosa #2 1996
2:12.51 Kristin Sanzari, Maria Carrillo #1 2007
2:13.16 Laurie Hollingworth, Piner #1 1980
2:13.46 Jenny Aldridge, Maria Carrillo #2 1999
2:13.58 Dirkje Dunham, Analy #1 1998
2:13.64 Pamela Richardson, Montgomery #1 1995
2:14.17 Maria Barragan, Healdsburg #1 2013
(10)
2:15.23 Gabriel Peterson, Healdsburg #2 2019
2:15.64 Jenny Drady, Maria Carrillo #3 1999
2:15.65 Sierra Atkins, Analy #2 2019
2:16.38 Aimee Holland, Santa Rosa #3 2016
2:16.44+ Delaney White, Santa Rosa #4 2016
Performances
2:11.91-2:14.96 Sadia Ibrahim (11), Santa Rosa
2:11.71-2:15.24 Kerri Woolheater (8), Casa Grande
2:12.51-2:14.87 Kristen Sanzari (6), Maria Carrillo
2:11.91-2:14.91 Rylee Bowen (5), Sonoma Academy
2:12.24-2:15.24 Julia Stamps (5), Santa Rosa
2:13.46-2:14.48 Jenny Aldridge (3), Maria Carrillo
2:13.64-2:14.73 Pamela Richardson (3), Montgomery
2:14.17-2:14.95 Maria Barragan (3), Healdsburg
2:13.16-2:15.20 Laurie Hollingworth (3), Piner
Top 50 Empire runners, Maria Carrillo 10
Class records
NBL "Oak" Champions
NBL "Redwood"/SCL Champions
VVAL Champions
CMC Champions
Best years for the event
Evolution of Redwood Empire 800m Record
880 yds
2:33.9 Jody Garrard, Ukiah
2:24.4 Cindy Peterson, Montgomery 1976
2:22.0 Denise King, Ukiah 1977, = to 2:21.42 800m
800m
2:13.16 Laurie Hollingworth, Piner 1980
2:12.16 Kerri Woolheater, Casa Grande 1991
2:11.71 Kerri Woolheater, Casa Grande 1992
State Meet Top Places
4th Kerri Woolheater, Casa Grande 2:12.59 1992
5th Kerri Woolheater, Casa Grande 2:13.16 1991
5th Pamela Richardson, Montgomery 2:13.68 1995
6th Laurie Hollingworth, Piner 2:15.20 1980
6th Dirkje Dunham, Analy 2:13.58 1998
North Coast Section Meet of Champions
2:12.99 Sadia Ibrahim, Santa Rosa 2011
Adult List
2:00.48 Lauren Wallace, Oiselle (Ukiah '08) Eugene 6/26/15, story, Lauren was a 100/200 runner in HS
2:05.92 Kim Conley, Team USA (Montgomery '04) at Seattle WA 1/18/14 Video: Conley 128, Wallace 142
2:07.91 Rose Criss, UC Davis (Analy '97) at NCAA 2001
2:08.94 Dezirae Johnson, Fresno State (Piner '12) Bulldog Open 2015
2:09.32 Wendi Simmons, Nike Coast (Santa Rosa HS '87) at Atlanta Olympic trials 6/15/96
2:10.73 Jenna Lowder, BYU (Maria Carrillo '06) at BYU Invitational 4/25/07
2:11.71 Kerri Woolheater, Casa Grande 5/30/92
2:11.91 Sadia Ibrahim, Santa Rosa HS 2012
2:11.91 Rylee Bowen, Sonoma Academy 2017
2:12.16 Kyra Johnson, Fresno State (Piner '12) CSUN Challengen 5/2/15
compiled by Jim Crowhurstm>